Make Windows 10 UWP games for just $15 with the latest Humble Bundle deal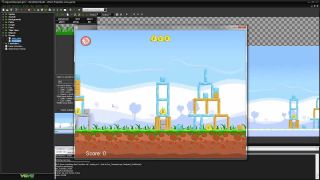 The latest Humble Bundle collection of software under its "pay what you want" model is for GameMaker, which offers tools for anyone to make games. The bundle deal includes the Windows 10 UWP export module for GameMaker for people who pay $15 or more.
YoYo Games, the creators of GameMaker, have loaded up this Humble Bundle deal with well over $1,000 worth of games and software tools that can be yours for just $15. Here's what's included with that price:
GameMaker: Studio Professional
Android Export
iOS Export
UWP Export
HTML5 Export
12 Games
A .gmz file per game containing the original source code!
Be aware that the Windows 10 UWP export tool currently supports making games on PC only. Support for Windows 10 Mobile, HoloLens and the Xbox One will be added in future updates. As with all Humble Bundle deals, you can choose the option to donate part of your purchase to charity. In the GameMaker bundle, they have selected Doctors Without Borders as its charity, or you can send the money to a second charity of your choice. There's also the option to tip the Humble Bundle team themselves.
Thanks to Dave for the tip!
Check out the Humble GameMaker Bundle (opens in new tab)
Windows Central Newsletter
Get the best of Windows Central in your inbox, every day!
I wonder if ios & Android export will work on Windows phone? Hmmm

I already had GMStudio Pro so all I needed was the export tools. First to grab can have my key for the GMStudio Pro core software: GameMaker Studio Pro Key: ADJE-A6AF

Also, have an Android export module, somehow I ended up with two of them GM:S Android Export Module HMBL-C7JWB

DO you do Humble bundles a lot? I got the pro and android from it a while ago myself. But I def want the ios and UWP exports.

Not too often. Something's gotta really intrest me to get a humble bundle.

Thank you my friend!! It will be useful!!

Just bought this for my 2 year old son, might take him a few years to learn it!

Got it as soon as I saw this article, im excited

I don't know how humble bundle works. How do you get the download(s) after you pay?

They give you a link to a page on their site where you get the keys and downloads.