Microsoft appears to tease Surface announcement for July 10
A Surface announcement could be in the cards for this week.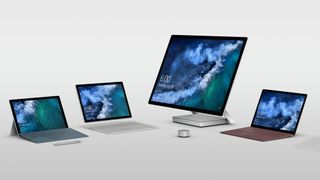 The rumor mill has been rife with speculation that a budget Surface device is in the works, and we may get our first official look at it this week. The official Microsoft Surface Twitter account today posted an image of its current family of devices, all with the date of Tuesday, July 10 on their lock screens with the caption: "Where will Surface go next?"
As The Verge notes, this image has been used by Microsoft before, but never with the dates and times included. And if you look closely at the image, you can spot another shadow off to the right, which doesn't appear to belong to any of the devices shown.
With Microsoft's Andromeda device rumored to be on the backburner for now, it's most likely that Microsoft is teasing the announcement of a cheaper Surface coming to its lineup. The device is said to be targeting a $400 price point with an eye on competing in the market against Apple's iPad. Along with a rumored 10-inch screen and LTE option, the device is said to be packing Intel's Pentium chips, which would allow Microsoft to produce a reasonably priced tablet that can still perform well enough for general web browsing and office tasks. Last week, we caught a hint that Microsoft was gearing up to launch such a device with its move through the FCC.
We'll have to wait until later this week to see if this apparent teaser pans out, but it's interesting nonetheless – and it's just in time to hit shelves before the back-to-school season kicks into high gear.
Windows Central Newsletter
Get the best of Windows Central in your inbox, every day!
Dan Thorp-Lancaster is the former Editor-in-Chief of Windows Central. He began working with Windows Central, Android Central, and iMore as a news writer in 2014 and is obsessed with tech of all sorts. You can follow Dan on Twitter @DthorpL and Instagram @heyitsdtl.
Woooooops. A case of my fingers working faster than my brain. Fixed.

Interesting that Thurrott made the same mistake. Maybe you guys are just copying and pasting press releases from Microsoft?

I wish! Nah, my brain is just experiencing month-lag. I'm still not living in July >.>

Food for thought: What if the Surface mini and Surface Phone/Andromeda are actually the same device? It wouldn't make sense for MS to release a Surface mini AND a Surface phone/Andromeda, considering form size as well as purpose/use of device would be essentially be the same.

Well done Microsoft but we have alot of surface pc now more over OEMs are there to support when it comes to hardware...we need a phone running windows 10 whether Andromeda or not we need a PHONE

No we don't. What you mean is, you want a phone running Windows 10. We had those and it didn't end well no matter how much any of us loved the platform. We're just going to keep going round and round in circles here.

Windows phone launched in a world where the tech media would scream DOA on products they'd never used that wasn't from Apple or Google. Things have changed now. People have become increasingly dissatisfied with both those companies, now would be the perfect time.

When did that change? I see no evidence of backlash against Android or iOS. None.

Not really a backlash but Android tablets are not as popular anymore as back in the days (2-1's are eating some of the cake and the better budget Ipads of course). And Google has some shady reputation concerning privacy obviously though I doubt that alone will be enough to convince people to buy something else. Personally don't think a surface phone is there yet but who knows.

Yes, exactly. But not just a phone as Jason used to convey it should be an Ultramobile PC that can act as a phone when needed.

Hey Richard, dont break him. We need a phone because not all of us are Xbox users

We had Windows 10 Mobile which is not Windows 10. ten years of mobile OS development by MSFT ended with Windows 10 Mobile not windows 10 with a phone stack in the OS. Big difference.

Andromeda is the device we deserve but surface mini is the device we need - Batman

A 10" inexpensive Intel based tablet. Remember when Surface meant something new, brave and inspiring?

Food for thought: What if the Surface mini and Surface Phone/Andromeda are actually the same device? It wouldn't make sense for MS to release a Surface mini AND a Surface phone/Andromeda, considering form size as well as purpose/use of device would be essentially be the same.

Then love or hate MS, the world would need to bow to their mastery. But I don't think this is the case. The mini will be aimed at the back to school market, while Andromeda will be an higher end device.... Hopefully sub $1000, but it'll be designed for the wow factor.

We ended up after 10 years of OS development by Microsoft with Windows 10 mobile. W10M was not Windows, but a different OS that could not run the legacy apps of the WinTel ecosystem.

The symmetry of the picture would make sense if it was a cheaper surface, too. Assuming 5 devices, from let to right it would go: Tablet (pro), Laptop (pro), Studio, Laptop (not pro), Tablet (not pro)

I like the form factor of a smaller Surface, but the issue still remains there are no apps in the Microsoft Store. None of the mobile games I play are available, and most other apps are not available. Just don't see how I could actually use this thing.

Some of those games are available on Steam and GOG, and some other games on Steam and GOG are playable on touchscreen too. (e.g. check the touchsupport curators on Steam)

If you think the ms store is bad, you should try out the macOS store. Terrible. Ms store is ok for desktop. Mobile, obviously, is a **** show.

The mini makes sense, given recent press.

So, MS might be ditching the device that's causing waves even in non-MS oriented tech-dom, but is probably launching the device that's practically ignored even by MS-centric tech sites? Greeeat...

Another Surface laptop isn't a risky proposition. Just more low hanging fruit.

Yep and the Surface 3 sold well enough. Granted this is a play for schools mostly.

I still use my Surface 3, however I use my Surface Pro far more. The Surface 3 is much easier to use on a plane ride.

But a smaller device with the requisite smaller keyboard ends up being too cramped for typing. Maybe two finger mode. I've already given up on devices smaller than 10.5.

Budget-orientated devices are probably not as exciting to write about as e.g. some highend device of ~2000 bucks. (with the exception of budget Ipads, probably because it gets more hits/clicks)

Yes, and we all know that budget tablets sell like hot bread, especially compared to expensive ones. Wait...!?!

This device would be extremely useful if released. I work in the enterprise section field and use iPad's as the front facing unit to our applications locally and remotely. As an administrator we have so many problems with the iPad! First off, integration with AD would be much better. We always have issues with the iPad authentication and application version issues. We could
manage a windows device much easier and if it had digital ink support that would be ideal!

No apps, my a**. There are plenty of apps available for the target market of this device: business and education. This is again a play for the markets where Microsoft is strongest. The Surface Laptop was aimed at education, but cheaper, simpler devices are also needed in that space. And as jrelator1 noted, in business the Surface Go, or whatever it will be called, will work with enterprise software far better than any iPad. I'd like to see the foldable device too and I think there is a market for that as well, but not until Microsoft sets the expectations for the new device properly around what is designed to be and what is not designed to be.

Surface Andy announcement better be part of this event....

Andy.. you are so lame and pathetic. Also it won't be

Seems unlikely they'd announce a cancelled product, but who knows?

'Andy'??? One word for you - crack. Try not to do it.

Doubt they'd announce a category defining device like Andromeda via a press release like this one will likely be. Andromeda needs a Panos conference.

I hope this device be a bridge to Andromeda. I mean if this is a sleek tablet, we will see a lot of OS redevelopments with the concept of modernity in (or after) Redstone 5, which is essentially good for the consumers.

Don't get your hopes up. This will most certainly just run standard Win 10, since Andromeda is nowhere near ready for release. So not really useful as a tablet, but a decent hybrid like the other Surface "tablets".
Nothing I'm interested in (already have an SP4) but I see this being useful in the education sector (in particular primary schools) since the only viable option at the moment is an iPad.
Personally I won't buy another windows device (apart from a desktop) unless it's "always connected" and has telephony support. I don't care about Win32 support either, I won't be doing any serious work on anything but a desktop anyway.

This is basically a Surface 3 replacement. I will be interested in the LTE version. Assuming no big design change in the hinge. Can't wait to see it and WC to test it out before I buy one.

Yawn...would be REALLY interesting if they were announcing the Surface Andromeda as the portable accessory to each of the systems in the tease photo...

I guess this means that Intel has finally designed and manufactured a decent low powered SoC to power a laptop. The Atom in my Surface 3 was not quite up to the task. I would also assume all the other lessons learned from designing and manufacturing the Surface Pro series has allowed MSFT to design a simpler and more efficient 10" tablet. I hope no one thinks this will be suitable for Windows PC level gaming. Suitable for mobile gaming? Video watching? Web browsing? Office work? I assume it will. I think the point about cost and easy integration with an enterprise's cloud infrastructure will go a long way in pushing the front line worker productivity push by industries.

Wish they'd go with an AMD E-series Raven Ridge chip instead...

Gonna be a interesting release video

Don't see what the fuss is all about. It's just a small Surface 3, hence, no onstage announcement. Tablet mode sucks as well so don't know how that will work for this.

I guess it was already revealed: https://www.tomshardware.co.uk/microsoft-surface-go-price-specs-release-...

They've already closed the link. What did it have?

1800 by 1200 display
up to 256 GB/LTE
USB-C and SD card (surface Connector)

Thank you Marty. I think those specs are good enough for a simple tablet to take to meetings and keep project submittals on

10" Surface is meh. Andromeda device is what is needed and wanted!!!

Timing is right as my Surface 3 is not aging well at all.

So far very disappointed in the leaked specs. The cheapest version is 64GB? Seriously? What year is it? Hopefully not true.

Hell Phone's are almost at the point of moving away from 64GB models. That is laughable for a PC.

Never thought I'd be waiting this badly for a PC running Pentium. 😂😂😂

On another note refurbished HP elite x2 preceding generation with Core m3, 128Gig Samsung SSD and 4Gig RAM w/o pen and travel keyboard is being sold in my country Pakistan for less than $400. Maybe, Microsoft should focus on such programs instead of wasting expenses on in house device whose price they could not get low enough for good enough specs like core m series and ssd for storage.

It also has 1080p screen. And man a device of this configuration is good. Really good. Was pleasantly surprised. Wouldn't recommend anything below it in 2018.

Also 3:2 ratio which is great for reading, photos and productivity.

I've got a Spectre X2 and it's not a good device. The pen is unusable, the screen always seem washed out unless on maximum brightness. The keyboard has connection issues after a few months of use. I'd get this new surface over that in a heartbeat

This doesn't seem to bode well for Andromeda. Wasn't it "Microsoft will have Andromeda in a multi-device event in the fall?" If they're tossing the budget Surface out early, then it seems like they're not going to have a big event for the fall. They could have a small refresh thing for the Surface Pro (why bother?) or Surface Studio (they should wait until the next round of GPUs, IMO), but with rumors Andromeda's delayed and an expectation HoloLens 2 is a 2019 product, I wouldn't be surprised if the next big event is headlined by those two in the spring.

Too early too tell. They don't announce fall big events in July, based on the last several yrs. This device was leaked over a month. It is not really news and probably won't be a event on it either this week although I do hope Panos do hold one w the press.

I'm interested to buy both a mini surface and Andromeda Though I really wanted a snapdragon surface mini/go. The HP Envy 2 is pretty snappy! In store at least...

Anyone know where you can download that wallpaper??

Microsoft is doing a very smart thing by releasing a cheaper Surface, particularly one that sounds like it'll be in S mode by default. People are more likely to buy it because it is cheaper, and the core apps in the MS store are decent, so there will be some demand for this. Therefore, the market share of S mode, and therefore store users, will increase. Therefore, dev's are more likely to develop UWP apps for the store. This bodes well for Andromeda. My only gripe is that it seems like LTE will be offered in only the most expensive model! They should've made it available across the entire range.

Just announced. #surfacego https://blogs.windows.com/devices/2018/07/09/meet-surface-go-starting-at...