Microsoft details Cortana integration with Office 365 in Windows 10 build 10158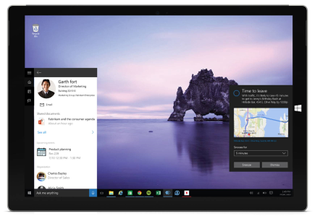 One of the big highlights of the new stuff coming along in Windows 10 build 10158 is the addition of Cortana integration in Office 365. In a new blog post, Microsoft has given a bit more information on just what Cortana will help you out with if you're a heavy Office 365 user.
The big feature that Microsoft is pushing with this integration is how Cortana can help you prepare for upcoming meetings by serving up information about the people you're meeting with, along with reminders to keep you on time:
While it seems a little simple to start out with, there's no doubt that Cortana just keeps getting better and better. Cortana integration with Office 365 is live first for Windows 10 desktops and tablets with build 10158, while support on Windows Phone is coming later this year.
Source: Microsoft (opens in new tab)
Dan Thorp-Lancaster is the Editor in Chief for Windows Central. He began working with Windows Central as a news writer in 2014 and is obsessed with tech of all sorts. You can follow Dan on Twitter @DthorpL and Instagram @heyitsdtl. Got a hot tip? Send it to daniel.thorp-lancaster@futurenet.com.
This is making me want to update my surface pro(og) to this.

I think this is only for Office 365 for Business for now.

How about my office 2013 proffesional

Just thinking about the information Cortana will provide (details about people you're meeting with, docs they've recently worked on) makes me think that Zapela is correct - these are the types of info available on SharePoint Online (which comes with Office 365 for business). You certainly won't have information about other people's recent docs and your people details would only be as good as the information you plug into Outlook.

No, but you can get that information from OneDrive to any Shared Documents. Contact details are available in the People App and of course Cortanan has access to your Calendar so it can see who you have meetings with. In any case, I agree that this is likely only for Office for Business.

Sounds like Delve, doesn't it?

Woah what are those icons on the bottom taskbar?!?I see a new people icon and some sort of messaging app.

I'm hoping for an App that lets us send and read text messages on our Windows Phone from Windows 10. There are apps out there for Windows that do this for Android phones already and it would be really handy for me. I remember being able to do it back in the day on Nokias the with PC Suite.

That would be a nice feature even if limited to my family on Windows phone for now.

Windows feed back suggestion

We already have such an app. It's called Skype. It does more than phone calls now.

I send some SMS messages from Skype, but I have unlimited texts on my phone contract, and not everybody else is on Skype. An app to view and send SMS would still be useful, lots of people still text

Skype is a horrible IM service compared to what it's competing with. I dont' know anyone who actually uses Skype to IM. Most people use it to Call Overseas or Video Call. Then they use something like Facebook Messenger to hold actual conversations becasue it actually functions properly in a 2015 market. Skype still feels like an IM application from 2006. Times have moved on. Skype... hasn't.

Most likely Office apps, eg Lync/Skype4B. Store apps usually have solid backgrounds.

I am very tempted to upgrade my SP3. On the other hand, it is only a month until the finished version is there. Might as well play safe.

I've been running the TP/WI builds on my Surface Pro 3 for a good while now and only hit a few problems during that time - I'm tempted to put this on my Desktop PC, but I've been putting it off until RTM as I use it for gaming and things so didn't want to try out the Beta Nvidia drivers yet, even though I hear they work well.

I have it on a PC and overall it works well. My SP3 is my only machine where I do all office work and coding. I am just a but nervous that it might break something in Visual Studio. My deadlines aren't moving when I tell them "I just couldn't resist l" :)

I'm in a similar situation where a lot of my coding is done on my Surface - During the daily 9-5 at least. I prefer to use my PC to carry on coding in the evenings, but I've had at least one time where a build started installing on the SP3 at a less than perfect time and caused me an hour or two of a wait so don't blame you for keeping it off there. I also think I will need to do a clean install at RTM, unless 10158 fixes the issue I'm having with the Photos app (Really want to make use of it, but it won't even attempt to launch when clicked in the start menu/search)

Strange, I don't have any issues with the photo app. I do agree though, that a clean install at RTM is the way to go. Well, just one more month :)

With the new build the app works again now. Previously something just got confused on my system. It was like the app wouldn't even attempt to launch.

This does look like it will be useful, I'd also like to see Cortana on Windows 10 be able to read from the same set of reminders as Cortana on Windows Phone 8.1 - Will be annoying at RTM if I can't run Cortana on both WP8.1 and Windows 10

This should be a very welcome feature. I think this will make Cortana much more useful for me at work.

Microsoft need to work on getting Cortana to work in more damn countries as a priority. They are pushing Cortana as a major feature BUT it's not available in most of the WORLD..................

And sharing reminders between 8.1 and 10...It makes no sense not to with it being cloud based

And sadly they will not bring Cortana at the launch date of Windows10 in more countries! It's incredible!!! One of the greatest features, one year later, and only available in 6 regions. Then people ask who is the best personal assistant...Siri and Google Now are worldwide, for me they are the winners. Yes, Cortana now do more things, it's awesome but to be honest, only for one country. US. No more! Microsoft what are you thinking!

Ok so how do you use this feature? I have the new build and Cortan is amazing on it but, how do I get my Office365 info?

For Business, this is how to enable it: Q. Is the ability to integrate Cortana with Office 365 now available to all Office 365 customers? What does someone need to have in order to try it out? A. The requirements for you to be able to preview Cortana integration with Office 365: Your company needs to select the First Release option in the Office 365 Admin Center You need to be enrolled in the Windows Insider Program and running Windows 10 preview bits.

Wow they're using chrome lol. But im more interested in those People and Messaging icons on the taskbar.. And the Recycle bin icon...anyone noticed?

Cant tell if the Chrome comment is sarcastic or not, but it is used openly in many videos produced by Microsoft and their staff, so it's not a surprise to see it in a screenshot at all

It's still basically free advertisement and gives the impression that their browser isn't really good enough for them, so they have ot use Google Chrome as a fallback. They should not be publishing screenshots with Chrome in them, IMHO. It furthers a negative perception. On the other hand, they may be doing it as a subtle hit for the European Market that, yes, you can install Google Chrome on Windows... After the whole banner hoo-ha.

Looks good, can't wait...

What is internet explorer icon still doing there

Bring Cortana to more countries!!! All I see is new updates, but Cortana isn't avalible in most countries. Just let me use it, even in English. I don't need translation, just an ability to use it on my PC.

Increíble! Siguen mejorando características de Cortana solo en Estados Unidos, mientras que en Latinoamérica no nos han dado ni una versión Alpha! Y ademas no estará disponible en el lanzamiento de Windows 10!!! Bien Microsoft! Asi vas muy bien (Sarcasmo).

Cortana breaks everything on my Dell XPS 13. Audio doesn't work when Cortana is on, videos won't play on a browser, and some programs won't launch (steam). I hope this is fixed in the next build
Windows Central Newsletter
Get the best of Windows Central in in your inbox, every day!
Thank you for signing up to Windows Central. You will receive a verification email shortly.
There was a problem. Please refresh the page and try again.