Microsoft begins soft rollout of 'intelligent' image searching in Photos app
A new update to the native Photos app in Windows brings A.I. assisted searching of your OneDrive photos for easy reference. Here is how it works!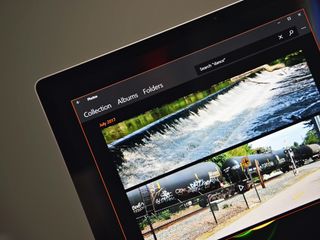 (Image credit: Windows Central)
Joining the ranks of Google's Photos app with intelligent image-sorting is Microsoft with its native Photos app for Windows 10 and Mobile.
The company is evidently starting to roll out its own smart search that scans all your images on OneDrive and through artificial intelligence (A.I.) identifies and catalogs your photos based on categories, colors, months, and even faces.
Version 2017.35063.13610.0 landed on our Windows Insider Release Preview Ring tonight with the feature.
So far, we have not seen the Fast Ring (2017.25071.10320.0), Skip Ahead (2017.35063.12420.0), or Production (2017.18062.13720.0) releases of this app get the update yet. (Yes, there are at least four different builds of the Photos app being flighted to Windows 10 users.)
The app update adds a standard-looking search bar to the upper right corner. Clicking it begins the indexing process on OneDrive which can take some time depending on how many photos you have (we're past 6,000, and the indexing takes about a second per image, so at least 90 minutes for our collection).
As the A.I. begins to populate the empty search area expands with pictures of people that it has indexed as well as suggested items and tags to search for e.g. "Art gallery," "Bar," or "Dance." Typing in colors, object types e.g. "phone," "beer," months, colors, and more immediately surfaces results. Clicking the "X" in the search bar clears the search and returns to your regular collection of photos.
It's a very high-speed and impressive system likely because the indexing is stored locally and not in the cloud.
Microsoft is also now putting suggested albums made for you in the upper area in a mini-gallery. Hovering over the album shuffles through the images in a mini-slideshow with an "Add to your albums" button to quickly save the suggested collection. Additionally, as the intelligent search groups photos together with tags it will populate that under the suggested grouping area. For example, ours found groups of photos with icicles.
Likewise, the refresh button is now moved out of the ellipsis menu which now just contains settings and send feedback.
Finally, for those who are uncomfortable with the smart face detection for photos and videos, there is an option under Settings > Viewing and editing > People that lets you toggle on or off the feature.
Overall, intelligent image search should be a welcome addition for those who – like us – have years of photos stored on OneDrive with no indexing or cataloging. Presumably, the final version of the Photos app – along with this week's Store UI update –will roll out with the Fall Creators Update in the coming months.
Windows Central Newsletter
Get the best of Windows Central in in your inbox, every day!
Daniel Rubino is the Editor-in-chief of Windows Central, head reviewer, podcast co-host, and analyst. He has been covering Microsoft since 2007 when this site was called WMExperts (and later Windows Phone Central). His interests include Windows, laptops, next-gen computing, and for some reason, watches. Before all this tech stuff, he worked on a Ph.D. in linguistics, watched people sleep (for medical purposes!), and ran the projectors at movie theaters because it was fun.
Nice! Works quite well on OneDrive, great to see this integrated within the photos app. Is there any ability to edit incorrectly tagged images?

Doesn't appear to be a way to fix a tag, but just looking around now.

Based on suggestions, they added a "pause" button for indexing too! 😁

I assumed from the headline it comes to mobile too, and you mentioned it in the article but just wondered if you've seen it on a RP phone so far?

You can edit tags on onedrive online.

Been asking myself this too. By editing wrong tags users could be able to improve the AI

Or subvert it totally, like when 4Chan decides that its funny to tag pictures of that certain German logo that it can't spell with the names if politicians.

Once OneDrive tagged one of my photos as "#BadHairDay" 😂 their algorithm is pretty good

Whoo Hoo! We finally get back stuff that Windows Photo Gallery had years ago!!!

I feel like this has been happening for a while now inside of OneDrive, no?

Sure, but who views their photos on onedrive.com? This is much cooler.

I'm most often on a win7 machine when I get a chance to do something with my photos. I'm just lucky my work allows me onto personal OneDrive as I need it for testing

Is there any way this will come to the photos on the device?

I've had it grouping pictures by people for a while now, its equally cool and creepy, I just wonder how good it gets in the next 2 years

I tried out the feature briefly during early RS3 cycle and here was the feedback I came up with: 1. We need to be able to assign names (from the "People" app perhaps) to automatically-tagged faces. This would solve quite a few problems:
• It would allow us to search for photos by the person's name
• It would allow us to correct tagging mistakes where two faces perceived as different can be assigned to the same person, in effect also improving the facial recognition software
• It would allow us to ask Cortana queries like "please show me my latest photos of me and [contact's name] at [name of location where photos were taken]"

2. The next problem - it doesn't seem like the People tags sync up to OneDrive properly. Instead, OneDrive seems to have its own photos tagging system, separate from this one. But if I am signed into my Microsoft Account at OneDrive.com from another device, I would like to be able to search "people" there as well. It shouldn't matter what device I'm using, as long as I'm signed in with my MSA. But these people tags currently don't sync up to OneDrive. 3. Finally, the "preparing to make your photos searchable…" feature takes literally forever on my Surface Pro. I've got almost a terabyte worth of photos, so this is understandable. But it seems like this could be improved by offloading this process to the cloud. Since I've got 99% of my photos collection stored in OneDrive anyway (and almost none of them stored locally thanks to Files on Demand), why can't OneDrive handle the tagging process in the cloud? Instead, it lays the burden on your local device (making you have to go through the lengthy process again and again, each and every time you reset your PC or get a new device). Let's offload this process to the cloud!

It's probably using the Cognitive APIs in the cloud to do all the actual recognition already, but yeah maybe they could off load even more to be processed there and just send back the full index when it's ready, they could do it automatically so it's just ready.

Damn man, use the feedback hub.

Have you noticed that the new "Files on Demand" feature doesn't use the photo metadata stored in OneDrive files? That means that you can't search your photo tags in File Explorer. The old Placeholder system that Microsoft removed did actually use the photo metadata, and full searching was possible. One step forwards and two steps back as usual for Microsoft...

Thanks! :) I emailed PhotosPreviewProgram@microsoft.com so hopefully they take some of it into consideration.

I've been asking for this since threshold updates

Reminds me of "hot dog", "not hot dog".

When is remix app gonna come. Can't wait to edit my videos with AI;")

Things are getting more and more complicated with those rings. It's hard to get regularly new versions of apps. Some of them here, some of them there...

Anyone got this update on Window Phone?

Oh, Intelligent image searching! How about Microsoft to remove the retarded black layer of controls on top of the photo, so it can be seen in its entirety instead of doing bullsh*t that noone asked for?

Dude, just use the damn full screen button 😁

So something you don't want and can switch off becomes BS?

Intelligent search is great. Also there was added ability to zoom with mouse wheel (yeaahh!!) and three size options for the thumbnails on main screen. This is really becoming a very cool app.

I wonder if it has language restrictions?

That is cool feature catch up with googel photos. But MS please get rid of multiple bars on the top. it tooks almost half of my screen (wast of space).

Nice idea, but my photos are all stored locally, Onedrive is used just for backups

"It's a very high-speed and impressive system likely because the indexing is stored locally and not in the cloud." Doesn't this suggest it can work with locally stored photos?

Nice feature. I just hope it supports all languages and is independent of Cortana. The latter two are hampering market penetration and global collaborative effort for years to test and improve this function.

Do I understand correctly, it works the same way for Albums it did before? It indexes the photos, but files are still stored chaotically or wherever I have stored them? (In other words, it does not reorganize files based on Albums?)

Why is there a snapping turtle in your house?

I like this, there's hope that when this kind of technology is implemented everywhere, people will stop posting pictures with those ridiculous walls of tags like they do in Instagram. Absolutely idiotic.

Now we need this app on Android and iPhone, to have the same experience

Seems to somewhat work in the Android OneDrive app. Search for "photo of..." whatever. I did cat, dog, food, building. All seemed to work. I searched for a name which didn't work but did find that name in the text of an image.

I don't store anything on OneDrive, does it do the same indexing for local storage?

Yes, I am hoping for the same thing. Most people have a buttload more photos than the pathetic 15gb of free storage they give us. I mean, I am a 365 user but i realize that most people are not. Seems short sighted to only do this for OneDrive photos. I have 1TB but don't store my photos on OneDrive.

Blew me away when Google first introduced that functionality, especially the facial recognition, so it's awesome to get it within Photos.

actually, google put out facial recognition over 10 years ago on its Windows photo app called Picasa. I used to use that to catalog all my photos. google has changed much since then, and now i avoid any product of theirs like the plague.

Good point about Picasa, but it was their Photos app that took AI to another level. Even iSheep started using it.

Searching all your images and sorting them bring up some privacy concerns. I think it's a nice addition but they need to have an off limit tag for folders. One might not want those informations available at all to any party.

Only if you gave the results from your PC to someone else, and why would you do that?

Be nice if it did the facial recognition that Picasa has.....

Okay, I'm on the fast ring and Photos app is updated to 2017.35063.13610.0 but no search bar visible.

There's a bunch of clowns developing this app. It looks appalling with all that wasted space around collections.

I rather wish that Microsoft would first introduce the capability to search our own photo tags (as Photo Gallery does) before introducing AI search. At the moment, the capability of their AI tagging is little better than throwing random words at the wall and hoping that something will stick. There was a time when Microsoft were serious about photo metadata. I suspect all the members of their photo team have moved on to other things.

AI tagging was an inevitable addition to Windows but users have been begging for the simple ability to add text to their photos for some time now in MS Photos and, as simple as that is........we just get ignored.

Great. The Photos app is finally becoming decent. But Microsoft needs to modernize the photo & video experience on OneDrive too. For instance, I use OneDrive to back up my camera roll instead of Google Photos. But I realized that the Google Photos app is WAAAYYYY beyond! It has much more features and is more intuitive :((
Windows Central Newsletter
Thank you for signing up to Windows Central. You will receive a verification email shortly.
There was a problem. Please refresh the page and try again.