Microsoft launches a #DiwaliUpgrade campaign in India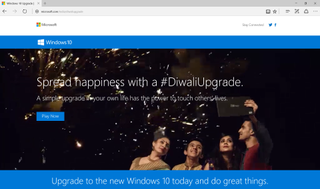 Microsoft has launched a special Windows 10 upgrade campaign around the festive season in India. The 'Khushi Ki Khidkiyan' (Windows to happiness) campaign is aimed to drive awareness towards Windows 10 upgrade and is themed around the idea about how a simple upgrade in your own life has the power to touch others' lives.
There's also a nice, promotional video for the festive campaign.
The campaign highlights three ways to get an upgrade: Make your device new, Buy a new device, and Win a Windows 10 device.
While one can reserve and upgrade to Windows 10 for free, there's also buying advice for a variety of Windows 10 devices like PC on a Stick, Tablets, Two-in-ones, and Laptops. Of course, the last way is to participate in a contest as part of the campaign and stand a chance to win a Windows 10 device – there is a total of 40 Windows device to be won under this campaign.
All you need to do is share your #DiwaliUpgrade story. Log on to www.diwaliupgrade.com, follow the on-screen instructions, and share your story/experience about how you helped someone you know to upgrade to a Windows 10 device.
Are you buying a new Windows 10 device this season, or helping your friends upgrade to Windows 10? Tell us your choice of devices and the best deals in the comments!
Windows Central Newsletter
Get the best of Windows Central in your inbox, every day!
you celebrate Diwali in UK? MS should go for it in that case :-)

Well I'm not Indian but I'm pretty sure Indians celebrate this all over the world not just when they happen to be in India, it would be like skipping Christmas just because you moved to another country!

They should have included Lumia 950s in this promotion.. After all they are also running W10

Exactly that is what I think

I thought I did see a 950 in there in one of the ads where he unlocks the phone by looking at it... It was a white 950, saw it on YouTube... Not sure if the above video is the same... EDIT: It is a 950XL indeed not a 950, sorry my bad...

No love for Lumia 950 xl though :\
Any info.. Please share

Can't wait for them to Launch Surface devices in India (Feb 2016?), Launch day purchase guaranteed.

Please correct me if I am wrong but I dont see anything new. No Surface devices or Lumia 950. This is just about updating to Windows 10?

there is the Lumia 950 at 1:57

Niceee! Hope they buy some time on air and show these ads on TV.

Hope so. Microsoft has been very poor in advertisements.

Yeah, agreed. The Priyanka,Chopra ads were like ages ago. After that no good ads. They should tell people that we launched flagships.

Campaign, Finally in India with an advertisement!!! ;-)

My 1520 is nearing retirement and need a replacement by 950xl and diwali is the perfect time but MS won't launch new Lumias all they have is cash back on 540.

Windows. I mean the actual window.

Some people really need to read the article before commenting

There is khusiya also! Which is happiness! So u can't blame him!

Lumia 950XL Wen in India???

i've tried upgrading my HP AiO PC to Windows 10 a couple of times. each time the power drivers stop working and i have to get the motherboard changed and do a recovery back to Windows 8.
so basically, i can't use Windows 10 even if I wanted to.
my PC is not even 3 years old.
then there are my friends with laptops almost a decade old, enjoying the Windows 10 goodness.

it's kinda strange.
i had windows 10 tech preview and windows 8.1 on dual boot before the official windows 10 release. that didn't cause any issues for the 3 months i used it.
and after the official release, i removed the preview and upgraded my original windows 8.1 to 10.
within a week..bam! the screen died. wouldn't even show the HP logo. turns out the the power drivers were buggy.
had to replace the motherboard and perform a recovery to 8.1.
lost all my data too.

Try using media creation tool

I will buy one, if they release that dam Lumias...

I know it's still 9 days off but Happy Festival Of Lights to all the Windows fans in India. :)

Thanks from all Indians..bro
You could also light some lanterns, enjoy crackers and sweets
and pray for the light to vanquish all evil :)

Hope they launch the Lumias before Diwali really need the Lumia 950 white...ordered mozo red with gold rim :)

How much did the total cost come up to for the case? Could you tell what you did about the customs and import? :)

Helped couple of friends to upgrade even before the update could be downloaded. I download the iso and upgrade all of their computers so I may comment on that site.. Have to study for sometime hopes it's still live on the 4th

Can I upgrade to Windows 10 to my small pc asus Eee pc of one gb ram dual core CPU and 10 inch screen size ? If yes how? Posted via the Windows Central App for Android

what is the probability that in a country with population of 100crore+, one guy can win