Microsoft launches the Lumia 830 in the UK, now available for purchase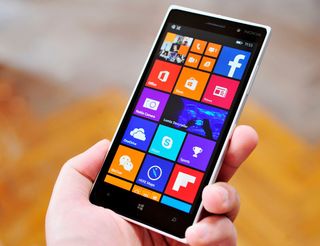 Microsoft has today announced that the Lumia 830 is now available for purchase in the UK, starting from £24.99 on contract. The Windows Phone is already available at Unlocked Mobiles for £304.98, in case you prefer the SIM-free option.
The Lumia 830 features a 5-inch 720P display along with a 10 MP PureView camera, Qi wireless charging, 16 GB of internal memory with micro SD expansion. Microsoft notes that major operators and retailers will be stocking the new Windows Phone, including EE, Dixons, Carphone Warehouse, Tesco and Amazon (available from today). Colors include bright orange, bright green, white and black.
Lumia 830 Goes on Sale Today in the UK
An affordable smartphone which mixes style, great design and superior picture performance with popular integrated Microsoft applications
3rd October 2014, London, UK - Microsoft today announced the availability of its affordable flagship Lumia 830 in the UK, priced from only £24.99 pm.
Features include premium design, PureView imaging for superior picture quality and integrated Microsoft services that work straight out of the box. The affordable Lumia 830 makes high-end innovation available to more people than ever before.
With the ease of use and elegant interface of Windows Phone 8.1, and packing the very best Lumia innovations including Cortana, Wireless Charging, Optical Image Stabilisation and SensorCore into an ultra-sleek package, the Lumia 830 delivers:
Cortana - your very own personal assistant. She is there to make things easier for you and to make sure that you are always up to date on the things that matter most.
Incredible image and video quality, day or night - the Lumia 830 captures sharp images with its 10-megapixel PureView camera with ZEISS optics, multi-mic Rich Recording, and Lumia's thinnest optical image stabilisation system to date.
The chance to capture expressions and emotions with Living Images that make your photos come alive. These are easy to share on social networks using the integrated Storyteller app.
The latest software - Windows Phone 8.1 including the new Lumia Denim software enhancements. It means faster and easier connections to everything and everybody that matters most to you.
Great software like Cortana, Microsoft OneDrive and Microsoft Office with Outlook, Word, Excel and PowerPoint for leading productivity on the go, ready installed, straight out of the box!
A massive 15GB of free OneDrive storage - sync and instantly share pictures and content with friends, family, and colleagues on the go across all your devices. .
A world of apps including Instagram, Adidas miCoach, Vimeo, and Flipboard – plus apps that sync across devices so you can be always ready to pick up where you left off.
Great hardware design backed by a powerful Qualcomm® Snapdragon™ 400 processor, featuring quad-core CPUs at 1.2 GHz, for super-fast, smooth web browsing and gaming, all delivered on a beautiful, sharp 5-inch ClearBlack display.
Inbuilt SensorCore low-power motion sensing which tracks motion and location even while the phone is 'asleep' in your pocket - perfect for exercise and exploration – and with apps like Bing Health and Fitness, and Adidas miCoach you can make every step count!
A large 2200 mAh battery so you can keep going longer and built-in wireless charging adding convenience (wireless charging pads, car kits and audio docks are sold separately).
Conor Pierce, VP of Microsoft Devices for the UK and Ireland said: "With PureView imaging, wireless charging and a wealth of other great features, the Lumia 830 delivers the best innovations and experiences from our flagship smartphones at a more affordable price, underscoring Microsoft's commitment to offer a competitive Windows Phone 8.1 smartphone for everyone."
Finally, today London plays host to Destination Star Trek – the largest convention of its kind. As Klingons, Vulcans and Romulans descended on the city to attend the event, Microsoft's first truly 'personal' digital assistant, Cortana, has boldly gone where she has never gone before, and revealed a series of fun phrases. Dave Coplin, Microsoft's Chief Envisioning Officer said: "For a bit of Trekker fun, download 8.1 on your Windows Phone device and try asking Cortana some famous Star Trek phrases such as: 'Set Phasers to Stun', 'Engage' or 'Beam Me Up', - you can even ask her to 'Speak Klingon'. There are many more so we hope everyone has fun trying to 'Trek' them all down!"
The Lumia 830 is expected to be available in the UK from Vodafone, EE, Dixons Carphone Group, Tesco and Amazon from today, in a range of colours including bright orange, bright green, white and black.
Windows Central Newsletter
Get the best of Windows Central in your inbox, every day!
Rich Edmonds was formerly a Senior Editor of PC hardware at Windows Central, covering everything related to PC components and NAS. He's been involved in technology for more than a decade and knows a thing or two about the magic inside a PC chassis. You can follow him on Twitter at @RichEdmonds.
Denim's on the 830 which is now out... When's it coming out on Lumia 930??

Now only they announced the denim devices so have to wait for a month or more I guess

A month, then carrier approval, God knows when it'll roll out

First I'd like to say that this phone is nice

Haha I know, I know, crazy.

you have to compare the same seller, on inlocke mobiles lumia 930 is still over £400, in a moth you'll get lumia 830 for about £260

You can buy the Lumia 930 from Giffgaff for £340, over the past two weeks I have had two which I've returned as they've been faulty. I just bought the Lumia 830 for £260 from clove technology using a discount code. Can't wait to get it, arrives tomorrow. I like it because it has removable battery and back covers, plus you have a micro sd slot.

I'm curious...was it the same fault twice or two separate problems?

Two separate issues. Phone number 1 : the brightness on the screen was not uniform. Lower left of the screen was brighter than the rest of the screen, this resulted in the menu bar on the bottom looking like it had a gradient on it rather than being a uniform grey colour. This may not annoy some people but it did me. Phone number 2 : the bezel around the phone on the rear had around 3 / 4 chips in it. Plus the back panel was creaky / made clicking noises! Again, these issues may not bother some people but they do me.

Mate you did the right thing...they annoy the hell out of me!

How doI get the discount code?!

I got it through doing the Trial a Lumia program. I won't be giving others the discount code so please don't ask. Sorry :)

Thanks for the response, I wouldn't ask, plus I would also assume the code is a one off one anyway. Just wondered if it was a public offer, thanks :)

Dunno why they always list the prices at these rip-off merchants. Sure they might get the phone a week earlier than other sites, but they charge an extra 20% and then keep it that way even once it launches everywhere else. Even Amazon is a better option.

Does it support the glance feature?

A better question would be "Does it come with a manual that tells you how to activate weather in glance screen?" I've been at it since the glance update today and it simply refuses to show. I've done everything written in the comments. Maybe MSFT thinks all of us are superhumans who can just understand a new feature without any help...

Ask Cortana to do it for you.

Step 1. Put it as your lockscreen background
Step 2. Enable glance
Step 3. ????
Step 4. PROFIT

Really, if it would have been that simple and was, I wouldn't have commented this would I? Anyway thanks. Still not working but this is probably some bug.

Do be sure to restart the phone after glance is updated. Then set weather to be your lock screen app and it works fine. L820.

Weather info does not work (as of now) in glance screen night function (or whatever it's called in English).

install msn weather app, go to settings, lock screen, background and select weather. it should now show up in glance.

I had the same problem, try this, on the lock screen settings, choose weather, then below, click open app, it will open weather app, and thats it!

Yep, you have to run Weather once it's been set for it to load the latest weather report. After that it updates automatically. I'm sure they'll update it again to make it automatic, so no need to whine.

Whine? WHINE? Criticizing something for not working as it should is not whining. For your information, I have performed each of the steps above, with the obvious exception of a reset, multiple times. I asked a question in the forums too and consulted the comments on the related article too. Nothing seems to work. So don't call my justified complain as "whining".

Already launched in India

You can purchase it from October 8.. Price is around 28.8 k with 6k discount if u buy from snapdeal app.. This is the current information...no comments on by which way snapdeal is giving u discounts..

Not whining but just an observation that the 930 can be had for about £40 more. I am really interested in upgrading from my 820 but why go for the 830 over the 930 when they are so close in price? Unless you need the extra storage or can't live without glance that is..

Agreed. The Giffgaff deal is really good. This price is a mockery of sense. But then I imagine this will come down in price fast. It had to, in order to shift units.

They just quoted a price from a rubbish store, maybe they get commission or something. I'm sure it'll be on GiffGaff and other sites soon enough for a lot less than the 930.

I can't wait to try this phone on AT&T.

So how much the 830 will cost in the UK?

It is written in the article, search and ye shall find :P

It's a fair question when they only list the price at Unlock Mobiles, hardly the most competitive site on earth. There's no mention of the RRP or the street price.

Congratulations. This is not a joke! You are the 100,000th visitor to ask a stupid question. *details apply.

Is there any Information when the Nokia dt-903 will be released?

Does it support wireless charging?

Yep, it's got it built in so no pesky shell.

Too many phones. All you really need is a low, mid, high end model plus a phablet.

This is a refreshed mid ranger

Isn't it an "affordable flagship"? So overpriced mid upper tier?

I agree. They should drop at least 2 models, and have for example just : 5xx 7xx 9xx series and then 10xx for photo enthusiast and 15xx as phablets.

Kind of tired of hearing news about this phone without reviews. I need context.

yes inbuilt just checked the specs,... right on to my provider time to blag an upgrade

What happened with the 30gb of free OneDrive storage?

It's also available in the Netherlands. My wife got hers today. Wonderful device!!

I get my hopes up everytime I see a similar headline "Lumia 830 launches in....." Wanting it to say it is released for AT&T. It'll happen soon enough I guess.

Having Denim is interesting! Hope they roll it out to my 930 next week.......


Here, here. Want some of those lovely camera upgrades (HDR especially).

Next week?? You must be kidding!!! Its MS after all

It still says "notify me" when it comes out on the Official Lumia 830 Microsoft page... Also, this disturbs me:
http://www.microsoft.com/en-gb/mobile/accessory/hd-10/ On the "A new wa to play", isn't that an Iphone screenshot plasted on the Lumia 930???

This phone only worths of $350 and it will be down to this soon.

Phone is also available in Austria for just 335€... I bought one :)... It's excellent...

When will you make a full review of the Lumia 830?