Microsoft opens Cortana up to developers with Skills Kit Preview and Devices SDK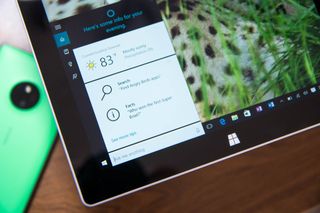 Microsoft has introduced some new tools that should help Cortana become even more useful and come to even more devices. Launching in private preview is that Cortana Skills Kit, which will enable developers to easily create new Cortana skills. Microsoft has also launched the Cortana Devices SDK, which allows manufacturers to integrate Cortana into smart devices of all kinds.
While only currently only available to a handful of partners, the Cortana Skills Kit already looks promising, with Microsoft noting that it should even make it easy for developers to use code from Alexa skills they've already created to make Cortana Skills. From Microsoft:
For more on how partners are already working with Skills Kit, check out Microsoft's full blog post. Cortana Skills Kit is expected to be more broadly available to developers in February 2017.
Meanwhile, Cortana Devices SDK looks like it will help deliver Cortana to all kinds of new devices. We've already seen one example of what's coming from Harman Kardon as part of this endeavor, and it's likely we'll see even more hardware partners jump on board over time. All of this comes on the tail of Microsoft announcing that Cortana is coming to Windows 10 IoT devices with screens (i.e. your refrigerator) soon as well.
In any case, it's clear that Microsoft is looking to further throw its hat into the AI ring by making Cortana more useful as a digital assistant with even more skills in more places. That said, what would you like to see from Cortana in the future? Or perhaps a better question is where?
Windows Central Newsletter
Get the best of Windows Central in in your inbox, every day!
Dan Thorp-Lancaster is the former Editor-in-Chief of Windows Central. He began working with Windows Central, Android Central, and iMore as a news writer in 2014 and is obsessed with tech of all sorts. You can follow Dan on Twitter @DthorpL and Instagram @heyitsdtl.
An Alexa and sonos competitor powered by Harmon Karden would be an amazing device for sure. Given that Samsung owns Harmon we should also soon see Samsung smart devices that used to run google now running Cortana?

Wow, so much happening with Cortana. Completely useless as it's not available here in the Netherlands. And yeah, the standard "we're working on it" reply in Feedback Hub doesn't really give me much confidence it's coming soon.

I think they're late for this market. I think Cortana would be a bigger deal if they supported all languages out of the box. I think many businesses and consumers will quickly be disappointed if English is going to be the only best out of the box experience. Microsoft doesn't have to prove high quality refinement. We already know we want Cortana. But I don't use Cortana now and don't see me going for Cortana in the next 3 years as ling as the language issue isn't addressed.

I'm confused. Google home supports 2 languages and both are English, Alexa has support for 7 languages from what I can find on line. Cortana launched with 15 languages and has had several added since then. Best experience is US sure but were the testers too so we also get the worst first impressions lol. But if this Harmon launched with 20 languages then NO ms is not late to the party.....but suddenly ahead. Oh and evo/home hub....that will be a first to market maybe the Surface Home Hub

Amazon Alexa is only in English so how is MS late to the market?

That's from a fan perspective though. MS take time tailoring each version of Cortana to the local region, so its a slower roll out. If they didn't tailor it though and make Cortana feel less artificial and more relevant to a customer, then its got nothing to differentiate it. Cortana isn't quite there yet but personalisation like this is a key detail.

Yes, it would then be more ahead of the game in terms of number of supported languages. But even by covering 20 languages, there are still many missing out on the Cortana experience, even developed markets. The language thing will still be Cortana's achilles heel as ling as Cortana doesn't reflect a similar language pack speech support similar to the current it's default list of languages in Windows. (Assuming the this number is correct) 20 languages will likely be a strategically calculated potential market share, but functionally Cortana is potentially more powerful than that on the global market.

I wish I can use customized word instead of hey Cortana

Actually after u used hey Cortana once just saying Cortana is enough totrigger her.

Well, that will wake up all devices nearby. If I can use own word, each device will have own wake up command

It seemed like Cortana was way ahead of the (Siri) game back in 2014 but stagnated. It's too bad because it seems like MS missed a big, foreseeable opportunity to get ahead of the curve but now they're playing catch up to an increasingly crowded market. I am glad to see their progress though.

Agreed,but you know Ms first one out the stable last one on the track. Hope they make Cortana usable worldwide or what's the point.

All I want from Cortana is to be useable for the following cases without ANY stupid Microsoft account, just like Google voice search does on my OnePlus One without any skynet account: - Determine weather forecast for some area, including outside (seriously microsoft, I need an account for this? Such desperation for data-mining)
- Begin playing a specific playlist/song/artist (not even Google is this desperate to spy on everything I listen to, but the devils at microsoft currently are)
- Opening of apps (just does a dumb web search)
- Get movie listings and their ratings (they have all the resources right there in the Windows Store, should be easily implemented instead of always opening a web search)
- Finding local business (not just restaurants) addresses (stupid assistant demands I sign in to get this info) Thankfully, it can finally do the following non-personal tasks (although needing improvements in some cases) like the competition has long offered without any stupid account: - Get definitions of words I come across in websites/conversations/videos
- Make some simple calculation (though could still use a lot of improvement to match Google now's level of understanding)
- Perform quick currency conversions
- Get details about some historical/iconic person (though could improve by reading out details when it finds them)
- Get some sports scores
- Set an alarm/timer (sets alarms fine, though for whatever reason, does a web search for timers)
- Finding taxi numbers in my area
- Finding the pictures of any form of matter, depending on my current conversation (though instead of opening a web browser, could show results in its small window and let me pick the one I want, with options to open in browser)
- Determine the spelling and definition of some word I heard in a conversation (I literally just launch Google voice search and ask the other person to say the word)

I love the way you think that if MS wanted to spy on you they would need you to sign in first. Not to mention that no company cares about what music do YOU listen to, or which city's weather YOU are intrested in. They care about the whole user base so they would know what their next step should be. (Most people searches for eminem, well lets get his new album to the store, no people searches for weather in a certain city? Well then it doesn't really make sense to pay for getting that data)

They don't need any account for what you described. Google doesn't demand such nonsense yet it still performs all of the above. If they don't need it, no point demanding it for such non-personal stuff besides other privacy-invading intentions.
Windows Central Newsletter
Thank you for signing up to Windows Central. You will receive a verification email shortly.
There was a problem. Please refresh the page and try again.