Microsoft Surface Precision Mouse vs. Logitech MX Master 2S: Which should you buy?
Is the Logitech MX Master 2S a better mouse than the new Microsoft Surface Precision? It depends on you.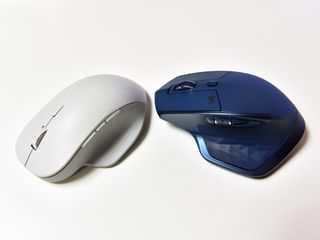 When it comes to mice for work (and a bit of play), there are a few high-end options on the market. The MX Master 2S is the newest kid on the block from Logitech, while Microsoft's new Surface Precision mouse looks to build off that company's reputation and design, with some small twists.
Which is better? Let's find out.
Surface Precision vs. MX Master 2S tech spec showdown
On paper – and in real life – there are many overlapping features and similarities between these two mice, making naming a winner very subjective.
Swipe to scroll horizontally
Category
Surface Precision
Logitech Master MX 2S
Design
Ergonomic desktop
Ergonomic desktop
Materials
Machined aluminum
Molded TPE side grip and thumb rest
Molded TPE/plastic
Colors
Light Grey or Black
Graphite, Midnight Teal, or Light Grey
Buttons
Seven including Back/Forward and middle click
Seven including Back/Forward and middle click
Gesture buttons
Scroll wheel
Main wheel
Main wheel with auto-shift
Secondary thumb wheel
Dots-per-inch (DPI)
400 to 3,200
200 to 4,000
Connectivity
Bluetooth 4.0/4.1/4.2 Low Energy
USB 2.1
Bluetooth Low Energy
Advanced 2.4 GHz with Unifying receiver (dongle)
Range
At least 5 meters
10 meters
Power supply
Rechargeable (USB)
Rechargeable (USB)
Battery
Up to 90 days
Up to 70 days
Weight
135 g
145 g
Price
$99
$99
In my experience, the most significant differences come down to a few areas:
The MX Master 2S has an optional 2.4GHz dongle, which gives a superior connection. The downside is there is no way to store it, and it's easy to lose.
The Surface Precision Mouse can be used wired with its USB cable. That is, the signal goes over the wire instead of Bluetooth. That may seem obvious, but the Logitech can only charge via USB and not operate while wired.
Thumb scroll wheel; the Logitech has one, the Surface Precision does not.
Both support multiple PC usages at the same time through their proprietary software.
The Logitech is louder for clicking and scrolling but has a mechanical scroll wheel versus the non-mechanical one in the Surface Precision.
The Surface Precision is 10 grams lighter and has a lower profile, making it slightly better for travel.
Are any of those features automatic dealbreakers? It depends on what you are looking for and what you prioritize. There are arguments for and against some of those abilities, but not everyone will agree that a thumb wheel is "killer" or that being 10 grams lighter (or quieter for clicking) is even worthy of a mention.
Real-world usage
In my time with both mice I found them to be very comfortable. If you gave me either mouse and forced me to use it exclusively I'd shrug and be happy about it.
For accuracy, the Logitech technically can lower the dots per inch (DPI) to 200 versus the 400 in the Surface Precision. Likewise, the Logitech can go higher to 4,000 DPI versus 3,200 in the Microsoft one. Those are minor differences, however, especially when you compare to the 16,000 DPI found in the Razer Basilisk wired gaming mouse.
Regarding programmability, both mice through their respective proprietary software can have their buttons assigned to virtually any tasks, macro, or key combination and even with specific programs. I like the look and feel of the Microsoft Mouse and Keyboard Center a bit more than Logitech's, but you are rarely spending any significant time in either app. Both are great though.
Battery life for both goes well into the two-month range but I do like how I can use the Microsoft Surface Precision wire to charge and for the signal, too. The 2.4GHz optional dongle for the Logitech gives a superior connection, but for travel, it's a nightmare as it takes up an extra port and is quickly lost without a storage compartment being available.
The button layout, while similar in function, is defined differently on each mouse. The Logitech stacks the back and forward side buttons, which I find aggravating to use without looking. The Surface Precision goes for the more traditional horizontal layout that is much easier to discern – you reach forward for forward, back for the back button, middle-click is the middle button. With the Logitech, I have to reach back for forward (top) and back (bottom), and that does not feel very natural.
There's no clear winner
The Logitech MX Master 2S and the Microsoft Surface Precision are both at the top of their games for professionals and those who need a high-end desktop mouse. Neither has a significant flaw or deal killer, and those differences matter only for personal preference.
Pricing is $99 for both, but the Logitech can be found for $95 in the graphite color (black). Meanwhile, if you're a student, you can pick up the Surface Precision for $89 with an education discount through Microsoft.
As to which is "better," it comes down to subjective opinion. Some people feel very strongly about having a thumb scroll wheel out of habit, while others will enjoy the more conservative and less aggressive design of the Surface Precision.
If you're a previous Logitech MX mouse user – and have been happy – you will find it easier to upgrade to the new MX Master 2S. The Surface Precision won't offer any significant advantages, but it will bring some user adjustment to the different layout.
Get the Windows Central Newsletter
All the latest news, reviews, and guides for Windows and Xbox diehards.
Daniel Rubino is the Editor-in-chief of Windows Central, head reviewer, podcast co-host, and analyst. He has been covering Microsoft since 2007 when this site was called WMExperts (and later Windows Phone Central). His interests include Windows, laptops, next-gen computing, and for some reason, watches. Before all this tech stuff, he worked on a Ph.D. in linguistics, watched people sleep (for medical purposes!), and ran the projectors at movie theaters because it was fun.
Can you assign 5 different gestures to each of the buttons on the Surface mouse? If not, it's merely an overpriced joke compared to the MX Master...I have 20+ gesture shortcuts configured to my liking on my MX Master.

I can configure 7 gestures on my Logi MX Master 2S

Can you plug in the MX 2S with a simple USB cord to use it wired? If not, then it's merely an overpriced joke compared to the Surface Precision mouse. Different strokes for different folks. Find the mouse that best works for you. "I have 20+ gesture shortcuts configured to my liking on my MX Master." Cool, I have zero gesture shortcuts configured on my MX Master.

Daniel, why in the world would we want to plug our mouse into our computer via a wired connection?! This isn't 1998...

I prefer a wired mouse, no worry about forgetting to charge it, and with a desktop computer a wiored mouse is not a problem. I can understand people having wireless for laptops. Gamers prefer wired mice as they say theyare mnore responsive, how much of that hold true these days I do not know with technology getting better. i used to have a coirdless mouse years ago and it was good for it's time it had a docking unit so it was easy to charge, but then mice with docking units seemed to vanish. I have a logitech G502 myself, it is a good mouse and wired. I am looking at getting a verticle mouse, they are not a bad price, but it will certainly be wired.

Don't agree. I love everything MS - especially Surface having a surface book 2, SP3, Scult Keyboards (3 of them) but had to choose the MX 2S here. The scroll wheel and insance configurability with 5 settings per button doesn't compare. I wanted to get the Surface Precision due to better looks and consistency with my SBook 2, but glad I got the MX2S. Its crazy how much I have programmed this mouse.

Gesture what? Only thing I notice is how my 2S have anoying placement of the thumb buttons... I have no clue what to do with 20+ gestures thus I do not miss the feature. The thumb buttons I use all tur time.

I think I am a bit old fashoined with my mouse, I just use the main buttons and that is it, I do like the DPI change mind you,

The back and forward browser buttons on logi mx one sucks. I hit the wrong one all the time. Precision looks better but it is still small.

It's one reason why I don't like it as much as Precision. Those buttons are not easy to use, nor pleasant. It's a weird design.

the logitech buttons on the side are awkward for sure, but you get adjusted pretty quick

I really like the look of the Logitech, but the precision seems more functional and ergonomic.

The Microsoft one can also be used on 3 devices and the wheel can go smooth or tactile

The Master 2S can also be used on 3 devices, and has been able to do smooth or tactile scrolling since the first MX Master. Microsoft most likely copied that feature from Logitech.

In the recent Black Friday, I finally switched my 12 years old Logitec MX 510 with a new Razer DeathAdder Expert. I'm extremely fond of my choice - cordless mice are not for everyone :)

I bought Logitech because it works on glass

Logitech is considered the big game in mouse, and justifiably so, but from personal testing I liked the Precision better than the MX Master, in both shape(fingertip grip), and how the buttons feel. Not saying that that;ll be the case for everyone, but saying that no one should count Microsoft out when it comes to input devices.

I thought about the Surface mouse for my SB2, but ended up getting a white MX Master 2S. I've had an MX Master and variant since they first came out, and just love them. Maybe I'll pick up a Surface one if it goes on sale at some point.

I bet you are loving the SB2 - I have th 15" and LOVE it!

Do Microsoft still use that softened rubber coating that will melt after a few years? I have 3 Microsoft mouses and all now have sticky gluelike rubber :-( I dont trust Microsoft anymore so... Logitech for me.

Dat free scroll tho. That's something that I can use on a daily basis and it feels so good.

Recently purchased the Microsoft Precision Mouse, and while very expensive, it certainly feels like it's made with high quality attention. I had been waiting forever and a half for Microsoft to release a sleek looking full-size wireless desktop mouse since my Wireless Desktop Mouse from over 10 years ago had barely died. This seemed like the closest bet after trying different smaller mice that just wouldn't do the trick. Getting used to the "ergonomic" form factor and had to get rid of the mouse wrist rest I had been using because my hand would end up in an odd angle and if I also tried to rest it properly on the mouse's shape. I absolutely LOVE the option to switch from clicky scroll wheel to smooth (no haptic/vibration feedback), depending a lot on the mouse, sometimes one is way better than the other and when it's permanently one way, it's been a deal breaker for me in the past.

Hey Daniel, i've the Precision Mouse and i can sense i kind of latency (sluggish movement) vs. with wire. Is this maybe a bluetooth problem? I've orderd the MX Master 2S now, for comparsion. Did you noticed a difference between this two devices in reaction time / sluggish movement / latency?