A hardware refresh for Surface Pro 4 and Surface Book with Intel 'Kaby Lake' may be close (Updated)
Why is the current Surface Pro 4 and Surface Book suddenly "old"?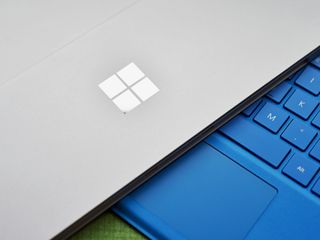 (Image credit: Daniel Rubino / Windows Central)
Microsoft has an upcoming event in New York City on October 26 and there is a lot less known than know this time around. Speculation of new hardware in the form of a Surface All-in-one is likely the big news with a heavier focus on what is coming to the Windows 10 and Mobile OS.
One area I am not sure about is whether Microsoft will refresh the current Surface Pro 4 and Surface Book with Intel's new 7th Generation 'Kaby Lake' processor. Many companies are dropping in the new chips which give a modest 10% boost in speed and improved battery efficiency. Not much is needed in the way of hardware revision either as the "new" Dell XPS 13 demonstrates.
Update 10/21: Amazon has updated their listings again. This time, however, the listings say "2015 VERSION", which heavily implies a 2016 refresh is imminent. See our predictions article for October 26 for more information! Thanks, Dylan, for the tip!
Curiously, on Amazon (opens in new tab), the listings for Surface Pro 4 and Surface Book now both denote "(OLD VERSION)" in their listing title. I know from previous sourcing that Amazon does get a heads up on some marketing and new listings direct from companies. It is possible the company is trying to clean out its stock before a "refresh" comes through.
A source familiar with the matter has confirmed a Kaby Lake Surface Book that looks identical to the current version is being talked about at the company.
I have reported in the past that a Surface Book 2 with a redesigned hinge and likely other improvements is being worked on. However, the earliest I have heard of a release is likely in Spring 2017, which jives with the March date for Redstone 2 we reported last night. I have not heard anything about a Surface Pro 5 or a non-Pro version either, although that is probably due lack of confirmation rather than a change in the product line.
It would make sense for Microsoft to toss in some new processors for the devices especially if their true successors are still six months out or more. For now, just file this under a curiosity as I'll try to dig deeper for more information.
Windows Central will be on the ground in New York City for the Windows 10 event, so stay tuned.
Thanks, Robert M., for the tip!
Windows Central Newsletter
Get the best of Windows Central in in your inbox, every day!
Daniel Rubino is the Editor-in-chief of Windows Central, head reviewer, podcast co-host, and analyst. He has been covering Microsoft since 2007 when this site was called WMExperts (and later Windows Phone Central). His interests include Windows, laptops, next-gen computing, and for some reason, watches. Before all this tech stuff, he worked on a Ph.D. in linguistics, watched people sleep (for medical purposes!), and ran the projectors at movie theaters because it was fun.
It's something. I would be very surprised if new devices do drop soon, since I've been waiting for March '17 instead...

It wont be new devices. Just refreshed versions. If they aren't planning to release a Syrface Pro 5 or Surface Book 2 until Q1/Q2 of 2017, then it totally makes sense that they'd refresh Surface Pro 4 & Surface Book with Kaby Lake. Though I could totally see them launching new device types, such as an Echo/Google Home competitor, or an Fire Stick/Roku competitor (no, the Xbox really doesn't count, as it's in a WAY different price range).

Like a Home Hub? Could be a good idea.

That's be great, even better if in time for the holidays

Yea. It would be awesome to have something like that, where you can control everything via Cortana (music, smarthome, etc).

I'm holding out hope that they will bring this functionality to my "always on" Xbox One with Kinect someday.

That could be a plus. But they also need something stand alone, which can be palced anywhere in your home. Most the people I know who own an Amazon Echo, put it in either their bedroom or kitchen. With the $50 Echo Dot coming out next week, and Googles Home coming out soon, Microsoft really needs a stand alone, "blend into the environment" solution for Cortana.

Yep, totally agree. My hope for that functionality on Xbox One with Kinect is mostly so I don't have to buy anything else lol

Probably wouldn't support Windows 10 mobile... /s

Yeah, except for the "home" part when it appears all MS sights are set on enterprise...

Hey Dan! Do you have any idea about this! https://www.windowsteam.com.br/panos-panay-revelou-um-novo-surface/
You have to translate the page first;")

Maybe that's what the fabled all in one device really is???

As long as they add Thunderbolt 3 as well, I'd buy one. Otherwise, not much point besides graphics improvements.

A home device with NAS would be great, but in XBox price territory.

Nas would never happen bc azure.

It's still lame without usb c, I wouldn't buy if the only change was a new processor.

I'm waiting for a new 5.2" phone.

marketing something unused as OLD VERSION isnt good example if i go to a shop now and ask for surface pro 4 and the paper near the surface pro 4 says OLD VERSION... i automatically not gonna buy that :D

Great point! It should say something like first iteration or v1/version1 or Intel Gen6

If you go to the Amazon store page, you will see that they are calling the Surface Pro 4 with Anniversary update the current version and the one without the update the old version.

If HP and DELL can do it within month's of Kaby Lake's launch then so can Microsoft :)

I don't really understand Hardware refresh for the older iteration when there's a whole new iteration (Surface Book 2 and Surface Pro 5) is on the way with the latest of the continuously upgraded hardware world... Who would want that?

The initial issues and results of skylake was enough for me to stick with my SP3... a SP4 with kaby lake may very well seal the deal for me. I'm needing the 16gigs of ram these days!

Not a single OEM has any detachable 2-in-1 released or announced with Kaby Lake. This is a big concern.

But there is Yoga 910 and Spectre x360 (2016)... not detachable but they are thin enough.

Wrong, Asus Transformer 3 has Kaby Lake.

"It would make sense for Microsoft to toss in some new processors for the devices especially if their true successors are still six months out or more." Actually, unless the new ones are more than a year away, I don't think it makes much sense. Why waste money on a chip upgrade just to replace the device 6 months from there? It would only anger buyers of the "new" Surface Pro 4 and Surface Book. Specially since these aren't cheap devices. Upgrading the chip is something probably 90% of consumers don't care about. The momentum Microsoft created with the Surface Pro 3 and the "we're not releasing these religiously every year at the same time but only when it's justified" is something I believe generated much goodwill towards the Surface line. You know they're not just releasing new versions for the sake of it. Doing this IF they intend to release the SB2 and the SP5 in March just seems a waste of money and goodwill. However, since I saw Sony release a flagship phone in July and replace it in September of the same year, I won't put my hands over the fire for any company.

It would make sense if Microsoft intends to continue selling the older models alongside the new.

True, but that would be a first. They didn't keep producing the SP3 when the SP4 came out. Not to mention if they did that, the orginal SP4 would have to see its priced lowered. Which would then only improve its sales instead of pushing out the "new" SP4. If they don't decrease the price of the original, then only the new version will sell because spending for spending, better spend it on the newest version. Which would make keeping the older version around pointless. And it would still anger people who'd buy it if the SP5 comes out in March.

I would expect the SP5 is going to be a new design. They seem to be doing the every other model is a new design thing. The SP4 may become the cheaper option in six months. Posted via the Windows Central App for Android

It would only anger buyers of the "new" Surface Pro 4 and Surface Book.

Didn't stop them from releasing the Lumia 900 just to come out with WM8.0 a few months later

Didn't know MS released the Lumia 900, that's news to me. :\

Every Windows Phone is Microsoft's as they closely control the software. Microsoft new they were abandoning WP7, yet they still put that device out with Nokia. Posted via the Windows Central App for Android

Nokia made the decision to release the 900, not MS...

When it was run by a Microsoft employee.

Microsoft closely controls the software and hardware for Windows Phone. Your argument might be valid if it was Android as anyone just take it and do what they want. Microsoft should have never let Nokia release that phone. It was their platform that suffered. Posted via the Windows Central App for Android

No, my argument is valid because it is a fact. Microsoft and Nokia were two separate companies. Nokia made the decision to release the 900 not Microsoft..

And the award for "most clueless comment of the day" goes to.... L900 had nothing to do with Microsoft.

Omg! What Sony phone?! That's absolutely ridiculous

Xperia X Performance and Xperia XZ.

Sony phone?
Is anyone still buying Sony phones? Sony is putting almost everything in one basket: PlayStation
Looks like nearly all (~80%) of the company's profit are from PlayStation. Not a sound strategy.

Well...they still sell more than all Windows Phones combined despite sales being on a downward spiral...:P But yeah, Sony Mobile has completely lost the plot after the Z3 line. At this point they're trying to be the Apple of Android: selling underpowered, overpriced phones to people who care more about the Sony branding than the device itself. Unfortunately for Sony, they're not Apple.

It would be ok for me as I would be very close to changing my SP3 for a refreshed SP4... I held back due to skylake early issues. I need more ram. I wouldn't care if SP5 came out 6 months later since I have a need now.

I actually wouldn't be surprised if SP4 has come to end of the development cycle. If it's suppose to be a reference device surley it has done its job by now. SB2 I can see, an AIO and Surface phone-ish next year but SP5 I'm not that sure of. Just a refresh now. Maybe that makes more sense to release now but not another one in six months. If it's not getting a totally new design.

You comment resonated those in me. Thinking the same~

Microsoft already makes about $1B/quarter from Surface, and just announced "Surface as a Service" for businesses - the Surface Pro isn't going anywhere anytime soon

they can "just" refresh it with new processor, not new design and do that for a couple if years. Refresh the keyboard, the pen a little and thats it.

He's not saying it's going away, just the development and refinement will slow down. I don't agree with that though, I think they will continue to push the development envelope.

While it was (and somewhat still is) a reference device, it has also become a HUGE money maker. Not to mention that it is doing incredibly well in the enterprise world. With the launch of school and enterprise focused Surface plans, I just don't see them killing it off anytime soon.

Actually. In the scope of all Microsoft's businesses the Surface line makes a miniscule amount of money for them.

Sorry but no. Oems are basically lazy and NONE of them, to my mind, has released something as nice as the SP3/4. Sure, Dell had a go with their XPS 12 5k tablet but that didn't feature a kick stand. Oh well.

I'd really like to see an upgraded GPU in the Surface Book refresh or even the Surface Book 2. Even better would be if they allowed us original SB owners to buy the keyboard base with the upgraded GPU in it and not have to spring for an entire new unit if we just wanted an upgraded GPU.

I was just thinking about a GPU upgrade as well. How much more work would it be to replace the 9XX series GPU with a 10XX series?

I'm not really sure. Even if they just added 1 more GB of Vram in the GPU it would perform much better when I want to game on the SB. Having only 1GB of Vram cripples the device when it comes to gaming. I agree with you though, I would love to see even a 1060 put in it if it didn't make the base a lot thicker.

That's going to be hard to do if the hinge is redesigned on the Surface Book 2.

As long as I can get Dolphin running at the SB resolution at 60fps, I'll be okay with it

The Surface Pro 4 could definitely use any battery life benefits.

I don't see the point of a refresh.... I'm sure a surface pro 5 is in the works for some point in the relatively near future.

The surface pro 5 in 6 months would bring what? Same processor, same dimensions? Idk what Microsoft could significantly add to the Surface Pro line 6 months from now that they can't do now thus making the refresh probable

A thinner lighter device.

Would you want to get rid of the usb port?

To be honest, I still think it is 1-2 years to early to drop the USB. However all the other companies have moved on to ultra slim devices - HP, Lenovo etc. Microsoft even said at Surface Pro 4 presentation that they could have made it slimmer, but wanted to keep the USB port and I thought it was a correct descicion. They could keep the Pro 4 refresh as it is and introduce the Surface Pro with 2 or 3 USB-C ports. Make it a tad slimmer and 100-150g lighter.

I feel the same. That's why I question the significance of the upgrade in six months but you did makes me think of something... Someone is going to have to be first. But in that case, it's like they might as well add that to the refresh.
The surface pro line maybe near design completion. What I don't want to see is the line sacrificing being thinner and lighter for battery.
Maybe 3d touch in tablet mode or something....i just don't know what else they could add hardware-wise

The reason for an upgade...........USB Type C (3.1) with Thunderbolt support. They could make a new desktop docking station with a GPU in it, that throttles the SP up with an AMD or NVDIA gpu. This in of itself would make me upgrade my i7 SP3 in a heartbeat..........well, that and the fact that im only getting like 4 hours of battery life on the thing at this point.

The docking station isnt the device and idk if the trade of the current usb to usb c is THAT significant alone. Surface line was designed to be a hero device u like what other oem's do. There isnt much halo around a surface pro 5 with a usb-c vs an upgraded surface pro 4.
As far as your battery. Gosh! I'm sorry to hear that! 4 hours sucks!

Would a refresh be similar to the SP2 where they upgraded the processor a little bit? As in, if this refresh happened, and my SP4 tragically fell down a flight of stairs would I be able to benefit from this? (I want that battery boost)

lool... my sp4 actually needs to go in for an exchange. im wondering if i wait, ill get the "refreshed" model

Once this happens I will continually make use of the extended warranty on mine until Microsoft switches it out. Tired of the constant crashes during sleep that they still haven't managed to figure out. For i7 and 16GB RAM its also not nearly as performant for my development stuff as my i7 16GB RAM Desktop PC was either. Somewhat disappointed with the Surface Book honestly.

I wanted to jump on the Surface Book too, however I'm glad I waited it out. I guarantee that the second revision isn't going to have half as many issues. Typically first generation hardware has its issues. Posted with the Nexus 6, Nexus 5, or Surface Pro 3

Your i7 desktop likely doesn't use the same i7 as a Surface Pro

Clearly. But they're not that far off spec wise. In any case it shouldn't crash when it attempts to sleep.

A) You're right about the crashing. It shouldn't happen.
B) An i7 desktop processor is typically a quad core against a dual core that is also constrained by battery. They're quite far off in terms of power.

I really want to see a TB3 port with external GPU support... *has a Razer Blade Stealth + Razer Core*

Man..........if i could pair a Surface Pro with NVIDIA Geforce 1080.............Holy Bleep.........that would be insane

I still have hope since the Surface connector seems to be a modified TB3 port, as it opperates at PCI-E compliant speeds

"there is a lot less known than know this time around" miss an "n"?

For the love of everything holy...RELEASE A HIGH-END DOCK WITH PASCAL E-GPU GUTS!!!

On any of the Surface Pro 4 (OLD VERSION) model pages, if you click on "See newer model of this item" you will see the same Surface Pro 4 model but this time described as "with Windows 10 Anniversary Update". So I don't think that what we're seeing on Amazon today reveals anything about Microsoft's plans for a Surface Pro 4 hardware update. However, those of us interested in a Kaby Lake version of the SP4 can still hope :)

Good to know Microsoft is refreshing their most successful product in history. Surface market is valued in US $Billions, yes billions. If you're un a budget and don't want to buy a Galaxy Note 7 because it explodes, the Surface 3 is a perfect choice, costing just $414 on Amazon and $69 for Microsoft Surface Pen (compatible with Surface Pro 3 and Surface 3) you get a great alternative vs Samsung which by the way has been announcing massive losses of money due to the explosions of the Note 7.

Uh, the Surface isn't really a replacement for a note 7, they are different devices.

I would lean more towards the Mac Pro as a replacement for the Galaxy Note 7. It has way more power than the Surface and is much more capable. The Surface line isn't Microsoft's most successful product! What a silly thing to say. Windows itself is much more popular and their other businesses make them a ton more money. They barely break a billion dollars in sales of all Surface products combined. Given the average price is $1000 or more, it is likely they aren't even breaking a million sales in that period. For comparison, Microsoft's cloud business makes 10x what Surface does. Surface is a nice business not because of revenue. The biggest positive for the line is it shows OEMs what they should be building. It is a great reference platform. Posted via the Windows Central App for Android

I'm glad the book 2 is 2017, gives me a little bit of time to save for it.

think we will get USB-C with Kaby Lake??

They need to include USB-C ports this time around. Looking to upgrade from my i5 SP3.

When will kaby lake release for desktop I wanna build gaming pc.

Give me Surface phone Ty! Posted via the Windows Central App for Android

Thanks for the info. If Microsoft properly gets the Surface devices drivers for it's chipsets and other internal devices to work right with the new Kaby Lake Intel CPU's then WOW the Surface pro tablets and the Surface books will give Folks better performance. Hmm Perhaps the October 26 event will debut the Kaby lake upgraded devices but Surface Pro tablet folks desparately want more USB ports and a C USB port and maybe a thunderbolt port on the Surface pro tablets and probably the most wanted feature is the Surface pro tablet to have 4G transcievers in it to it can truly be a mobile device that uses more than just Wifi tech.

Basically... there's a new chip and MS will use it. There's no point in buying the older version so, although there WILL be a Surface Pro 5 (we hope), a new refresh version should hit asap.

The old version/ new version thing on Amazon seems to have to do with whether or not the device comes with the Windows Anniversary update. Strange but true. Not Amazon getting ready for a device refresh I'm afraid.

Yep I just came to post that too. A simple search would of revealed this. Looks like people have just jumped to conclusions

Is there any news about the successor of Surface 3 (non pro)? I have an iPad Pro 9.7 and want to replace my laptop, but it is coming short, and surface 3 is just not powerful enough for my use. I want something in 10-inch category to replace my laptop, which surface 3 and iPad Pro 9.7 both cannot do. One has limited software and the other has limited hardware. I want something very light to carry everywhere I go with a pen support. IPad Pro is just amazing but comes short when I need a desktop software.

I just wanted to leave this here. Microsoft has previously released the same device with an updated processor (4200U to 4300U in the SP2 - or was that SP?), so this isn't unheard of, even for MSFT.

Well Nothing was announced at the October 26th event concerning the surface pro 4...
Windows Central Newsletter
Thank you for signing up to Windows Central. You will receive a verification email shortly.
There was a problem. Please refresh the page and try again.