Microsoft releases hotfix for Windows 10 Technical Preview build 9879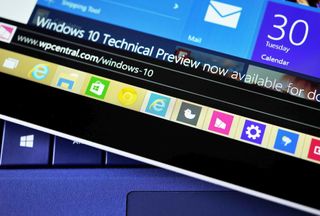 It looks like after having offered a workaround for issues that arose in about 12 percent of PCs running the Windows 10 Technical Preview build 9879, Microsoft went ahead and released a hotfix to patch up the situation. You can download the update from Microsoft directly if you're a Windows Insider participating in the Windows 10 Technical Preview.
According to Gabe Aul of Microsoft:
For more information about the issue, you can read about the workaround.
Source: Gabe Aul
Chuong's passion for gadgets began with the humble PDA. Since then, he has covered a range of consumer and enterprise devices, raning from smartphones to tablets, laptops to desktops and everything in between for publications like Pocketnow, Digital Trends, Wareable, Paste Magazine, and TechRadar in the past before joining the awesome team at Windows Central. Based in the San Francisco Bay Area, when not working, he likes exploring the diverse and eclectic food scene, taking short jaunts to wine country, soaking in the sun along California's coast, consuming news, and finding new hiking trails.
Waiting for major update builds 'D

Honestly, I've got 9901 and it seems faster than 9879. There do appear to be some weird UI bugs going on, but if there aren't any new builds until the official consumer preview, I'm definitely keeping it.

My computer has had "crashed" with build 9901 twice now. It would say Windows ran into a problem and has to restart. I do love what I'm seeing so far in it now.

I'm on 9901 for now. I was about to just reinstall 8.1 but I figured i'd try 9901 first. So far it seems better. I'll give it a few days before deciding on what to do. This build might keep me happy till the CP.

I had good luck with 9901 on a couple laptops and a desktop, but it totally went sideways on a MacBook Pro. Explorer would crash immediately and restart, about once a second. Tried a few things but eventually went back to 9879.

I saw the YouTube video posted by WinBeta: Build 9901 looks AMAZING!!! I'm loving the evolution of the Metro interface, they have a gorgeous design that works well with both touch and mouse. Still needs a lot of spit and polis before final release (duh...), but it's looking great thus far. I'm loving the direction Microsoft is taking Metro Design, and I can't wait for Windows 10!

Microsoft seems to be on top of the game with Windows 10. I have big hopes for Microsoft next year (Hopefully I am not wrong)

Where can one get 9901; will it allow you to install the next build?

You will have to install manually since it sounds like you won't be able to update to the next release.

through the pc settings, under windows update there's preview builds, and yes, you can update to the next release, and maybe even to final release

Read the question again ;-) He's talking about 9901, which is a leak as of now. So Himay is right.

I am on 9901. "PC Settings" is not functional. So no more updates.

I wonder why Windows 10 in Build 9901 have a white theme. THAT would look very modern and sey

That's why I got rid of the technical preview in the first place it mess up my laptop.

I can't even update from the first build...

I had to downgrade to 8.1 on MBP :'(

Y I can't download new preview builds

Quick question for you smart people: 1. Is it safe/stable to upgrade to Win 10 preview now on my PC? 2. Would it erase all my data and settings? 3. I remember reading it somewhere, but not sure, will I have a hard time upgrading to the final build if I have the preview?

Lol thanks.. but what is your reasoning? Just not very ready at the moment? Lots of bugs?

if you ask these kind of questions it's better not to instal the preview

Probably best to read the FAQ http://windows.microsoft.com/en-au/windows/preview-faq#faq=tab0

It has some bugs which may prevent you to fully enjoy using it. If all your files are properly backed up, and if you don't care about freezes (rare) or weird behavior (disappearing UI elements, black items... Happened only when I was copying 4000 files from my Lumia to my SSD, anyway), then you can give it a try. But don't come back telling it's not working properly afterwards ;-)

I wouldnt do the previewon a main pc. A lot of things are missing. ITs still very buggy .

I've ran it on my main PC for months now. Not a single issue.

Thanks for the replies guys. I was thinking to try it on my PC since I heard it's not very tablet-friendly yet so I don't think installing it on SP3 is a good idea.

Actually, since the latests patch (which is the latest???) my PC has settled down a little. I had no problem installing like other users. Meanwhile, updates to Windows 7 killed the macros on my Excel at work. Had to uninstall one of the securty updates that supposedly broke Active X somehow. Microsoft is having a rough couple of months. And, on another note. I have serviced my old 920 to be a game machine for my kids. It was fine untill it started having trouble with my MS password. But in investigating, it has the Denim update!!!!!! Meanwhile, my International 930 does not. There is no justice in the workd!

if you use developer preview on the lumia, and disabled it, it will say denim, when you turn developer preview back on it'll say cyan

Offtopic: 6tag got updated.

To answer the person wanting a more detailed explanation as to why not to download it, it's not that stable, but it won't erase any of your stuff. You can do it if you like to live dangerously, but make sure that whatever computer you use isn't your daily driver.

it's actually possible to use it for a daily driver, just don't expect there won't be any problems and bugs and even random reboots

I wana Lumia update for windows 10

Can anyone confirm that the "no lights on keyboard issue" is fixed

On 9901 issue still persist. But major problem is that metro apps doesn't work...capskock,num lock and scroll lock working...but in "secret mode" ;)

my windows server 2008 failed to strat how do i fix this

Don't have a single problem with my 2,5 years old Vaio, which originally had Windows 7. Even the fingerprint scanner works great, which surprises me.

Damn i am on 9901...living on the edge xD
Windows Central Newsletter
Thank you for signing up to Windows Central. You will receive a verification email shortly.
There was a problem. Please refresh the page and try again.