Microsoft rolling out new cumulative updates for the Windows 10 Creators Update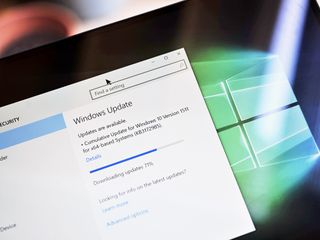 Microsoft is today rolling out two new cumulative updates for Insiders running the Windows 10 Creators Update on PC, that bring more under the hood fixes and enhancements on the lead-up to general availability on April 11th.
Today's new cumulative updates are build 15063.13 and 15063.14. Build 15063.13 is rolling out to the Slow and Release Preview rings, and 15063.14 is rolling out to the Fast ring.
Here's what's fixed in 15063.13:
We fixed an issue where printer connections from clients running older versions of Windows (V3-XPS-based-drivers) failed to connect to clients running the Windows 10 Creators Update.
We fixed an issue where on some devices like the Surface Pro 3, the Windows audio device graph isolation would max out CPU utilization due to being stuck in an endless loop due to defective Realtek APOs.
Build 15063.14 includes the same fixes about plus one additional fix:
We fixed an issue where non-suspendable processes would suspend after waking a device.
These cumulative updates are rolling out now and should install much like any normal update. No news regarding new cumulative updates for Mobile just yet, so stay tuned to Windows Central for that.
Get the Windows Central Newsletter
All the latest news, reviews, and guides for Windows and Xbox diehards.
Zac Bowden is a Senior Editor at Windows Central. Bringing you exclusive coverage into the world of Windows on PCs, tablets, phones, and more. Also an avid collector of rare Microsoft prototype devices! Keep in touch on Twitter: @zacbowden.
Not a surprise...same thing happened last time around!

So they shouldn't fix bugs before rolling out the official release?

But they didn't release the official release yet!

So they should release it to the public with major issues and then patch it?

Mobile could use some love too. 15063.2 is not the best experience. It is slower than 14393 was, and some UI elements flicker and glitch. Other than that, sharing sites from Edge doesn't work like 50% of the time.

++ I experience app crashes more often than before!

Speaking of which, how do we know that Cortana isn't a Russian spy?

Forget Russia it's Donald Trump you need to be watching!!

Would you tell us mortals how to prove a negative?

By the sound of one hand clapping...

Switching an app in Background Apps takes forever or freezes.

Nice seeing post by Jen. We are first cousin's and it has been nice seeing her grow up/progress in her career.

They need to fix edge. Constantly having issues loading web pages after the update. Had no choice but to switch to chrome

Who knows, that seems to be their intention nowadays; push their users to a competitor platform...

Just a loading screen?
Takes a few tries to get a page to actually not stutter?

Ok guys. They are working on it. I have 15063.13 and everything is running great so far.

Forgot to add: Hp Envy
x360 i5 16gb ram 1tb hdd

I guess the release preview ring is dead...hasn't been a update in months😠

Wrong, the RP Ring got the Creators Update recently along with a cumulative update and now this has been released.

Installed Fast ring update and the good old Start Menu problem is still there. Slow, jumpy/jerky start menu. SP4.

Not seeing on SP3. It is possible that one of your app/Live tile is acting up.

Open up a few Windows apps and see how smooth your Start Menu/Action Center is...

I wonder if this is something in the Intel video driver. I noticed that RS2 has been installing a driver from the 22 branch lately.

Yep, I can't believe this issue is still present. It's been there for the last 5 builds or so and is due to poor transparency performance. I'm on a SP3, and I can't have more than a few Windows apps open otherwise all transparent UI elements like Start menu/Action Center become so choppy it's unusable. They really need to sort this out before general release. It really impacts usability for everyone.

No issues at all here on my SP3. Do a system reset.

Yeah I'm really surprised no one else is noticing this, but for me I've narrowed it down to a handful of Windows store apps that cause it, namely Groove Music, Films and TV, and Edge while on certain websites. The issue also only occurs when the app is directly behind the start menu/action centre, so if you have them minimised or not behind the start menu, you'll never notice it. Its likely a lot of people don't use these built-in apps, and therefore never notice it :/ EDIT: Feedback Hub link here:
https://aka.ms/wzetxp

Yep, I can't believe this issue is still present. It's been there for the last 5 builds or so and is due to poor transparency performance. I'm on a SP3, and I can't have more than a few Windows apps open otherwise all transparent UI elements like Start menu/Action Center become so choppy it's unusable. They really need to sort this out before general release. It really impacts usability for everyone.

WiFi is still useless on certain networks. There will be a lot of complaints if this is not fixed prior to releasing to the public: [links to Feedback Hub items would be convenient here, but since I have to do +10 silly and irrelevant posts to do so...] Anyone else on a University Wi-Fi getting extremely poor speeds on PC devices?

Yep, I'm getting this problem on my Surface Book and its driving me crazy. On my home network speeds are perfectly fine, but at Uni I get as little as 0.05mbps down (while still getting around 200mbps up).

I get the issue on Surface Pro 3, Asus VivoStick and a HP laptop (every PC device I have tested with), so it is definately unrelated to adapter/drivers problems. It drives me nuts that Windows Central Editors states that there are no major issues with the Redstone 2 Creators Update. This IS a major issue, and it is difficult to provide info to MS about it since, well, with abysmal internet connection you cannot send feedback. Millions will be affected if released with this issue remaining. Shitstorm about to happen.

Hi all! Just wondering, what is the actual date/time for Creator Update deployed either 5th or 11th April, I mean is it US Time or UTC? Sorry for the broken English☺

Hi Heidi,The Creators Update is upcoming to everyone with Windows 10 on Tuesday April 11th

I should add that you can get it on the 5th via the upgrade assistant if you want to get it earlier. Although the release preview ring is stable enough to use if you want the update today. Also, it will start to roll out to users on the 11th so you may not get it immediately.

Oh, this will hopefully finally fix the issue I have had on my SFP3 since the beginning where after resuming from standby the system process stuck at ~14% CPU......

I'm hoping .14 fixes issues of edge not connecting to internet after wake.

facebook crashes frequently.

I'm hoping this new update fixes my biggest problem so far with the last two builds... on my SP4 the Type Cover randomly doesn't work after waking the system up from sleep. Windows recognizes the Type Cover. Shows up in the devices list. Yet, it won't power or anything. The only way I was able to get it back was to remove the device from the system. undock the Type Cover. Shut down the computer. Restart it. Wait for everything to fully load. Then re-dock the Type Cover. That USUALLY brings it back to life. Does this on two separate type covers too. One from when I purchased the system in November 2015 and one I purchased last week... Fingers crossed.....

I've had this same problem prior to the CUs. Haven't seen it in a while, but I can't say it's fixed yet. I've been having problems with brightness on my SP4 too. The auto-level stops working and the button in Action Center just says "Brightness," and doesn't change when I click on it. A reboot usually fixes that.

Yeah, I notice when my Type Cover stops working the rotation stops working as well. If it starts cropping up again in this build after the update, I'll probably bite the bullet and reset the OS and see if that squashes that issue...

A Window Defender definition wasn't able to install in the previous build and still can't install on this new build, KB2267602. I have an Windows 8.1 Enterprise computer and the same definition won't install on it either. I sent in feedback on the problem, hope it's fixed soon.

Same problem for me. I've been able to update from within the Defender app, though.

windows 10 creator update official will be the insider preiew with cumulative update installed? or the same insider preview witch no cumulative update?

This update fixed my "edge can't post on windows central" issue