Microsoft selling refurbished Surface 2 for $199 on eBay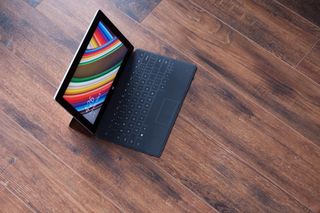 Microsoft is selling the 32 GB refurbished Surface 2 on its official eBay store at a steep discount. The refurbished Windows RT slate is now going for just $199, which is one of the cheapest deals we've seen. Additionally, with the Surface 2, you also get Microsoft Office 2013 RT included in the asking price. The tablet also comes with a rated 10-hour battery life, 200 GB of free OneDrive storage for two years, and unlimited Skype minutes for a year.
The keyboard cover is still an optional accessory with the refurbished eBay listing. Let us know what you think of this deal. If you're looking for more power, be sure to check out our Surface Pro 3 review.
Source: eBay (opens in new tab)
Windows Central Newsletter
Get the best of Windows Central in your inbox, every day!
Chuong's passion for gadgets began with the humble PDA. Since then, he has covered a range of consumer and enterprise devices, raning from smartphones to tablets, laptops to desktops and everything in between for publications like Pocketnow, Digital Trends, Wareable, Paste Magazine, and TechRadar in the past before joining the awesome team at Windows Central. Based in the San Francisco Bay Area, when not working, he likes exploring the diverse and eclectic food scene, taking short jaunts to wine country, soaking in the sun along California's coast, consuming news, and finding new hiking trails.
Should be $150. Yes I'm cheap. Save it boys and girls. Down vote another time

No, it should not be cheaper. This is an amazing deal, look at the specs! Maybe you guys expecting it to be priced lower haven't seen one in real life, but this is a high quality device.

But it's still an RT. You can get a fully featured Windows 8.1 for half the price at new, especially during this holiday season. There's really no real reason to go RT anymore.

If I want a secondary device, I'll take rt instead of win8. Why? Virus free, malware free, better battery life, no DPI issue, resumes faster, instantgo guaranteed etc.

I agree. I wish Microsoft would continue with the surface rt. I was waiting for the surface 3 to come out and when that failed to show the surface 2 has become very difficult to find. Having office built in makes this a worthwhile device. Posted via the Windows Central App for Android

Nah, this one is much better than the x86 200$ in terms of hardware, performance and battery life

I'm always amazed at people who say "I'm cheap" as if it is some kind of badge of honor. Being cheap is not a desirable quality...at least where I'm from.

I'm think we and they are confusing cheap with poor

$199 was the exact same price as the Surface RT when it got referbished. No, it shouldn't be cheaper, and yes, you're being cheap and I'm quite saddened this is the first comment on this topic, really blows.

well.. being represented in the low budget devices what would you expect from the majority of commenters? That they are happy to spend a lot of money for Tech? :O

Yup, I saw the headline and was like...take my money! Saw rt and was instantly out.

Here is to hope that when the surface rt family gets Windows 10 they will get the basic Windows 10 install with full desktop capabilities

I m hoping for windows 10 to make my PC a time machine

Not possible. ARM will never be able to run x86 applications.

Its a hope n dream lol MS compiled their Office suite to run in ARM. Desktop programs willing to extend can do the same and publish it to the Windows store. That is my approach anyway :)

What about windows 10 will run on all platforms is so confusing to people?

There's a jailbreak that allows x86 on ARM.

Yea but those x86 applications need to be recompiled, so it's not practical.

I hope they kill the desktop on RT. Put Windows Phone OS on all RT Tablets. Dektop apps on RT just leads to more confusion. Full destop should be for Surface Pros. With Windows Phone OS on RT, you'll get more hardrive space to work with. They then can make them cheaper and smaller. You'll also have acces to all the Windows Phone apps. The touch version of office is also coming.

This makes sense and what I'm hoping for! Access to all the WP apps would be awesome!!

We would you want a less featured WP OS on a tablet? You would lose so much functionality.

Its still selling like hot cakes though! Tempted to pull the trigger..

If these things had Atom processors they would sell double hot cakes.

Oh, RT is plenty nice enough. I am super impressed and hope that RT starts getting picked up by multiple OEMS again. It is pretty unbreakable and very pure

Looks like 600+ people still wanted one

Respectfully disagree. I have the Pro 3, but I still use my SurfaceRT quite often. It's a great deal for a 2 for $200. Considering the cost of Office, how much are really paying (if you need Office that is)?

I agree, might pull the trigger and upgrade my Surface RT.

I bought a SP2 RT for $179 on eBay a couple months back & love it! It's perfect & I take it with me everywhere. I needed a companion for my giant Dell Inspiron 17 incher, something I could carry to class easily. RT works fine for me & I find myself using my laptop less. I tried running Netflix off it the other night with a VGA display adapter (I just picked it up on Amazon for less than $20, still waiting on my HDMI one) on a 46in TV & it never skipped a beat. It actually did better than my wired non-wifi Sony Blu-ray player, never stopped to buffer at all. I ran the sound over Bluetooth & the delay was negligible.

Exactly. WinRT is dead.
It has the worst of windows 8 with none of the pros. And it lags hard, even when going back and forward in IE.
Stand by Battery life is miserable

"lags hard" "battery life miserable"??
You must not own, or have tried a Surface 2.

The "lag hard" is some sort of problem in Metro IE.

RT is still good as a consumption device. I still use my RT when i'm watching TV or in bed. They just need to put Windows Phone OS on it.

Exactly what I want it for. That's all I need. Great price for what you are getting!

The surface 2 is awesome, never regretted buying it and this is cheap for what you get!!!

I would have regretted i​t after seeing this article.. Cos I bought it for $650 (including keyboard) but thankfully I sold it a month later for $550. Best tablet design award according to me should go to the Lenovo yoga tab 2. Would love to have a surface pro 3 like pen to use with the Lenovo design.

Oh no they may have to scrap it now after this comment.

Might be good buy to let kids enjoy the surface experience

Agree. I was thinking the same. Instead of getting an Android tablet, you can give them windows experience.

I got one, the only reason Windows rt isn't popular is because of the app store. I have a Lumia 920 and have never looked back from my crappy iphoney. I have all the apps I need. fYI Amazon has the same deal direct from Microsoft which is where I bought mine.

I ordered one on Amazon past weekend. How's the quality? Anything noticeable?

Manbe I will get another one... The surface 2 was just awesome...

I won't that surface 3..... And I'm going to get it

Won't one as well, such specs that would make me won't to buy.

Count me in for Surface 3.

They were 179$ as manufacture refurbs.

Considering the uncertain future of Windows RT, getting that thing is a waste of money.

Well, Windows RT is a Windows version with a serious identity problems.
You cannot use it as a laptop replacement because it will not run all the apps that a regular laptop can. But it is too big in order to be used as a stand alone tablet.
Basically, my Lenovo miix 2 8 is more useful, since it comes with a full Windows version, and it's way more portable.

Windows RT and Windows for phones will become on in the same with Windows 10. Should finally dump the bulky desktop, make RT more streamlined and dump the identity issues.

Dumping the desktop is a terrible idea and exactly why I wouldn't purchase this even at $200. It should be optional, but still available. Downgrading Windows RT's capabilities to bring it in line with Windows Phone is a huge mistake.

Then you don't have to upgrade. If someone thinks it's fine as is, and worthy of buying: They don't have to upgrade, and they don't have to lose the useless desktop.

Windows Phone and Windows RT are going to be one with Windows 10. So unless MS is trying to kill Windows Phone too, RT is going nowhere.

Considering Windows 10 will roll out to the surface family, there is really no excuse to not get this lol RT is no longer, it'll be a windows 10 device and thats all that matters i think

I was tempted to jump on this but will hold out for other holiday sales or maybe get a new one during the Black Friday Best Buy sale for $300.

Ah geez... I had an alert for this. Got a Surface RT last year when they sold new units as refurbs. More than the ideal $159 from last year - but I'm in.

Damn, I wish I could get this. I have an original surface rt. I actually love it. I am not an app person, so its no matter to me. I can even use it to remote into work. Now I will say this, I think they need to make the next non surface pro with an atom and let windows full be installed. Otherwise I still love my rt. That last think I will say, is let my original surface run win10. If they optimize it for a mobile phone CPU, no reason it can't run win10

Huge difference between Windows for ARM and Windows for x86.

I think it probably will run Windows 10.

As a surface rt gen owner, I think RT is probably dead. I highly doubt they'll make Surface RT 3 going forward. The next logical step from SP3 is a surface mini which will replace RT. The only thing I wish my Gen 1 RT does is miracast but DLNA suffice for now.

Shouldn't Windows 8.1 make it Miracast compatible?

Only for devices that have the drivers. Unfortunately for us early adopters, there was no Miracast driver made for the Nvidia Tegra 3 in the Surface RT.

Windows 10 is WP and RT combined. So I guess in that sense it's dead. But so is WP then.

If Threshold is successful and brings better quality apps as well as diversity, then I would rather have a device that is purely metro.

Look at the HP Stream 8 at the Microsoft Store $179, comes with 200mb free 4G data every month for life of the device from T-Mobile, full Windows 8.1, one yr Office 365 free

The amount of ignorance in this article is too damn high. I'll say it one last time. Windows 10 = Windows Phone + RT.

Just inform everyone that is all lol You and i both :)

That should be the case for mobile (ARM) devices. And it's possible that desktop mode will be removed completely from these (RT) devices with mobile MS Office apps as part of the upgrade.

Are current WP apps optimized for a 10" screen??

How can it be dead, if the best selling Windows 8 tablets are RT?

How is the performance against the original Surface RT? I have one at home and seldom use it. The major problem is its sluggishness

It is 100% better. Plenty faster and much less lag. Plus, works with the Microsoft Miracast Display Adapter like magic. I love mine like no other and use it for EVERYTHING.

I am to understand that Win10 when released will run on ARM systems....

Yes!! Finally. Someone figured it out by himself.

Well, that makes my $99 Lumia 2520 one hell of a buy... Lol.

Where did you get a $99 Lumia 2520 from???

Probably with a 2 year contract on either AT&T or Verizon.

I would get this if I wasn't unsure about the future of RT. I might get it anyway, only time will tell... haha.

I think regardless of RT's future, this is still a good deal. But then, RT isn't going anywhere IMHO, simply because MS needs an ARM based OS for tablets. It would be dangerous to simply ignore ARM outright, even if they may still be struggling with RT. Who knows what future hardware trends will be? They need an ARM solution alive and growing on the side.

I agree. I think ARM devices without the desktop mode makes sense, especially with 7-9 inch screens. Desktop mode should obviously remain on full Windows 10 (x86) devices like desktop PCs, laptops, 2-in-1s, and Pro tablets.

You do not have a RT device right? Because all the Windows RT onwers lover the desktop and do not like to see it gone...

Tomorrow has never made today's technology more useful.

Just sold my original rt on eBay for 150 bucks. Glad I sold it when I did.

They really need to include the Touch cover with this sort of sale. The average yet slightly informed consumer is going to know that the Rt app situation is bleak and for the cost of adding the touch cover, you could grab a last gen iPad mini.
I enjoy using my 1st gen Surface Rt but I'm mainly enjoying the fact that I won it and it came with a touch cover. Can't say that it would have been worth retail pricing given the state of the app store.

Does not ship to Australia. :(

Does not ship to any other countres as well (outside of USA of course, as we all know Planet Earth consists only of the single country called USA).

This is tempting but I'm holding out for Surface PRO 4. I need a tablet with 10+ hours battery life plus Instant Go for my alarm. After using my Dell Venue PRO 8 with awesome battery life, I will never go back to less battery life like my Surface PRO. My Surface sits on my desk with Windows 10 as my play computer. I would also love to have a non widescreen aspect ratio for my next tablet. I bought a Chinese brand tablet Onda v975w and it's awesome so far. I just had to figure out translating it in English.

I'm thinking to buy the Onda v975w too. What you could tell me more about it? What about the touch screen, the Intel processor speed and the battery life? The Windows 8.1 is full activated or just a trial version? Thank you!

Never buy Chinese or Korean brands, that's my mom's wisdom...

But Microsoft is American...

Stopped reading at "Windows RT". Sorry...

Buy it guys. Absolutely worth the money for this powerful Surface 2 Windows RT. Believe me.

I think it's a good deal. It's a great product

Ugh decisions decisions. What are the chances they sell the 64 GB Surface 2 refurbished for $250 soon? Or at least bundle with the Type Cover?
I'm ok with RT and I'm not willing to shell out an extra $600 for the SP3 right now. Just wondering if better to go with the 64 GB since half the space is used up in the 32 GB version.

Looks like I found my mom's first tablet. This will make a nice Christmas gift.

My wife loves her Surface 2. Does pretty much everything she needs very well. Web browsing, Netflix, various Flash based video sites, MS Office, etc. No need to worry about malware is a bonus.

We need a sale for surface pro 3! Stop spending on advertising and use it for discounts

32 GB! That's horrible Posted via the Windows Central App for Android

I wish I could get it that cheap in India .

Got mine!!! Upgraded from the original RT, which I didn't think I would do until the next version... They have sold quite a few, nice little bonus kick!!

I called microsoft to find out about the warranty and they offered me a 64g surface 2 for $219.99 at that point it became a no brainer. I had to purchase it.

I want the 64gb version, how did you do it? what is the warranty?

i went to the https://www.windowscentral.com/e?link=https2F%2Fclick.linksynergy.co... website and was talking to a rep online via microsft answer desk, and they told me that they had the 64g refurbished for 219. they said that it wasn't up on the ebay store.

just tried the chat feature on https://www.windowscentral.com/e?link=https2F%2Fclick.linksynergy.co... and they said they don't sell refurbished units, I really need the 64gb version, Harumpf!

Did you talk to a rep via the answer desk application? Thats how i got my deal.

Hate to ask but are you 100% sure they sold you the 64GB Surface 2 and not the original 64GB Surface RT for $219? Because that's the going price on Amazon for the refurbished 64GB RT model and not the Surface 2. That's a great price if it's the 64GB Surface 2.

I called, and chatted to two more people online. I've no clue how you did what you did, but I was told there was no 64gb available. One guy on https://www.windowscentral.com/e?link=https2F%2Fclick.linksynergy.co... told me that he had nl clue that the eBay department even existed. And no, it wasn't for sale.

I paid €600!!! Damn... I had to wait a bit longer :'(

I got me a surface rt and a surface pro 3. Great devices. My kids love the rt.

This is such a great deal!

if it was the Pro 2, then im all in, as that what im looking for,because the Pro 3 is too much.

>RT Well, at least my wallet is safe.

Great deal for people wanting a better battery life, secure ecosystem, people who don't install google chrome as first thing, people who need office, people who love surface rt.

Dang, if I didn't need access to desktop programs for my next tablet I'd be all over this. Love RT and still use my original Surface daily.

I wanna know if its safe to buy a refurbished one or just go for the original surface 2? What's the advantage if it has? And one more thing for how long this deal is there?

Advantage is cost. Reliability should be the same. You can even argue a little better.

How much space does RT take up on a 32gb hard drive? Does it have flash? And why doesn't a "Windows" store have more games!!

Don't know, no flash (unless you jailbreak(not recommended), and because people think IOS is cheaper, when it's really the most expensive

It takes as much as x86 Windows, because Windows RT is Windows with all its features. It migh be slightly less because some legacy libraries/API are missing lie DirectX8. You can assume 10-12GByte including Office and Outlook. By the way Flash is supported out-of-the-box.

They must be back in stock. I just bought one
http://rover.ebay.com/rover/1/711-53200-19255-0/1?ff3=4&pub=5575095911&t...

Thanks! Got it this time!

This is very tempting, but I think I'll hold out for what MS has up their sleeve next.

Still no stock for customers not in the US for the 32gb model.... They cancelled my order for my kid sister by "mistake".... the CR's are not that helpful either. I keep asking and this is what I get: "At this very moment we have no official information when the Surface 2 will be back in stock, or if it will be back in stock. I am sorry, you will need the check the website, from time to time". They are really missing out on alot of sales this Christmas.

Just bought one. Decided to upgrade my Surface RT after nearly 3 years. Was considering an sub $200 W8 laptop but I like the light weight design of the Surface. Plus the Onedrive and skype calling seems interesting. And the office suit is free, which is pretty much all I use.

If I was sure I could update to windows 10 phone/arm are what ever it winds up being called when it ships I would be in.

Bought one! There was like 2 people that bought 10 ! I think they're reselling them

Why does Microsoft never launches any products in India ave the rest of the world, they have larger market but they don't want to tap into that.
I am tired of waiting for surface..
At the very least this refurbished rt version could have been offered here..
Sad.

I'm going to warn everyone now. This Surface 2 is garbage if you never had one. It should be worth $50. I bought it and it has soo many problems. 1. You can't watch YouTube videos through an app or else it will lag out or freeze 2. The keyboard takes up half of the screen and it gives you a hard time typing without the type cover 3. The Alarm app didn't ring so I woke up late this morning 4. Whenever you refresh it, or even your first day getting it, it says SkyDrive. You need to download about a GB of updates to fix. 5. It's slow, slower than my Lumia 925. The only way for all of this to be fixed is if they put Windows Phone OS to replace Windows RT