Today's Microsoft Store grand opening in Friendswood, TX features tremendous deals and giveaways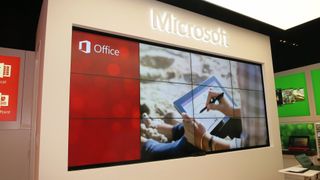 The Microsoft Store is something of a haven for Microsoft fans, a place to find new hardware, software, and accessories ranging across a number of platforms. Not everyone is fortunate enough to live near a Microsoft Store, but new stores continue to open and expand Microsoft's reach.
One of those new Microsoft Stores opens in Friendswood, TX today inside of the Baybrook Mall. It will be the third one in the Houston area and the most convenient one within driving distance for yours truly. To celebrate the grand opening today, Microsoft will be offering up for $99 Toshiba Windows tablets and 4GB Xbox 360 consoles, free gift cards, and a chance to meet José Altuve of the Houston Astros.
Yesterday I toured the Friendswood Microsoft Store a little early in order to bring you our impressions and a full rundown of today's Grand Opening celebration. Update: Now with fresh photos from the ceremony!
Store walkthrough
The store not yet opened when I arrived, so the entire storefront was draped in Microsoft-themed curtains. Two exceptional members of Microsoft's PR staff greeted me outside of the curtain and ushered me inside. There they introduced me to the appropriately named Store Manager Taniel McLean (pictured at left), and the Store Teacher Bebe Gonzalez (pictured at right).
Taniel and Bebe walked me through the new store's displays and features while other employees trained and prepared for today's opening. This particular Microsoft Store is smaller than the one I visited inside the Houston galleria last December (1,156 square feet compared to 4,400 square feet), but still packs all the features you'd expect from a retail store run by the big MS:
Microsoft Band: The display for the band was still being set up during my preview, but Bebe was happy to walk me through the features of the Band she was wearing. You'll find the Band display front and center upon entering this Store.
Surface: Both a section of the left wall and a table are dedicated to the Surface Pro 3 and Surface 2. Visitors can test drive both tablets, the Touch Cover, and the Surface Pro 3 Dock.
Windows Phone: Just past the Surface section of the wall lies the Windows Phone area. Here users will find a beautiful yellow Lumia 1520 and six more Windows Phones.
Tablets: One table on the right is dedicated to Windows 8 tablets, such as the Toshiba Encore 2 which is on sale for $99 today only.
Laptops: Two tables boast an impressive array of laptops, including the beefy Razer Blade and a handful of transformable laptop-tablet hybrids.
Desktops: Tucked away in the back corner of the Xbox wall are a couple of desktop computers. This display hadn't been fully set up yesterday.
Xbox: My favorite section, the majority of the right-side wall is dedicated to Xbox One and Xbox 360, with the newer console taking up about two-thirds of the section. Customers will find consoles, games, and a multitude of accessories. The Store had not received any white Sunset Overdrive Xbox One consoles as of yesterday, but those are known to be in limited supply.
Training area: Two tables are dedicated to helping customers set up and learn to use their new Microsoft products.
Video wall: The rear wall boasts a gigantic display comprised of 12 flat-screen monitors.
Location details
The Friendswood Microsoft Store is located inside of the Baybrook Mall at 500 Baybrook Mall, Friendswood, TX 77546. You'll find it directly across from the central fountain, just past the food court.
This Microsoft Store's hours are the same as the Baybrook Mall itself:
Monday-Saturday: 10:00am-9:00pm
Sunday: 12:00pm-6:00pm
Fun fact: my alma mater, the University of Houston Clear Lake, is just a few miles from the Baybrook Mall.
Grand opening details
Check out today's Grand Opening schedule:
10:30 a.m. CT – Grand Opening Ceremony. Join Microsoft for a ribbon-cutting ceremony where we will present $675,000 in software grants.
11 a.m. CT – Doors open for a full day of celebration. Microsoft will host giveaways, and customers can take advantage of great deals on PCs, Windows Phones, Xbox releases and more.
6 p.m. CT – Xbox One Event. Come meet baseball star José Altuve and get a chance to play Xbox One!
Microsoft has some truly special deals and giveaways in store for today's visitors:
The first 500 customers in line at the ribbon cutting ceremony a gift card with a surprising amount ranging from $10 to $1,000. More than 100 of those customers in line will be gifted a card worth $100 or more, and two lucky customers will receive a $1,000 gift card to Microsoft retail stores. Score!
Today only, customers can get the Toshiba Encore 2 with 8-inch screen and 32 GB of storage (10-inch version, not on sale, pictured above) for $99 (regular price: $250). In gaming, customers can buy the 4 GB Xbox 360 system for $99 (regular price: $179) as well.
Will you be driving out to the Friendswood Microsoft Store's Grand Opening? Leave a comment and let us know!
Update
Here are some pictures from today's event courtesy of Microsoft!
Windows Central Newsletter
Get the best of Windows Central in your inbox, every day!
Paul Acevedo is the Games Editor at Windows Central. A lifelong gamer, he has written about videogames for over 15 years and reviewed over 350 games for our site. Follow him on Twitter @PaulRAcevedo. Don't hate. Appreciate!
Proper retail store coming to Dallas, TX November 8th!

How about Fort Worth -- right beside the Apple Store near TCU -- that would be great!

I knew that the Dallas Store was going to be the biggest in Texas but I wasn't sure how big until now. The store is going to be 5,323 sq feet. http://sw.fashionwindows.com/microsoft-open-10th-retail-store-texas-nort...

I wish they would open one down here in South Alabama.

Drive over here to New Orleans next Friday and they are opening one here. I know it's not Alabama (I'm from Bama ROLL TIDE) but, if you anywhere near Mobile it isn't to far a drive. :)

Yes. We need one in Mobile. The original meaning and pronunciation of the word Mobile before it was appropriated to refer to cell phones.

LOL, yea and the true home to Mardi Gras. :)

Imagine the lines for those gift cards.

THey actually wern't bad until about 9:30. I got there at about 6:45 this moring and there were only about 50-60 people in front of me

Friendswood sounds... friendly.

You gonna be there Paul? I already have the galleria store 5 min away but would be cool to go to this grand opening.

I wish! It's a fair drive so I can't make it out two days in a row. Let us know how it goes if you get to attend. :)

Wish they would open one by me so I can work there

Same here, but unfortunately I don't live in a major metro area so I can't see that happening anytime soon.

Waiting for a Microsoft Store here in the Philippines!

Don't expect that to happen anytime soon.

With our constitution's 60:40 ownership rule, I don't think that's going to happen. Apple for example only had Power Mac Centers in the country. MS didn't have official retailers in the country. I was hoping before that when all Nokia stores shut down that it will be replaced by Microsoft Stores, but, nope. It didn't happen.

Matagal ang hintay ninyo dyan!!

Waiting for Microsoft India.. A future is here! Lol

Yup I need MS stores in India, preferably Bangalore, Karnataka...

Preferably at all metros and major cities.. Atleast 25 stores in India

Keep dreaming buddy. Never gonna happen.

Unity in Demand itself will drawforth the attenaion. Microsoft India will listen soon.

Can't wait till the New York City store opens :)

Mouth watering gadgets! Want them all...!!! (Cries)

What about India...again.

Waiting for one to come to Amarillo, TX!

That Toshiba tablet looks huge for 8".

That's because the one in the picture is 10"

Thanks for the write up on this new store opening. I like to check out grand opening videos of Microsoft stores on YouTube. They look like a fun event. I live in the Dallas area so I'm super excited about the opening of the Microsoft Store at Northpark Mall in Dallas this Saturday. I've heard that the Northpark Mall store in Dallas will be the largest in Texas. Which is a good deal because the store is just a few stores down from the Apple Store which is pretty big and supposedly is one of the highest revenue generating store in the Apple Store network. So it's good that the Microsoft Store will be able to stand toe to toe with the nice Apple Store there. We already have to specialty kiosk stores in the Dallas area (Arlington and Frisco both suburbs of Dallas) but the Northpark store should do well since Northpark mall is the one of the highest revenue generating mall in the south. It's an upscale mall so Microsoft picked a good place to put their first full line store in Dallas. Would you believe that Tesla cars have a store in this mall!!?!! The Northpark Mall store opening will have Tim McGraw and The Band Perry in concert at 1:00 pm on Saturday not to long after the store opening. That store will also have the same two Xbox and Toshiba Encore 2 deals that the Friendswood store has. I'm looking forward to going this Saturday and finally having a full fledge Microsoft Store in the Dallas area.

Definitely prime location for the store (under the food court & movie theatre), practically the center of the mall. Can't wait to check it out!

Yep I agree that it's prime location for the store. That same center area of the mall if where they have most of their events such as Christmas events and other community events. Therefore the store will be in direct eyesight of anyone attending events in the center of the mall.

How big is the store, Paul? Was told by staff at mall here in New Orleans that the Lakeside Mall store is 2500 SQF which is huge for a store in a mall. I'm almost sure though that that included this huge space in the middle of mall that they have built some massive XBox gaming center.

Like 1200 square feet, so yours does sound huge! That Xbox section must be rad.

I think it's rad cause the whole thing is set right in front of the Apple store, lol.

they're close to the Apple stores in many locations, by design of course

Yea but the XBox gaming display they've set up in the middle of the walkway is massive and directly in front of Apple Store so it makes it even more awesome.

Waiting for Microsoft Store to open....internationally, at least in every major cities in the world. That would be awesome! :)

Also, it's right across the Apple store.

More stores, more reach to the consumer. Good job MS!

Boy I wish they could open ons in South Africa. Just to be able to buy the surface pro would be awesome

You read my mind that time :D

Interesting thing for me about your article, is the fact that an old acquaintance of mine, Bebe Gonzalez use to be a diehard Apple Employee, and worked in the Baybrook Mall location. Nice to see she has joined the better team. Go Microsoft!

Hope they give away some ipads and android tablets to make use of a touchfriendly office :)

Open one in India plz plz plz :/

Haha I know the employee in the picture!

Free gift cards?? Can someone get one for me?? Message me...plzz??

Zuchit, that is not an appropriate question to ask, nor would anyone take you up on it.

I think it looks great! Really colorful and I am glad Microsoft has it own stores now. I hope they will come to the Netherlands sometimes. Only imagine the Zune brand was still alive and it would have its own section in the Microsoft Store - with the lovely pink/orange color scheme. I think it would look great!

I'm about 9 hours away. I'm only about three hours from Tulsa OK and the MS store.

I'm standings in line now as a VIP guest and was here at a VIP shopping event last night

All charlotte got was the $99 Toshiba tablet and some Taylor swift or comparable music person tickets. Ugh.

yeah, but everyone didn't spend $18,652.50 before the store opened.

Yep I'm the it manager for the city of Alvin just down the street from the new store.i purchased 14 surface pro 3 units with you're covers, arc mice, two docking stations. Also spent $1300 of my own money as well. ​

Wow, I didn't know you lived so close to me. Alvin is only 30 minutes or so from Lake Jackson.

Paul, Patrick told me you would be there and I was really hoping to meet you. Guess who came into the store today? Mattress Mac can in at around 1:00-1:30...i didn't say anything to him, but Patrick and a few other did. Hopefully they can convince him to purchase some Microsoft items. Patrick demoed his 1520 to him.

That would've been rad. Shame I couldn't go both days. Ha, you got to see Mattress Mack in person. I used to enjoy parodying his commercials. :)

Need one in Lubbock, TX now. Texas is just too big sometimes. :(

I'll go after work if the weather clears out. See if they still have Bands available.

And of course USA only...

It would be weird if Friendswood, TX was anywhere other than the USA!

Dude... This means 3 stores in the Houston area!!! Nice!!!

I really enjoy seeing the MS stores popping up. I was in the Woodland's, TX store a few weeks ago and all the employees were very nice and helpful. (My son was drawing a crowd by kicking ass playing Destiny on the giant flat screens, such a crowd that they offered us soda's so we'd stick around longer) It is clear to me that they have modeled their retail stores after Apples business model. When you walk in, it feels like an Apple Store with color. That isnt a bad thing. It's a good model and they've done a good job tweaking it (slightly) to make it clearly MS. It also appears to me that they are only opening stores in places where Apple already has a retail store. Does anyone know of a MS store somewhere that Apple does NOT have a presence? The reason I bring this up is because it's starting too feel a lot like MS retail is just following in Apple's wake instead of being innovative like their products. I'm not sure if it's genius (build a better mousetrap), or indicative of a lacking presence of business savvy and creative thinking in MS corporate.

They have sodas in stores for the help desk (while you're waiting to be helped they offer you a drink). When the Band launched they were walking around with Jamba Juice drinks too. It's one of those small things that make Microsoft stores more fun

LOL They offered me a drink when I was at a Microsoft Store last month while getting a new replacement for my 1520.

At all of these Microsoft Stores, near the big store window to lure people in, they should have two Xbox Ones on either side with Kinect attached, one running Fantasia and the other running Dance Central Spotlight. Those games appeal to kids and families but so many people don't even know they exist! It's such a pity.

They actually have a demo Xbox that had FIFA on it and anotehr demo xbox with Kinect Sports and Zumba on it. The Kinect demo looks like a permanent addition to the mall. On the otehr side of the Kinect demo, they had Windows 8.1 on a huge screen with Fresh Paint on it. I'm wondering how long it will be before Dickbutt is drawn on it.

Ooohhh the one in Cerritos is opening in 2 weeks. I wonder whats in store!

I want one in my city. Unfortunately, since Microsoft left they seem to hate Albuquerque.

I was hoping I could make it to the opening today, but got busy with work. The Galleria is closer to me as well but Baybrook isn't too far. I heard on the radio the Texans cheerleaders were going to be there too. Damn work. They need to open one in Sugarland at the First Colony Mall, then I would be set.

Will a Microsoft store opening in the UK

I live in Berlin, Germany. And here we have an amazing Microsoft store.

Cool, that's in my neck of the woods.

Nice of Tim Cook to be there to cut the ribbon!

Open 1 in Liverpool, England please.

Surprised there isn't more people in the store !

Paul got to go into the store before anyone else because he's a press member.

Found out late last night that they're going to extend the Toshiba Tablet deal for $99 today! No more Xbox 360 deals though. They sold out.

Meanwhile, Toronto still has 3 Microsoft stores lol. Open up to other major Canadian cities sheesh.