Microsoft Store offering free Nokia headphones with purchase of T-Mobile Lumia 640, AT&T 640 XL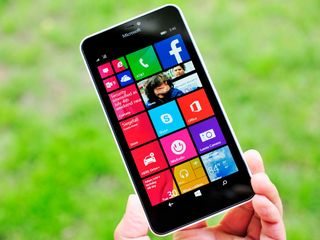 If you're in the U.S. and eyeing a new Lumia 640 or Lumia 640 XL, you may want to direct your attention to the Microsoft store. The online store is currently offering a free pair of Nokia headphones when you purchase a T-Mobile Lumia 640 or AT&T Lumia 640 XL.
It's unclear if this is a brand new offer, but it's worth checking out if you weren't already aware of it. Unfortunately, Microsoft doesn't specify which Nokia headphones you'll score with this deal, but it's likely to be either the Coloud Pop or Coloud Boom headphones that Microsoft is currently selling.
If you're interested, you can grab either device along with the free Nokia headphones for at the link below.
Thanks to Menachem for the tip!
Dan Thorp-Lancaster is the former Editor-in-Chief of Windows Central. He began working with Windows Central, Android Central, and iMore as a news writer in 2014 and is obsessed with tech of all sorts. You can follow Dan on Twitter @DthorpL and Instagram @heyitsdtl.
I wonder are these the same headphones that come with the international models.

Those ones are pretty Okay.

Why they didn't release 640 in Pakistan :(

I have a 630. Would definitely love to upgrade to 640. If they would release it.... :/

dont panic, it has been released in india, soon arrive in pakistan too

I want the 640 but have AT&T, what are my options?

You can buy the unlocked version.

Doesn't that retard some speed or something?

None that I was able to find.

I feel ya man. I'm hoping they will make it available for GoPhone.

That would be good. Thx guys

Options? One is to buy the T-Mobile L640 for $99 from WalMart. Have a friend with T-Mobile add that phone to his account for $13.90 ($10 + tax and fees) per month for 2 months and let him keep the phone in a drawer. After 40 days, T-Mobile will unlock it. And you are out less than what T-Mobile,com or the Microsoft store gets for the 640, And get 2 years accident replacement for $24 at time of order from WalMart IF you are into that sort of thing. Much cheaper than what carriers charge for coverage.

Way too much effort for me. I should be able to just buy one right from Microsoft, will wait a few months I guess then give up and move on to another phone. Thanks for the suggestion though.

I just mentioned it since you said you couldn't figure anything out.

Get the cricket one - cricket is AT&T now :)

I heard you can't use the Cricket one on AT@T...

What about the XL? It ain't THAT big..

It is for the wife, she is replacing her 1020 until something cooler comes out. I have the 1520 so naturally I would prefer her to get the XL, but she ain't havin' it.

Wonder if they'll ever have Microsoft earphones. Download app called Disqus @Windows phone store

They're the yellow Coloud Boom, at least when you do the XL. Not sure if it's different depending on the phone.

Should've bought my 640 from them then

Edit: Nah... I paid $99 for mine at WalMart

Yep why everyone doesn't just get it from wm is beyond me Then get the headphones you want

Because it's only the superstores that carry them and I'm nowhere close to one that has stock. They won't ship online

Also my Walmart never has them in stock now. Been 2 weeks and none of my Walmart stores 50 miles around me have any in stock.

If you buy them from Microsoft, how do you get them unlocked?

Even if you buy from MS you are still stuck with the carrier policies.

that is because they are selling carrier branded models, the unbranded models (physically and software - splash screen) are always unlocked.

For the T-Mobile one, you need a few months of active service before they'll give you the code. For the AT&T one, if you pay full price then you can get the unlock code through their unlock website.

That's accurate except with T-Mobile they will give you the unlock code immediately if you're an existing customer in good standing

Damn, figures I bought mine over the weekend. Oh well, nice phone though.

This has been on since it launched thought it was even covered here maybe it was tmonews.com

Need to be Bluetooth headphones.

Those would have to be nice headphones to overcome WalMart $30 difference on the 640

I wish they would sell the unlocked version in the store.

It's with any new Lumia device. And the Coloud Boom (yellow) is included. This deal is awesome with free 2 day shipping!

Nice how orange is showed, but neither carrier carries that color. Way to do you research Thorp.

It's the colour they have at their office. Jeez. I like the fact that they make and use their own pictures for their articles.

This. I enjoy their original pics with their posts.

This has to be global. Microsoft must have to bring headphones and usb type chargers in the product boxes

Well, they should make clear those are better ones than those we already expect coming with a smartphone...

No dual sim version offered. Pass.

I'm always surprised to see an unboxing of a US model when there is no headphones or handsfree kit. Something most of us have been taking for guarantee for years lol.

If you buy this phone, make sure you get your office365 subscription and the $90 gameloft in-app purchase.

Why microsoft not launch lumia 640 in pakistan

I bought my one from Microsoft France. LTE (4g) Dual Sim-Version. I'ts the greates phone, I've ever had. I paid 178 Swiss Francs for that (includes taxes). Why the price in the US is shown without taxes when you read it in the super market or online?!

Check the price difference I'm sure to get this price so low they cut everything they possibly could

Wish Microsoft would included headphones anyway with their phones. This one of the things that apple did that was pretty cool which also helped their marketing cause any time someone sees white earbuds its easy to assume they are listening to audio via an apple device.

Speaking of Coloud headphones/earphones, whatever happened to Hoop?

I got nokia wh18(?) earphones with my 640

Mine was just delivered this morning, complete with 1 year Office 365 sub but cos I'm in UK, no headphones!

Some corrections here. It says straight on the MS Store website that: "Buy any phone and get Coloud Boom headphones for free." So, it is all phones, not just the 640/640XL and you get the Coloud over-ear headphones. When I try to do it, it does not give you the option to choose a color of the headphones though, it just automatically puts yellow ones into my cart.

Sure pay an extra $30, get some $2 headphones. Nope, I'll stick with Walmart for $99

Coloud Boom Nokia Headphones (Yellow)
https://www.windowscentral.com/e?link=https2F%2Fclick.linksynergy.co...

So if I just bought an AT&T 640 XL in an AT&T physical store I can't snag this offer?

I liked the 1-year Office 365 Personal subscription they bundled to the Lumia 640 here in Slovakia better :).

I bought nokia 640 few days ago. all my family want to get same phone. good bye android phone:)
Windows Central Newsletter
Thank you for signing up to Windows Central. You will receive a verification email shortly.
There was a problem. Please refresh the page and try again.