Here's how to preorder Surface Duo 2, Pro 8, Laptop Studio, and Go 3
The wait is over! You can now preorder Microsoft's new Surface hardware.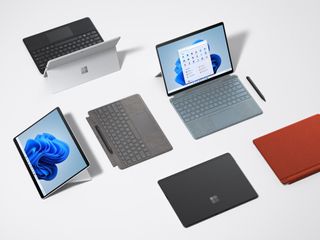 (Image credit: Microsoft)
What you need to know
Microsoft announced five new Surface devices today.
The Surface Laptop Studio, Surface Duo 2, Surface Pro 8, Surface Go 3, and Surface Pro X are all available for preorder.
Most of the devices will ship on October 5, 2021, though the Duo 2 won't ship until October 21, 2021.
Microsoft expanded its Surface lineup with five new devices. The Surface Laptop Studio, Surface Duo 2, Surface Pro 8, Surface Go 3, and Surface Pro X are all available for preorder. All but one of the devices will ship on October 5, 2021. Those ordering the Surface Duo 2 will have to wait until October 21, 2021 to receive it.
The new Surface devices were only announced today, but preorders are already live.
The Surface Laptop Studio introduces a new form factor for the Surface family. It's a non-detachable 2-in-1, meaning you can pull the screen of the Surface Laptop Studio into different modes. The Surface Laptop Studio is also the most powerful Surface that Microsoft has built.
(opens in new tab)
The Surface Laptop Studio is a non-detachable 2-in-1. Its screen is on a hinge and can be pulled into different modes for productivity, presenting, and gaming.
The original Surface Duo was a unique device that fell short as a smartphone in some areas. Microsoft aims to overcome those shortcomings with the Surface Duo 2. It has a Snapdragon 888 processor, 5G support, and NFC. It also has a triple-camera setup.
(opens in new tab)
The Surface Duo 2 is a major upgrade over the original Surface Duo. It's powered by a Snapdragon 888 processor, supports 5G, and has NFC. It also features much better cameras than its predecessor.
The Surface Pro lineup has maintained the same form factor and general design since the Surface Pro 3. That changes with the Surface Pro 8, which has thinner bezels and a larger display than its predecessors. The Surface Pro 8 is also more than twice as fast as the Surface Pro 7.
(opens in new tab)
Microsoft thinned the bezels and refined the design of its flagship 2-in-1 to make the Surface Pro 8. It's more than twice as fast as the Surface Pro 7 as well.
Microsoft didn't announce a spec bump or redesign for the Surface Pro X. Instead, the company will now sell a version without LTE support. The non-LTE version of the Surface Pro X has a lower starting price.
(opens in new tab)
The Surface Pro X didn't get a design refresh or a spec bump today. It did, however, gain an option for a model without LTE, which lowers the starting price of the device.
The Surface Go 3 maintains the shape and design of its predecessors but now has better hardware under the hood. The Intel Core i3 model of the Surface Go 3 is 60% faster than the Surface Go 2.
Windows Central Newsletter
Get the best of Windows Central in in your inbox, every day!
News Writer and apps editor
Sean Endicott brings nearly a decade of experience covering Microsoft and Windows news to Windows Central. He joined our team in 2017 as an app reviewer and now heads up our day-to-day news coverage. If you have a news tip or an app to review, hit him up at sean.endicott@futurenet.com (opens in new tab).
Pre-ordered my Laptop Studio. I'm pumped for that device!

Have the Glacier 256 GB Surface Duo 2 preordered and the Platinum i7 16GB/256GB Surface Pro 8 with Ice Blue keyboard preordered! My wallet feels a lot lighter...

My Surface Duo 2 has shipped!!!! I still haven't received a shipping notificaction for my Surface Pro 8 yet.

Preorded Duos for me and my husband! Can hardly wait!

Did it allow you to make payments on the Duo's? Or all at once?

They don't allow payments (via dell or any other) anymore... just Paypal or CC. Ridiculous, considering it is over 1800 if you want the protection plan -- let alone if you want the 1700 512gb version. I've been waiting for the Duo2... but it is legit double the price of a Fold 3? They're killing themselves... Also, they were already out of black bumpers ( I assume it comes with one though like the first duo despite it not mentioning it originally and making it seem like you had to buy it?). They also don't offer the white in the 512, not that I need it anyways. Seems the black is their new premium color. I went with the white either way, since black to me reminds me of my old Nintendo DSi

How are you seeing that it's double the price of the Fold 3? I'm seeing it as $300 less.

Woops - I guess it's appropriate; they list their price with their 900 trade in. My bad! That makes me feel better. Although, even the 6.7 1tb iphone 13 pro is cheaper :(

but no iphone can do the things a Surface Duo (let alone, a Surface Duo 2) can do... different strokes for different folks. I'll never go back to a single screen phone.

I paid all at once. I didn't actually notice if allowed for payments.

You realize they will be fire sales in a couple months, right? You will certainly regret this unless you quite wealthy.

They did happen to also remove the Charger and the included-free Bumper while raising the price xD

Laptop Studio or Duo 2, same price? Easy decision, Laptop Studio. I'm sorry but portability is not worth the same as the power of a Laptop Studio in any scenario. Not even a debate, at least I'm pretty sure.

I want a laptop with LTE (don't mind 5G). Seems like that means Surface Pro 8 and not Laptop Studio (I'm not considering Surface Go). Is it true that these Pro versions will not arrive until 2022?? Also, the info is vague...
* Can I get LTE with i7 and 32 GB RAM? Or only i5 and max 16 GB RAM?
* Limited to 256 GB SSD?
* If limited to 256 GB SSD, is it replaceable? Can I buy a separate 1TB SSD and insert?

Preorder only in the U.S.? Not in Germany right now 😢

Germany is listed as one of the countries it is coming to right away.

Is any one else having issues pre-ordering the Duo 2 128?

It is out of stock for everything except the 256 (both colors)

No preorder yet for the new duo 2 pen charging case?

I was able to get my order in for a 128 duo model even though it says out of stock. I guess we'll see what happens. It's hard to believe this device could sell out.

Now all the black are sold out but both the white are in :P. They also probably wouldn't mass produce them, I'd assume, based on the Duo1. Lol

Hopefully, after 4 months I can get one for $600.
It is Microsoft after all.

Really want that Surface Duo 2 (been waiting for it), but only if I can get it through T-Mobile as an upgrade over installments. Anybody know if that is happening or likely to happen?

I will only get the Duo 2 if I can get it thur Verizon. I need carrier support.

Preordered Duo2 256GB in black, Laptop Studio i7/32GB/1TB, and Slim pen 2. Still waiting for the pen cover for SD2.

I preordered the Surface Laptop Studio. The order tells me that I should expect it to be delivered by October 5th. This is my first time preordering a product from Microsoft. Is that delivery date usually accurate, or is that actually the day that it ships?

I just contacted MS customer support and they confirmed that it ships on October 5th and is not delivered on October 5th. They also said it was shipped out based off of first come, first serve. We'll have to see when this arrives for me.

Wow power supply for Duo is listed as an extra peripheral purchase.
It doesn't come with a charging cable in the box?
Windows Central Newsletter
Thank you for signing up to Windows Central. You will receive a verification email shortly.
There was a problem. Please refresh the page and try again.