Microsoft unveils refreshed Surface Pro X and new Surface Laptop Go hardware line-up for the fall
Surface Laptop Go, Surface Pro X, and new accessories are on the agenda this fall.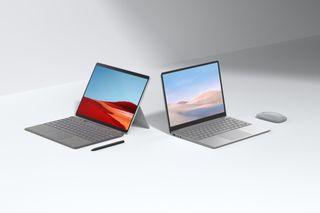 (Image credit: Microsoft)
What you need to know
Microsoft has announced a refreshed Surface Pro X with SQ2 processor.
It has also announced the 12.45-inch Surface Laptop Go at $549.
A handful of Microsoft-branded accessories have also been announced today.
It's that time of year again. New Surface hardware is upon us, and while we're not getting the same amount of hardware as last year, we are getting some interested refreshes and new products ranging from a new Surface Laptop to a new Designer Keyboard. Here's all of today's hardware announcements from Microsoft, in one convenient place.
Video overview of new Surface Pro X, Laptop Go
Here is the official Microsoft announcement video from the Surface leadership team before we dive into more details. In this nine-minute video, you get to see what is new with Surface Pro X and the new Surface Laptop Go, including colors, features, and more.
Surface Pro X with Microsoft SQ2
The new Surface Pro X is much like the old one, with the only physical difference being that it's now available in Microsoft's staple Surface color, Platinum. The biggest upgrades are on the inside with Microsoft's new SQ2 processor that features a more powerful Adreno 690 GPU. Microsoft is also touting better battery life at 15 hours, which apparently also applies to the first Surface Pro X too.
Learn more about the new Surface Pro X
Swipe to scroll horizontally
| SKU | Price ($) |
| --- | --- |
| SQ1/8/128GB | $999 |
| SQ1/8/256GB | $1,299 |
| SQ2/16/256GB | $1,499 |
| SQ2/16/512GB | $1,799 |
Interestingly, the original Surface Pro X with Microsoft SQ1 is sticking around and will now serve as the processor found in the two bottom-tier Surface Pro X SKUs. The new Microsoft SQ2 chip is available on models with 16GB RAM, meaning you'll be paying at least $1,499 if you want the newer processor. That said, it doesn't look like there's much of a difference between the SQ1 and SQ2 outside of a minor performance bump.
Also new for Surface Pro X are more Type Cover colors. Up until now, Surface Pro X has only had black accessories to match, but now that the product is available in Platinum, Microsoft is also introducing the usual premium Type Cover colors to go with it. Those colors include Platinum, Poppy Red, and Ice Blue. Unfortunately, the Surface Slim Pen is still black regardless of the Type Cover color.
Yesterday, Microsoft announced that Windows 10 on ARM is getting 64-bit emulation support next year, and it will enter preview in November. That's huge news for the Surface Pro X, which up until now has had an "app problem" due to it not being able to run x86 64-bit applications.
Surface Pro X with SQ2 is available for pre-order now, and goes on sale October 13.
Microsoft Surface Pro X SQ2
Refreshed for late 2020 is the new Surface Pro X with the SQ2 processor. A faster CPU, more powerful GPU, improved battery life, x64 app emulation in November (Insiders), and now in platinum, there is a lot to like here. You can even now pick multiple colors for the Signature Keyboard with Slim Pen Bundle. Preorder now; get it for October 13th.
Surface Laptop Go
Surface Laptop Go is the "new" device to join the Surface family this holiday, featuring the same great design as found on the Surface Laptop 3 but at half the price. It has a 12.45-inch display with rounded corners, an Intel Core i5 under the hood, and up to 8GB RAM and 256GB storage. The big news is that the Surface Laptop Go starts at just $549, making it a great entry-level laptop for students.
Learn more about the new Surface Laptop Go
Swipe to scroll horizontally
| SKU | Price ($) |
| --- | --- |
| 4/64GB | $549 |
| 8/128GB | $699 |
| 8/256GB | $899 |
Unlike the standard Surface Laptop 3, the Surface Laptop Go doesn't include Windows Hello facial recognition. Instead, it has a fingerprint reader built right into the power button. It's also using a combination of both aluminum and polycarbonate for the exterior chassis to help keep costs low. It's aluminum on the lid, and polycarbonate on the base. The 12.45-inch display is also a low 1536 x 1024 resolution.
But to achieve that $549 starting price, Microsoft had to make further cuts for the entry-level model. The $549 model doesn't include the fingerprint reader, meaning it has no Windows Hello bio-authentication at all. In addition, it also comes bundled with 4GB RAM and 64GB of eMMC storage. 4GB RAM is passable for some people, but eMMC storage is a tougher pill to swallow.
That said, there are higher tiers available, and the immediate step up to 8GB RAM and a 128GB SSD for $699 also includes the fingerprint reader, so we recommend checking that out if you're interested. All consumer models come with Windows 10 Home in S mode, but there is a commercial model available with Windows 10 Pro and up to 16GB RAM. All models come with an Intel Core i5.
Surface Laptop Go is available for pre-order now, and goes on sale October 13.
Looking for something with the same design as the Surface Laptop but easier on the wallet? Look no further with the Surface Laptop Go with its 12.45-inch display, Intel Core i5 processor, aluminum and polycarbonate exterior, omnisonic speakers, and Windows Hello-enabled fingerprint reader.
Microsoft Accessories
Swipe to scroll horizontally
| SKU | Price ($) |
| --- | --- |
| Designer Keyboard | $69.99 |
| Number Pad | $24.99 |
| Ergonomic Mouse | $49.99 |
| 4K Display Adapter | $69.99 |
Microsoft is also announcing a handful of new PC accessories today, many of which pair very well with Microsoft's own Surface hardware. We've got a new Bluetooth keyboard, the Designer Compact Keyboard, and number pad, which feature contemporary designs and can pair with up to three devices to switch between easily. There's also a new Bluetooth ergonomic mouse that features the same shape as the Surface Precision Mouse, but at a cheaper price.
Elsewhere, Microsoft is updating its Wireless Display Adapter with a 4K model, meaning it can now stream 4K content to a TV or monitor of your choice. The Wireless Display Adapter is a great accessory for streaming your Windows 10 PC to a larger display. Finally, Microsoft is updating its Surface Mobile Mouse with a new Sandstone color which matches the Sandstone option on Surface Laptop 3 and Surface Laptop Go.
Learn more about the new accessories
Surface in more markets
Microsoft has announced that Surface is coming to more European markets to address global demand. Here's the list of new markets:
Bulgaria
Croatia
Czech Republic
Estonia
Greece
Hungary
Latvia
Lithuania
Romania
Slovakia
Slovenia
Learn more about Surface coming to more markets
And that's everything being announced today. What are your thoughts? Let us know in the comments.
Get the Windows Central Newsletter
All the latest news, reviews, and guides for Windows and Xbox diehards.