Microsoft unveils refreshed Surface Pro X and new Surface Laptop Go hardware line-up for the fall
Surface Laptop Go, Surface Pro X, and new accessories are on the agenda this fall.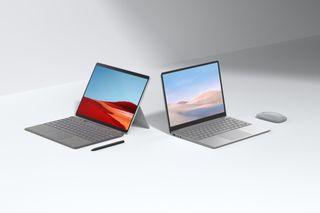 (Image credit: Microsoft)
What you need to know
Microsoft has announced a refreshed Surface Pro X with SQ2 processor.
It has also announced the 12.45-inch Surface Laptop Go at $549.
A handful of Microsoft-branded accessories have also been announced today.
It's that time of year again. New Surface hardware is upon us, and while we're not getting the same amount of hardware as last year, we are getting some interested refreshes and new products ranging from a new Surface Laptop to a new Designer Keyboard. Here's all of today's hardware announcements from Microsoft, in one convenient place.
Video overview of new Surface Pro X, Laptop Go
Here is the official Microsoft announcement video from the Surface leadership team before we dive into more details. In this nine-minute video, you get to see what is new with Surface Pro X and the new Surface Laptop Go, including colors, features, and more.
Surface Pro X with Microsoft SQ2
The new Surface Pro X is much like the old one, with the only physical difference being that it's now available in Microsoft's staple Surface color, Platinum. The biggest upgrades are on the inside with Microsoft's new SQ2 processor that features a more powerful Adreno 690 GPU. Microsoft is also touting better battery life at 15 hours, which apparently also applies to the first Surface Pro X too.
Learn more about the new Surface Pro X
Swipe to scroll horizontally
| SKU | Price ($) |
| --- | --- |
| SQ1/8/128GB | $999 |
| SQ1/8/256GB | $1,299 |
| SQ2/16/256GB | $1,499 |
| SQ2/16/512GB | $1,799 |
Interestingly, the original Surface Pro X with Microsoft SQ1 is sticking around and will now serve as the processor found in the two bottom-tier Surface Pro X SKUs. The new Microsoft SQ2 chip is available on models with 16GB RAM, meaning you'll be paying at least $1,499 if you want the newer processor. That said, it doesn't look like there's much of a difference between the SQ1 and SQ2 outside of a minor performance bump.
Also new for Surface Pro X are more Type Cover colors. Up until now, Surface Pro X has only had black accessories to match, but now that the product is available in Platinum, Microsoft is also introducing the usual premium Type Cover colors to go with it. Those colors include Platinum, Poppy Red, and Ice Blue. Unfortunately, the Surface Slim Pen is still black regardless of the Type Cover color.
Yesterday, Microsoft announced that Windows 10 on ARM is getting 64-bit emulation support next year, and it will enter preview in November. That's huge news for the Surface Pro X, which up until now has had an "app problem" due to it not being able to run x86 64-bit applications.
Surface Pro X with SQ2 is available for pre-order now, (opens in new tab) and goes on sale October 13.
(opens in new tab)
Microsoft Surface Pro X SQ2
Refreshed for late 2020 is the new Surface Pro X with the SQ2 processor. A faster CPU, more powerful GPU, improved battery life, x64 app emulation in November (Insiders), and now in platinum, there is a lot to like here. You can even now pick multiple colors for the Signature Keyboard with Slim Pen Bundle. Preorder now; get it for October 13th.
Surface Laptop Go
Surface Laptop Go is the "new" device to join the Surface family this holiday, featuring the same great design as found on the Surface Laptop 3 but at half the price. It has a 12.45-inch display with rounded corners, an Intel Core i5 under the hood, and up to 8GB RAM and 256GB storage. The big news is that the Surface Laptop Go starts at just $549, making it a great entry-level laptop for students.
Learn more about the new Surface Laptop Go
Swipe to scroll horizontally
| SKU | Price ($) |
| --- | --- |
| 4/64GB | $549 |
| 8/128GB | $699 |
| 8/256GB | $899 |
Unlike the standard Surface Laptop 3, the Surface Laptop Go doesn't include Windows Hello facial recognition. Instead, it has a fingerprint reader built right into the power button. It's also using a combination of both aluminum and polycarbonate for the exterior chassis to help keep costs low. It's aluminum on the lid, and polycarbonate on the base. The 12.45-inch display is also a low 1536 x 1024 resolution.
But to achieve that $549 starting price, Microsoft had to make further cuts for the entry-level model. The $549 model doesn't include the fingerprint reader, meaning it has no Windows Hello bio-authentication at all. In addition, it also comes bundled with 4GB RAM and 64GB of eMMC storage. 4GB RAM is passable for some people, but eMMC storage is a tougher pill to swallow.
That said, there are higher tiers available, and the immediate step up to 8GB RAM and a 128GB SSD for $699 also includes the fingerprint reader, so we recommend checking that out if you're interested. All consumer models come with Windows 10 Home in S mode, but there is a commercial model available with Windows 10 Pro and up to 16GB RAM. All models come with an Intel Core i5.
Surface Laptop Go is available for pre-order now, (opens in new tab) and goes on sale October 13.
Looking for something with the same design as the Surface Laptop but easier on the wallet? Look no further with the Surface Laptop Go with its 12.45-inch display, Intel Core i5 processor, aluminum and polycarbonate exterior, omnisonic speakers, and Windows Hello-enabled fingerprint reader.
Microsoft Accessories
Swipe to scroll horizontally
| SKU | Price ($) |
| --- | --- |
| Designer Keyboard | $69.99 |
| Number Pad | $24.99 |
| Ergonomic Mouse | $49.99 |
| 4K Display Adapter | $69.99 |
Microsoft is also announcing a handful of new PC accessories today, many of which pair very well with Microsoft's own Surface hardware. We've got a new Bluetooth keyboard, the Designer Compact Keyboard, and number pad, which feature contemporary designs and can pair with up to three devices to switch between easily. There's also a new Bluetooth ergonomic mouse that features the same shape as the Surface Precision Mouse, but at a cheaper price.
Elsewhere, Microsoft is updating its Wireless Display Adapter with a 4K model, meaning it can now stream 4K content to a TV or monitor of your choice. The Wireless Display Adapter is a great accessory for streaming your Windows 10 PC to a larger display. Finally, Microsoft is updating its Surface Mobile Mouse with a new Sandstone color which matches the Sandstone option on Surface Laptop 3 and Surface Laptop Go.
Learn more about the new accessories
Surface in more markets
Microsoft has announced that Surface is coming to more European markets to address global demand. Here's the list of new markets:
Bulgaria
Croatia
Czech Republic
Estonia
Greece
Hungary
Latvia
Lithuania
Romania
Slovakia
Slovenia
Learn more about Surface coming to more markets
And that's everything being announced today. What are your thoughts? Let us know in the comments.
Windows Central Newsletter
Get the best of Windows Central in in your inbox, every day!
Zac Bowden is a Senior Editor at Windows Central. Bringing you exclusive coverage into the world of Windows on PCs, tablets, phones, and more. Also an avid collector of rare Microsoft prototype devices! Keep in touch on Twitter: @zacbowden.
Sure wish that Surface Studio 3 had been announced today. I did not think that it would be given the current market conditions, but my 1st gen Studio is really in need of an upgrade.

We currently have one Surface Studio 2 and a Lenovo Yoga A940. The Surface Studio died after 9 months because it runs so hot all. the. time! The Yoga is powerful enough and runs cool enough we can run VR on it no problem, but the screen on the Surface Studio is far ahead of the Yoga; enough that the Surface is worth the money. It would be even better if it had desktop class internals that were properly cooled. We were waiting for the 3 to drop so we could upgrade everyone else. Now we're not sure what to do.

This isn't solely Microsoft, they basically all do it but I'll bring it up now, it is absolutely ridiculous that device manufacturers can get away with charging an extra $300 to upgrade to a 512GB drive.

Thank god the SSD is upgradable, isn't it?

It is iirc, just a bit exotic (but probably will get more popular over time considering it is smaller than current ssd's).

I can't recommend a 4gb Ram and 64gb eMMC storage to anyone in anything above 350$, it's just unaceptable. I still don't understand why Microsoft didn't go with AMD for a budget laptop. With a more powerful, more efficient and much cheaper Ryzen 3 CPU, they could've given the 550$ model 8gb Ram and 128gb SSD and had the fingerprint sensor. With device itself I find weird how they didn't go with facial unlock.

A $399 Surface Go 2 becomes $500 or more with a type cover. Surfaces aren't cheap but the premium isn't massive either. I think it's possible to get more RAM and SSD for $500-600 from Acer, Dell, Lenovo etc. but not with the same build quality, display quality and inking support as a Surface Go or Surface Laptop Go. That being said, I'm disappointed by the lack of Windows Hello and the low resolution screen on the new Laptop Go because the Surface Go has those at the same price point. The Laptop Go trades those for a much faster CPU, a larger screen and long battery life. Maybe Microsoft is pitching it as a Chromebook alternative for schools and corporations, where software support and low cost of entry are paramount. The Surface Go didn't work well for those market segments: the screen was too small, battery life was poor and the form factor wasn't robust enough for student fleet usage.

The 550$ version preety much only has build quality (and maybe battery), the rest is pretty bad and when you get to the good 256gb version then you are at 800$ and at that point a display that is barely above 720p becomes even more unacceptable. I could get the Go price, you got a nice screen with pen support, facial recognition and great build quality, the same doesn't happen with the Laptop Go

If a school district wants to buy 1000 units, I am sure they will get the i5/128 for $499 per unit.

If a school district wants to buy laptops then they will buy better bang for your buck laptops that are preferably more durable.

Surface Laptop Go looks nice. I currently use the Surface Go LTE (1st gen.) as my portable workstation, and I can appreciate the extra bit of screen real-estate, a far better CPU (Intel Core i5) and included keyboard with the Surface Laptop, but I wish they had an LTE option.

Assuming you upgrade to the SSD, you're still left with that low resolution (1536 x 1024, 148PPI). You have to go back to the original Surface RT from 2012 to find another Surface with such a low PPI.

Microsoft probably did that for longer battery life and for app scaling. Small laptops with high ppi screens aren't common and most users don't really care about high ppi. The Surface Go needs 150% or 200% scaling if used at typical laptop viewing distance. The Laptop Go can use lower scaling and still have UI elements visible. I couldn't go back to using a screen with less than 200 ppi but the typical office worker or student won't even know the difference.

I was expecting a 360 hinge like the Duo...
The problem with these Surface laptops is the screen does not tilt far back enough, not great for inking, will stick to my old Surface pro 5 🤷‍♂️

Couldn't agree more. When I think Surface, I think inking, and Surface Laptop is impractical for inking and expensive compared to an equivalent product from a competitor.

That's why they have the surface pro line AND surface laptop. Laptop isn't for inking really. If they made a laptop with a 360 degree hinge I think it'd blur the lines between those two devices too much.

The first varient you'll have no choice but to leave it in s mode. Bought laptops for my children with similar 4gb but full windows and they couldn't update after 2yrs.

What do you mean they couldn't update? All Windows 10 devices should be able to update - if not immediately upon the update's release, then in the ensuing months.

It stated to say there wasn't enough space for the update even though we did factory resets to wipe them

I believe you can use an external drive/usb drive to do updates on Windows 10 when you don't have enough of built in storage. You just plug in the USB drive and the update process uses it to facilitate the update.

You don't have to leave it in s mode

"The first variant you'll have no choice but to leave it in s mode"

This is false. Everyone knows you can unlock S Mode via the Store. Doesn't even need a reboot.

The Laptop Go sure looks nice, but I wouldn't wish 4GB of memory on my worst enemy. And at <$600 there are better deals out there for students. Excited to see how the updated SPX performs.

Why do people repeat this myth that 4gb is not enough to run properly? Have you never used a Windows computer with 4GB? Meanwhile I still use a Surface Pro 3 with 4GB/128GB, running Visual Studio, Unity and multiple browser tabs plus more at the same time without any problem or lag, in fact you wouldn't know it had 4GB (and yes I have a desktop with 16GB and massively more powerful so I know what running properly is) In fact I've been looking for any excuse to update my Surface Pro 3 (I love new tech) but it runs so well I just can't justify it - although a Surface Pro 8 in Pro X form will sway me :)

Probably the same people who think 8 GB RAM is the minimum needed on a phone. Swapping is not a bad thing. 4 GB RAM is fine for running a few tabs in the new Edge with one or two Office windows. For a large majority of users, 4 GB RAM is enough. I've made a habit of buying cheaper computers for travel because it's not so hard on the wallet if they're lost or damaged; I can also get a replacement device easier. 64 GB storage can be limiting though. There's usually 45 GB free on a completely clean Windows install. Games and media files take up a lot of space so a MicroSD card or external drive are needed to complement the base models. Windows has a bad habit of cluttering the drive with old driver files, Windows Update components and restore points, so users with small drives need to clear those out regularly.

That's great that 4GB is enough for you. I've used two 4GB devices as my main laptop for years and they were absolutely not enough. blueberrymerry Maybe you think 8GB is the minimum for phones. Anyone else in this comment thread?

I get where your coming from, ssd's are faster now though (especially compared to hdd's) for swapping / page files.
Personally I can do a lot on 8gb ram and 4gb I would recommend for light usage or secondary devices.
I should add that certain apps (also modern, eg Electron based) can eat ram like its nothing, so in that sense 8gb ram is a safer bet.

I have a SP3 that I use as a HTPC at home. Funny enough I only got the 4gb version because I screwed up and didn't look properly at the Swappa listing I got it from. It hasn't given me any issues at all.

Paying premium for devices Microsoft doesn't test Windows 10 on. Out of the box, a bug filled lump of coal. These devices will be last to get any windows feature updates. Microsoft themselves putting the device updates on hold until they actually test their own OS on it. Making their users feel like last priority when they spent almost 2K on the device.

I've used any Surface device yet, but I'm sure they are still improving their OS for their own hardware.

Don't mind him, he is one of the local trolls of this site.

Need help please- I am in the market for a new Surface device. I am confused b/w this and surface pro and may be pro x. I
I can buy surface pro with keyboard for 599 from best buy but if i am getting a proper keyboard form factor for the same price i would prefer that. I reviewed the specs of this one and based on that looks both are i5, not sure if they are same? But also the screen is not as good as surface laptop. Which is important for me. On a second thought i really like pro x but i have to run few SWL codes once in a while, anyone knows if it is capable of doing such tasks?

The Surface Laptop Go seems positioned to compete with the Pixelbook Go. Google can no longer claim the cheaper price tag. - Pixelbook Go - Intel i5 (8th gen) / 8GB RAM / 128GB SSD / 13" 16:9 Display - $849
- Surface Laptop Go - Intel i5 (10th gen) / 8GB RAM / 128GB SSD/ 12" 3:2 Display - $699 Well played, Microsoft.

Wow that Pixelbook Go is quite expensive, even has a 16:9 screen for that price...

Did anyone notice the Laptop 3 had a price drop for the same storage (like how Apple did with Air and Pro)? Here in Australia, it's crazy how they priced the 8GB/256GB Laptop Go for AU$1599 and 8GB/256GB Laptop 3 for AU$1699. I would definitely get the Laptop 3 for that AU$100 difference!

Still holding out for the Pro 8, especially if it has had a refresh in the style of the Pro x.
Has there been any news on when next year we may see it?

Probably begin next year. Whatever the case do not expect exact same design as Pro X, that is not possible since intel/amd motherboard's use more space than qualcomm's. A design somewhere in between is likely to happen, e,g, Pro X design but 'thickness' of Pro 7 (so still thin). The screen size is rumored at 12.7 inch, but it is a rumor and could be different.

I'd be more than happy with that device as long as it has an Intel proc, smaller bezels and the newer keyboard with pen slot. But I really hope MS can get some battery life back, seeing how the SP7 has markedly less battery than the SP6. I'm really hesitant to upgrade my SP6 for that reason.

Agreed, feel the same. Not sure about the newer keyboard, I hope so but it is difficult to say if MS will make it compatible for the Pro 8. Battery life and/or performance will undoubtedly better. In case you did not know already; you can trade performance for battery life through eg Windows Power Plan -> advanced power settings (/set max cpu to eg 90% and you get less heat and better battery life).

Hmm, where are the surface pros? I hope MS isn't trying to push the Intel SP out, I guess we're going to have to wait another year. The x seems really overpriced, that seems backwards after living through both RT and Atom powered tablets, but I've always been confused by the X's flagship status over the SP anyway.

This is actually really interesting. I'm really surprised announce Surface Studio 3. this coming spring is going to be really interesting.

I 💙 Panos' words at the end, elaborating on the meaning behind "Windows". "Today, it's more clear to me than ever before:
The Windows PC is now our window to the world.
The window to how we connect with each other.
The window to how we learn and how we teach.
The window to how we work
and ultimatetely the window to how each of us creates." It's such a deep and meaningful message that fits their productivity mantra. So good! ... It makes me "pumped" to find out what Windows 10X brings to this - maybe Spring 2021.
Windows Central Newsletter
Thank you for signing up to Windows Central. You will receive a verification email shortly.
There was a problem. Please refresh the page and try again.