How Microsoft's cross-platform efforts are maturing into a great Microsoft experience
Microsoft's unrelenting effort to populate iOS and Android with its apps is beginning to look less like a desperate migration and more like precision integration.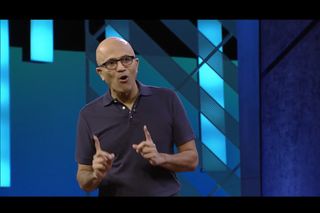 The advent of consumer-facing smartphones and app ecosystems began changing the face of computing over a decade ago. No longer are Windows PCs the average consumer's primary computing device. iPhones and Android phones with touch-centric UIs, apps, constant-connectivity, and ultra-mobility are the world's most "personal computers."
Microsoft realized, perhaps too late, the importance of apps and a consumer-friendly mobile UI and platform. In 2010, continuing an existing Windows-on-phone strategy, Microsoft revamped its mobile OS. It also strove to intertwine its mobile and desktop ecosystems via a Universal Windows Platform (UWP). It hoped to leverage its Windows PC install base strength to help build an app ecosystem that would buttress Windows-on-phones (while its sights were set on a Windows-on-mobile strategy beyond smartphones). Sadly, Microsoft's smartphone efforts failed miserably.
Still, during the height of Windows-on-phone's struggles and in the wake of its decline Microsoft aggressively seeded iOS and Android with a plethora of first-party apps. It saw a presence on successful mobile platforms as better than no presence at all. Though a first-party mobile device and platform are paramount making rival phones "Microsoft phones" via a continual migration of apps is a reasonable Plan B or something more. Microsoft's Windows PC personal computing legacy trained the company to provide a comprehensive OS, software and OEM partnership computing solution when computing was limited to desktop PCs. The company's ambitions remain unchanged in a personal computing landscape where the OS is now the cloud, its software is cross-platform and device agnostic, and Surface pushes OEM partners to higher standards. Given computing's evolution, Microsoft's cross-platform efforts would have likely evolved in its current direction even if Windows-on-phone's succeeded though perhaps with less outside criticism and internal urgency.
Microsoft apps everywhere
Microsoft has been criticized for its commitment to making great first-party app experiences on iOS and Android. What Microsoft was and is doing, however, is what it has always done. It is building great software for its first-party operating system that it hopes will dominate computing. Historically that was Windows. Today and into the foreseeable future it is the cloud. Namely Azure.
Microsoft sees Azure as the world's computer and iOS, Android and Windows as sub-platforms that run on this super-platform. In this context, Microsoft's motivations to ensure great software experiences on popular mobile platforms and Windows is an intent to ensure a great Microsoft experience on the modern Microsoft OS – Azure. Microsoft's first-party apps like Office, To-Do, Cortana, Outlook and dozens more work in sync with Windows. And this is the key. Microsoft apps on other platforms may have initially looked like a disconnected commitment to rival platforms and an abandonment of its own. This was not the case.
With Microsoft Graph connecting iOS and Android to Windows through the cloud, Cortana mediating user activity across devices, TimeLine and Your Phone keeping smartphones and Windows PCs in sync, a cohesive cloud-supported Microsoft experience is becoming more evident. The foundation of device-agnostic apps that work seamlessly across this cloud experience is essential to its success. Complementing this is enterprise-grade device management with Intune for Enterprise and Intune for Education. A Microsoft experience with Azure as the OS and iOS, Android and Windows as interconnected platforms is Microsoft's strategy.
It's easier to understand, (though not agree with) Microsoft's motives for forsaking a languishing Windows-on-phone platform, though much of its struggles were self-inflicted, from this perspective. Still, mobile computing is an access point to ecosystems. Thus, succeeding with its Surface Andromeda Pocket PC is key to Microsoft complementing its cross-platform cloud efforts to drive more mobile users to its ecosystem.
Surface demonstrates aspirational hardware and experience
Image 1 of 3
Surface is demonstrating an optimal integration of PC hardware and Windows software. Surface Pen combined with Windows Ink's integration throughout the OS and Microsoft apps, and hardware that reclines 165-degrees or detaches from its keyboard shows the versatility of input modalities. Moving between laptop and tablet mode supported by Continuum that switches the OS accordingly demonstrates how hardware and software conform to user context. This 2-in-1, high-end hardware has been emulated by OEM partners that have created devices that compare and even surpass Surface in some areas.
Though Surface demonstrates optimal hardware and Windows 10 experience Microsoft's Yusef Mehdi, Vice President of Modern Life and Device Group stressed it also demonstrates a broader work and life PC experience. Mehdi stressed a five pillar work/life commitment that is a manifestation of a vision former CEO Steve Ballmer outlined in 2013 and current CEO Satya Nadella pushed after becoming CEO.
Microsoft's work and life commitment starts with Surface and includes organizing users lives with Outlook and To-Do. Keeping experiences flowing between PC and phone with Your Phone and Timeline. Providing enterprise-grade security across personal devices. And supporting creativity with artificial intelligence and 3D. Microsoft's goal is that OEM partners emulate the hardware, and work-life experiences Surface enables.
Microsoft's cross-platform efforts are growing up
Microsoft's decisions to invest so heavily in other platforms isn't just about survival. It's also a manifestation of an awareness of a potential to continue a legacy of providing a leading computing OS albeit being Azure and not Windows.
With Android investments going back to Cyanogen, a highly successful Android launcher and increasing Android and Windows integration it will be interesting to see how far Microsoft will go.
With Google's OEM partners in the EU no longer prohibited from making Android phones that don't have Google services there could be a benefit in Microsoft making an Android phone with Microsoft Launcher as a UI. Such a decision has many shortcomings, but with its unprecedented openness and cross-platform investments, there are some pros to an Android phone Microsoft may consider as its cross-platform efforts mature. I have my reservations, but will Microsoft?