Microsoft's upcoming Surface Pro 8 and Surface Laptop 4 show up in leaked images
The next Surface Pro and Surface Laptop have passed through certification in Korea.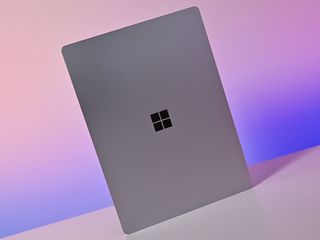 (Image credit: Windows Central)
What you need to know
Images of the next Surface Pro and Laptop have leaked as they pass through certification in Korea.
The images suggest that the devices will share the same external designs as their predecessors.
Microsoft is expected to launch new versions of its Surface Pro and Surface Laptop early next year, and today images of those products have appeared online as they pass through certification in Korea. These images confirm that the devices won't be featuring any new designs, instead opting to keep the external chassis' the same as the previous generation.
The listings were spotted by Cozyplanes on Twitter, who also noted that the certification listings confirm the model number of each: 1950 for the Surface Laptop and 1960 for the Surface Pro. Because of how minor these updates are, I do wonder if Microsoft will opt to just call these the "new Surface Pro" and "new Surface Laptop" similar to what it did with the 2020 Surface Pro X.
Image 1 of 2
According to my own sources, the new Surface Pro and Surface Laptop will launch in mid-January and feature Intel 11th-generation processors with Intel Iris Xe graphics. The Surface Laptop will have AMD options again, but I don't know which specific CPU options will be offered just yet.
I understand that this launch will be a quiet one, with little fanfare outside of the initial announcement. The Surface Pro 8 is also expected to feature an LTE option for customers who need it, I'm told. I'm also hearing that Microsoft is hoping to start rolling out the Surface Duo in more markets shortly after the new Surface Pro launches.
So it's looking like Microsoft's early 2021 hardware lineup with consist of a new Surface Pro, Surface Laptop, and the Surface Duo rolling out to more markets. I'm not expecting to see a new Surface Studio anytime soon, but I have heard that a new black option for the Surface Go 2 might show up in January too.
In the meantime, what are your thoughts on the new Surface Pro and Surface Laptop? Let us know in the comments.
Windows Central Newsletter
Get the best of Windows Central in in your inbox, every day!
Zac Bowden is a Senior Editor at Windows Central. Bringing you exclusive coverage into the world of Windows on PCs, tablets, phones, and more. Also an avid collector of rare Microsoft prototype devices! Keep in touch on Twitter: @zacbowden.
I'm fine with the designs remaining the same. It's not broken, so don't fix it. Specially on the Pro 8. Last thing I'd like would be a design with asymmetrical bezels like the awful "X" version. But I also don't see the need to release them at all. Just to update the chipsets with something slightly newer? Waste of time.
I think the strategy of releasing a new version ONLY when significant improvements were to be made worked a lot better.

I think the 11th-gen chips with Xe graphics are a significant upgrade over what the current Pro/Laptop have. And the newer AMD chips are a massive upgrade over what's in the Laptop 3.

Is there any benchmarking done on these yet? Any systems with them in yet? I'm looking to upgrade my SP (5) and would like to do some light gaming with the release of AoE DE. The SP 5 can't hang at all, but I've been hearing a lot about graphics improvements in this newest 11th Gen Intel chips.

See my XPS 13 9310 review. There's a huge jump in performance with 11th Gen/Xe.

I used to own the SP4. OK PC, but the major let-down was the battery life. Also, as my eyes get dimmer, I'd hoped for a 13"+ screen or so (like the SPX). In the mean time, I've got the SB2. Good battery life, but I don't need the graphics processor. Also, I tried to do screen recording using Screencast-O-Matic and PowerPoint -- with a total crash (blue screen + 10 minutes to recover), possibly due to failing hand rejection in combination with releasing and turning the screen while recording. I prefer the SPro way of sliding into inking mode over the complex technology in SBook.
--
My next laptop should have (i) "all day" real battery life, similar to the SB2, (ii) preferably 13"+ screen, (iii) as a minimum LTE -- preferably 5G, (iv) 32GB RAM (preferably) + at least 1TB SSD, (v) at least a possibility of inking mode.
--
I'm watching the ThinkPad X1 nano. However, that one seems to have a 94% scale keyboard -- which is really, really negative, and stop at 16GB RAM. Perhaps I should forget about inking, and instead buy the Lenovo ThinkVision M14T as an add-on?

"My next laptop should have (i) "all day" real battery life, similar to the SB2, (ii) preferably 13"+ screen, (iii) as a minimum LTE -- preferably 5G, (iv) 32GB RAM (preferably) + at least 1TB SSD, (v) at least a possibility of inking mode."

5G PCs (except Lenovo Flex 5G) won't be out until early 2021 due to what I assume are some production delays. That said, some laptops to look at in early 2021 that will match what you need: HP Elite Dragonfly. 5G model is on the way; right now, it uses older 8th gen chips, but I expect that to be updated. 13-inch, thin bezels, good battery life, inking, and a ton of options/configs. Just 16GB though for now. Business laptops run a gen behind, usually, due to the need of vPro, which always cycles later. HP EliteBook 1040 x360 G7 (I'm reviewing rn): 10th Gen (bc of vPro), 4G (may get 5G), inking/touch, up to 32GB, long battery life, etc Dell Latitude 9410 Business 2-in-1. Same as above but limited to 16GB Lenovo THINKPAD X1 EXTREME GEN 3: Up to 64GB, optional 4G, no inking, but has touch. It's a 15", so much bigger, but also more powerful HP Spectre x360 13t. Support inking, awesome design, can get with 4G; but limited to 16GB.

Wow, impressive! Am I reading this right to expect the SP8 to have roughly the graphics prowess of the current SB3? That would be awesome.

I agree with Zac : Intel 11th-gen chip with Xe graphics is quite a significant upgrade. It also provide the opportunity to maybe get Thunderbolt 4 / USB4 (hopefully one of each side of the laptop would be more convenient) and a PCI-e 4.0 NVME SSD which I would wish the Microsoft surface laptop 4 gets. If the Microsoft surface laptop 4 could also get an an OLED display, and an optional LTE / 5G modem (Qualcomm X60) with dual SIM (SIM / e-SIM), it would really be compelling differentiation from other competing Windows laptops, and I would be really, really interested but my guess is that, as of 2021, those are very unlikely (it would add too much cost and make the product even more expensive with less customers able to purchase it. So probably closer to 2022/2023...)

Unless those are coming with, as you mentioned, Thunderbolt 4/USB ports and 11th gen chip with Xe graphics then it is a non-starter for me. It isn't enough to just update your models after the competitors are already out with great products. They have to at least be comparable and that means the newest ports to future proof the purchase. Especially considering Microsoft's premium pricing strategy.

I don't mind the bezels. I'm accidentally touching my SP7 screen all the time when grabbing it. However, I'm done with Intel so I'm out on the SP8. The Xe graphics aren't enough to make me upgrade. Maybe SP9... I usually skip generations anyway because of how slow Intel is. I had SP2, SP4, SP2017, and SP7.

Intel definitely needs to get next gen chips out now that Apple has their M1 Chip. I hope the Pro8 finally has eGPU support. I'd love to pick up a new Surface Pro but want it to be able to have more power.

These products will face a tough competition. Apple Mac with M1 are far superior in performance and battery life.

You are assuming that people with different needs can easily interchange between Windows and Mac. There are some people who will always require a Windows PC and, unless Microsoft makes it so Windows on ARM can run via virtualization on the M1, it won't be a viable option for people like me who need to run Windows apps (locally, not via some cloud-based solution).

Of course Surface products and other PC will be bought by people who need Windows or aim at saving money. Other than that Apple Mac will be the preferred rational choice.

How is a MacBook the "preferred rational choice" if you need a 2-in-1 form factor, touch screen, pen support, and optional LTE? That's like saying the Honda Accord hybrid is the rational choice for new car buyers when you need/want a pickup. Let's stop pretending that "computer" is some universal category that we can make over-generalizations about. It's not. Hasn't been for nearly 10 years. That's the difference with the Window PC market: diversification of features, design, and function based on your needs and wants. Apple sells around 7 percent of all laptops/PCs and it has been that way for years now. The laptop/PC market is flat with the highest selling laptops below $800, not premium Ultrabooks. The funniest thing I've seen this month is readers of Windows Central just drinking the kook-aid on these magical M1 chips as if they're actually going to switch to a macOS (spoiler: most of you won't. Why? Because MacBooks weren't known as crappy computers before; they've always been high-performant with good battery life). Meanwhile, you actually miss valid criticisms of these chips, and how they're far from perfect because ... it's gen1. No surprises. But I get it, you watched the Verge review, so now you know everything about Apple and how the PC market works.

I'm looking forward to 11th gen chips for sure. From all the reviews I've read, it's really quite the upgrade. I wouldn't mind if the Pro 8 bezels are shrunk a tiny bit, just to squeeze in some extra screen real estate. Resolution is good as it is, just make the screen surface area some fraction of sq. inches larger.

I feel the same on bezels. We had heard a rumor they were going from 12.3 to 12.7" by doing just that (bezel shrinkage), but we have not verified that info yet.

I would have been thrilled if the Surface Pro 8 adopted the the Surface Pro X form factor but that was never going to happen. The engineering requirements between the Intel and Qualcomm CPUs dictate much of that. On the other hand if the Surface Pro 8 shows up with a 12.7" screen in the same case I will be like, sweet. And if it doesn't I won't give it much thought. I really can't remember the last time, if ever, I was all lathered up about the size of the bezels on my previous Surface Pros. On the other hand, my expectation is this perfected form factor will evolve to take advantage of silicon advancements in the future. The 11th gen CPU along with the Xe graphics and EVO certification look to make the Surface Pro 8 a touch more than a minor update. The anticipated increase in battery life of a few hours, integrated graphics that are nipping at those found in entry level discrete GPUs, better performance, and the proven great build quality and ergonomics should make the Surface Pro 8 a terrific upgrade. If LTE is an option makes this even better. Toss in a great OS, excellent services like OneDrive, integration with my phone, pen support, and the vast x86 software buffet; it is pretty hard to complain about bezels. Odds on I will be pre-ordering this machine. 100% in less that a month after it starts shipping. Now if we can only get a SQ1 chip in a Surface Go.

Whether deserved or not, these new PCs will be compared to the M1 Macs. The Surface Laptop, especially competes directly with the MacBook Air.

I don't think it was intentional, but I genuinely love the typo for 'kook-aid'. So perfect.

You should watch/listen to the latest Windows Central podcast. They explain in great detail why you're wrong.

they keep pushing the Intel over AMD narrative... I kind of tune out after that.

I got the same feeling, too but objectively speaking, they're not wrong. Intel does have features that appeal to more to a certain segment (vPro for business), which AMD is now trying to compete in, which is good. And the whole AI thing is also great, but at the end of the day, a power user like myself mostly cares about performance, battery life and price, and right now AMD has Intel beat in that department.

Intel is fast running out of things to be uniquely proud of.

Yes, Microsoft should use more pixie dust - but Apple has cornered the market.

Yes, Apple's 7% of the market will provide some real stiff competition. I hope Microsoft will survive.

Macbooks do not have a digitizer so not really a comparison. Only the Surface Laptop could perhaps be compared but even than. Better comparison would be Windows laptops with AMD cpu's (which are very competitive currently), possibly with a digitizer (/hp envy x360 ryzen) or touchscreen.

Tough competition? As far as I know the new M1 Macs are ARM based and will not run Windows natively. They could be the greatest thing since sliced bread but if they do not run Windows then they are a no go.

They *might* be able to run ARM Windows. Then again, Windows with a proper GUI (not the IOT version for Raspberry Pi and other ARM boards) has only run on Snapdragon ARM chips. The M1 has a different boot sequence. Windows on ARM images might not run under virtualization although ARM supports a Hyper-V subset.

oh, Mac has touchscreen? Mac has pen support? there are a lot of reasons to own a Surface over a Mac.

Apple mac with M1 are almost irrelevant to this conversation since they don´t even have touch, let alone inking or a convertible form factor. These are the reasons people buy the SP devices. With regards to the Surface Laptop, people that use windows will buy it and the M1 will make zero difference in that.

Most people don't even know the M1 Apple Mac exists. People still buy an i3, even when they might even know that there's an i7 for sale. Stop with the Apple rubbish. It's a fine machine, but will quickly fade.

Keep in mind that Microsoft is also saving a ton of money on machinery if they don't change the chassis. So by just switching out the internals they can offer an upgrade without as much extra initial cost.

I'm with you on that one. The asymmetrical bezels on the Pro X is just horrid looking. If anything, MS should do an aesthetic change similar to what was achieved with the Go2, same body, smaller bezels.

I'm fine with the current design of the Surface Laptop. It's no wonder their predecessors were on sale during Black Friday to clear inventory, lol. I wish the Surface Laptop had an LTE option and an easier way to replace the battery, that would make it the perfect Surface for me.

Because Black Friday sales are so unusual.

"I wish the Surface Laptop had an LTE option "

So much this. Once you use a laptop with LTE, it's really hard to go back.

An SL4 with LTE would be great. Battery life won't be affected so much because the battery is larger to begin with compared to a Surface Pro.

Microsoft again ( assumingly ) not upgrading the Surface Studio is a real shame... I could see myself being in the market for a dedicated Drawing Machine replacing my Wacom 24HD Touch Monitor taking up a humongous amount of desk space even when not actively being used as a drawing Screen but the internals of the two so far iterations just don't call out to me 😐

Agreed. My Gen 1 Studio is on major need of an upgrade and I refuse to go to a Gen 2 at this point knowing that a Gen 3 must me coming at some point in 2021. Sadly, in the past two weeks, a phantom touch issue has started happening on my Studio and I have had to disable the touchscreen. I so wish we would get some news on a Studio 3 soon.

Would be a letdown imo, there is so much more potential. The Windows market could use some more Windows pro tablets (as in productivity beasts for drawing, 3d sculpturing and pro sketching etc.). Oems have some great laptops alternatives (eg 14 inch Spectre x360) but the tablet section is really lacking there too and convertibles are still slightly to heavy to use as tablets. I get that MS cannot create a Pro X form factor for the Pro 8 but at least eg a pen holder within the regular keyboard or slightly smaller bezels or AMD cpu's or such.

If they gave the Pro 8 the Pro X's Signature Typecover with the integrated slim pen cradle I would buy it on day one.

This is a good point. That's one of the SPX's best innovations. I wonder if it's possible given the current SP non-X design?

Any news on the Book 4, Zac or Daniel? I have a Book 2 that's starting to age and would like to upgrade it, but the Book 3 isn't it

Book 3 has only been out for 6 months.

I'm surprised they haven't adopted the Pro X design for all future surface pro updates. The pro x is a much sleeker, and more modern chassis, and it would help to further blur the lines between windows x86 and WoA.

Current Intel CPUs just wouldn't work in that smaller chassis. They need more cooling and power than Qualcomm chips so a larger chassis is a must.

Yeah, they can't because Intel Surface Pros need vents for i7 variants with fans. The Pro X battery is only 38 Wh compared to the Pro 7's 43 Wh.

Sounds okay. Not much else to say until I know more specifics.
Based on my oast and current ownershipnof a surface pro I hope for:
1. Better repairability and easier replaceable battery without breaking the device, even when out of warranty.
2. Great discounted package deal, with stylus and type cover included in the package.
3. A new surface pen with two extra user definable buttons (naturally also great expansion of options in windows settings.).
4. The return of the power cover, with built in bluetooth for wireless keyboard connectivity.
5. A new typecover with Bluetooth support
6. Stronger magnets to hold the stylus
7. Built in a-gps
8. A more recessed on/off button to prevent accidental presses turning on the device in a bag (yes it happens regularly, even in a sleeved case)
9. An actual compact clean surface dock dock (stand) by Microsoft. Not as now a set of clumsy looking clutter prone power bricks.
10. A more mature fit and finished windows 10 for surface tablet pc experience. It's long overdue (and I don't mean 10X).

Nice list. A few thoughts 2. Great discounted package deal. Costco always has fairly priced bundles (Device, keyboard, and pen).
3. User defined pen buttons. I am not holding my breath on that happening but I like the idea.
6. Stronger Pen Magnets. I would prefer a Surface Pro X type pen solution.
8. More recessed on/off button. I have had this happen too, it is annoying. I would also add that I wish there was a stronger tactile difference between the on/off and volume button; more than once I have shut off the device when I intended to adjust the volume.
10. More mature tablet UI. There is a Windows 10 version coming that is supposed to address UI issues in 2021. Hopefully tablet experiences will be part of that update. (Zac Bowden wrote great article the week 11/23/20 about Windows changes in 2021).

Lenovo's Surface-like tablet has a type cover with Bluetooth. It's a lot heavier than a typical Microsoft cover because it has a battery inside.

1. Nope. Won't happen. Same case.
2. Nope. Not straight away.
3. Nope. 3rd party for that.
4. Nope. MS tried that. Probably didn't sell.
5. Nope. MS tried that. Probably didn't sell. (The SP1/sp2 had a bt adapter)
6. Nope. Might fly out of your hand and smash into the fridge door.
7. Nope. Your phone, on the other hand... .
8. Nope. Same case.
9. ?
10. Nope. That would take a long time.

Laptop 4 with amd will be insane it is not only much more powerful than even 11th gen Intel but also as much battery efficient as 11th gen Intel. Battery efficiency amd 4000 series was significantly better than Intel 10th gen.

Does the laptop screen at least lay flat to allow pen input?
Until someone* comes up with a 360 degree hinge, a Surface laptop with a genuine 180 degree hinge will suffice. * aside from Dell, Lenovo, HP, etc.

I think Microsoft would benefit from changing their kickstand to be more like HP's. More room inside as well as they could make the bottom edge wider so it wouldn't dig into your leg when using it on your lap. Just my 2 cents.

The problem with the Surface is its abysmal, **** battery, and since Microsoft has had seven iterations and do nothing about it, my hopes are low on that department.
If Panos were so smart as we thought he was, the next Surface would be a 14 inch, thin bezels beauty with a monster battery life...
Call me when it happens

Why would we want thin bezels? That way it is easier to break and doesn't work as well as a tablet?

A black Surface Go 2 would be cool, do you suppose it too would see some slight upgrades? ARM perhaps??

I may be a bit late with this, but I need to write it down somewhere... Unless there is support for Thunderbolt (or any other way to connect a powerful eGPU) for desktop use, there is no reason for me to upgrade from my Pro 7. I need a device with enough power for day-to-day use with some headroom for midrange gaming. Regarding the form factor it can stay like it is.
Windows Central Newsletter
Thank you for signing up to Windows Central. You will receive a verification email shortly.
There was a problem. Please refresh the page and try again.