Misfit introduces new Shine 2 wearable activity tracker, available now for $99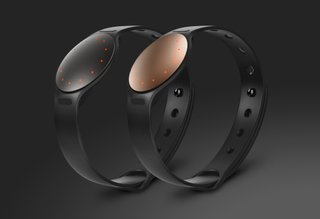 Misfit, a continuous competitor in the fitness wearable space, has just announced its newest wearable, the Shine 2. This new model builds on the success of the original Shine, and adds plenty of new features. The Shine 2 has a new three-axis accelerometer as well as a three-axis magnetometer for finer activity tracking, as well as a new set of LEDs for information display and a vibration motor inside for call and text alerts from your phone.
All of these new features are packed into an even slimmer aluminum body, which was already thin on the original Shine, and its modular design means you can wear it however you want — whether that's on your wrist, your belt, or somewhere else. The Shine 2 also keeps its six-month battery life and water resistance rating.
The new Misfit Shine 2 is available from Misfit's website today in both black and rose gold colors for $99, and will hit additional retailers in November.
More: Misfit (opens in new tab)
Press release:
Misfit Introduces Shine 2 Fitness and Sleep Monitor
BURLINGAME, CA October 20, 2015 — Today Misfit announced Shine 2, the next generation of the award-winning Shine Fitness and Sleep Monitor. Fully redesigned and enhanced, Shine 2 leverages the best of Shine's elegant aesthetic and introduces powerful new functionality.
Shine 2 tracks activity and sleep more accurately with a 3-axis accelerometer and newly added 3-axis magnetometer. Users can now easily see progress and tell time in a halo of rainbow-colored lights, or get motivated with Misfit Move, a feature that encourages you to be active with a vibrational nudge. Text and call notifications and a silent vibe alarm are also new with Shine 2.
Shine 2 incorporates more advanced hardware and firmware—which means dramatically improved touch responsiveness with capacitive sensing technology, faster syncing, and extended Bluetooth range. Its 12 lights display over 16 million colors and are bright enough to be seen in direct sunlight.
Compatible with Misfit Link, the groundbreaking software experience, Shine 2 is more than just an activity tracker—it's now a remote to connect with the world around you.
Communicate with friends, turn your lights on, change your music, take a selfie, advance slides, and more, all with a double tap.
Shine 2 references Shine's iconic original design but features an even thinner aircraft-grade aluminum body, while retaining its signature 6-month battery life, 50 meters water resistance, and modular design. Wear it anywhere, all the time, without having to charge
"We've packed a lot into Shine 2, adding more functionality into an even smaller form factor with the same battery life," said Adam Mack, Misfit's Director of Mechanical
Design. "We didn't compromise on craftsmanship or the user experience." Shine 2 comes in Rose Gold and Carbon Black, now available for purchase on misfit.com, and will be available in retail locations worldwide in November for $99.99.
About Misfit
Misfit invents and manufactures wearable and smart home products. The company was founded by Sonny Vu with John Sculley, the former CEO of Apple and Pepsi, and Sridhar Iyengar, co-founder of AgaMatrix and Elemental Machines.
Windows Central Newsletter
Get the best of Windows Central in your inbox, every day!
This can be my cheap replacement to the MS Band 2..

I would imagine it would be.

We have the Misfit app so if it doesn't support the new one it should soon

They have a universal app but it's been plagued with synchronization problems and they keep saying they are working on it while fixing and even releasing a brand new iOS app. Misfit products only work marginally better on Android and work perfectly on iOS. You can tell where their priorities lie. Mine collects dust in a drawer because my iPhone isn't my daily driver. Fitbit on the other hand has been very responsive and mine still works great. I'll probably splurge for a band 2 for Christmas though.

I returned mine to the store because of those sync problems. I would never buy anything from Misfit again.

This is something I'd like to get my gf but then I look at the reviews of the app on the store and when it was last updated and it makes me think twice. *sigh*

Yep. I dealt with them and unless you speak to them about iOS they will just keep asking you to be patient and dragging you on. Unless you are in the iOS camp you are out of luck. The ironic part is they market cheap wearables to the crowd who has no problems spending money.

I want a tracker that I can swim with that supports alerts on Windows Phones. I love the Band but it's annoying to take it off when I want to swim.

If one was waterproof I'd want it to also track HR when swimming, buy I don't even know if that's possible using the optical sensors most fitness trackers seem to use (Not sure what this particular model uses, but would be interested to know if the optical sensor on the Band could ever technically work underwater)

I reached out to them via twitter to ask if they plan on supporting Windows 10 mobile and they said no.
CORRECTION: "Not at the moment - we will consider it"

DO NOT buy Misfit trackers if you want to use them with Windows or Windows phone. Their apps are TERRIBLE! They basically put out useless apps out just to say they have them. I had the same experience as cr_buck and am now happily using a Fitbit Charge HR.

I'll jump in as another dissatisfied Misfit/WP user. I've had a few Twitter conversations back and forth with their support that have all echoed the ones above. The app hasn't launched in over a week for me though the tracker itself still works fine. They have updated the iOS app twice since the last update to WP, which still doesn't support the Flash model fully. I bought my Flash on sale after Christmas last year and even at $25 CDN, I sometimes regret buying it. When I jump to W10M hardware, I'll be buying a Fitbit for sure.

Same here - misfit works just great but with ipad and not wp. Shame!
So, does anybody tried runtastic? WP app seems to work?

I have fount my misfit flash works great on WP8.1 with my Lumia 640. I just did the Insider build so I will try the app out on that.

The app is pure rubbish. It's basically a read only app, and you are unable to edit your activities in any way or have them displayed by intensity. Syncing is a hit or miss. All in all I'm very sorry I bought the Flash. I was using my boyfriend's Android tablet for syncing but that app started crashing after the last app update so I just gave up.

You might as well just get an original band, which has a screen on it, for the same price.