Let these plug-in LED night lights guide your path at 50% off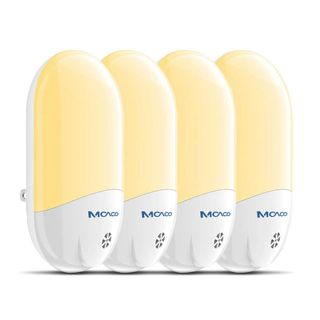 No matter how tidy your home is, once the lights go out, all bets are off. It never fails: the second you step out of bed to go to the bathroom, your feet manage to find every rogue LEGO brick, furniture corner, and precariously-placed rollerskate in your path. Light up your life by saving 50% on these MOAOO Plug-In LED Night Lights (opens in new tab) at Amazon today. Enter code 9LP3Q66K to drop them from $19.99 to $9.99. We've never seen them drop lower in price before. Make sure to use Amazon Prime (opens in new tab) or spend at least $25 to avoid shipping and handling fees.
(opens in new tab)
Moaoo Plug Lights (opens in new tab)

These plug lights feature auto dusk to dawn sensors so they turn on as the sun sets and off again once the sun rises. They are small and have a soft light which is perfect to help light pathways to the bathroom or for your kids room.
These LED night lights are bright enough to light the way but soft enough that they won't blind you or disturb your sleeping housemates. Each light turns on automatically in the dark and off automatically when the room gets light enough. They're compact enough that they'll keep your second socket free, and the LEDs won't draw too much energy either. The manufacturer backs your purchase with a year-long warranty.
Since you're getting four lights, you should be covered for most of the rooms that need them. If you're in need of additional home accessories, be sure to check out this one-day sale on sheets and curtains. You can also save big on a day and dusk smart bulb for a limited time.
If you're shopping specifically for a kid, you might want to check out this LED cat night light (opens in new tab). It's soft, squishy, and glows a few different colors. Kids (or grown-ups) can simply take the light with them throughout the house to help them see.
Windows Central Newsletter
Get the best of Windows Central in your inbox, every day!
Louryn was seven when her shopping obsession began. It started with eBay and quickly escalated to Black Friday. Now she's a shopaholic -- no day is complete without a pile of packages on her front porch. She justifies it by refusing to pay full price. She also loves Skyrim, makeup, and beer. Find her on Twitter @lourynstrampe