Free Xbox game Monster Burner appears, lighting up Windows Phone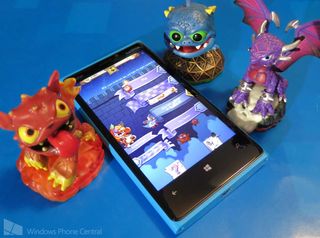 Since last week we've been undergoing a small communications hitch with Microsoft's gaming division that will hopefully be cleared up soon. Earlier this week though, French site MonWindowsPhone passed along the news that N.O.V.A. 3 would be today's Xbox release, so we reported it as such. Of course we asked Gameloft to verify the release date, but they could only say for certain that it will come out in May – not specifically today.
A short while ago, a different Xbox Windows Phone game popped up in the Store: Monster Burner from Ubisoft! That's not a bad thing, because it's FREE, seems like a fantastic game, and runs on both Windows Phone 7 and 8. But given that Gameloft couldn't say for sure whether N.O.V.A. 3 will come out today, we are left slightly unsure about its release status. Will we get one Xbox game this week or two?
That question aside, most of you guys will dig Monster Burner in a big way. Read on for our first impressions.
Fahrenheit 451 style
Monster Burner is an action puzzle game that involves a lot of… you guessed it: burning monsters! In each level, hordes of cute and well-drawn monsters advance from the top of the screen towards the bottom. To stop their deadly, you'll need to flick fireball after fireball. The more monsters each fireball hits, the higher your combo and score.
Naturally tougher and more interesting enemies will come along, including some that take more hits to kill, stop fireballs in their tracks, or can only be hit at certain times. They'll occasionally drop valuable coins, power ups, and scoring items that you must tap to collect. Oh, and princesses will run out amongst the monster hordes as well. Collect them quickly and don't burn them to death by mistake!
Modes and money
This may be a free game, but it packs a fair variety of modes to keep players busy. The main game type consists of six unique areas plus a Challenge map of some type. Gold Rush mode is a great way to earn gold, though it can only be played every six hours. The Daily Level will keep players coming back; you can play it more than once a day if you like. Four Seasons mode challenges players to beat their friends' scores. The store description mentions a Children's Mode but I haven't found how to access it yet.
Monster Burner is free, but of course it's monetized with In-App Purchases. Almost everything in the shop costs coins, which players can earn on their own or buy with real money. But one upgrade, a permanent 2X coin multiplier (which I would've loved in Gravity Guy 2) costs two bucks and can't be bought with coins. Remember, this is a Windows Phone 7 game (surprisingly), so the IAPs require Microsoft Points instead of credit card or PayPal like Windows Phone 8 IAPs. That's fine for me though, because I had Points to spare.
Get your matches ready!
Interestingly, Monster Burner originated as an iOS game but appears to have been pulled from iTunes recently. That means Windows Phone is the only way to play it right now – score one for Microsoft's OS, temporary or not! Plus, this brings us one step closer to Rayman Jungle Run which Ubisoft announced at the same time back in February…
Monster Burner is a 33 MB download and runs on both Windows Phone 7 and 8. Get it for free here at the Windows Phone Store.
Thanks to Guilherme da Silva Manso for the tip!
Get the Windows Central Newsletter
All the latest news, reviews, and guides for Windows and Xbox diehards.
Paul Acevedo is the Games Editor at Windows Central. A lifelong gamer, he has written about videogames for over 15 years and reviewed over 350 games for our site. Follow him on Twitter @PaulRAcevedo. Don't hate. Appreciate!
This game is looking awesme.. I have been playing this game..

Have you been playing it?

I can't play?! I click play and it says I beat all my friends. I haven't played yet?? Stupid.

Tap the part that has the little arrow pointing to it. That'll take you to the store. Then tap the arrow in the bottom right corner.

Waiting for RAYMAN n JETPACK....

Yeah, Rayman is going to be great!

Link to the game in your app?

Paul it's showing 43MB on WP7.8 ?

No download link in app. Can't find it in the store either.

How do yo uexpect me to scan the QR code if I am reading this on the phone?

Well, you could buy a second phone specifically for that purpose. But websites can also be viewed from PCs, laptops, tablets, etc., so scanning the QR from one of those devices will probably be much cheaper in the long run. ;)

Hello Jason. Do I know you?

No I just felt like saying hi, thanks for the reply.

Lol nice one lol. Hey a little humor never hurt anyone.

I'm waiting for NOVA 3 and from EA I wish "Mass Effect" and "Dead Space"

I| think Nokia will do it, but not Microsoft. And I remember N9 games like NFS Shift, Galaxy On Fire and Samurai 2 which they could also port to WP8 (((

Another one here for Dead Space. Would love to ser command and conquer too!

Downloading now. Thanks again, Paul, for this PSA :)

I hate it when a new popular game comes out and It requires at least 512 Mb ram. It makes me regret buying my 510 . I should have waited and bought a 520 instead

510 was my first WP device, fell in love with the OS. Bought 720 and now using it. Will purchase the next 900+ series or Catwalk maybe. You should too!

Yeah.... I'm in love with the is too but don't have the cash for a better one :/

I'm thinking this was skylander's giants I wouldn't have downloaded it, but it would've been nice to have popular apps coming over.

thanks. so many free games! good job devs!

How about Subway Surfers ?

D'oh! On first glance I thought this was a Skylanders mobile game because of the picture. Get on that, Activision!

When did the download limit change from 25MB for mobile network downloads? I just wasted 33MB on a limited data plan, expecting this to queue for when I got home. It was over half done before I thought to cancel it.

It's always been 50 MB on WP8 AFAIK. Has it changed for WP7 too?

It changed sometime around Mango i think.

Maybe I was just misinformed. I'm not sure why I thought it was 25MB.

There used to be a 20MB limit in WP7. Not sure if that was still in place after 7.5 though.

Game looks like a lot of fun. I love free, I'll be checking it out tonight.

If you look in the guide the app claims to have world leaderboards, but they're definitely not there. Does Xbox for windows phone 8 even support global leaderboards? Truly wish they did, it would drive me to play these games do much more.

Xbox WP does not have a global leaderboard API. But some games take it upon themselves to create their own custom global leaderboards. It does sound like the description might be inaccurate since the kids mode seems to be missing.

Thanks for the quick response. Did the five-part editorial on how Microsoft can make WP Xbox gaming better address this? I would love to read that. Also, I wonder if they simply ported their iOS app without changing the guide, as a result keeping the missing features..

It's actually seven parts! :O But yeah, part five addressed leaderboards and other online issues.

The Seven Wonders of fixing Microsoft! O:

I'm buying Koozac, next. (after 200, Burn the Rope, only 3 levels missing).

At least I can say I tried it. Only wasted a little data. It looked like it might have been fun, but it is just not for me I guess. Uninstalled. Nice to get free games though.

I think there will be 2 games released today Monster Burner and a WP8 only game!


That would be good, and hopefully WP8 isn't "freemium".

You had me at "free Xbox game".

A nice treat to celebrate my successful Spring Semester!! :DDDD

Awesome game .. Bought 2X gold coins .
The in-app purchasing is sensibly priced

That's what ? 2 Eur/Dollar? I would prefer to pay that or a little bit more and have no real money put into game design.

Just think of it as a two dollar game. I've never seen someone so opposed to saving money...

It's not saving money, it's crippling the game design. Between buying an iap for 2 Euros or buying a full game for 2.39, I prefer the latter. This "freemium" thing is only good for people who likes glorified demos.

The design isn't crippled. You can either earn coins slowly or quickly, but it's still a fun puzzle game either way. It doesn't seem like you look at the game before writing it off based on the payment model.

This game crashes immediately after launch on my 920. Reinstalled it, same result. Anybody experiencing same problem ?

No crashes on my Nokia Lumia 900.

Yep, crashes on startup on my L920 too...initial boot got past the splash screen but now it fails immediately *sigh*

Crashes on my 920. Perhaps it's not as compatible as we thought with WP8? Anyone with an 8X want to confirm?

Yeah, the game crashes on the splash screen, even after reinstalling on my Lumia 920. I can't find any official place to report this bug though.

It crashes immediately after launch on my WP 7.8 Samsung Omnia W. First run it goes to the main screen, and from second time onwards, not even there...

I made it to the level select screen today before it crashed. Still no idea if the game itself is any good..

Any news about this week DEAL?

First paragraph sorta answers that one.

Meh. Not for me. Uninstalled

Thought we were getting nova 3 today

I was thinking the same thing! Hopefully there will be a second Xbox release. I've been waiting for Nova for a looooong time now!

Was expecting nova, what happened? Yesterday we were getting today we are not?? Hmmm

Not too exited by another game that has ton of in game purchases to be enjoyable. I would rather pay $5 strait up instead of being micro-transacted to death and potentially spending a lot more than I should on a mobile game.


Pretty cool game, haven't stopped playing cheers for the link Paul, no nova3 then??

Any way to block the ms points purchase?

Anybody know how to draw a fire wall?

You have to buy fire wall in the shop (lasts only for next round if I am right)

Hows the achievements on this?

Cheevos r pretty good there r a couple that r either gonna take along time or a few m$points! Its only crashed on me once, a bit laggy, leaderboards r not working at all now, but I still cant stop playing it!!love it!!

Is it just me, or is there not an options or settings menu... I want to turn the damn music off!

+1
Nice little game, but the apparent lack of volume controls is a bummer. Have to turn the phone master volume down to get it to stop playing.

Anyone notice the cloud save back up option... Is this the first game to do this, and the future... Always annoying if your phone is replaced, upgraded, damaged, or lost you lose your saves

Yeah the cloud save feature is kind of cool. However when I tried it on my WP7, I got an error message when I tried to save.

I played it today and it was actually really fun. My only complaint is all the leaderboard stuff. I mean I know people are into that kinda thing, but it only makes the game look cluttered and feel slower on loads for people like me who don't care and just want to play the game.

The normal size tile says the game is called monster bunner.......

Isn't there a way to turn off the sound in the game WITHOUT turning it off from directly my phone?

Thanks!

Sadly, no. We lamented the lack of independent volume control in a previou editorial...

Cool game, but to short.
ThaNX

Any fix for the Lumia 920's yet? every so often it loads and i play for a minute or 2 but always cuts out.