Mustang and Lamborghini Xbox One consoles are being given away in France and Australia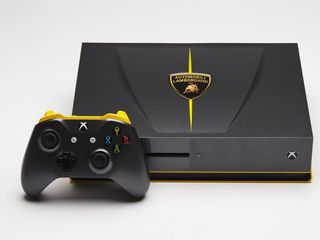 More custom Xbox One consoles have been revealed today to promote the just released Forza Horizon 3. Xbox France has one that looks like the front of a classic Ford Mustang, while Xbox Australia is giving one away that has a design inspired by the game's cover car, the Lamborghini Centenario.
The Ford Mustang Xbox One console that Xbox France is giving away (via WinBeta) is similar to the Audi Xbox One custom console that is being given away in Germany. It's meant to look like the front of the car, and even the controller that comes with it has a black leather look.
Xbox France is letting people enter to possibly win this Mustang Xbox One by liking and commenting on its Twitter, Facebook and Instagram pages. At the moment, it's unclear if this is just for French residents or if anyone can enter this contest.
Meanwhile, in the land Down Under, the Xbox Australia team is giving away an Xbox One S that's inspired by the Lamborghini Centenario supercar in Forza Horizon 3 (via VG247.com). It doesn't look much like the front of the car, but the gunmetal looks for both the console and the controller, along with the Lamborghini logo on top, look pretty cool.
If you live in Australia and want to win this one-of-a-kind console, you can purchase Forza Motorsport 3 from the Microsoft Store in Sydney or online (opens in new tab) from now until Oct. 2 to be entered in the contest. If you have already pre-ordered the game, you can still enter by sending a proof of purchase as a private message on the Xbox Australia Facebook page.
Check out our full Forza Horizon 3 review
See Forza Horizon 3 at Microsoft Store (opens in new tab)
Windows Central Newsletter
Get the best of Windows Central in in your inbox, every day!
First Audi, then Lamborghini and Mustang.... Next would be U.S. Cadillac

The Mustang is a Ford car, a U.S. company (well, except the part where jobs are going to Mexico). Why there isn't one of these in the U.S. is confusing, as is having the Mustang in France (though I guess a Peugeot isn't quite as exciting).

What custom Forza console is being given away in the USA? I'm loving all of the custom car consoles I've seen so far.

All these nice custom Xbox consoles and they didn't do the one that made the most sense: Minecraft. It would have sold like hotcakes.

But these aren't being sold.

Maybe we should reach out to Microsoft and the XBox team about considering making these type of limited edition xboxes

The point is that Microsoft, for years, has been making custom Xbox One consoles, some times like this (for promotional giveways, in rare quantities), sometimes for the consumer market (Halo, Battlefield, Gears of War, etc.). They just announced a Minecraft Xbox bundle, but it is just a boring white console. Had they made it custom-themed, the bundle would've sold a ton of consoles. Missed opportunity.

Cut a piece of turf from your garden.
Place on top of xbox.
Result!

Dang. I said in the Germany article that I wanted American muscle and now they have one, in France... These consoles are great, they should make them on demand. I would pay a premium for one of these for sure.

Me too. A Halo Warthog custom Xbox would be nice, and will go great next to the Halo 3 Master Chief helmet.

Mini Metro console being given away in the UK

It would be cool if they made an engine start sound when turned on.

That would be cool. Does the Xbox One allow this in general on special editions? I think there was an R2D2 Xbox 360 which boop ans bopped when you turned it on instead of the standard sound

Why offer such a premium console with such a normal controller. They should have personilized the Elite with some carbon fiber paddles or something like that. I do love the Mustang one. The Lambo is somewhat meh, could have shaped it like one of the side vents or something more wedge shape.

I want a Camaro console with the Halo headlights.

That looks seriously cool, I dont game much due to time, id pay top dollar for something like that to site on the shelf.

But why in France of all places? Mustang is American :[

They look exceptional and for a collector I reckon these are a must.

Where's the photo of the Mustang?!

It's in the attached video with this article.

Does the console produce custom sounds, like the Halo and Star Wars 360 ones did? Be rather cool to hear a roaring V12 thunder out every time the XBox was booted up.
Windows Central Newsletter
Thank you for signing up to Windows Central. You will receive a verification email shortly.
There was a problem. Please refresh the page and try again.