My Notes, Eyez join Skulls of the Shogun in this week's Red Stripe Deals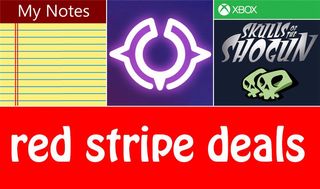 Are you a bargain hunter? If so, you'll definitely want to remain in the loop when it comes to Red Stripe Deals. Microsoft puts three apps (and/or games) on sale to save you some cash. The selections are generally what you'd want to download too, which is always a. What are the deals for this week? My Notes, Eyez and Skulls of the Shogun make the list.
My Notes
My Notes, as the name suggests, is a handy little app if you're one to keep notes for literally everything in your life. Microsoft has OneNote available for free on Windows Phone (which can then be used on Windows and the web), but third-party alternatives generally go beyond the official note solution with more features. My Notes boasts SkyDrive integration, customisation, Live Tile support, and more.
You can download My Notes from the Windows Phone Store for $0.99.
Eyez
Eyez is one of those unique gems on the Windows Phone Store, which messes around with the boundaries of the screen. Think puzzle-like gameplay with hand-drawn artwork and colourful backgrounds with multiple layers of parallax. To progress through the game the player has special powers at his (or her) disposal, include Blue Eye - enables you to halt the scrolling to go off-screen and appear on the opposite side. It's a neat game that will soak up countless hours.
You can download Eyez from the Windows Phone Store for $0.99.
Skulls of the Shogun
If you haven't checked out Skulls of the Shogun yet, now's your perfect opportunity with the game on sale. Join forces with fallen samurai warriors and magical monks to capture the Skulls of the Shogun and become an unstoppable force. The game is a top down turn based strategy adventure and features 20 levels in the single player campaign, as well as online and local network to battle with four of your friends.
You can download Skulls of the Shogun from the Windows Phone Store for $1.99.
Thanks, Dave, for the heads up!
Rich Edmonds is Senior Editor of PC hardware at Windows Central, covering everything related to PC components and NAS. He's been involved in technology for more than a decade and knows a thing or two about the magic inside a PC chassis. You can follow him over on Twitter at @RichEdmonds.
Skulls for that price is a must have

All red strip deals should be 99 cents.

No they shouldn't. Skulls for $2 is already a steal. It's a great game. Some people are so cheap. Like last week's Red Stripe deal, Mirror's Edge, was an incredible bargain at 99¢ and you still had people in the reviews begging for it to be free. Ridiculous.

Was planning to buy something sweet for this diwali, skulls of shogan will suffice!
Happy festival of lights!:)

Love Eyez, but holy-moly im stuck.

Is Skulls more of a tower defense type game, or more of a RPG type game, or an action platform game?

None of the above. It's a turn based strategy game.

I quitted myNote for NoteLocker, although I bought the former, it's a better product, imo.

Can anyone from India help me buy some apps ,,got a SBI Debit Card! Searched all over forums,cant find a way!

When u click on buy button in the atore it asks for credit or debit card number u can enter that it should get it done

Nope,Not accepting Sbi Debit Cards! And can i use Sbi Virtual Cards??

Can you buy visa gift cards there?

Too many good deals keep popping up; more games than I can hope to finish. I highly recommend Skulls of the Shogun. That's great game, definitely one of the more polished on Windows Phone. I was hoping there'd be DLC, however, because the main campaign ends a bit quickly. Unfortunately, I've been told it sold poorly, which is massively disappointing because it deserves a lot more recognition than it's gotten.

Is skulls a good game on mobile device? Or is it better on PC or tablets? This price is really attractive and based on the reviews it's a game to have.

I find it can be a bit of a headache on a small screen (HTC 8x: 4.3") Probably better experience on a tablet or pc but haven't tried either. You also move your units within a Circle radius, not with "movement tiles" like most RTS games which i find annoying as its hard to guess where the opponent will move and makes me play defensively alot of the time. But at this price you might aswell give it a shot, there is also a demo.

Well the developer of this game wasn't happy with the sales of it on Windows 8, WP8, and Xbox 360 so they jumped on the "Microsoft hates indies" bandwagon. So I say F them and all their future games. They wanted to sell millions then they should have made a better game. Talk to the developers of State of Decay. They broke a million on Xbox Live Arcade.

You're talking about shogun developer? Does that mean they won't update the game anymore? If that's the case I'm gonna reconsider buying..

I remember reading that too and scoffing at the developer who said it as ungrateful. Microsoft put quite a bit of marketing into promoting the title, featuring it in the Xbox, Windows 8, and Windows Phone stores. It may not have sold as much as it deserved to (it's a great game) but it definitely sold more than it otherwise would've without Microsoft as the publisher.

Microsoft hates indies bandwagon? You mean the truth. Just give the devs of State of Decay some time and let the high of rolling in so much money wear off and they'll be screaming f MS, not because it's the thing to do but because they put up insane roadblocks for all indies and all publishers in general for no reason whatsoever other than to keep the little guy out of the marketplace. Talk to Team Meat they are one the best selling XBLA games ever and they are the biggest f MS group out there.

Skulls of Shogun needed a easy mode. The game got to hard after the first "intro" map.

Skulls of the Shogun is a very fun game, but I'm glad I didn't buy it at full price. The graphics don't scale! Everything is blurry and pixelated on my Lumia 920. I have the demo on my Surface Pro and it does look great on that. I would go for the Win8 version, if the price dropped. In regards to the dev badmouthing sales figures...Unfortunately, I would never pay $10 for it, when I usually spend no more than that on AAA games that are maybe only a year old on Steam sales. I just bought Bioshock infinite for less than $15, for cryin out loud! (sorry indie dev, that's just economics)
Windows Central Newsletter
Get the best of Windows Central in in your inbox, every day!
Thank you for signing up to Windows Central. You will receive a verification email shortly.
There was a problem. Please refresh the page and try again.