Weekend Entertainment - Listen to Nero and watch Avengers: Age of Ultron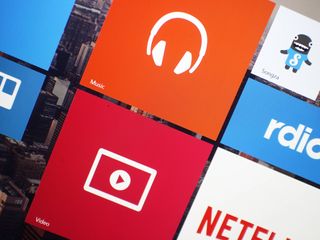 Every week, lots of new stuff drops on Groove Music and Movies & TV, and it becomes hard to keep up. Well, that's where we come in. Every weekend we'll highlight some of the hottest albums and singles on Groove Music.
We'll also let you know what movies and television shows just dropped on Movies & TV for your viewing pleasure. It's the weekend, and we'll help entertain you.
Groove Music
Nero - Between II Worlds
Nero is an electronic music trio that formed in London back in 2004. Although they're a critically acclaimed group and have been around for over 10 years, Between II Worlds is only their second studio album.
The album features 12 timeless tracks that you'll be jamming to in the car in no time. It's hard to pick which are my favorites from the album so far, but I do have a couple that I feel show off the tone of the album the best. Listen to Into the Night, Two Minds, and Satisfy(a track from Forza Horizon 2). If you like the album just a much as we do, let us know in the comments below.
Listen to on Groove Music (opens in new tab)
Disclosure - Hourglass
If you haven't been paying attention to Disclosure lately, consider this your PSA to catch on all of their recent singles that they've released over the past couple of weeks. Hourglass is their newest single which hit earlier this week and it features that deep silky sounds that we're used to hearing from the group.
Caracal which is the title of their upcoming album is expected to hit store shelves and streaming services September 25. Let us know if this new single has you pumped for the next album.
Listen to on Groove Music (opens in new tab)
Movies & TV
Marvel's The Avengers: Age of Ultron
The members of the Avengers have finally settled back into their regular routines after defeating Loki. However, a peacekeeping experiment goes horribly wrong and poses a threat to humanity. The Avengers must then reassemble to take down Ultron before he completes his mission of making humans an extinct species.
Watch on Movies & TV - $19.99 (opens in new tab)
Do you have plans to watch or listen to something else this weekend? Let us know in the comments below! Also, if you have any suggestions for next week's post you can always hit me up on Twitter @JonDollison. Have a great weekend!
Yeah and Act Like You Know, Innocence, Reaching Out, and Must Be the Feeling. Must Be the feeling is the best imo. Posted via the Windows Central App for Android

All good ones - I also like Promises, Satisfy, and Guilt

Avengers on Xbox Video/Movies & TV: $19.99 Avengers on YouTube, Amazon Video, Google Play: $14.99 I'll still get it on Movies & TV (I hate that name), but I would think if you are trying to build a larger user base and catch up to the competition, you would at least match prices.

Buy it on amazon, link amazon and movies & tv to disneyanywhere and you get it on your MS acct

Its actually 19.99 on all those services. SD is 14.99, HD is 19.99. I'm sure (and the data probably supports) people going for the HD version, so microsoft probably just doesnt bother to offer SD so soon after the release.

Lol Microsoft almost NEVER match prices. Even their new release games come out at AU$89-99 when they can be bought in retail stores for $69-79

Groove Music.........
..........
Hopefully this next TP build will allow Groove to finally recognize our music passes....

Groove is loading unwanted app audios in my songs lists.. Is it just me ? :-/ there are more than 500 tiny audios that I can't even get to play.. And I'm worried of deleting it , because it may break the app.. Any solutions for that?

As with all of these articles that I see, my answer reamins the same: LOL, no.

id love to get avengers, but not at that price, not after getting screwed on monsters inc after linking disney movies anywhere and definitely not if I have to use your player to watch it instead of integrating it in my mediacenter. Too bad cause I love the movies & tv store in general. :/

I'm checking out the new Gary Clark Jr. album, this weekend.

I had no idea Nero had a new album coming out

I've been digging the new Duran Duran album all day.

Microsoft's Movies & TV has some of the worst prices on the net NO JUST NO!!!!!!

lol nero 2016 will be available soon earlier if your a newsletter subscriber Posted via the Windows Central App for Android on WM10

is that age of ultron contains Extended content.

We are working this Saturday. Hopefully tomorrow the weather will be good and we'll go to the sea. Anyway, my current car music is mostly retro from the 80s and 90s :) "All that she wants... iiiis another free day" ♪♫♫ :D

Doesn't work in my EU country.

I'll pass on Groove music (screw the webplayer, where's the x86 application??), but will fire up Spotify to listen to the new Nero album :)
Windows Central Newsletter
Thank you for signing up to Windows Central. You will receive a verification email shortly.
There was a problem. Please refresh the page and try again.