New Surface design patent suggests Microsoft is considering USB Type-C for power
A recent design patent shows an apparent Type-C port and more for the Surface.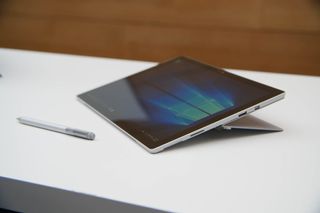 Design patents sometimes offer insight into where a company may be steering its technology. Alternatively, the company may just be locking in an idea to prevent the competition from lifting it.
Whether this new Microsoft design patent for the Surface dated March 28, 2017, is going into actual production is unclear, but none of the observed changes would be unexpected.
The design patent in question is US d782,469 S and was initially filed on March 30, 2015, but updated a few weeks ago with some new drawings.
As a design patent, no technical specifications are noted on the Surface, but there are some apparent changes from previous filings e.g. US D680,530 S0 (PDF).
The two distinct alterations are the removal of the Surface Connector for powering the tablet and moving the standard headphone jack from the upper left side to the lower right one.
The idea of Microsoft moving away from a limited proprietary AC adapter to a standardized USB Type-C – preferably with full Thunderbolt 3 support – is very much in line with most manufacturers these days. Even Apple famously surrendered its MagSafe power adapter with its new MacBook Pro laptops.
Not only can USB Type-C act as the power port on a PC or tablet, but if configured for Thunderbolt 3 it can be used for data, peripherals, external GPUs, and powering 4K displays. Additionally, it's physically smaller than Microsoft's "fin" Surface Connector.
Of course, for the drawing it could also just be "generic port".
The other shift with the headphone jack also makes sense. One minor complaint about the current Surface Pro 4 and Surface Book is the headset jack location. It's a little odd to have headphones connected to the top of the tablet with the cord having more hang area. The moving of the jack to the lower side while not monumental would be a welcomed modification.
Keeping all the I/O to one side would also be a nice aesthetic design. Finally, it does look like the USB Type-A and Mini-DisplayPort are also represented in the updated Surface design patents suggesting they will remain.
Surface Pro 4 refresh or something else?
Whether Microsoft implements port changes for the rumored Surface Pro 4 hardware upgrade remains to be seen. Caution needs to be taken that a design patent in and of itself is not a "leak" confirming the existence or any approved plans by Redmond.
Indeed, there is nothing in the design patent that denotes USB Type-C making this strictly inference and therefore, unreliable as proof of anything.
Also, instead of Surface Pro 4 redux, Microsoft could be saving this either for a real Surface Pro 4 successor or perhaps for a non-Pro Surface running Windows 10 Cloud, which may be forthcoming.
Recent rumors suggest we may hear more about a new Surface in early May perhaps related to the Build developer conference. That refresh could bring minor changes (like above) along with 7th Gen Intel "Kaby Lake" processors for improved performance and battery life. None of that would at all be surprising.
For now, we'll just have to chew on the possibility that Microsoft may be at least considering another adjustment to the Surface line, one that we think most people will welcome.
Special thanks to Cassim Ketfi for the assist!
Daniel Rubino is the Executive Editor of Windows Central, head reviewer, podcast co-host, and analyst. He has been covering Microsoft here since 2007, back when this site was called WMExperts (and later Windows Phone Central). His interests include Windows, Microsoft Surface, laptops, next-gen computing, and arguing with people on the internet.
I hope Microsoft keeps the magnetic Surface Connector. Magnetic connectors like it keep devices safe when you trip on them. Plus they just look really cool snapping into the port automatically.

I've only had my surface about a week now and while the power connector is a million times better than my Surface RT one and all my other laptop connectors I think I would still prefer USB-C, I guess I just like the whole "one port to rule them all" mantra. Would be nice if USB-C was magnetic though.

Check this out:
https://www.amazon.com/gp/aw/d/B06XG1NB2K/ref=mp_s_a_1_5/145-6435096-088...

All that and all you had to say was "I'd prefer a magnetic USB-C port." Geeze, this site gets worst and worst daily.

Please excuse him for breathing your oxygen as well.
"Worst and worst", really!???

Agreed. Surprised he/she/it did not go the "worst and worstest" route.

I noticed that there were no comments yet so I decided to not type a short one just to be first. Edit: The mobile app for 8.x doesn't show comment threads beyond one reply.

Sorry if I ruined your day with my super long winded and comprehensive analysis of the pros and cons of life itself in those two sentences. I hope you can recover the time you lost somehow.

The sun c cablenwould have a magnetic break in it then that would solve that issue

If it was only a charging cable, maybe.

An adapter would be nice for those with a dock, just make a simple -C to pro 4 power connector and bam, problems solved

Agree, the fin connector is awesome. I love the convenience and safety of it. Super easy to attach and detach, AND looks futuristic.

The main advantage of the Fin connector is that the cable remains parallel to the edge of the device. As a result one can easily rest the device like on it, as the "fin' comes out laterally, it doesn't cause cable breakage. On the other hand connectors for most phones attach with the device in a way that the charging cable lies perpendicular to theedge of the device and as a result is prone to breakage. So, the ideal solution will be a right angled USBC connector.

My guess is that this is MS abiding to the new EU regulations which shall require all mobiles and tablets (?) to share a common charger. Unfortunately details of the regulation are quite sketchy and it is difficult to find any tangible data on it for a layman, but common sense dictates that USB-C will be the current standard in the EU (and most likely world-wide as well), since all new phones form the big players sport this connection. Thus look out for the USB-C iPad in September. Remember you read it here first.

Compare these pictures to a non pro Surface 3 and I think your conclusion may change a little bit

Was going to say just that, sitting here with my Surface 3 with the DP, USB, micro USB charge, and headphone jack down the right side. Wouldn't mind it if this was a Surface 4 with USB-C charge as opposed to micro-usb. Would like a continuous hinge, rather than the 3 position, and a keyboard with a fingerprint reader (or camera Hello, but that would likely bump the price). All in all I like my Surface 3 as a personal device. Better than an iPad for sure. Other leaks have already pretty much confirmed any new Surface Pro and Book device will retain the same Surface connector, at least for the next iteration. Nothing says a new Surface couldn't have a USB-C as well, which could be used for charging too. We have a Dell XPS 15 that has the usual charger with the barrel connector. We have a Dell dock that connects via USB-C and yes, it charges the Dell as well as providing all the dock outputs. That would be a way MS could painlessly transition folks who still have Surface connector based hardware, chargers/docks. You phase out the old peripherals and phase in the new while both work on the next Surface.

If they remove the Surface Connector that will present them with a serious problem which is breaking the committment they made regarding support in future devices for the new (good but overpriced) Surface Dock. Not to mention that would mean they spent tons of research money on the Surface Dock connector to then throw it all away. Why spend time and resources in developing a cord that can serve as a one-stop connection for charging and data transfer if they then go ahead and just put in USB-C? USB-C was already available when the SP4 and the Surface Dock were released. And how will they entice people to go along with it? Will they provide Surface Dock ownsers with a free adapter to transfor the Surface Connector into a USB-C connector (like they did on the One S with the Kinect adapter)? I'd rather wait and see. I absolutely hate USB-C and so I would never buy an SP5 to replace my SP3 just because of it. In fact, it would be a reason for me to skip it. Then again, I can't think of anything Microsoft could do on the SP5 to improve it over the SP3 for me, maybe apart from going with an almost bezel-less display.

Yah all those people who spent money on VHS are just throwing it away by releasing bluray.

Don't be daft. The difference is that Microsoft actually said the Dock would serve future devices.

They said the next gen of devices when the sp3 was out meaning they held that commitment

Yeah they never made any other commitments with the Surface Pro 4, only with the Surface Pro 3 dock...

they could get out of this problem by offering separate dongle. Usb type C with surface connector usb type C much powerful and it is the future

Personally, whilst almost bezel-less 'Infinity' type displays would appear cool on a tablet, functionally they seem worse off. Maybe not in all uses, but if you were gripping the Surface like a clipboard or holding it up at an angle in your hands, hardly any bezels could cause you to accidentally tap a myriad of different things onscreen as you try to hold it securely. Plus, leaving space at the top of the front for the camera/sensors/speakers and at the bottom for the magnetic connection of the keyboard, you'd only significantly lessen the bezels on the sides - that'd look weird in both portrait and landscape orientations as a tablet, in my mind at least. The SP4 seems to have hit the sweet spot with the bezels.

Agreed regarding the bezels. The Surface Pro 4's bezels are slim enough already. Going bezeless doesn't make sense in Tablet, where else would you hold it? Can't wrap your hand around it...

I completely understand the concerns regarding holding the tablet portion and the cameras. They're absolutely valid. However, I was only thinking about my case (as I wrote). In my case, they wouldn't be problems as I am amongst the majority who doesn't use the SP as a tablet. The only time the keyboard ever comes off is when I'm drawing on it and there the bezels don't offer any advantage. In the contrary.

Ah, fair play. As I was writing that, I was thinking it works best on laptops, so yeah more suited to your usage.

Only if you haven't read about the possibility of a virtual bezel. Whereby the border for physical input when in certain modes is restricted to prevent exactly such issues. Win Central reported on exactly such a thing within the past few weeks. Beat of both worlds then..

That would be damn right awesome! But only if it's on an OLED display (similar to what Samsung did on the S8) or perhaps Microsoft could be the first to implement this IPS LCD alternative to OLED ( https://goo.gl/I9JqEO ) in a consumer product...we shall see how Panos advances the Surface Pro.

Can you explain your issues with usb type c? Never heard anyone complain

Seconded. What's the beef? Have it on a number of phones, and on a Dell XPS 15. The USB-C based dock for that thing works every bit as well as the dock for the Surface. Better actually, as I can plug my Dell into my MS Display Dock (for my Lumia) and the USB and HDMI work fine. Plugging the Lumia 950 into the Dell dock, actually kinda works too. USB and ethernet work, HDMI doesn't. Don't know if that is the phone or dock's fault. In any case, standards, dude. Embrace them.

Well, apart from the dubious reliability, it doesn't offer me enough an advantage that justifies going around replacing every single connector I have (cables etc) with USB-C... And even less to join the Dongle-bandwagon currently inhabited by the iSheep.

I obviously can't speak to your experience but I've never had any reliability issues with USB-C and I'm not aware that many at all have. I can certainly accept that USB-C doesn't offer you enough advantage to upgrade for that reason specifically but to say that you "absolutely hate" USB-C for that reason is ridiculous.

Oh, going completely USB Type C in this day and age is nothing but a stupid move on a productivity device, no doubt about that. How it's meant to be is that USB Type C simply replaces MicroUSB and Mini DisplayPorts on the Surface line of products, and to be a real practical gain over those two ports, it should be fully Thunderbolt 3 capable, similar to what the ASUS Transformer Pro 3 offers ( https://is.gd/JqZnjr )

Dude, you are so short sighted. Eventually everything will be replaced by a USB-C port and/or Thunderbolt. Much like the Mini USB. Or are you still holding on to those cables and devices?

You will get over it. Everything will be USB-C in a couple years.

In 10 years, probably. Whilst I can keep away from them, I will.

Oh and while we're at it - it's probably worth reminding you that Vista is out of support this month - so you better think about upgrading... although I'm sure you are more than capable of writing your own security patches.

The reason I really like the Surface port we have now is because it's a single port to dock for power, display & USB devices. Which is exactly what USB Type C offers as well and why I like it. I do wish that USB Type C was magnetic though, I can't understand why it isn't. But I have to then weigh up cross device compatibility against the magnetic convenience and USB Type C means I can dock both my Surface Pro & my Lumia 950 (with continuum!) via the same dock/cable, for example. So I'm okay with USB Type C (but still disappointed that it's not magnetic).

Well, you can always invest in a quick release USB-C cable/connector. When I buys devices nowadays I make sure to look if they have Type C or at least the cable isn't fixed to the device.

They have to add USB C. By not doing so MS opens themselves to every single review placing a negative into the final score plus, as is often the case, there will follow 50,000 posts complaining that there's no thunderbolt port. It's needed for... all of those peripherals we own. /s

And I would happily join the masses in complaining if Microsoft decides not to include a Thunderbolt.

Seeing as the docking device for the urface Pro 4 attaches with a cable, I doubt it would be hard for them to supply a USB-C to Surface Connector adapter with the docks or SP5's (or sell them seperately). If they did that they'd still keep their commitment to the older peripheral equipment, while ushering in a new universally used connector. Personnally I would prefer that solution.

The PDF linked in the article is the Surface RT :s
Edit: Ah, you use it as an example.

The scale of the ports and kickstand indent don't match the Surface Pro 4's. This seems to be significantly shorter. My guess is that this is a design patent for the Surface 5 (as the Surface 3 was smaller than the Pro series). The upgrade from a standard Micro USB to a USB Type-C would make sense. I wouldn't be surprised to see this come out with an ARM processor, meanwhile the Pro series maintains the same 12 inch size, the magnetic Surface Connector, and the Intel chips.

I just compared to my Surface 3, and you may be right. The pic looks exactly like a Surface 3. The headphone port is already in that spot as well. Other reasons why this is probably a "Surface 4" and not a "Pro 5" Strip along top with camera and single microphone hole (vs camera hole and two mics for Pro 4 being integrated into main case) No vents along top halves of case. Only the bottom half with kickstand has gap. Diagonal indent above MicroSD slot matches Surface 3 exactly. The 3rd pic of Pro 4 shows how different it looks from similar angle as first patent drawing. https://www.microsoftstore.com/store/msusa/en_US/pdp/productID.5072641000

That and the distinct lack of vents for cooling means this must be a low power chip; which further suggests Core M or ARM chipset.

Isn't it too early to have Windows on ARM available? x86 Surface 5 looks more sensible to me. Also, good job catching it was a Surface 3. Love mine and there's no doubt about its silouette.

Not necessarily. It's already complete and they're just optimizing, and a patent this recent makes me think that even if they announce it at the upcoming hardware event, it won't be available until late summer or early fall which is when Windows on ARM is supposed to come out anyway.

What processor would an x86 Surface 5 use? I think that the reason that we didn't see a Surface 4 was that Intel cancelled their high-end Atoms so I don't see a candidate right now.

this is not a bad idea keep the old connector for power and the USB 3 port to connect up old devices and a stand alone USB "C" commector to handle high speed new devixes devices. Suface Pro tablet users complained about just hav ing one port not they have 2. that's an improvement. now if the Surface Pro tablet gets 4G LTE through E sim technology wow that would make people smile.

The kickstand is superb tho. Two years later and it still doesn't feel loose. Lol. Sp3 one came off in the middle.

I'm thinking this is the ARM powered successor to the Surface 3. It would fit with high end Qualcomm chips and make for a good W10 on ARM intro.

I'm thinking this is the ARM powered successor to the Surface 3. It would fit with high end Qualcomm chips and make for a good W10 on ARM intro.

Yeah, it's definitely the successor to the Surface 3. Notice there's no ventilation around the top...

Good catch, only the m3 doesn't have it on the Pro line. It might be interesting in the Surface (ARM) because it would most likely be able to use the Display Dock with a simple firmware update.

If it's arm based I will likely buy it day 1, otherwise I will stick with the 3 a bit longer.

The non-Pro 3 is a surprisingly capable machine, but man a nice speced ARM successor would be the best way to display Win32 on ARM, CShell, etc.

altough this would be quite sad for existing docking stations (hope the would give us an adapter solution) I guess it just makes sense and is to be expected. Anyhow I would prefer going all in USB-C and throw away the mini display port as well. Just give us two USB-C and one standard USB 3.0 port.

We are in a new year, we obviously need something else.

It could be just the kensington lock hole :D

I believe one good way to fill the Windows Store with UWP apps would be to release an affordable ARM-powered Surface 5 with outstanding battery life running full Windows 10 to sell like hotcakes and completely overtake everything that is not desktop or phone - the tablet, 2/1 convertibles and lightweight clamshell laptop market. I don't see how running Win32 apps on phones is going to make any difference whatsoever. Microsoft already rules the desktop where Win32 belongs and phones is a lost race. And no one needs to run Adobe Lightroom on a phone. What we need is those UWP apps ready for the future of holographics, AI integration and natural inputs.

Looking at the hinge, this could be a replacement for the Surface 3.

(I type this as someone who has owned a Surface 3, but not any of the Surface Pros) I think it's time to bite the bullet and move to USB-C/Thunderbolt 3, even if it means upgraders have to buy a new dock. Every other company has begun moving to that standard, so it would seem out of place for Microsoft not to offer it on their "Halo" product. It also opens the possibility for third party docks and external GPU's, a win for the consumer.

Another way to tell...would be to compare this to patents for SP1-4. Because you'll be able to see if the port is the same. This proving It's a generic representation.
Additionally... If they do offer thunderbolt... There should be two USB 3 or two Type-C. Total would/should be 3 ports. Otherwise the old adapter + type c + USB 3. One USB port is ridiculous. And one Thunderbolt would be dumb. If you want to power a display but also need to charge.... Uhhh.... Duh...?

Personally, I prefer having the headphone jack on the left side as it is on my Surface Pro 2. Having it on the right tends to interfere with my mouse operation...but I guess I could just route it through the back of the device. As for USB Type C replacing the Surface Connector port, that's a downgrade IMO, unless Microsoft themselves provide a long magnetic USB type C charger in the box. I just want the Mini DisplayPort on the Surface Pro 4 replaced with a full Thunderbolt 3 port, that'll be the compelling device to replace my Surface Pro 2...perhaps with added improvements in the pen and camera departments (the creators update is making the use of cameras on a Tablet a lot more practical).

Why do you say the creators update if making the use of games on a tablet a lot more practical?

My Dell 5179's power connection is a type c connection, but it is a proprietary connection and will not accept any type c connector other than the one sold by Dell. Dell's, however, will charge other devices accepting type c connectors, such as my 950 XL.

You have won the Internet today.

I want a seven inch Surface (ARM) with Surface Pen, Continuum (USB-C), and telephony... Or the Westworld-esque folding phone/tablet.

Like it should only be Pro, all i read about is the new Pro but what about the tablet, Surface 4 to follow up on the Surface 3??? For Pete's sake, it's been 2 years by now, we need new low end gear too folks! 😵 my dad needs a replacement for his RT for all you care... 😜

The magnetic Surface plug adaptor already dented my SB chassis.

How the hell is that possible?

I noticed that exact thing a couple of days after purchasing the Surface Book, so I just put 2 small pieces of tape around the sides of the Surface connector Fin and my book is now just fine.... I think that was a design mistake, maybe in material choosing.

I'd say the move of the headphone jack to the bottom would actually be a VERY welcomed change. It's really inconvenient to have the cable hanging in front of you while I work. Not to mention how aesthetically unpleasant it is. I'd, however, given that most people are right handed, keep it on the right hand side of the device. So, the cable wouldn't be on the way when I'm using a mouse working for hours on a desk. And for the ports, Type-C ports are the future for now. The current magnetic power connector is a huge port! Get rid of it and make the device slimmer and lighter or throw more stuff in it like more batteries for example. Since it's a pro device, give us two Type-C ports and have available at launch a nice looking and unexpensive Type-C to regular USB as well for other ports too and we'll all be happy with the device. Well, I will for sure :)

I think you mean keep it on the left side of the device (when you're facing its front), or the right side (when you're looking at its back)...if so, yes I agree, having it on the right side of the device (when you're facing its front) tends to interfere with my mouse operation as I'm right handed.

I like the magnetic charger i have tripped over my cable way to much to get a regular one. Though not thinking of getting a new Surface pro anytime soon

Same here, I have a Pro 3 and it's still running perfectly well. A lot of people here seemed to run out and upgrade to the SP4 when it released which I found unusual. I think I'll get at least another year out of my SP3 as a minimum

Yep. I upgrade to SP4 from original release day SP. That was a noticeable upgrade although the SP1 still functions well even on W10 Fast Ring. Probably will wait 2 or 3 releases again for a refresh.

Welcome to Surface 4, cheap version of Surface Pro 4 (?)

I hope MS USB-Cs all the ports and make sure SP5 is future proof.

Sounds like you want a DongleBook, so go get one...

"future proof". LOL good one.

"future proof"? Good one.

They weren't using USB-C????

Mr Obvious? USB-C was not available at launch. Check original device launch dates.

I'm still waiting for answers on windows mobile, we at least deserve that

Two problems with this concept, first you'd lose the dock functionality which goes into the power power and secondly you may loose the auxillary charger in the PSU. Another concern is the power drawn on the USB-C for charging. It'd be great to have USB-C but not at the expensive of companie who've invested into docks for hot desks.

NO, on images u can see it is succesor to Surface 3 (non-pro)

I was going to say surface 3 upgrade. I think there are hints that the SP will only get internal upgrades for this year. The Surface 3 is getting long in the tooth now, so a new one would be a welcome edition.

Will they just have the damn event now.

"Not only can USB Type-C act as the power port on a PC or tablet, but if configured for Thunderbolt 3 it can be used for data, peripherals, external GPUs, and powering 4K displays." Does Xbox Scorpio have USB Type-C? It seems like a very important addition for peripherals like VR headsets which typically requires multiple wires for power, HDMI, and USB data.

They could have a standard USB 3 and USB C. If they have USB C, I need it to be thunderbolt so I can use an eGPU with this!

I hope a subsequent firmware update will introduce a USB-C port to my recently purchased SP4. If not I'll print out that US Patent diagram 1:1 to use as a template to drill my own in. Just like I did to put a headphone jack in my friends iPhone 7.

USB-C is the future. I've already fully adopted all my chargers to use it (USB-C cords attached) I'd love to stop carrying multiple chargers for devices when USB-C PD can supply it
Windows Central Newsletter
Get the best of Windows Central in in your inbox, every day!
Thank you for signing up to Windows Central. You will receive a verification email shortly.
There was a problem. Please refresh the page and try again.