Nokia to bundle free accessories with Lumia 930 purchases in Italy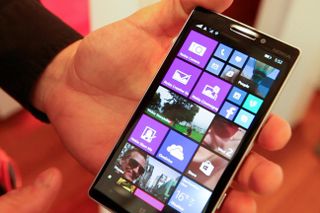 The Lumia 930 was one of Nokia's last Windows Phone before seeing its handset division pass over to Microsoft in a recently closed deal. According to Windowsteca, the device will be available in Italy from June 20th for €599 and for those who purchase the Windows Phone as soon as it launches, the product will come bundled with a free Nokia DT-900 wireless charging plate, portable mini speaker and Treasure tag.
Already available for pre-order across Europe, the Lumia 930 is a premium Windows Phone 8.1 device with multiple colored variants to choose from: orange, green, black and white.. This special offer covers the Portable Mini Speaker MD-12 and Treasure WS-10 Mini Tag for the first customers who purchase the Lumia 930 by July 30th.
Who's looking to pick one up?
Source: Windowsteca; cheers, Guy, for the tip!
Windows Central Newsletter
Get the best of Windows Central in your inbox, every day!
Rich Edmonds was formerly a Senior Editor of PC hardware at Windows Central, covering everything related to PC components and NAS. He's been involved in technology for more than a decade and knows a thing or two about the magic inside a PC chassis. You can follow him on Twitter at @RichEdmonds.
Yeah it sucks to have free accessories bundeled...

... when you're in another country and/or a contract..

He probably mean 930 sucks, well it doesn't actually sucks but the lack of SD Card slot & lack of Glance Screen hurts, furthermore while 32 GB internal memory is more than enough, some power users still find it less. Nokia should've releases a variant with 64 GB internal memory too. Personally I will hold out for 820/1020/1520 successor.

is glace really that big of a deal just asking i mean i had it on for a little while but it didn't really seem like a killer feature for me but i guess to each their own

I'm definitely in the same camp. They want the Icon/930 to be known as their flagship device, yet it can't even display the full functionality of the highly anticipated Storage Sense?! That'd be like Apple announcing IR blaster features in iOS8, then neglecting to include an IR blaster in the iPhone 6.

Yeah except the ip6 didnt come out before ios8

Neither did Nokia Lumia 930 :) It was announced on the same day, same time with Windows Phone 8.1 update so yeah. I still think that Nokia Lumia 1520 & 925/928 were the true 'flagship' devices.

And bullshit for Indians.... Still no sign of its release

It is the Best of lumia series But but hurts because it does not have Micro sd slot,Glance screen.

Love it! Except I wish I could buy it right in the US and in cyan

Yeah... feels weird to be in the US and feel left out.

Dude, it's a repackaged Icon...

Just move to Verizon, problem (mostly) solved. :P ps. I am on AT&T - but will hang on to my cracked-glass-920 until McLaren arrives, I guess.

Only for first 930 buyers...Anyway finally 930 here too :)

Yeah, just for the first 930 ones ;)

Ah yes the memories. I had the same thing (free wireless charger) and a copy of Windows 8 Pro when I bought my 820 almost two years ago. Had to fight it out at Carphonewarehouse for them to give it to me though...

Why no such offers with any of the phones in india?

getting free charger itself is a great deal here at India :P

Please Release it at Malaysia with all the goodies.

You also get a dt-601 with every sales package

I want one, but in South Africa???

You can already pre-order on Orange.com. However it doesn't come with any extras.

I want one for upgrade purposes though, so Orange won't help me :( NokiaSA just remains quiet about anything regarding Lumia 930 and even 630.

Is there any phone at North Korea? I thought the sales of phones is forbidden.

I'm asking one for the president

I am sure that weirdo basketball player can bring him one next time!

Nokia UK says it also comes with the wireless charging plate. http://www.nokia.com/gb-en/phones/phone/lumia930/

The wireless charging plate is included in the package in all country.

Not according to the descriptions in Amazon and "Nokia's" website.

has anyone noticed it says its OLED and not IPS? on the details at the bottom of the age? maybe they changed it? and so glance may work?

Dude if it had an Amoled screen Glance would work but AMOLED is costlier so Nokia had a OLED Screen for L930 & Nokia said Oled screens would drain battery quickly so they skipped Glance.

Glance on an OLED screen wouldn't drain the battery more than on an IPS screen (Lumia 920). Also, AMOLED is OLED.

This sucks balls! Why do certain countries get favorized by MS (first of all the US)? All those country-specific deals and not to mention Bing...

Yes, go with the exact same package to every market regarless of market dynamics, carrier relationships, import duties and other taxes etc.! Perfect strategy! ;-) Not to mention that this deal too was almost 100% sure decided by Nokia before MS took over.

you say that! but in the UK when buying the Lumia 2520 (£400) I had to purchase the keyboard as well costing £100. I hear the keyboard was givin away the the US?

I have to agree with you here. This is what really pissed me off about the Lumia 920. I bought the phone outright and all I got was a phone. Some places got the wireless charger/FatBoy. Some got a JBL Blue Tooth speaker, and if you were one of the really lucky ones they were even offering Monster headphones. My phone even went off for repair, and again the same thing happened for some people getting their phones fixed, they got the wireless charger as compemsation for the phone being away for repair. What gives Microsoft/Nokia? I definately won't be a first batch buyer this time round until you offer me all the candy I can have with my 930

But they're giving the charger plate everywhere right?

No. At least neither Germany nor France are getting the promotion. And if they are, it's not on "Nokia's" website nor any of the Amazons.

They should do it in other countries too. 930 is ridiculously overpriced. How can a phone with worse hardware specs than 1520 be selling at even higher prices than 1520

I don't know, perhaps because its brand new and in higher demand?

Worse Specs ? Can u elaborate it.It has the same specs of L1520 except a Oled screen & a 5" display & non expandable storage.

Errr.. Didn't you just point it all out? Lol. A smaller screen. No expandable storage. No glance. Definitely without these things the phone SHOULD be cheaper than the 1520.

Lol, because we Americans will never have this deal

Finally some good news,I have been waiting to try this phone.

Haven't decided yet if I should pick one up or stick with my 1520. It is a good looking device that's for sure. I won't miss SD card slot if I switch, I think. I still have a few GB of free storage left, I don't use glance. I'm curious about the battery life on the 930.

Wasn't this meant to be the offer across most of europe? or is it now just Italy now? Now if only they would provide a concrete release date!

Y couldn't they done that with the 1520 in the states. Would love some free gear.

I wonder if it can be shipped to Brazil?

I don't get it. I've used various Android devices and a couple of iPhones, but when the Nokia 925 came out I was drawn to the platform. During my short time on a Windows Phone I see that all the good stuff goes overseas and then in the U.S. Not that many Nokia devices. I would love to get my hands on a Nokia 930 from T-Mobile but no luck here. Is it that the adoption rates of Windows Phone more popular overseas then in the U.S.? I think Windows Phone (especially with 8.1) is on par with iOS &Android and has a longer battery life then the others.

Why can't MS announce a flagship and sell it on that day onwards?

Can't wait for Lumia 930 green in Denmark!