Nokia Power Keyboard for Lumia 2520 now shipping in the UK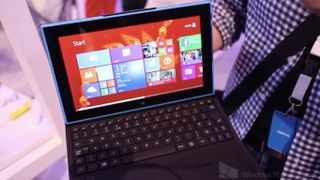 The Nokia Lumia 2520 has been selling since November, but many of you are probably wondering about the Power Keyboard accessory. Where is it? The keyboard, which also features an extra battery, touch pad, and two full-sized USB ports, is still impossible to find. The good news is that you may not have to wait much longer. Nokia has just announced that the keyboards have started shipping in the UK and retailers will be receiving them soon.
The Nokia Power Keyboard is designed to fit perfectly around your Nokia Lumia 2520 tablet, keeping it protected on the go. The cover uses a soft touch material that makes it easy to hold. There's an extra 2027 mAh battery, increasing your productivity further by adding five hours of usability to the Windows RT 8.1 tablet. That brings it to a total of over 15 hours of battery life.
The Lumia 2520 can simply be snapped in to the Power Keyboard. Magnets help the Lumia 2520 stand upright, which automatically wakes up the device, too. Another interesting feature is the touchpad included with the flap. It's there when you need precision navigating around apps like Excel or Word. There are also touch buttons for left and right clicks. The keyboard comes in black or red.
What can you do with the USB ports on the back of the keyboard? You can plug in a mouse or a memory stick.
The availability update for the Power Keyboard comes from Nokia UK. We're not sure how that affects availability in other regions. If you're in the UK, the Nokia Lumia 2520 is available at John Lewis for £399.95. The Power Keyboard will sell for £149.95.
If you're in the U.S., you're probably getting the keyboard for free. It's just unfortunate that you're still waiting for delivery.
Is the Power Keyboard a must-have accessory for the Nokia Lumia 2520? Sound off in the comments! Also, if you haven't read it yet, check out WPCentral's Nokia Lumia 2520 review.
Source: Nokia UK (Facebook)
Get the Windows Central Newsletter
All the latest news, reviews, and guides for Windows and Xbox diehards.