Nokia Power Keyboard for Lumia 2520 now shipping in the UK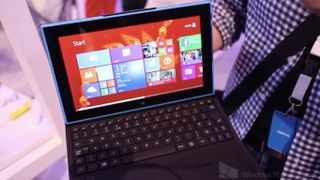 The Nokia Lumia 2520 has been selling since November, but many of you are probably wondering about the Power Keyboard accessory. Where is it? The keyboard, which also features an extra battery, touch pad, and two full-sized USB ports, is still impossible to find. The good news is that you may not have to wait much longer. Nokia has just announced that the keyboards have started shipping in the UK and retailers will be receiving them soon.
The Nokia Power Keyboard is designed to fit perfectly around your Nokia Lumia 2520 tablet, keeping it protected on the go. The cover uses a soft touch material that makes it easy to hold. There's an extra 2027 mAh battery, increasing your productivity further by adding five hours of usability to the Windows RT 8.1 tablet. That brings it to a total of over 15 hours of battery life.
The Lumia 2520 can simply be snapped in to the Power Keyboard. Magnets help the Lumia 2520 stand upright, which automatically wakes up the device, too. Another interesting feature is the touchpad included with the flap. It's there when you need precision navigating around apps like Excel or Word. There are also touch buttons for left and right clicks. The keyboard comes in black or red.
What can you do with the USB ports on the back of the keyboard? You can plug in a mouse or a memory stick.
The availability update for the Power Keyboard comes from Nokia UK. We're not sure how that affects availability in other regions. If you're in the UK, the Nokia Lumia 2520 is available at John Lewis for £399.95. The Power Keyboard will sell for £149.95.
If you're in the U.S., you're probably getting the keyboard for free. It's just unfortunate that you're still waiting for delivery.
Is the Power Keyboard a must-have accessory for the Nokia Lumia 2520? Sound off in the comments! Also, if you haven't read it yet, check out WPCentral's Nokia Lumia 2520 review.
Source: Nokia UK (Facebook)
What I would like was for Nokia to make the tablet and the keyboard available in Europe! Seriously...why on Earth is it only available in the US and the UK? I just can't understand it. That said, the keyboard (albeit a bit overpriced...) is a must have for me. Now all I need is for Nokia to actually allow me to buy both so that I can ditch the damn Surface that has given me nothing but headaches.

Why aren't you at JollaCentral by now, for how much longer must you incessantly whine about Microsoft?

It is a justifiable complaint if he wants to purchase something but can't. I am in exactly the same boat, I would love to own the 2520 but it isn't available here.

He posts comments full of fluff in order to sneak in jabs at Microsoft. It's tired and boring if you've spent any amount of time on this site.
It's also a worthless comment, US and UK are larger markets and that is why it is being sold there. Nokia is not aiming for world domination for this device, if the acquisition went through one quarter earlier it wouldn't have been released.

Also, you can't really get them in the US right now either so...

Just order the keyboard over that new fangled internet thingy. I hear they've now connected up postal services between countries too.

And it costs an exorbitant amount to post from US/UK to here.

I'm in the USA and purchase 3 of the 2520 tablets and they are trying not to give me my 3 free power keyboards saying because I'm the recipient of all 3, two of the units aren't eligible. I read the terms and conditions and nowhere do they mention that clause. I've had a case open for 3 weeks now and only receive one call regarding this matter. Also they don't know when the keyboards will ship. Wish me luck!

Bought the 2520 from Verizon on launch day. Was wondering where my keyboard was. They said it would take 6-8 weeks, and it looks like they were telling the truth. LOL

Please release this in Australia dear god

What's up with Nokia taking so long to ship the keyboards? Shouldn't they plan to ship them at the same time as their tablet?

Probably because of the Microsoft acquisition. I'm not sure.

Look how long it's taken them to come out with the 1520 accessories...

Surface touch covers have been sold out since b4 Christmas too....hmmmm

That is rather expensive....

Where is the power cover for Surface pro?

I have yet to see a back shot of he keyboard. I have no idea how they fit everything in o.O

I really don't know why anyone would throw money away for an RT tablet.

That's along the same lines as saying "i don't know why people would buy an iPad"....although actually i don't :P

I have no complaints about my Surface 2. As a tablet, its almost perfect. I have an HP Spectre XT Touchsmart Windows 8.1 Ultrabook, but the surface 2 basically handles everything outside of Photoshop and software development. People have been sold on this RT sucks story, but honestly, its a lie. I purposely chose the Surface 2 over the Surface Pro 2 after discovering the weight difference between the two.

um because RT is a tablet OS? just like iOS and Andriod? and that person wants a tablet? whats not to get? either your not that smart and have no idea what RT is, or your a hater, either way your opinion of "throw money away" isnt that valid

Yes, it's a "tablet" that basically every single person (or close to) will buy the power keyboard for, well when they can, and turn it into laptop.

The difference is in the number of apps. Sorry guys but part of the point of a tablet is the apps and currently RT has next to none. Full fat windows at least had legacy software, but RT is stuck with no apps. I have the 2520 and as much as I love the hardware I am frustrated by software

For tablets, I find RT just fine, for convertibles, like the 2520 becomes with the keyboad, I'd prefer the x86 version.

Surface 2 hardware is great. Widows store for RT is a desert.

If the tablet does not sell well, why bother to ship the keyboard.. I guess # of keyboard produced << # of tablet produced.

It's not selling well because you can't buy it anywhere.

That's the whole story with Nokia lately, nothing is as advertised. Whether it's features or colors, everything with Nokia has been bait and switch. WP is so much more polished than RT. I just can't figure out why they don't just scrap RT and put WP on their tablets. Then you'd have Surface 2 running Microsoft Tablet OS or whatever name they choose.

Perhaps it is not selling well because it doesn't currently ship with the keyboard.

I got my Lumia 2520 on Verizon in red. I wanted a red keyboard. The offer is only for black ones. Very annoying! Nokia missed a boat with this. They should have had a red Lumia 2520 WITH red keyboard in every Verizon store on launch day to attract attention and differentiate from competitors. Instead they had only a black one which doesn't look much different to other tablets out there. To sell they need to differentiate. They need red, blue and white tablets with red keyboard cases at every store...

UK. John Lewis has no white model. Very very poor. So got surface 2.
Love it.

For my 2520 I bought a cheap, lightweight Bluetooth keyboard which is about the same size and thickness as the tablet. It works really well. I also bought a generic tablet stand and a fabric cover - all from eBay. Together they seem to do much of what this accessory does, for less money. I do like the sound of the built-in touch pad though, which would be very useful when doing serious work in Microsoft Office 2013 RT.

I quite like this cover http://www.amazon.co.uk/Poetic-SlimLine-Nokia-Window-Tablet/dp/B00GQM1XZW/ref=sr_1_1?ie=UTF8&qid=1390335542&sr=8-1 although it doesn't have a keyboard

I agree, I've had one for a week and it's excellent

After comparing this and the Surface 2, the Surface 2 just seemed a sturdy build, so I went with that. Though they both have their bad glitches, but it seems Microsoft has ironed out it's problems while Nokia amazingly has not addressed some issues.

I bought a red 2520 from John Lewis at the end of December... Totally loved it but without the keyboard I found myself constantly going back to my Surface RT ( original ). I realised that I'm probably exactly the sort of person that RT is aimed at, i.e. 90% functionality of a laptop is ideal. The lack of the kickstand and keyboard left me thinking that if I'd jumped on the tablet wagon before the surface, I would have been dis-satisfied. I found myself checking constantly with JL to see when the keyboards would be in, but last week gave up and returned it. I hadnt realised how much I love the Surface for all it's little touches that are just built in. Before anyone thinks I'm bashing the Nokia, I'm not. It was a beautiful piece of kit with a stunning ( albeit fingerprint magnet ) screen and very responsive. I feel in love with it, especially the bright red colour ( reminded me of the colour lipstick a previous girlfriend used... /sigh ) Once I KNOW that the keyboards are available, I will probably re-buy comeplete with keyboard. For me, without it, it seemed the chance of damaging it was too great. The Surface with touch cover just feels like you could use it to beat off a mugger and simply wipe the blood off after. The Nokia without keyboard cover felt too vulnerable for my daily commute. ( Yes, I am aware there are cases, and I used one, but commuting into London by train can be brutal ;) ). I didnt want third party ones because the the Nokia one just looks so damn good... Sorry for such a long first post :) MS.

Finally! Going down to john Lewis tomorrow to check it out. I'm guessing MS are gonna release the surface with LTE and power keyboard at build.

Nokia you should be ashamed of yourselves!! I purchased a Lumia 2520 in November and sold it at the end of December because there was no keyboard available and no date of release! I purchased a Lenovo 14inch laptop for £399 touchscreen with a faster processor, 500GB, 4GB and many extras. Due to you not releasing the keyboard at the same time as the tablet you have lost millions of customers. Shame on you Nokia you have officially the worst marketing, managerial team in the world. Die already will you!!!

Never buy at the time of release. Always get it after 2 or 3 months. My expericence

Its essentially already 2 months after release.

I really want the 2520...but I'm still holding out for a yellow one! :'(

Anything other than Red/Black is out of the question. And as for the APPs shortage, what APPs shortage? I have everything in the world I could use with the Nokia 2520 when it comes to APPs...and you do, too, unless you are talking about games. Go outside and play!

That's way more than I expected. For both it's around 700 euros.

still not available to buy.....

Bloody hell, Nokia's got to beat Apple with pricing It's even more expensive than Logitech Folio keyboard case for iPad Air which is one of the best ever and cost 3/4 of that price or evel less (depends on retailers) C'mon Nokia be smart or hmm R.I.P. hehe
Windows Central Newsletter
Get the best of Windows Central in in your inbox, every day!
Thank you for signing up to Windows Central. You will receive a verification email shortly.
There was a problem. Please refresh the page and try again.