Nokia ups the ante, offers free Power Keyboard for Lumia 2520 owners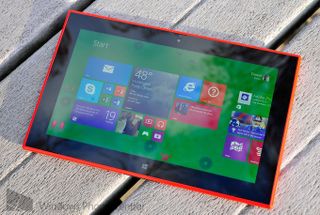 Today, the Nokia Lumia 2520 tablet, running Windows RT 8.1 is available in the US on AT&T and Verizon Wireless. Fetching for $399 on contract ($499 without), the tablet won some high praise from us (with only a few criticisms) in our review.
The Nokia Power Keyboard is an optional accessory for the tablet that packs quite a punch. It has a built-in battery to offer a claimed 50% more power (5 hours), two-full USB ports, the keyboard, and it acts like a cover for the device as well. In other words, it turns a high performing tablet into a reasonable work station, with nearly 15 hours of total power.
Normally, the Power Keyboard runs for $149 on top of the price for the tablet itself, making it the combo somewhat costly, nearing full laptop range. But for a limited time, Nokia is offering the keyboard for free.
From November 22 through December 2, 2013, if you pick up the Lumia 2520, you are eligible to claim a free Power Keyboard. All you need to do is fill out the form and one will be dispatched to you in a few weeks (it could take "up to" six).
That's one heck of an offer, one that is hard to ignore, especially when you consider the $149 value of the accessory. If that has greased the wheels in your decision to pick one up either from AT&T or Verizon, head here for more information: www.nokia.com/us-en/phones/tablet/lumia2520
Daniel Rubino is the Editor-in-chief of Windows Central, head reviewer, podcast co-host, and analyst. He has been here covering Microsoft since 2007 when this site was called WMExperts (and later Windows Phone Central). His interests include Windows, Microsoft Surface, laptops, next-gen computing, and for some reason, watches. Before all this tech stuff, he worked on a Ph.D. in linguistics and ran the projectors at movie theaters, which has done absolutely nothing for his career.
I'm defenetly thinking of getting the 2520 with this deal. So many choices from Nokia & Microsoft this Christmas.

Just recieved my Lumia 2520 this morning and thought I couldn't be happier - Until... Free Power Keybard - Ww..Ww...Whhaaaat? Now I'm Simply Estatic about buying this fast, beautiful, durable and exceptionally enginnered tablet. The only debate I'm having now is whether to return the Microsoft Surface 2 I just bought last week, though it's really looking like the Lumia 2520 is the superior device - Especially With This Power Keyboard Offer!

http://www.tabletkeyboardoffer.com/form/ The free power keyboard offer form should be sumitted by 1/31/2014 as indicated on the Offer form. The L2520 should be purchased between 11/22 and 12/2 to be qualified.

How do you type with it on a table or your lap?

So, you have both a surface 2 and a Nokia 2520? I've just ordered three of the 2520, but I will still get the Surface 2 because its still a great device. speaking of which does anyone know if the 2520 or surface 2 can be hacked to install full windows 8.1? I'm just one of those guys who likes to try things that they say can't be done.

But who is considered a participating retailor?

Well from the pull-down list on the offers form, it lists AT&T, Verizon & "Other". Other I'm guessing is MS?

Hmm. Will you guys be doing a direct comparison between the 2520 and the Surface 2?

All the reviews seem to boil down to this: Get the Surface 2 if you want: a better keyboard, full USB port, and possibly more storage. Get the 2520 if you want: better screen, NFC, LTE. Rubino ranted on the 2520's charger, but he seems to be the only one. Personally I had the original Surface and I hated that charger, so the regular pin is certainly a plus for me. As for me I am going to wait for a nice 8-inch W8 tablet by either Nokia or Microsoft. Dell almost had the perfect tablet but the lack of LTE makes it a no go for me.

That weird charging connector on the Surface is the absolute worst thing about that product.

The connector on the Surface 2 is much better than Surface 1.

I hope MS utilizes Nokia's marketing team..or even better if replace their marketing team altogether with Nokia's :)

That's actually pretty big. If I hadn't left ATT last year, I would be getting the 1520 for $100 and the 2520 plus keyboard for $200. Almost makes their two year rape you in the ass contract actually worth it.

Yeah...u r ri8
Nokia's marketting strategy is just stupid......hope w can improve it

I'm usually last to whine about things but Nokia is offering SO MUCH for you guys in the States and elsewhere... By the time this tablet gets to Croatia... We're getting free Fatboys with Lumia 920 now. Yaay. I mean, come on...

Free fatboys? We can't even find fatboys in US apart from black in Verizon.

We got 920 in May this year. ;) No hard feelings, I'm happy for you guys, having access to (almost) everything, I just wish Nokia would equalize offers a bit, globally.

What about apps on windows rt ?

What about them? There are 120,000 now I believe.

Plus whatever is in the Windows Phone store when they merge the two.

What Aaron said, on average there are now 100,000 apps based on all regions supported. Honestly once I saw Facebook and Twitter support with an app I asked myself what else do I really need that a full desktop browser IE11 cant help me accomplish? So I am just waiting for the perfect 300$-350$ 8 inch tablet whether it be RT or full windows with the new Bay Trail SoC or Snapdragon 800. Either way ill be treating it just like the category the device falls under, a tablet.

Honestly I think you have to use an iPad to appreciate the amount of apps it has. Sometimes I like to play paper and pen RPGs (mostly GURPS, but occasionally Pathfinder/D&D) and there is a fantastic app for the iPad called Battlemap that allows you to create absolutely beautiful maps. Sure this is a nich app, and not many people may use it, but this is exactly the point of having a large app catalogue -- there will be something for everyone. Windows RT still lack a proper PDF viewer, with support for tabs and annotations. The solution I had was to download two different PDF apps and split the screen. Its workable but I want a highly polished app like Good Reader for the iPad. With all of that being said, I think W8 is immensely more powerful than iOS and this is the reason why I even consider a Windows tablet.

i'm not saying the microsoft pdf app is amazing but it is functional. It now has annotation support and multiple tabbed pdf's. I wish it were easier to find these features. It is very bare-boned.

Run into this problem even with windows phone...sometimes looking for that cool app wife downloaded for the kids on her S3..or when she tells me download cartwheel from Target and I'm like oh wait...its not available...or when the bible app announces it will have bible app for kids I just know it probably won't have it for wp8. This is what makes it difficult doing the switchover to windows arm based tablets. Makes me flirt with the idea of going back to iPad.

Urgh, there it goes again with the damn US-centred promotions. Nokia better make this promotion available in Europe too. They better remember which markets were always here for them and without whom they'd never left Finland. *endofrant*

Is it carrier locked? Anyone?

I would also like to kniw

From my understanding the Verizon Lumia 2520 is not carrier locked, provided that you take the device to a SIM capable 4G carrier like T-Mobile.

Ahhh, your move other tablets. . . . .

If I had the money to buy either a surface or this, the free keyboard would get me, even though I'd rather have the surface. That's a great offer, considering what the keyboard gives you.

It just got me three times

Looks like I'm getting one for sure. :)

Will this offer work with the AT&T $199 deal for both 2520 and 1520 w a 2 yr contract?

I sure hope so! I read the rules. Only excluded free and promotional items. I assume this means from a raffle/giveaway

remove the http://www.wpcentral.com/ from the biggining of the link like this: http://www.nokia.com/us-en/phones/tablet/lumia2520

Thanx, didn't notice that. Was doing it thru the app.

When will 2520 be available in Singapore? And please bring this promotion here as well Nokia!

If it's free, I can definitely wait a few weeks for the dock.

Since this may by be the last branded Nokia tablet, I am going to get ahead and get it. Microsoft is not going anywhere so I can expect more surfaces. With this new offer, it is getting really hard to ignore the Lumia 2520. I am going to try and get the 1520 and 2520. I just wish they had the 1520 on the 32GB. I will probably be ok without the Q wireless since it would probably add more weight to the phone. Viva Nokia.

I was going to buy one yesterday but none of the Verizon stores around me carried them. Sucks! I was so in the mood to buy something so drove to Best Buy and bought a Surface 2.

Was in a Verizon store yesterday. Only the LTE variants will be sold by the carriers! The WiFi models will be carried by Best Buy etc... Will there be choice of colors for the cover. Damn, I had marketing people! I want a white 2520 with a red cover!

2520 only come with LTE! it is a shame with the exclusives and ATT asks you to pay for a line monthly+activation fee ($40)+tax this will will cost the device $600, even if you decide to cancel your subscription the next day. those are exactly the practices that killed Nokia!

Anyone know when we could expect this in the UK and where to have a go at it ?

where does it say the offer ends December 2, 2013!!!? this is what nokia webste say: Claims must be postmarked by January 31, 2014, and received by February 7, 2014

You have to have purchased it between Nov 22 and Dec 2. Ten day promotion. Then you have till Jan 31 2014 to get your offer post marked.

My thoughts are though (for every company that offers rebates or the sorts) is if everything is online then why can't ALL rebates be done online? Would be so much easier.

Shot across the bow, Surface 2

That's insane!! Wish I had that offer available in Portugal

Looks like you don't even need to mail in the upc, just give them the IMEI number. Fantastic offer, might get one in black. Wish the shift keys on the keyboard were larger!

Surface spoiled me with integrated kickstand and detachable keyboard. It is my next Gen tablet in terms of productivity and ease of use.

And they have that awesome attachment to make the keyboard wireless

Smart. Give the people what they want!

Wish they had the 2520 in red for Att...

What's the point of a keyboard without a kick stand? I guess you are obligated to buy a case stand also?

Meanwhile, in Canada....no carrier has picked up on the 2520 =/

A tablet or phone being sold through carriers only is pretty annoying. Had it with your shit, Nokia.

I just got the beautiful new Lumia 1520 at an AT&T store in Brea, CA. It's a huge step ahead of the 920 I had. I did see the 2520 and although it looked decent, I felt like there was too much dead space around the screen.

That's somewhat necessary for win8 gestures. They all have this.

Stopped at ATT to take a look at the 2520. I probably would have bought one...but they only got two and sold out in the morning. Called another store, and they didn't have any more either.

I'm torn. Nokia's hardware looks top notch, but I'm not confident in RT, especially with apps. I'm only halfway through my contract so I can' take advantage of the bundle, and I'm not even sure I want another windows phone given its flaws.

Argh when is the uk launch for the 2520 darn it! Lol.

Ok, so much for the Power Keyboard. I purchased a new 2520 December 2nd, and quickly found out that the offer is bogus. I even emailed Nokia and they said the power keyboard is not available at all in the US. I truly think that Nokia has missed the boat with launching a product and not offering support in the form of accessories as pictured on their website. I have a 14 day return on the unit and will return it and get a Windows RT unit, that has the proper accessories and can support it's products after sale.

Just recieved my "FREE" Nokia Power Keyboard and it is "AWESOME"

when did you submit your ppwk? just wondering how long you had to wait....

I recieved as promised between six to eight weeks. I mailed my paperwork in December.
Windows Central Newsletter
Thank you for signing up to Windows Central. You will receive a verification email shortly.
There was a problem. Please refresh the page and try again.