Now you can add the Bing image of the day to your Microsoft Band with an app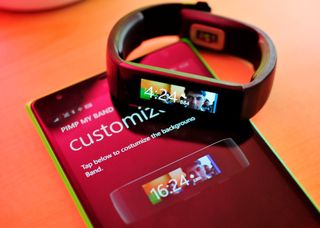 The Microsoft Band may be still in the consumer testing phase, but developers are sure pushing forward with ideas. One of those is evidenced in the app Pimp My Band, which keeps adding new and useful features to customize your favorite health tracker.
Today, version 1.8.1.0 has landed in the Store and although a small revision, it does add one cool feature: Bing image of the day. This addition is on top of this week's earlier update that added non-English language support.
Bing's background photos have become as popular as Google's occasional doodles. Indeed, it makes using Bing an optical pleasure each morning, so extending that function the Band seems natural. In fact, like many things about the Band, we are not sure why Microsoft does not yet have this built in. Luckily, we can now do it ourselves.
The function is found under the Wallpaper section, and all you have to do is select it to bring up today's image. However, we should note that Pimp My Band cannot update your Microsoft Band automatically each day with a new picture (the app will even tell you this). So if you want to a new one each day, you have to take the 30 seconds to refresh it manually yourself using this app.
Fingers crossed that Microsoft someday incorporates Bing's image-of-the-day into all of their products, including the Band. For now, we recommend the free Pimp My Band as an alternative.
Download Pimp My Band for Windows Phone 8.1 (Free)
Clear My Band and Find My Band
It is worth mentioning that the companion apps to Pimp My Band, Clear My Band and Find My Band also picked up refreshes this morning. Clear My Band just wipes out the notifications history on your Band with a touch of a button, while Find My Band will light up and vibrate your tracker in case you misplaced it.
Both updates are simple bug fixes or adjustment of the name, so there are no new features or anything to get excited about. However, both apps are very useful if you own a Band, so it is worth the reminder in case you are new to the Band world.
Download Clear My Band for Windows Phone 8.1 (Free)
Download Find My Band for Windows Phone 8.1 (Free)
Thanks, Richard S., for the tip!
Windows Central Newsletter
Get the best of Windows Central in in your inbox, every day!
Daniel Rubino is the Editor-in-chief of Windows Central, head reviewer, podcast co-host, and analyst. He has been covering Microsoft since 2007 when this site was called WMExperts (and later Windows Phone Central). His interests include Windows, laptops, next-gen computing, and for some reason, watches. Before all this tech stuff, he worked on a Ph.D. in linguistics, watched people sleep (for medical purposes!), and ran the projectors at movie theaters because it was fun.
So many customizations for the band. Good to see.

My band has been acting up lately - keeps shutting off randomly. Let's see how easy it is to have it exchanged for a new one (like they promised for $19.99)

If you have a MS store in your town, NO PROBLEM WHATSOEVER. The Customer service in our MS Store, is the BEST in the world. those guys are AWESOME.

I couldn't agree more. I actually returned my band TWICE... my own fault. I second guessed the fit (I'm right between medium and large, got the medium, then thought I should go with large. Turns out the large was too large, and the thing kept saying "Hey, where did you go?") Both times, no hassle. They had them in stock- i called first to be sure!- and that was that. They were very helpful, kind, and understanding. I've never seen customer service as good at this.

ill add on to this as well, dating back to the launch of the Xbox One a friend of mine had a faulty xbox and I went back with him to exchange it and he walked away with a free game and 25$ credit... I wanted my xbox to be faulty afterwards too lol I have two friends working at the MS store here in Dadeland mall (Miami, FL) and they say Microsoft throws a lot of money around lol pizza parties very often, customers usually walk away with freebies if theres an issue, they host many events to give away things while promoting their products. oh and they get paid very well for sales associates -_-

that's awesome. I'm here in Vegas. The store staff are just GREAT. They bend over backwards for their customers. I honestly will buy from anywhere else, unless MS store doesn't carry it. With this kinda service, I don't mind whatsoever supporting MS for the rest of my life. on the other hand, friend of mine worked at CrApple tech center, Him and his other staff, were told, if they receive any MacCrap or anything that is lightly broken, to break them internally so bad, so the customer is forced to buy a brand new item. How messed up is that? Well he broke 2 of them, and felt awful about it, since it could have easily and cheaply fixed. After that , he told his boss to shove it, and what CrApple is doing is WRONG and quit. CrApple is the most overrated, Evil,.....comp in the world, with their crappie products. MS all the way for life.

You'll be pleasantly surprised. Microsoft service in store has been incredible.

So I called. The customer service rep was awesome. They are going to replace it.

BSM WebClient beta is out too :)
http://bandbroadcaster.azurewebsites.net

I need a chance to buy one in EU, first :(

dont its piece of junk ... i regret of buying it ... my screen has got scratches also strap is peeling off

Wow, what do you do to yours? I've worn one since the launch day. Still on the original screen protector and no strap issues at all. And, by the way, I love the Pimp My Band and fanband apps.

i used to use as a regular watch ... I never had put screen protector, since I dont think it should be even necessory. we dont put screen protector to regular watch. I will say with regular use strap started peeling off

Well... Why do people put screen protector on their phone etc... To protect!...
I am wearing mine 23:30 hr per day (30 min charging while in the shower) since December last year... And no issue with strap peeling off, scratches etc (I do have the original screen protector etc) and no issues at all..
I love the band... This is a great piece of kit...
I am in the UK... Have a look at mybigapplebuddy.com, they shop and ship worldwide from New York....
I strongly recommend the band...

Regular watches don't have touch screens and many regular watches do scratch. The scratches may be less visible because of the background and the fact they are quickly glanced at to see the time, not stared at like a device that supplies more information.

Most decent watches these days use the sapphire crystal glass, which is virtually unscratchable. Certainly a watch that costs $200 would have scratch resistant glass. That said, the Band comes with a screen protector, so it would be stupid not to use it and then complain about scratches.

1st of all, When we bought ours from MS store, they gave us a ""FREE"" Inviable Shied for the screen, and they put if on there at the store. we have 0 scratches on our Band. 2nd, if there is something wrong, take it to MS Store and exchange it for another one, They have the BEST customer service in the world. so instead of crying, g to the store and get a BRAND NEW ONE, WITH a ""FREE"" Invisible Shield screen protector.

Exchange it. They'll do it for $20, if not free.

I don't have a band. Do I need this

Only if you care about your health. Otherwise, you don't need one.

Actually, I'd argue the Band is more interesting as a Windows Phone companion than health accessory. I use it more for texting, weather, checking incoming notifications, time, etc. than health.

I'm disabled and that has caused some health issues. So I use mine for my daily steps count and sleep monitor, in addition to a Windows Phone companion. Love the Micheal Knight style talking to the band for searches, directions, texts etc.

I actually think it's a better idea to allow apps to manage this kind of function, to lighten the resources from the band, also more apps can be made for it natively with these off-device...

Oh! For a moment I thought you could add it to your start screen background! I had suggested it to Gabe Aul. He told me it's a great idea & to put it through user voice which I did.

What's the link to the uservoice post?

There. https://windowsphone.uservoice.com/forums/101801-feature-suggestions/fil...

Order placed for my band. Waiting on shipping! Ugh... Cant wait to play around with it and these apps.

Same here. Got the email offer the other day, order placed and now my order status is backordered!! Ugh. The wait is killing me!

Great but.....don't have it... When it is going to be supported on Europe? Seriously why don't you make a new poll (big one :) ) to see how the users of the rest of the world are interested in? I know that everything is marketing and I am sure that they know better than us ...but since they don't give a try how they are going to have a piece od percentage of smart watches.... Since apple watch will get launched in all the world again there will be problems and Microsoft will not have the time to cover the distance comparing other companies. seriously why is this happening every time?

As mush as i LOVE MS, i have to agree with you on this. MS needs to sell all over the world, when a products comes out ASAP. Specially the advanced countries like Japan, ALL Europe, Canada, China, Korea, Mexico, Brazil, Singapore, Taiwan, Russia, several countries in the Middle East, Australia,........... well you get the picture. MS really needs to work on that. the reason Sony PS4, was out selling XBOX1, was because of that, Sony was selling over 34 countries, MS was selling in 7, helllloooooo!!!!. of course, now they are selling in way more countries, but why not right away???????????? So much politics.

It will be great, if we can see the picture on BAND.
If it's possible, then I will buy it for sure. :3

So you'll buy the Microsoft "fitness" band if it shows you pictures... Hmmm guess we all look for something different.

Appearances and extra functions matter. Surely you know that, right?

It's a cool feature and this app is awesome but what's the use when you have to manually update it. Why not create a background task to automatically sync the app with the device to update the picture everyday? Is it an API limitation? This app truly rocks and much thanks to the dev!

Because that's not technically possible at the moment. There's a bug in the SDK that stops you from even using the Microsoft band with a background task right now, and even when that's fixed it will likely only support notifications not making customisations

Next updates will allow it too, we r near to a hac... ahem... solution ;)

I'd be intrigued to see what solution you come up with considering the limited time available to run a background task!

Jay, how's the universal WC app coming along, if you don't mind me asking?

You will be glad to know there's progress in the last two weeks

Interesting... Thank you Jay and Dev for the reply!! Excited for the update! I'll have the Bing Image of the day on my SP3, Lumia 1520 and now my Band!! :)

I really want this MS band

Cue the D12 song... My band, My band!

"These chicks don't even know the name of my baaand..."

My Pimped Band is working like a charm while Deployed. I'm stoked that I alerted WC about these updates as well. Only part of the Quadfecta that I don't have with me is my XBox One. My L1520, My SP3, and my Band are keeping me busy during my down times while being deployed.

While I don't own a band I do look forward to the Bing image of the day. Nice add to the stable IMO.

While I don't own a band I do look forward to the daily Bing image of the day on my other stuff. Nice add to the stable IMO.

ASPDEV if you don't use a screen protector then you deserve to have scratches. The band specs say its not gorilla glass and the band came with a screen protector so tough darts on you. I wear mine daily and have yet to see any problems with separation of the band. Sorry for your misfortune maybe you should the replacement for 19.99 mentioned earlier in the comments above

This seems like an interesting way to "costumize" the MS Band!!!

Wow that's nice haha, all these visual customizations are making me more interested in the band

That's awesome, like this idea!

Slightly off topic, but I'd like to be able to set bing image as my homescreen.

I want an app that sets the Bing image across 3 desktop monitors. Automatically. Not 3 images on 3 monitors like the current edition.

You're expecting it to stretch the image, or what?

It's starting to get to the point where the Band seems like it's ready for prime time. I hope they sell in decent numbers when they hit Best Buy - and that they get good promotion in-store and in ads. Microsoft really needs something that generates positive buzz, and the Band has done so from pretty much the beginning. Hope it continues. :)

Well just downloaded the apps in hopes that one day MS will release the bands in my country

I know this is an old thread, but I've published an app that some people may be interested in (Currently in Beta form). It allows you to send the Bing image of the day to your band automatically. It's a Beta because I'm not sure yet how well it will perform on lower end devices, it's only been tested on the top end of what's available at this point. The UI is also not complete and there are some extra related features that will probably be added in the future. It also has not been tested on a Band 2 so if you find issues do report them. Due to limited time (I actually got the basics of this app working months ago, but only just got a chance now to publish as a Beta) my Band apps tend to just focus on doing one thing and trying to do it as well as possible. The main function is the auto update. So please give it a go and send feedback through the app itself. The app will show as purchasable with a free trial available. Please do note that at the moment this trial will never expire, but if you find it's working for you and want to support it's development then you can go ahead and purchase it. Otherwise continue to use the Free trial, I just wanted to offer a way for those who want to support the app to do so, without me having to implement in app purchases or feature restrictions. You can grab the app here: https://www.microsoft.com/store/apps/9nblggh4vr3s​ It works on Windows 10 and currently is only available for mobile, I'm not sure if having an auto update app on PC makes sense, but as new features are added that make more sense I can easily release it for PC.
Windows Central Newsletter
Thank you for signing up to Windows Central. You will receive a verification email shortly.
There was a problem. Please refresh the page and try again.