Microsoft Office 2021: Release date, download, and everything we know so far
Microsoft's world-renowned productivity app suite is getting a 2021 version.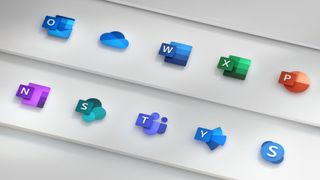 (Image credit: Microsoft)
Microsoft Office, Microsoft's suite of productivity apps like Word, Excel, and PowerPoint, has been immensely popular among both individuals and businesses for many, many years. The apps within Microsoft Office are some of the best Windows 10 apps available for completing work and schoolwork, and because of that, Microsoft Office has become the global standard for productivity. Every once in a while, Microsoft releases a new version of Office and its apps that feature several enhancements and additions. These improvements make the already-great Office user experience even better, which naturally leads to increased work efficiency.
The latest version of Microsoft Office to release was the 2019 variant, but Microsoft recently launched a new 2021 version of Office. Here's everything you need to know about Microsoft Office 2021, including where you'll be able to download it, what's new with the new version of Office, and more.
Microsoft Office 2021 release date
Microsoft recently launched the consumer version of Microsoft Office 2021 alongside Windows 11 on Oct. 5, 2021. Additionally, a special version of Office called Office LTSC that has most of the upgrades from Office 2021 was released on Sept. 16.
Based on comments from Microsoft's Corporate Vice President for Microsoft 365 Jared Spataro, Office LTSC is meant for specific business circumstances rather than individual customers. "We have built Office LTSC for a limited set of specific situations: regulated devices that cannot accept feature updates for years at a time, process control devices on the manufacturing floor that are not connected to the internet, and specialty systems that must stay locked in time and require a long-term servicing channel."
For more information on how to get access to Office LTSC, check out Microsoft's Overview of Office LTSC 2021 (opens in new tab) and Deploy Office LTSC 2021 (opens in new tab) pages.
Microsoft Office 2021 system requirements
There aren't any publicly released system requirements for Microsoft Office 2021 yet. That being said, we don't expect that the system requirements between Office 2019 and Office 2021 have changed much, if at all. Therefore, if you have a device that can support Office 2019, there's a very good chance it will also be able to run Office 2021 without issues. Here's a look at what Office 2019's system requirements are:
CPU: 1GHz dual-core processor
GPYU: DirectX 9 or higher with WDDM 2.0 or higher
Memory: 4GB RAM
Storage: 4GB of available space
Display: 1280x768 screen resolution
Browser: Current version of Internet Explorer, Microsoft Edge, Safari, Chrome, or Firefox
.NET version: Some features require .NET 4.6 or higher
Other: Some Outlook features require Microsoft Edge WebView2
What's new with Microsoft Office 2021?
Compared to Microsoft Office 2019, Microsoft Office 2021 boasts several new improvements and enhancements. Here's a breakdown of the additions you can expect from the full Microsoft Office 2021 app suite:
General
Visual refresh designed with clean monoline iconography in mind
New stock media content
Microsoft Search bar in all apps for general search queries
Performance improvements
Updated Draw Tab with new Point Eraser, Ruler, and Lasso additions
Support for OpenDocument format 1.3
Sketched style outline option for shapes
Addition of a Hex color value box when picking colors
Microsoft Excel
XLOOKUP search for finding information in tables and ranges
Dynamic array functions, including FILTER, SORT, SORTBY, UNIQUE, SEQUENCE, and RANDARRAY
LET function that assigns names to calculation results
XMATCH function that searches for a specified item and then provides the item's relative position
Microsoft PowerPoint
Record Slide Show now features options for presenter video recording, ink recording and laser pointer recording
You can replay ink strokes to illustrate things step by step or visualize a thought process
You can see slide elements in screen-reading order and rearrange them as necessary
Microsoft Outlook
Email translation for over 70 different languages will be supported
Annotate email images with your finger, pen, or mouse
Instant Search feature allows you to quickly find specific emails
Microsoft Access
Updated Linked Table Manager with refresh, relink, or remove options
Addition of SQL DateTime2 data type
Tab manager that allows you to see active tabs, rearrange tabs, or close database objects
Microsoft Visio
New Azure stencils and shapes
New AWS stencils and shapes
Workplace Social Distancing template and stencil
Where to download Microsoft Office 2021
Like previous versions of Microsoft Office, we expect that you'll be able to download Microsoft Office 2021 from Microsoft's official Office website (opens in new tab) by logging into the site after purchasing Office 2021. A listing for Office 2021 hasn't been spotted on Microsoft's website yet, but it's likely that it will go live soon. Note that you can also download Microsoft Office 2021 from purchases made on third-party storefronts like Amazon and Newegg.
For more information on how the Office download process currently works, view Microsoft's download guide (opens in new tab).
Can you upgrade from Office 2019?
Unfortunately, it's not possible to upgrade from Office 2019 to Office 2021 without paying full price. With that said, you're in luck if you use Microsoft 365, which is Microsoft's subscription-based alternative to one-time purchases of Microsoft Office. Microsoft has previously stated that all Office apps and services are automatically updated with the latest features and improvements through Microsoft 365, which implies that Microsoft 365 users will receive the benefits of Office 2021 through the service.
Microsoft Office 2021 price
Following the announcement of Office 2021, Microsoft's Jared Spataro confirmed that the price of Office 2021 is the same as the cost of Office 2019. This means that versions of Office 2021 cost the following amounts:
Office Home & Student: $149.99
Office Home & Business: $249.99
Office Professional: $439.99
Since Microsoft 365 gives subscribers access to the additions of Office 2021, you'll also be able to enjoy the new-and-improved Office 2021 version of apps like Word and Excel through the service. Here are the prices of all available Microsoft 365 plans:
Microsoft 365 Personal: $69.99/year or $6.99/month
Microsoft 365 Family: $99.99/year or $9.99/month
Microsoft 365 Business Basic: $5/month per user
Microsoft 365 Business Standard: $12.50/month per user
Microsoft 365 Business Premium: $20/month per user
Microsoft 365 Apps for Business: $8.25/month per user
Welcome to your new Office
(opens in new tab)
Get to work

The latest version of Microsoft Office is the most advanced one yet, featuring plenty of useful enhancements and improvements compared to Office 2019.
Productivity suite
(opens in new tab)
Productivity across work and life

The Microsoft 365 subscription for individuals and families leverages AI-powered features and benefits inside Microsoft Office, including Word, Outlook, PowerPoint, and Excel, as and also enhances Microsoft Edge, Teams, and Family Safety across Windows 10, Xbox, Android, and iOS.
Windows Central Newsletter
Get the best of Windows Central in your inbox, every day!
Brendan Lowry is a Windows Central writer and Oakland University graduate with a burning passion for video games, of which he's been an avid fan since childhood. You'll find him doing reviews, editorials, and general coverage on everything Xbox and PC. Follow him on Twitter.
Actually, feature wise, you have described the situation bass-ackwards
.
Office 365 is the "newest" or "most current" version with all of the latest and greatest "new" features updated monthly.
.
Office 2019 contained a subset of "new features" in Office 365. It was "feature locked" in spring of 2019.
.
Office 2021 contains a SUBSET of "NEW" features that were added to 365 after Office 2019 was "feature locked".
.
Office 2021 will have been feature locked some time in the spring of 2021, so new features added to 365 in summer of 2021 won't be there.

The Home and Student edition remains way to expensive. It exists for people who only need Office from time to time or are poor Students etc... Even the Student moniker is odd because most students can get Microsoft 365 for free through their education. Everyone else is better served by Microsoft 365, especially any business.

I'm all for the stock media. so missing over the past, what, 5 or more years?

The new design is still not available.