Office Lens, At Bat, Blink and more are your app highlights for the week!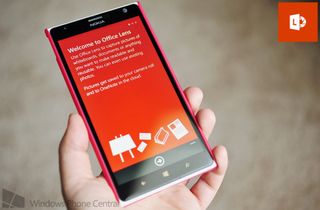 It's the weekend, which means it's the perfect time to look at the past week of activity in the Windows Phone Store. We'll look at new apps and games, while also going over any apps that picked up big updates. In this edition of the weekly app highlight column we'll look at Office Lens, NCAA March Madness Live, At Bat and more! Read on to make sure you don't miss out on the newest apps on Windows Phone.
New
Office Lens – Microsoft on Monday announced a slew of announcements from the OneNote team. They released OneNote for Mac, introduced a new set of APIs and launched Office Lens for Windows Phone. With Office Lens you can scan documents, receipts, whiteboards and more. The scan is then saved to your OneDrive folder and will use OCR technology to pull the text from the images. It's a powerful app for students and other professionals. Download Office Lens from the Windows Phone Store. (Free)
NCAA March Madness Live – March Madness is in full swing now for college basketball fans. You can watch all the games live with the official NCAA March Madness Live app for Windows Phone and Windows 8. Watch games live, get scores, news, check your bracket and more with the apps. Download March Madness Live from either the Windows Phone Store or the Windows Store (opens in new tab). (Free)
At Bat – Speaking of sports, the Major League Baseball season is starting and we now have the 2014 edition of the At Bat app available. While technically 'updated, it's basically a new app with new features for this upcoming season. Watch games live, listen to game radio and more with the now available. Download At Bat from the Windows Phone Store. (Free/Subscription)
Nokia Pocket Magnifier – Here's a handy tool from Nokia that will take advantage of the camera on your smartphone. Pocket Magnifier is basically a magnifying glass, but on your smartphone. Having trouble reading a receipt in a dimly lit restaurant? Bust out the app and you're good to go. Download Pocket Magnifier from the Windows Phone Store. (Free/Lumia only)
ESPNF1 – the 2014 Formula 1 season is underway. Keep track of the latest results from your favorite races with the official ESPN F1 app. It's not brand new, but worth highlighting now that the season has a race under its belt already. See when the next race is, get circuit detail and more info. What F1 team are you rooting for? Download ESPNF1 from the Windows Phone Store. (Free)
Updated
Oggl and Oggl Pro – Looking for a mobile photographic experience that's like Instagram, but puts a higher emphasis on quality. Then Oggl is the place for you. Both Oggl and Oggl Pro (only available for the Lumia 1020) are now updated to version 2.0. The latest edition brings a brand new interface and numerous improvements throughout the app. Download Oggl from the Windows Phone Store, but download Oggl Pro from the Windows Phone Store if you have a Lumia 1020. (Free)
Blink – Microsoft Research has updated their Blink app for Windows Phone. Version 2.4 brings a fresh new look, dual modes, focus lock, improved stabilization, Live tile and more. The app is impressive and we're glad to see the team continue to update the app. Download it from the Windows Phone Store. (Free)
MixRadio – Nokia's music service has picked up a new update this week. While small, the changes will be appreciated by fans of MixRadio. Offline mixes have been improved, new navigation UIs added and many performance/bug fixes can be found throughout. Download MixRadio from the Windows Phone Store. (Free)
6snap – Rudy Huyn's popular Snapchat client 6snap has picked up a small update this week. The feature added is the ability to take screenshots. Just press the camera button when viewing a snap to save it to your phone. Download 6snap from the Windows Phone Store. (Free/In-app purchases)
Games
Machinarium – Looking for a beautiful and fun game? Check out Machinarium for Windows Phone. It's a full-blown adventure game that we're liking a lot. Some users report a crash on level 5, but the developer tells us a quick fix is coming soon. Give Machinarium a try from the Windows Phone Store. ($4.99)
Avengers Alliance – Looking to get your Marvel on? Then check out Avengers Alliance for Windows Phone to play as Spider-Man, Thor, Iron Man and others in this new game. You'll need at least 1GB of RAM to play the game though. Download it from the Windows Phone Store. (Free)
Have any apps or games to share? List them below!
Windows Central Newsletter
Get the best of Windows Central in in your inbox, every day!
Love these apps. Can't wait for more.

That Blink. Seriously superb.

Made some images with it?

Where can i play the gif output aside from blink app?

Same question.. How to share gif to OneDrive ..

Too much apps !!
Why cant office lense get build into office app ?
Why cant the blink features be included into the camera app ??!!
Update the apps instead of spaming new apps !

Because the camera app is built into the OS and it takes forever for carriers to release updates to us users. Much faster to release a standalone app that MS can update frequently. Besides, you can access these from within the native camera via lenses.

A Shortcut - Tile to lenses from start screen would be useful :)

Lenses app by fela works perfect.

I wonder when Flipboard will be featured in this article.. Or soundcloud and NHL gamecenter.

I would just like to know how to save pics from Blink to OneDrive, cos when tapping on share icon just pops up that Socl thing, or do I really have to sign up there to acess other sharing options? Sorry not an English expert

My OfficeLens app saves the pictures to OneNote, not to OneDrive.

Is your OneNote notebook not in Onedrive?

I was thinking the same. My OneNote notebook is in OneDrive.

Yes it is in OneDrive. But my point is that there is no option to save the pictures to a file system. Only to the current default OneNote book.

Is Lens better than Camscanner?

I used to really love Camscanner because you could save as a PDF directly, but now the only way to save a PDF is to mail it to yourself.

You can actually save pdf with camscanner too

Camscanner gives you 200 MB of storage, and sometime last year, there was a free upgrade to a pro account for a year, which gave you 10 GB of additional storage (for a year). .pdf's are saved to this account. You can access the files through the camscanner website. The android version, if I'm not mistaken, can be setup to save to other cloud services, such as Dropbox, Google Drive, Onedrive, and some others.

Ok. So lens is saving pdfs in the memory of the phone, not cloud? Posted via the WPC App for Android!

I used to love the CamScanner - not the latest updates though. I tried another similar app (ScanWritr) which I love. It's quite new, but it's promising.

Seriously, I luv blink!! It's awesome!! I like office lense too, but I think I'll stick to camscanner for now, especially with the latest updates it's getting better and better.

If only they would still support Windows 7.8 still.

Office lens is awesome app. I don't think I'll need but its good

Anyone can get a chick, may not be the one you want but you can definitely get one. You can always go to church and get free hugs there too P.S. Maybe we'll have someone to talk to soon though...Cortana!

Time is getting very slow for wp8.1. Cant wait now

My office lens always scans the picture but never extracts any text out of it. I'm scanning those texts using document mode. Am I doing anything wrong?

As I understand it, you can't edit the scanned documents. But in OneNote, you can search for the text in the scanned documents .

Plus alltube player pro...

If office lens would have been available 4 years ago my lot's of money would have been saved on xerox in 3 years of my graduation

I really can't understand the difference between Office Lens and a simple Picture made by Camera. It's the same for me! 4 years ago you simply could have taken photos with your phone!

You can search for text in the documents saved by Office Lens.

How? I can't find that option! Thank you!

Scan a page in Office Lens. Save it, it will appear in your OneNote. In the OneNote app, click on the lens button in the bar at the bottom, and type a word from your document in the search text box. Click on the return key in the keyboard, and you'll see that OneNote finds your document, and highlights the searched word.

Ah cool! I didn't know that! I have tried before but without sucess. Maybe the photo I have taken wasn' t the best example. But I have tried now and it worked! Thank you again!

There much difference by taking pic with camera and scaning with office lens. Text are clear from office lens, but I find little blurry text with camera pic since my hand shivers while taking closeup shot since office lens slove that problem when it use this app. Plus Onenote integration is one more useful thing

Office Lens is what I was needing :D

"students and other professionals" Students are professional?

Some students are professional students. They go to school just so they don't have to produce anything of value and live off of grans and loans. Most students are not like that though.

CamScanner is better than OfficeLens. it creates PDF file and can adjust contrast, so that paper remains washed out white and text crispy sharp for printing out. OfficeLens is just another camera app with perspective correction. JPG file isnt document.

I'ld like to highlight my own application - a relatively simple 2048 clone: http://www.windowsphone.com/de-de/store/app/number-shifter/411a75d9-057f... As I just started app development I'm glad for every feedback I get - so if you don't like something just comment here or send me a mail. In the next update resuming after shutting down a unfinished game will be included. Animations are currently on hold as I quite like the additional speed without animations. I hope you like it. PS: I don't recommend playing the 5x5 lattice if you don't have lots of time. It's not really fun in my opinion but some testers preferred it so I didn't slash it.
Windows Central Newsletter
Thank you for signing up to Windows Central. You will receive a verification email shortly.
There was a problem. Please refresh the page and try again.