Office Lens, At Bat, Blink and more are your app highlights for the week!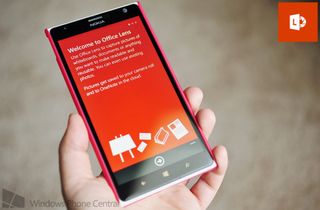 It's the weekend, which means it's the perfect time to look at the past week of activity in the Windows Phone Store. We'll look at new apps and games, while also going over any apps that picked up big updates. In this edition of the weekly app highlight column we'll look at Office Lens, NCAA March Madness Live, At Bat and more! Read on to make sure you don't miss out on the newest apps on Windows Phone.
New
Office Lens – Microsoft on Monday announced a slew of announcements from the OneNote team. They released OneNote for Mac, introduced a new set of APIs and launched Office Lens for Windows Phone. With Office Lens you can scan documents, receipts, whiteboards and more. The scan is then saved to your OneDrive folder and will use OCR technology to pull the text from the images. It's a powerful app for students and other professionals. Download Office Lens from the Windows Phone Store. (Free)
NCAA March Madness Live – March Madness is in full swing now for college basketball fans. You can watch all the games live with the official NCAA March Madness Live app for Windows Phone and Windows 8. Watch games live, get scores, news, check your bracket and more with the apps. Download March Madness Live from either the Windows Phone Store or the Windows Store. (Free)
At Bat – Speaking of sports, the Major League Baseball season is starting and we now have the 2014 edition of the At Bat app available. While technically 'updated, it's basically a new app with new features for this upcoming season. Watch games live, listen to game radio and more with the now available. Download At Bat from the Windows Phone Store. (Free/Subscription)
Nokia Pocket Magnifier – Here's a handy tool from Nokia that will take advantage of the camera on your smartphone. Pocket Magnifier is basically a magnifying glass, but on your smartphone. Having trouble reading a receipt in a dimly lit restaurant? Bust out the app and you're good to go. Download Pocket Magnifier from the Windows Phone Store. (Free/Lumia only)
ESPNF1 – the 2014 Formula 1 season is underway. Keep track of the latest results from your favorite races with the official ESPN F1 app. It's not brand new, but worth highlighting now that the season has a race under its belt already. See when the next race is, get circuit detail and more info. What F1 team are you rooting for? Download ESPNF1 from the Windows Phone Store. (Free)
Updated
Oggl and Oggl Pro – Looking for a mobile photographic experience that's like Instagram, but puts a higher emphasis on quality. Then Oggl is the place for you. Both Oggl and Oggl Pro (only available for the Lumia 1020) are now updated to version 2.0. The latest edition brings a brand new interface and numerous improvements throughout the app. Download Oggl from the Windows Phone Store, but download Oggl Pro from the Windows Phone Store if you have a Lumia 1020. (Free)
Blink – Microsoft Research has updated their Blink app for Windows Phone. Version 2.4 brings a fresh new look, dual modes, focus lock, improved stabilization, Live tile and more. The app is impressive and we're glad to see the team continue to update the app. Download it from the Windows Phone Store. (Free)
MixRadio – Nokia's music service has picked up a new update this week. While small, the changes will be appreciated by fans of MixRadio. Offline mixes have been improved, new navigation UIs added and many performance/bug fixes can be found throughout. Download MixRadio from the Windows Phone Store. (Free)
6snap – Rudy Huyn's popular Snapchat client 6snap has picked up a small update this week. The feature added is the ability to take screenshots. Just press the camera button when viewing a snap to save it to your phone. Download 6snap from the Windows Phone Store. (Free/In-app purchases)
Games
Machinarium – Looking for a beautiful and fun game? Check out Machinarium for Windows Phone. It's a full-blown adventure game that we're liking a lot. Some users report a crash on level 5, but the developer tells us a quick fix is coming soon. Give Machinarium a try from the Windows Phone Store. ($4.99)
Avengers Alliance – Looking to get your Marvel on? Then check out Avengers Alliance for Windows Phone to play as Spider-Man, Thor, Iron Man and others in this new game. You'll need at least 1GB of RAM to play the game though. Download it from the Windows Phone Store. (Free)
Have any apps or games to share? List them below!
Get the Windows Central Newsletter
All the latest news, reviews, and guides for Windows and Xbox diehards.