OLED displays: Everything you need to know
Will your next laptop have an OLED display?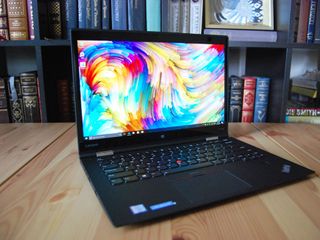 We're seeing more and more OLED displays in laptops, phones, and TVs, and with these brilliant upgrades come some important questions. What is OLED and how does it compare to the more standard LCD? How do OLED displays work? Is burn-in still an issue? What are some of the pros and cons when buying an OLED display? If you've been wondering what the deal is with these displays, we can hopefully answer some of your questions.
What is OLED and how does it compare to LCD?
Video courtesy of OLED-info.
You've likely heard about light-emitting diodes (LED), the small lights used just about everywhere these days in lieu of incandescent style bulbs, but OLED, which stands for "Organic Light Emitting Diode," is a display technology that relies on layers of organic (hydrogen and carbon) material that light up when placed between anode (positive) and cathode (negative) layers and given a current.
An emissive layer next to the cathode takes on electrons, while a conductive layer next to the anode has electrons removed, creating holes. When electrons and holes meet, the result is a particle of light, or photon. This process happens incredibly fast, and as long as the display has power, it continues emitting light. To get the brilliant color associated with OLED displays, layers of colored film are used.
Because there's no need for a separate backlight like with LCD displays, you'll generally see lower power consumption with OLED, no backlight bleed — that light that shines from the edge of your laptop's display when showing dark images — a thinner overall construction, better color reproduction, and better contrast.
Image 1 of 2
When we reviewed LCD and OLED versions of Lenovo's ThinkPad X1 Yoga, for example, we saw very different results when testing color accuracy. The OLED display hit 100 percent sRGB and 100 percent AdobeRGB, while the LCD display with IPS hit 96 percent sRGB and 72 percent AdobeRGB. The difference in everyday use is immediately noticeable.
You can also depend on a bright picture, fast refresh rate, better viewing angles, and far better flexibility, which is a feature we saw taken advantage of in Samsung's Galaxy Fold and, more recently, Lenovo's ThinkPad X1 foldable prototype PC.
OLED displays can be paired with touch and pen functionality, and they can even be made transparent. Aside from phones and laptops, you'll often find OLED displays in standard desktop PC monitors, TVs, and VR headsets like the Samsung Odyssey+. Once you start looking at the positives, it's clear why so many manufacturers are making the move to OLED, but there are still some downsides to keep in mind.
What are the downsides of OLED displays?
Image 1 of 2
The brilliant contrast of an OLED display comes with a tradeoff. When creating a mostly-white picture — like when word processing and web browsing, two common activities on a laptop — each sub-pixel must shine bright, which will suck more battery power.
This is quite different than an IPS panel, which will consume the same amount of battery whether the display is showing primarily white or primarily black colors. The backlight sets itself at a certain brightness and doesn't move unless you tell it to. However, if you happen to use apps with dark themes, or you enjoy watching movies that have a lot of dark scenes, you should see battery life actually improve. OLED displays simply stop using a pixel to create a dark color, which in turn takes less battery power.
One of the biggest problems that many consumers have with OLED displays is that they're prone to burn-in. An image that's shown too long on an OLED display — something static like the Windows 10 taskbar is a perfect example — can remain visible even when not actually displayed, like when you're watching a movie. Before panic sets in, know that OLED burn-in is reported a lot less frequently than it used to be on plasma TVs. Remember the minimap from games remaining after you turned off your Xbox? That's not likely going to happen here to the same extent, even if you game on your laptop with an OLED display.
Laptop manufacturers are taking strides to reduce the risk of burn-in on OLED laptop displays, similar to what Microsoft implemented with its Xbox screen dimmer. You can, for example, choose to always dim the taskbar and background, or you can choose intervals in which it will turn on when the laptop is idle. A good practice on laptops without dedicated settings is to make your display dim or turn off after a few minutes of idling. If you take good care of your OLED display, chances are you will not experience any severe image retention.
There's also the price factor. You're going to pay more for an OLED display than for an LCD counterpart, and whether or not that cost is worth the upgrade is really up to you and your usage scenario.
Does it make sense for you to buy OLED?
While OLED displays will likely one day be cheaper than their LCD counterparts, the current upgrade cost in a laptop is certainly noticeable and you'll pay more for OLED TVs and desktop monitors. Paying extra for OLED will come down to whether or not you think you can take advantage of the excellent color reproduction, wide viewing angles, high contrast, and fast refresh rate. Professionals in design and development work are prime targets for OLED displays, as are gamers who want the best picture possible.
There are some exciting laptops, monitors, and TVs out there with OLED display technology, and while a lot of people will get by just fine with LCD, others will prefer to have the latest tech and the best picture possible.
Something like Dell's refreshed XPS 15 7590 laptop comes with a 15.6-inch 4K OLED display and the internal hardware, including discrete NVIDIA graphics (GPU) and Intel Core i9 processor (CPU), to handle a heavy workload, making it a prime option for those who want a premium laptop with desktop performance.
The beast is back for 2019
(opens in new tab)
The most powerful 15-inch laptop now has 4K OLED

Dell's iconic XPS 15 is getting a spec bump for 2019 with a new option for 4K OLED (non-touch), NVIDIA GTX 1650 for graphics, and new 9th Gen Intel processors including up to an eight-core Core i9 CPU for ultimate power. The huge 97WHr battery remains to make sure you get all-day battery life. Look for the refreshed XPS 15 to be released in June 2019.
There's also Lenovo's refreshed ThinkPad X1 Extreme (Gen 2), complete with 4K OLED touch display option, 9th Gen Intel CPU, and NVIDIA dedicated GPU. If you want ThinkPad durability and features along with excellent performance and that brilliant display, this is a strong option.
Portable workstation
Lenovo ThinkPad X1 Extreme Gen 2
The X1 Extreme is all about portable performance

In order to enjoy extreme levels of performance, Lenovo decided to throw everything into the X1 Extreme Gen 2 without going overboard. There's an NVIDIA GTX 1650 (MaxQ) GPU, 9th Gen Intel Core i9 processors, and a 4K HDR OLED display, but you'll still get respectable battery life.
For any gamers out there, Dell recently also refreshed its lineup of Alienware m15 laptops, adding an option for a 15.6-inch 4K OLED display and optional Tobii Eyetracking technology. Add 9th Gen Intel Core CPUs and up to an NVIDIA RTX 2080 GPU, and you have a knockout performer for those who want to game on the move.
New look, better performance
(opens in new tab)
Alienware's new m15 is now sleeker, faster

The Alienware m15 gaming laptops get a new look that matches the Area-51m, bringing a more sophisticated, minimalist look with fewer angles. Latest 9th Gen Intel processors and graphics options ranging from budget-friendly GTX to the latest RTX 2080 Max-Q will keep everyone happy when fragging on the go.
If you're looking for an OLED TV for your Xbox and movie watching, be sure to have a look at our roundup of the best 4K HDR TVs. And if you're happy saving some money and sticking with an LCD display, you can always check out our roundup of the best overall laptops and best overall 4K PC monitors that are still exceptional despite not offering OLED display technology.
Windows Central Newsletter
Get the best of Windows Central in your inbox, every day!
Senior Editor, Laptop Reviews
Cale Hunt is formerly a Senior Editor at Windows Central. He focuses mainly on laptop reviews, news, and accessory coverage. He's been reviewing laptops and accessories full-time since 2016, with hundreds of reviews published for Windows Central. He is an avid PC gamer and multi-platform user, and spends most of his time either tinkering with or writing about tech.
I went from a TN to IPS and have never looked back. Aren't TN panels only 6-bit and have limited colour reproduction? I'd never have anything less than an 8 bit panel now

My monitor is IPS, it is only a hanns-G, but a good monitor. Yes. TN panels are 6 bit.

Look at what Lenovo did with the energy management! Lenovo and Dell are most customer friendly companies. Asus(includes pegatron) is the worst, ******, stupid company; also asus have a score with corrupted firmware no one ever beat it. Fckn asus took my whole night :@

"However, if you happen to use apps with dark themes, or you enjoy watching movies that have a lot of dark scenes, you should see battery life actually improve. OLED displays simply stop using a pixel to create a dark color, which in turn takes less battery power." You should add a dark theme to your site in the future once OLED displays become more common.

Well the burn it not happen across the taskbar though with this? Probably something in willing to risk because how nice OLED is instead of side-lit but still... Shame

Ignore this, I didn't see the taskbar dimming section in the article haha

The screen burn in issue is getting blown out of proportion. I've had my oled LG for almost two years now and never even seen the slightest ghosting. I say bring on the oled monitors. The picture is completely amazing

OLED is great, it's a pity MS don't get that and partner up to promote it with Xbox and Windows, but MS eing in the slow lane is the normal were all used too sigh.

Just one more negative OLED panels aren't as bright as LCD, but the trade off in infinite contrast and better colour accuracy is worth it.

16:10 QHD OLED, 600-nit, 120Hz, 100% DCI-P3, 100% AdobeRGB, HDR600 certified, Anti-glare Touchscreen with Wacom Stylus, that's the dream screen I'd like to see.

I'd like this in a Lenovo X1 Extreme chassis. Instant sale!

Earlier this year I got myself a SONY KD-77A1 for use with my Gaming oriented HTPC ( https://i.imgur.com/hkAQ6zx.jpg ) which too has an OLED screen. My understanding with the technology in its current form is that burn-in is inevitable because of how the tech works but one may be able to work against it to some degree by not having the screen display static elements for long periods of time - Like constantly watching a News Channel with its Logo in one corner, playing Games with static and colorful UI Elements or watching lots of Subtitled content. With that in mind, I set the Taskbar to automatically hide and set a profile for my Mouse to remap one button to F11 when using the Edge Browser to allow me to go to Fullscreen Mode without a Header either should I know I'll remain longer on Edge. As for Gaming I'll try not to play games on it who's UI-Transparency I cannot control to a degree I'm comfortable with. That being said though... How does one dim the Taskbar to begin with? Is that a setting natively available in Windows 10 or is this a Hardware specific Add-On like a modded version of Rainmeter?

Currently the OLED is the best screen technology...period....

I think "best" is a relative term and depends on what you are trying to do with the image.

Is OLED more reliable now?i know of someone who had a OLED TV set a few years back when they was newish and had loads of problems with it and the replacements, normally pixels failing, so in the end he gave up and went back to normal LED/LCD. Over the years I have heard of other people having the same problem with OLED, for the price of the price i would want something more reliable.

One of my Windows Phones, a Lumia 735 has an OLED display and it is awesome. More proof that Microsoft was ahead of its time in cell phones.
What a waste for them to pull out of the world of smart phones.

"Aside from phones and laptops, you'll often find OLED displays in standard desktop PC monitors, ..." Can you name a few OLED PC monitors?