#OneCast Ep 6: Quantum Breakup, the value of Xbox Live and The Flame in the Flood
On Episode 6 of the OneCast we discuss Quantum Break's arrival on PC, the value of Xbox Live and the state of the indie games on the Xbox One.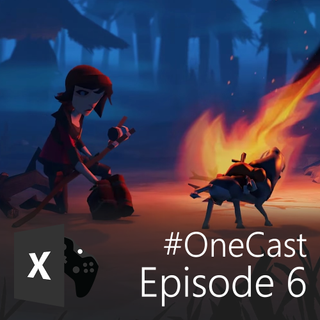 The latest episode of our Xbox and Microsoft podcast, the 'OneCast', is now available; accessible through major podcast distribution services. This week, we're joined by Windows Central's Jonathan Dollison, where we discuss the past week of controversies regarding Quantum Break on PC, and how this affects the value of Xbox Live. We also share our recent gaming experiences, including Gone Home, The Flame in the Flood and Firewatch.
This week's episode is available from the following sources:
If you're using a podcast app, copy and paste the RSS feed URL into the search bar, or search for 'OneCast Windows'.
OneCast is our Xbox and Microsoft podcast, hosted by the staff of Windows Central. A new episode of the OneCast is recorded each week, with topics surrounding Microsoft news and the gaming industry.
This week's discussions
00:00:45 - Firewatch (Windows 10)
00:17:30 - The Flame in the Flood (Xbox One)
00:29:15 - Gone Home (Xbox One)
00:54:50 - Quantum Break on PC
01:23:40 - The value of Xbox Live Gold
01:42:30 - Ask OneCast: "Should indie games have their own store page?"
This week's hosts
Every week we'll be discussing an Xbox or Microsoft-related hypothetical question from the audience, so make sure to submit them via our Twitter accounts (@MSFTY and @mattjbrown) using the #OneCast hashtag, via email, or in the comments below!
Further reading on this week's topics
Windows Central Newsletter
Get the best of Windows Central in in your inbox, every day!
Matt Brown was formerly a Windows Central's Senior Editor, Xbox & PC, at Future. Following over seven years of professional consumer technology and gaming coverage, he's focused on the world of Microsoft's gaming efforts. You can follow him on Twitter @mattjbrown.
Just had a listen. Was a good episode. Gaming focused this one no distractions ;) Dan Rice.

I appreciate the time-stamped demarcations by topic above. That's helpful.

Thanks dude, added due to listener feedback. :) Thanks for checking us out.

Please do something about the Audio levels... Sometimes it's too loud.. Sometimes low.. Especially in last episode, the voice of Jason Ward was a mess because of it..Just a feedback.. :)

Understood, we're trying haha, I switched to a headset to make the audio levels more consistent on my end. We'll see what we can do to fix that. Thanks for listening. :)

Did I miss 5? Sure the last one was 4. I'll have a listen.

Aye, episode 6 already! feels like only yesterday we started out. :) Thanks for listening!

I'm ok with games on both the Xbox and PC. People will still buy either or. Some people don't have the money to buy a PC that will run the games they want to play. All my friends kids have the Xbox and a cheap laptop that can't play games. Then there are the people who have the money and would rather play on the PC because of game MODS or they like the keyboard and mouse instead of controllers, or because the games on PC look better. So I don't think it hurts the Xbox brand. Also people who think it does are thinking the next Xbox is going to be a big brick. I believe one of two things are going to happen with the next Xbox. Either Intel chips are going to get good enough that the next Xbox will be a tablet or phone that you hook up (either wirelessly or with a dock) to your TV. It'll be like the Surface but for gaming. This will make it so you can easily take your Xbox where ever you go, to a friends house, or on vacation. Or two (if Intel still hasn't gotten their **** together) the base Xbox will be a tablet and you'll be able to play mini games and such (like your phone or tablet now), they'll make it so you can hook it up to your TV and play FPS games with a controller and make it easy for companies to make multi player games that aren't as graphics intensive or as big as Xbox One games. BUT it'll be modular too so you can buy a dock that has an X86 chip and graphics where you can buy and play your AAA games, it'll also of course have a hard drive (unless SSD's become cheap enough by then). It won't come with a Bluray drive though, that you can buy seperately. This will be for portability and to make it cheaper for people who will only buy games online, if you want to buy a disk you can buy a drive seperately. Since it'll be a computer, it'll run full Windows 10 and you'll be able to use it like a computer as well. Have extended storage in the dock for work stuff. You'll be able to buy devices with better processors and graphics. Basically I think the next Xbox will be a more PC like experience but to play a game you'll go into the Xbox HUB which will look like the Xbox UI to play your games (kind of like what Steam is trying to do). You like the controller, play with a controller, you like mouse and keyboard, play with mouse and keyboard. This is the way I see Microsoft heading with gaming. Right now they're going to have games on both Xbox and PC and if you have an Xbox they'll let you play with someone who has the game on PC. Xbox One now runs Windows 10, to me it makes sense. And why would it hurt the Xbox brand? They'll tell game designers they have to make games that at least will play on the lower end Xbox, but they can scale up with better graphics for players who want to pay the extra money so you buy a $400 Xbox and it'll play all the games the $800 Xbox will play but it won't look as good just like with the Xbox One vs the same PC title. Things really don't have to change much. About Xbox Live, its only $5 a month (Unless you find it cheaper). It does make sense that if Microsoft is using their servers to host the game, players should pay. With an MMO, you have Pay to play, Buy to play and Free to play models. Either or, the player is paying for the game. A lot of that money is going toward server side stuff (new servers, updated servers...etc). On PC games its the game company that pays for the servers, so when you play The Division on the PC Ubisoft is paying for those servers, but when you play the Divisoin on the Xbox One, it's Microsoft that is hosting that game. When you pay for the DLC you're paying for the server stuff and sure you may say "But why should you play twice" and that's because Ubisoft isn't paying Microsoft to host the game. It may seem unfair but that's the way it goes. If Microsoft asked Ubisoft for money for hosting, I bet the price of The Division would go from $60 to $70+ because the game companies would want to recoup the money they think they're owed even if theyr'e not hosting the game. I may be wrong with my theories, but this is my opinion.
Windows Central Newsletter
Thank you for signing up to Windows Central. You will receive a verification email shortly.
There was a problem. Please refresh the page and try again.