OneDrive's free storage will officially go down to just 5GB on July 27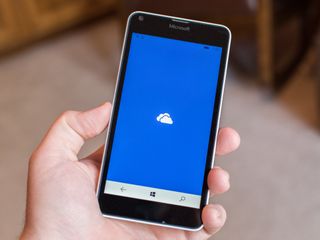 Microsoft's previously announced plans to cut the amount of free space on its OneDrive cloud file storage service now has a firm deadline. The company is sending out emails letting customers who didn't opt-in to Microsoft's previous OneDrive offer that the reduction from 15GB to just 5GB of free space will occur on July 27.
Microsoft will also eliminate the 15GB free camera roll bonus on OneDrive accounts on that same date. The company first announced these changes in November but it caused a massive backlash from its users, and in December Microsoft backtracked somewhat, and allowed users to keep both the regular free amount of 15GB and the camera roll bonus if they went to a special website to opt-in by January 31, 2016.
If you didn't make this change, and if your free file storage on OneDrive is over 5GB, you will either have to make some changes or pay Microsoft to increase your cloud storage space.
Thanks to everyone for the tips!
Windows Central Newsletter
Get the best of Windows Central in in your inbox, every day!
For me, I had this one hotmail account since forever, it will get reduced to 5GB. Microsoft wanted to save their data from false account, they will just have more false accounts then. Users who were happy with 15 GB or had around 7 GB of data in OneDrive will just have to make false accounts.

Or people will search for another's clouds and eventually leave OneDrive.

here's the better answer Posted via Universal Windows App on W10

And why shouldn't they? Very few offer as little as 5GB these days. Dropbox offers 2, but many others offer 15 or more. As usual, Microsoft's reaction to a tiny fraction of users abusing the PAID service on Office 365 OneDrive is disproportional and ridiculous. The free customers had NOTHING to do with what the idiots storing 75TB of DVR data were doing. But I'm sure they'll backpeddle again in a few months or a year. That's what Microsoft does: commit to one thing, then backpeddle and reverse course halfway in. They do it over and over and over again. That's part of how they killed Windows Phone.

If no cloud guaranties safety of files and data stored on their servers, then Mega is the best offering 50 GB. great offer ...

I got an Email where they Apologized and Offered me 1 year of free Office 365. I love MS :)

This is what my notice stated: "As you know, the amount of storage that comes with most OneDrive accounts is changing from 15 GB to 5 GB. You previously confirmed your desire to keep your 15 GB of free storage (and the 15 GB camera roll bonus if you have it).* As a result, your account will not be affected by these changes." I can live with that.

I opted-in, but this whole fiasco was BS. No reason anyone's storage should have been cut. The abuse of unlimited storage I can understand, but cutting 15GB to 5GB was a huge misstep.

That easy for you to say when you aren't paying the server and infrastructure costs. No one else offered 15gb for free so why should MS? At least (all be it forced) they ponied up for loyal customers to keep theirs. Posted via the Windows Central App for Android

Why there was a need to be the unique one then? If they can't keep providing the service they promised, they shouldn't cut the memory now.

It's complaints like this that probably upset Microsoft. It's all about how they Promised and yes they did but things change, especially with the changing OS. I paid $0, still had the free 100GB and got 1TB with 1 year Office 365 for free. Not to mention the fact that the upgrade to Windows 10 was Also free. I don't know why users complain so much - it's not helping and it didn't help Windows Phone either.

Upgrading to windows 10 is free (only for 1 year, and hardly u can make changes on hardware and use the same product key. so many people will have to pay for it sometime in future if they find it useful) because it wasn't complete, wasn't bug free and ...

Your can't blame the consumers who only took advantage of what they were offered.... MS offered it , no?

Doesn't Android offer 15GB?

Android offers unlimited storage for photos backup. And MS wasn't the unique one, Dropbox offers 15GB too.

Dropbox offers 2gb for free. Posted via the Windows Central App for Android

Then how come I got 50GB for free?

The same way I have 40gb on One drive for free, you took advantage of a promotion. If you go right now to the Dropbox website you will clearly see they only offer 2gb for free. It's like everyone is complaining that everything isn't permanently at the sale price rather than the msrp Posted via the Windows Central App for Android

I have same 40gb, does that mean it is going down to 5gb? That blows.

If I remember correctly Microsoft said they'd honor promo deals. Don't quote me on that though. I know that if you responded to the link mentioned in the article, you get to keep your 15GB, and if you have Xbox Music/Groove subscription you also get additional storage. Posted via the Windows Central App for Android

Pretty sure that's an offer with a time limit....and/ or you probably bought one of those samsung phones which had dropbox storage bundled with it...

Dude dropbox offers 15 gb i checked it today! Posted via the Windows Central App for Android

absolutely not,dropbox offer only 2 gb free

Dropbox offers 15GB?? But yeah, Google Drive do offers 'Unlimited' backup for photos only, but they still offers around 15GB for free, similar of old (better) OneDrive storage. It seems they just make Google Drive more tempting and even more popular to most users except for Office 365 users. They just made OneDrive brand value down. Sent from Turing Machine

Wow, state a fact, and it gets downvoted. This community is really something.

Google offers 15gb combined with across all services. If you have had Gmail for a while, you might easily have use 10gb for email, which would leave you with only 5gb for drive.

It's because that's what was given out first. It isn't our fault MS can't calculate and anticipate the over head of these things. If they were going to offer unlimited data, they should have seen the possible implications of that. They should have calculated the 15gb free thing too, at least see if it was fesible. I know it's near impossible to get an accurate prediction on it, but they should have had a ballpark figure on what they could play around with. After all that's how they came out with saying 15gb free should be possible. If it wasn't they should have just have offered what they could at first, instead of doing all this, then back tracking and just hurting customer relations like this.

Mega is getting shut down if todays rumours are true.

Kim DotCom has warned people this week that the air "is getting thin" regarding operations of Mega services. I'd get my files off there asap before things get shut down abruptly.

Box offered 50GB of free storage about a year ago or so, and may still if you ask nicely on their Facebook page. Mega also offers 50GB free storage. I think Microsoft are officially stupid on this one. Posted via the Windows Central app for Windows 10 Mobile

Um the difference is that OneDrive is a product of Microsoft. It's not about who offers the most storage for Free and it does vary (like everything else). Before the "cloud" became a thing, if you'd previously been using certain websites to store files, you were "rewarded" or at least allowed to keep the existing amount of storage without paying. I was offered 50GB of Box but waited too long; My fault.

Google offers 15GB of free space for all accounts, and then you can pay $3/month for additional storage Posted via Universal Windows App on W10

Mail.ru (Russian mail and cloud service) offered me 1TB at 2014 Christmas. Now it offers 25GB but if you install app on your phone(available for iOS Android Windows) and on 2 computers you get 100GB.

Do you have another account with 1TB or 100GB storage?

The majority still dont care about cloud services, especially in the developing countries...The opt in was a good idea because anybody who cares enough about cloud storage gets to keep 15GB...those who do not, they wont opt in and MS wont need to reserve space for them unnecessarily...

The opt-in was a good idea, except that it didn't work. I opted in as soon as I received the notice, but I am still being dropped to 5GB. SMH.

Same for me, except that a little while after getting the email that said they were dropping it down I got another indicating it would remain as is. Maybe your luck will change.

I got the notice as well, but I don't care since I already pay for Office 365 Posted via Universal Windows App on W10

Hmm not sure how that happened...I got my email saying I will continue to have the bonus storage cause I opted in...maybe it will work out like RobR says...you ought to get in touch with Microsoft otherwise to get fixed. OneDrive twitter handle or email.

Well I didn't even get a bloody email from MS giving me the chance to opt-in, first I'm hearing about all of this! I've checked my OneDrive & sure enough I've lost my 15GB camera roll, & "free" space has dropped from 15 to 5GB! If I got the email, I absolutely would have opted in... >.> Weird thing is that it's dropped before the deadline... >.> I was logged in, went into "manage storage", 15GB Camera Roll & 15Gb Free were there; Logged out & logged into another MSA to check its status, then logged back in & it was no longer there!

I agree but, I've found some people (probably a lot more) don't even realize they're using it. Older generations don't understand while others will pay as long as it makes things easier - iPhone users. As for those who don't care - ppl like me (who still opt-in) who keep everything offline on an external drive (lol) for security - except music to stream :)

Come on, if you leave WP for this you were clearly waiting for an excuse. Also, you could have opted in to keep the 15 gb storage. So yeah, it's all you.

He's gonna jump ship to iPhone.... where iCloud gives him 5GB also.

and then one day Apple will say "Ok we're going to downgrade the storage to 1GB free because there is too many people using our service. PAY UP NOW!" Posted via Universal Windows App on W10

Lel But yeah, in seriousness, the new OneDrive became like an iCloud when it comes to entry-level free storage, which has been ridiculed for being small (though for unknown reason, Dropbox were exception since alot of people love that service). Other cloud solution offers 15GB or more for free and more flexible paid plans too. Sent from Turing Machine

Exactly. Throughout the store (WP8.1) there's nothing but complaints and threats to leave. It's NO WONDER Microsoft isn't giving much attention to Windows Phone! Furthermore, many devs have abandoned the platform, assumingly some did, for the same reason. How can it improve if it's overly scrutinized by their own users? And imagine something switching to Windows Phone and seeing the plethora of complaints and bad reviews. Or those new to Windows 10 and perhaps using this app as well. Grow up.

I switched to Windows phone last October from android. I love it so much, but these kind of bullshit comments are... What can I say... If they want to leave, just do it and don't whine... :D Posted with the Windows Central app for Windows 10 on Lumia 535

It's given WP a bad rep. Hell, once I said I don't use an iphone and hate google, and was asked, "...Sooo what do you use?" When I said "Windows Phone," dude, who was friend, didn't know Microsoft made phones and he sells electronics. This happened a lot though, lol.

Me too. I've stuck with and supported Windows Phone for many years. I've owned several Windows Mobile phones, 3 Windows Phone handsets and also owned a Surface since version 1 both which pushes use of OneDrive along with Windows 10.
For years I've overlooked the terrible quality of the market place , the ever narrowing range of handsets available at an ever narrowing range of mobile operators because I like the integration and generosity of the onedrive especially the extra space for being a supporter of Windows Phone. However this is the proverbial straw. I too opted in for the storage, I did it on the OneDrive site, but I got the email saying they are knocking my limit down. I've been a big advocator for Microsoft products to my friends and family I can no longer do this and feel it could be time I try other mobile OS.

I believe we've all witnessed the same, had the same problems with carriers, and advocated as well. I do and have been for years, yet no one cares lol. It's up to the individual and their preference. Nothing wrong with trying a new mobile OS. I'm keeping WP but getting an iPhone to familiarize myself with it as I often find people don't know how to use them and I like to help (and hate not knowing how things work lol). It sucks that this one thing has affected you so much, but understandable. It's just a phone, after all :)

Bye bye
to you hopefully as well

Exactly. This was the straw that broke the camel's back and finally said enough is enough and got an Android phone. Been pretty happy with my Nexus 5x. Posted via the Windows Central App for Android

You are such an idiot. ICloud also.offers 5GB. BYE BYE Posted via the Windows Central app for Windows 10 Mobile

Oath breakers, Microsoft lies. If something is not unlimited, do not say unlimited. I don't know how they haven't been sued for this. Microsoft can no longer be trusted on any level.

All companies are smart they have almost everything on their side in T&C

oh sh...t, I'm using 250Gb, (runs screaming with hands in the air...)

I'm offfice 365 user but still I opted it. Coz I need 20GB of space on cloud so if I for sometime don't subscribe office then I should not be out of storage. And yes I am loyal to MS I was ready to pay for storage I use if they didn't give us offer to opt-in coz its way better than other 2 cloud services I've used

Yeah, same here. Those who care opted in, and to be honest , if you're in the Windows ecosystem you should already have storage through Groove Music, Office 365, etc.

Should, yes. I can sympathize; I'm not looking forward to paying for anything, but I care about one thing - HoloLens.

I opted in. And help friends using WP to opt in as well. Don't see what all the whining is about.

Wow, you still have friends who use WP? Lol. I had TWO; both left.

I got an apology email from onedrive and reading it over it sounds to me that I will have the 15gb and 15gb from the camera offer, read it below. As you know, the amount of storage that comes with most OneDrive accounts is changing from 15 GB to 5 GB. You previously confirmed your desire to keep your 15 GB of free storage (and the 15 GB camera roll bonus if you have it). As a result, your account will not be affected by these changes.
We want to apologize for any inconvenience these changes may have caused you. We listened to our users' feedback, and we are committed to making OneDrive the best option for people who want to be productive and do more.

How and when could you "confirm this desire"?

He clicked on the link mentioned in the article before January 31st, I assume. That's what I did, and got the same email. Posted via the Windows Central App for Android

You had to click on the link sent from ms. Its expired now though.

I re-read the email and "desire" stood out. But with all these (same) comments, it makes sense, as Desire is for that which one is Passionate about. SO, those who are (unreasonably) complaining quite obviously should know why.

Same e-mail here too. Posted with the Windows Central app for Windows 10 on HP 250 G1 notebook. It is a scary old monster, I think :D

I got that email too, thank god. Dunno what I'd do without being able to stream my music collection on Groove via OneDrive. Guess I'd have to start paying but then I may as well subscribe to something like Spotify..

What will happen to those who have 30GB of storage alrealdy ?? Will it be all downgraded to 5GB ????

If you didn't opt in back in January then yes.

Depends on what the 30GB is, I think. I opted-in and received the 1TB so I still have the Free 15GB (which shows an upgrade option now, btw). But I also have the Camera roll bonus of 15GB and Bing Bonus of 100GB.
If that helps.

If i have my 10gb bonus free plan, do i keep my 30gb or i will eventually drop to 5gb ??

If you didn't opt in in January then yes.

Humm i dont remember !! Is there a way to know if I have opt in ??

At this point, if you didn't know this you don't care. This was told ages ago and the way to prevent it was enabled until January. So if you want to complain, do it, but the time for that has passed.

I don't recall getting a warning.

Whether you recall it or not, you did. Posted via the Windows Central App for Android

I didn't get a warning either. Just got the email yesterday about my storage being cut. I have started moving all my files to Google Drive. Anyone who still sticks with Microsoft after their deceptive practices is a moron.

Or, keep your hand on the pulse on important changes on all major companies to avoid stuff like this. I remember when google RSS shut down, and I didn't even use the service. Keep your eyes open. :) Its not that hard.

Yeah, of course it's on us to keep verifying whether the services we were offered when we initially signed up is still on the table. Makes perfect sense. You Microsoft fanboys are unbelievable, you will find some excuse no matter what retarded move Microsoft does.

Seeing that you are on windows central there was a really good chance for you to have found out. There were articles here about it and I personally did get an email with the opt in link. Guess you got unlucky...
No point calling us fanboys with such distate though...we checked our emails and read what mattered to us :D

Ya, let we all trust Google over Microsoft.

Buggy, delayed, new strategy, cancled, no new phones, no more place on OneDrive, even they promised us different. I ask myself, who can trust Microsoft, whar kind of busineed do they want to make - even a burgler is afraid to trust them. Microsoft is soon for sale, and Google will buy them.

Your sorry ass will be up for sale before Microsoft lol.

LOL dude, are you serious? :D According to Forbes, Microsoft is the 25th biggest company in the world. And Google, whose balls you suck so hard is just 39th...
AND MS' profit is 20.7 billion, while Google's is only 13.7 billion... And their market values are almost exactly the same. So how could that company, who lives from collecting personal data buy MS, who does real work? :D Next time you write a troll comment, do your research before little boy... Posted with the Windows Central app for Windows 10 on HP 250 G1 notebook. It is a scary old monster, I think :D

Do you keep up with Microsoft? You should check out what's coming to Windows 10. As far as WP is concerned, they did break their promise regarding which phones would receive a windows 10 update, but it's understandable because of the hardware requirements as it's UWP, hence no new phones. A burglar afraid to trust MSFT - because Microsoft's secure(r) than Google, who out of arrogance would never "buy" Microsoft.
Who can trust them? Dude, check out HoloLens - NASA apparently does and a shitload of companies all over the world who use their products. Businesses, banks, airlines, gamers
...and evidently you do as you're still here.

Thank God . I've not used it for primary storage...

WP is a good OS, but lots of important apps are missing, for me OneDrive and 15gb camera roll upload was a plus that balance the minus. I have only one account for 3 devices, phone PC and tablet, now I see my space reduced from 30 (12 used) to 5.......where is the the care for customers?

This only affects you if you didn't opt in to keep your 30 free gigs. If you didn't do that, it's your own fault Posted via the Windows Central App for Android

A lot of us did opt-in, but are still getting our space reduced.

What did your email say? Posted via the Windows Central App for Android

Is there any way to find out if I opted in? I don't remember if I did....

They emailed it last year. They had an opt in button its too late now to do it sorry

I have not received an email stating that my space will be reduced. So I guess I did opt in :)

pulse point of wp are now zero...r u really care??

OneDrive is not just for phone.

They really should've kept existing users on 15, and give 5 GB to new users.

They kept users who responded to the last email at 15GB. Posted via the Windows Central App for Android

I wasn't ever emailed about an offer to opt in... The recent 'downgrade' email is the first I've heard. Great...

No its not, they've been emailing for quiet some time now, they've sent 4 emails since the start of last year to opt to keep your 15 gb

I never got an email last year and I don't remember my phone or internet connection ever being faulty

If I recall correctly, only people that had more than 5 gigs of data in OneDrive were given the option, not everyone

I'm keeping my 15 GB yaya

Same with my 30 :D (Camera roll) Yaaaaaay :D Posted with the Windows Central app for Windows 10 on HP 250 G1 notebook. It is a scary old monster, I think :D

It doesn't really matter anyway. You can pay around $2 a month for 50gb y'all, get to paying!

$1 for 50GB in Australia, which is insanely cheap, I actually didn't even bother cancelling the 50GB when I got Office. I don't even notice the money coming out.

Windows phone buyers got Office for free for one year with 1tb one drive. Even as paid service, no other cloud storage would provide Office and 1tb one drive at $6/month

I like that they do it right during vacation season when everyone auto-uploads their picture the most. Posted via the Windows Central App for Android

I opted in. Posted from Windows Central for Windows 10

I get to keep my 15GB Posted from my L1520

What alternatives do we have on Windows Phones (8 or 10) to OneDrive and still have the auto-upload of pictures? Is there any option to have an auto-upload to a private FTP location?

Go for Mediafire which offers 10GB free with auto upload feature and also they have an app for it on store.

MediaFire is a good example of how storage and cloud services vary. I've been using MediaFire for 9(?) years lol and was able to keep the 70GB I already had when they changed the terms, I think, last year. It's not as good as it was.

I'm at 8.86 on mine. And I have a totally untouched 1 tb if I need it, that they gave for all the students here (from elementary to university) with office365 pro plus for free in association with our government. Posted with the Windows Central app for Windows 10 on HP 250 G1 notebook. It is a scary old monster, I think :D

8.86 gb of course :D Posted with the Windows Central app for Windows 10 on HP 250 G1 notebook. It is a scary old monster, I think :D

What the... I didn't receive any notices and therefore I didn't have the chance to opt-in to keep my storage capacity, what I'm supposed to do now?

Too bad. You should read Windows Central.

Currently using 4.86 GB, the email stated that I was close to the "new" 5 GB limit......................except that I actually have 232 GB of storage capacity thanks to 100 GB from my groove pass and another 100 GB from a Samsung promotion. I guess nobody told Microsoft not to assume that whoever did not opt in only has 15 GB.

Bye bye, went to Google photos Posted via the Windows Central App for Android

Same. I thought Google Photos had unreasonable limits until MS lowered the bar.

That's no problem. Best thing about competition is that there is other cloud storage services to use. Guess MS will have a harder time data mining.

Microsoft is imitating the ishitcloud that has 5gb also, everything was fine with 15gb they should have only established a limit on 365 users that they pay for the service so its kinda annoying to do it.

What's windows 10 free for? OneDrive to charge you monthly!

Next thing for which we must be ready to shell out is outlook mail if we need more features.

Where do I do this opting in?

Try actually reading the article.

This doesn't affect me because i have Office 365. But this whole situation kind of really sucks.

There was a conspiracy somewhere in that whole story. One terabyte is huge. I doubt someone will use or can use their home network to upload that much data and not hear from the provider

Exactly. I don't know why people want this big storage space, that to at mercy of others, spend large data bandwidth to upload everything there, again spend bandwidth to get back one's own data from that cloud, and now complain that they do not offer large cloud storage. Get you one portable hard drives guys. They are much cheaper now, you have all the control over data, capacity and its totally safe at your own hands. Most importantly you don't have to depend and crib on cloud or internet service provider.

I've just received 1 year free of Office 365 Personal with Ful versions of Word, Excel, PowerPoint, Outlook, OneNote, 1TB cloud storage and 60 Skype minute per month. Now I have 1.23 TB in One Drive (1TB from this offer, 200GB from Bing Bonus, 15GB from Camera Bonus, 10 GB from Loialty Bonus, 0 GB from Referral Bonus because all my friends are freedom fighters who don't want to be involved with evil Micro$oft). I also have one year free XBOX Live! and lots of free games and apps from Bing Rewards. So I am very mad about greedy Microsoft.

I have my 15 GB, having opted in. I hope they don't have a rethink and cut that too in the near future.

My OneDrive shows 15GB + 15GB camera role storage. I believe I opted in to the 15GB requirement in January and have not received an email that my limit is being reduced. However, the way John's article reads is that MS is also eliminating the 15GB additional for camera storage on this date. Even if I signed up for the 15GB in January will the additional 15GB camera role storage be eliminated anyway??? Anybody know the answer to this?

If indeed you opted in then you get to keep both the 15 free and the camera bonus as well. Im kinda wondering if they will soon eliminate the 100 gb they offered for a years use on Bing rewards. Oh well I dont really need that.

Google drive here i come. Dropping Windows Phone now too after backing since WP7.

#multipleaccounts #dumb #leadthispaceMS

Who cares. 15GB is nothing for modern photo video storage. I Have my Office 365 Home and all my familly members get 1TB. But yeah I'm feed up with this MS **** so I will be eventualy moving to Google.

What happens if I'll be over my limit when these changes take effect? We will be actively communicating with our users as these changes start rolling out via email and in-product notifications. These notifications will start at least 90 days before the changes take effect to ensure that you have enough time to act or make changes. If you have a free OneDrive plan and will be over your storage quota as a result of these changes: If you are a free user and have over 5 GB of content in your OneDrive, you will receive an email with an offer to claim a free 1-year subscription to Office 365 Personal*, which includes 1 TB of storage. If you do not claim this offer, you will need to purchase additional storage or remove some of your files. Otherwise, 90 days after you receive your first notice, your account will become read-only. If you are over quota after the 90 days, you will still have access to your files for 9 months. You can view and download them. However, you will not be able to add new content. If after 9 months you are still over quota, your account will be locked. That means that you will not be able to access the content in your OneDrive until you take action. If after 6 more months you fail to take action, your content may be deleted.

Read more: https://support.office.com/en-us/article/Microsoft-OneDrive-storage-chan...

i got the "going down to 5gb" email even though I am an Office 365 subscriber and get 1 TB

I never received an email about opting in for camera Roll... anyone have an email for customer service I can complain too??? ZMan079

So my OneDrive indicated I had no more storage, but what eneded up happening is I ended up loosing many files from one OneDrive. While some were in the Rycling bin folder, I wasn't able to retrieve them all. It seems like they ended up deleting all my files, but only some stayed in my recycling bin. I have absolutely no problem with paying extra as long as I can retrieve my files. Has anyone experienced something similar? This happened about 2 weeks ago and I can't seem to find much information on what to do. Any assistance will be much appreciated.
Windows Central Newsletter
Thank you for signing up to Windows Central. You will receive a verification email shortly.
There was a problem. Please refresh the page and try again.