Payday 2: Crimewave Edition for the Xbox One will storm the bank June 16 in the US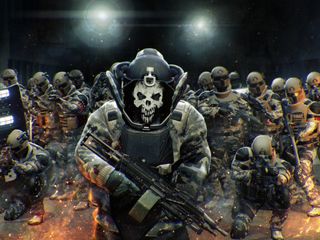 It's taken a bit longer than first announced, but Xbox One and PlayStation 4 owners will soon be able to rob some virtual banks with their friends in just over a month. Developer Overkill Software and publisher 505 Games will release Payday 2: Crimewave Edition for both consoles on June 16 in the US, with Europeans getting it a few days earlier on June 12.
The original Payday 2 is already a big hit on the PC, Xbox 360 and PlayStation 3, and the new Crimewave Edition for the Xbox One and PlayStation 4 will contain all of the content of the earlier versions, plus a ton of extra content and improvements:
Payday 2: Crimewave Edition will be sold for $49.99 at retail and as a downloadable title. Preorders for the game will be able to get even more exclusive content, including new mask and mask patterns and a bundle of in-game cash to spend.
Windows Central Newsletter
Get the best of Windows Central in in your inbox, every day!
My best ever favorite co-op game. 100% it achievement-wise on the 360. Now my question is, since it's an online game, will our achievements sync from 360? Will be glad if it does cuz that will also give me my Xbox One 100%.

Yes! Heavy lean on cooperation and stealth. Highly varied levels, wide range of skill specializations and character customizations (masks). Excellent sense of humor and style. Branching and optional objectives.

Payday 2 was buggy. Is this addressing bugs as well? Or just implied?

So, a lot of what they were doing on PC was feature-focused, but the update before last was basically entirely bug-squashing. I'd say there's still more to do, but there's been nothing unplayable about it so far.

I put a few hundred hours into payday on pc, it is a fun game to mess around on. It's nice to see an active development team, but when is too much DLC? Every month is a new dlc, and I don't really care for that much.

At least the dlc they release isn't too game altering. Mostly just new weapons and masks!

Depends on the DLC. The sniper pack made taking out dozers a lot easier, and ziplines for accessing new parts of old levels. The Big Bank added the Preplanning mechanics. Still, yeah, a lot of the DLC is masks and guns, which is enough novelty for most folks, especially crazy stuff like the minigun, flamethrower, and bow and arrow.

The DLC can be overwhelming, but I find it helps keep my interest. The last free update to PC with the XP changes and loud version of Shadow Raid will give me a reason to boot it up for the first time in a few weeks. Looking back at the older DLC included for consoles reminds me that there's still a lot of achievements and gear I still have yet to unlock, too.

I'm on the fence, anybody got feedback? YouTube got me bout to pull the trigger on this one.

I've played a ton on PC and has been one of my favorite FPSes in a long time. It's a definite change of pace from the usual twitchy meat grinder gameplay. Lots of weapon customization, with some unique stats like concealability and threat.

I think I'm sold....hope a lotta people get it and lobbies are full.

Guys, the thermal drill. Go get it!

i got the Game of the Year edition on steam for half price

Will buy, I've heard very good things about payday.

Looks like the cops that show up at peaceful protests
Windows Central Newsletter
Thank you for signing up to Windows Central. You will receive a verification email shortly.
There was a problem. Please refresh the page and try again.