Pin Steam friends to your start screen with Steam Live Tile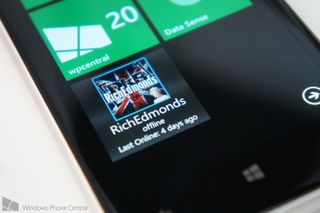 Steam (steampowered.com) is yet to launch a Windows Phone companion app that enables PC owners who utilise the service to get social with friends and remain up-to-date with what everyone is currently up to. Numerous third-party apps have been published to the store and Steam Live Tile is yet another option to add to the list. In a nutshell the app allows users to add their own Steam profile, as well as any friends on the account to the start screen.
The tiles show account information and which games have been played throughout the week just passed. It's a simple, but effective solution who want Steam on the start screen. The only problem is there's no chat functionality or anything to do with Steam beyond the ability to pin account tiles to the start screen. We'll have to hope the Steam service eventually creates an app that enables everyone to log into their accounts and enjoy a rich experience.
Some other features of Steam Live Tile include customising the live tiles that are pinned to the start screen, a simple-to-use interface with a minimal amount of options to deal with and it gets the job done. While pinning your own account to the start screen is free, if you'd like to add your friends to the start screen, an in-app purchase window pops up, which we reckon will offer users the chance to upgrade the app in a way.
We were unable to get the details to load for the purchase to be made so if you manage to get through and are able to pin friends on your Windows Phone, do let us know what the pricing is and how it went. If you're interested in the functionality this app offers, you can download Steam Live Tile from the Windows Phone Store (note that only Windows Phone 8 is supported). Thanks, Alex, for the tip!
Rich Edmonds is Senior Editor of PC hardware at Windows Central, covering everything related to PC components and NAS. He's been involved in technology for more than a decade and knows a thing or two about the magic inside a PC chassis. You can follow him over on Twitter at @RichEdmonds.
Useful. Can't wait for the official app... if there's going to be one.

Steam official app already? Also, I heard rumors about instagram going to be out this week, is it true?

I did not think it is true.Because the last facebook's conference, they did not mention anything about windows phone, just for android and IOS.

has steam made an announcement that they will be releasing a windows phone app sometime soon ??
Dota 2 FTW

Steam app will come out same day as HL3

Gabe will resist creation of a windows phone app until the day he dies because he is a neckbeard Linux fanboy and hates windows.

Too bad. Seems MOST games are windows optimized like Skyrim, and apple and Linux are the minority. (apple has some good ones like TF2 which is optimized for all three.)

Doubt we'll see an official Steam app any time soon, considering Gaben's hatred of Win8.
If he wants to continue being a baby about it then I really hope publishers start putting games directly on the Windows App Store. Cut out the middle-man, why not?

wikipedia told me "Newell spent thirteen years working for Microsoft Corporation, ultimately becoming a "Microsoft Millionaire". Newell has described himself as "producer on the first three releases of Windows".

so since he is not a part of win8, he dislikes it :P

there's a good ression why he dislikes it: http://www.forbes.com/sites/erikkain/2012/07/26/windows-8-is-a-catastrophe-according-to-gabe-newell-valve-hedging-with-steam-on-linux/

That would just make Microsoft the middle man. Gamer don't want to move away from steam as its a fantastic service and they really don't want to have to buy their games in an app store. Devs don't want to code for it either.

Eh?

Game -> Steam -> Platform
versus:
Game -> Platform

The nice thing about the platform-specific route is that there might be a day where we only have to purchase a game once, and have it available on Windows 8, Windows Phone 8, and Xbox Consoles...

NO THANKS. Microsoft has neglected, botched, and arguably sabotaged PC gaming so many times, despite it being the #1 driver of technological progress and an absolutely huge industry and opportunity for them. The less they have to do with it, the better!

I genuinely don't understand... Not that I'm arguing with its just that clearly I'm missing somehing.

Just one example...
http://en.wikipedia.org/wiki/Games_for_Windows_80%93_Live

The neckbeards think that windows 8 is a closed system and Gabe (owner of Valve and creator of Steam) is the speartip of the gamer movement against windows 8. Except the whole premise is based on a non truth.

No surprise there, windows phone never gets official apps. Instagram has been a rumor now for months. Love my Lumia 920 but windows is seriously lacking. I'm sick of them advertising the camera, get some decent apps and regular releases of Xbox games. I'm regretting this switch more and more as time goes on. Back to android or IOS when this contract runs out.

Nooooooooooo don't leave!!! Stay lol.. :):)

It's completely the fault of Windows and not the fickle developers who refuse to code official apps. /sarcasm.

Can I use MS authenticator app for Steam's two step login? Any unofficial apps let me buy games (sales!)? Those two questions, besides friends list, is what I think is most important to users... At least me anyway.

Holy crap. This is something I wanted that I didn't even know I wanted -- for Xbox live. Anything similar for Xbox live?

U can use gamertag tiles....
I think it might help u...
I hav been using it since day one.

Awesome this is good so glad to see Windows Phone growing with more apps hope they make one for windows 8 they should make a steam trading card a game app or something

Does anyone know of any good playstation ones.

Yeah, "The ONES" you throw in the trash!

Yeah Microsoft needs to make the developers want to make apps on there phone otherwise we won't get any good apps like steam!

looks like you have to pay although it's free. valve make one motherfucking application for wp pls, im sick of greedy devs

Valve! We need you to create an app so WP users can run TF2 and other awesome valve games. Give us an official app!! :D
Windows Central Newsletter
Get the best of Windows Central in in your inbox, every day!
Thank you for signing up to Windows Central. You will receive a verification email shortly.
There was a problem. Please refresh the page and try again.