List of all Xbox Play Anywhere games
These are all of the Play Anywhere titles available for Xbox One and Windows 10, alongside what's on the horizon for the program.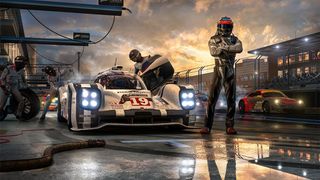 In an attempt to unify its gaming ecosystem, Microsoft created the Play Anywhere program. In it, both purchases and features can be shared between Xbox One consoles and Windows 10 PCs.
The biggest feature is undoubtedly a cross-platform marketplace, with a single purchase providing access to both Xbox One and Windows 10 versions of the game. Progress and achievements also sync between platforms, by automatically saving to your Microsoft account. Multiplayer titles have the option to offer cross-platform play, allowing for shared cooperative and competitive experiences. However, as this feature comes with its own complications, it isn't forced upon all Play Anywhere titles.
Xbox Play Anywhere FAQ: Everything you need to know
Which games support Xbox Play Anywhere?
With an ever-growing list of games implementing Play Anywhere, we brought together a list of all games currently supporting or intending to support the program. We'll make sure to update this article as new titles get Play Anywhere integration.
Upcoming Xbox Play Anywhere titles
A number of developers have also announced intentions to support the Play Anywhere initiative in the future. The following titles are expected to receive Play Anywhere support, though it's unclear exactly when.
Gears 5
Halo Infinite
Ooblets
Ori and the Will of the Wisps
Ashen
Battlerite
Slime Rancher
Tower 57
Lifeless Moon
Pig Eat Ball
Streets of Rogue
Make sure to check back on this list in the coming months as more Play Anywhere titles are announced for Xbox One and Windows 10. And if there are any upcoming games you want to see included in the program, let us know in the comments.
Updated March 15, 2019: Added the latest titles with Play Anywhere support.
Windows Central Newsletter
Get the best of Windows Central in in your inbox, every day!
Matt Brown was formerly a Windows Central's Senior Editor, Xbox & PC, at Future. Following over seven years of professional consumer technology and gaming coverage, he's focused on the world of Microsoft's gaming efforts. You can follow him on Twitter @mattjbrown.
Forza Horizon 3 is too heavy for my PC but oooh man what a nice game on Xbox!

Yeah, I wish I could play some of these with my SP3.

You can stream the game from Xbox One to SP3 with the app

Some indie games like Enter the Gungeon or Ori should run just fine.

I think Horizon 3 is actually playable on absolutely minimum settings on SP3.

It's not, technically it runs, but it isn't playable.

To me, that's one of the cool things about play anywhere. You own it on xbox, someday youll upgrade your PC, and boom, that's something you cam play on your new PC without spending even more money.

The extra magic here is the free-unlimited-storage-cloud-sync~

That's another awesome feature. Perfect for houses that have the Xbox hooked up to the main tv. When my wife wants to play or watch something else, I can jump on my PC.

Yea, if you beat it fully on the Xbox, maybe 2 years later you can re-play it on the PC...

I'd like to see Oxenfree on this list.

Ark play anywhere is taking forever it was supposed to be out already.

Yeah, Wildcard is starting to get into development hell like star citizen is (though not as bad) they just keep adding stuff to the game instead of finishing it.

What about World of tanks, i remember the launch xbox one trailer which they made seen players from 360,pc and one fight together

That doesn't qualify as a Play Anywhere title because it's not a UWP game available on the Windows Store.

Isn't Cities: Skylines confirmed to be a Play Anywhere title?

Nope. It's coming on win10 and first on console on XB1 but not part of play anywhere.

Isn't Gigantic play anywhere?

ReCore is a really nice game that I really enjoyed playing up until the point of the final boss... Who designed those levels and what was he thinking?

Fallout Shelter needs to be added to Windows 10 Mobile.

Trying to play it on Xbox is pretty difficult with a controller. I also wish they would add pinch to zoom to the windows 10 version

Yes, for the love of all things good in the World FS needs pinch to zoom!

Thats why the Xbox needs Keyboard/Mouse support which was promissed by Microsoft years ago yet still nothing.

Upcoming title Sea of Thieves! I`ve been playing the technical Alpha and it is so much fun, this will be a great play anywhere title!

I'm really exited for E3, hoping to see Crackdown which I'm pretty sure will be an instabuy for me. But otherwise, play anywhere is slim pickens right now.

Read the full article. It's listed in the upcoming titles section

While they gave out keys to Xbox One owners with cross-platform saves, it's not actually a part of Play Anywhere

Wasn't Tomb Raider a play anywhere title? I picked up ReCore last fall on the Windows Store and it was a lot of fun. May try GoW this summer... but I need 1-3 first lol
Also, I would love to have access to Halo on PC. I remember playing the original back in college, but as I don't console I have been very curious to play through the rest of it.

Sadly not! They released Xbox One and Windows 10 versions, but they never supported any cross-platform purchases or features

No, like quantum break and a few others, its a centennial bridge port from xbox, but has no play anywhere. Some of those games are also "xbox live", which just shares achievements not game saves.

Wow, that's a pretty good list considering the last time I checked there was only 5 titles, good to see it growing, I've got GoW 4 and Recore, because I like to play on Xbox, but my bro prefers PC, so we can play on said platforms!!!! 😜

I had no idea Enter the Gungeon was play anywhere. That is awesome.

Great initiative play anywhere and a great way to drive traffic to the store.

Do you know if there is a way to change the language of a play anywhere game ? The option disapeared from the options menu from many games to be handled by the platform (steam, battle.net ...) but there is nothing in the windows store. For me thtat's one of the major missing feature of the store.

Add to all the other centennial games ports (there's a few here I didn't know bout), its not a bad start. Hopefully a few of them also make it to full UWP one day, like the go series and leo's fortune did.

Wish Microsoft had the balls to make Play Anywhere mandatory for all who want to publish their games on the Xbox; in other words you can't have an Xbox game without it being Play Anywhere. Microsoft needs to make this switch in Xbox publishing terms ASAP. It is very doubtful many publishers would object as the Xbox is a huge market to miss out on. This needs to happen before the Scorpio comes out. If Microsoft leaves this as an option it will never get support from AAA publishers who want to double dip on the Xbox and Windows markets, Microsoft needs to make it clear they are one market; with win32 being the other market.

Hahahahhahahaha nice joke tell that to ps4 and pc exlusive games that lose the huge xbox market

>This needs to happen before the Scorpio comes out. I think Microsoft may be edging their bets on the automatic scaling of xbox titles, play anywhere and their windows 10 running on xbox and pc meaning publishers will just be like, "ahhh may as well" two birds, on stone and all that. given that microsoft also has windows 10 s now, for UWP only apps, we may even see windows desktop in some form on the Xbox as an app itself. It'd be interesting for sure if suddenly they had a means of launching all the xbox games from the start menu in 'desktop mode'. It certainly wouldn't give developers any reason not to do anywhere titles.

And sales of Xbox one do not stop falling, good strategy Microsoft. Exclusives are the soul of the consoles without them not selling hardware. Because of this type of strategy the ps4 already sells worldwide more than 3 times what xbox one sells.

and Microsoft sells more windows then any other platform united, stop trying to compare Costco to dairy queen

STILL waiting on a release date on Cuphead... still saying a MID 2017 release but, no actual date. So looking forward to this game. (I checked their website and twitter feed before posting this, so verified)

I just played throught Resident Evil 7 with xbox play anywhere and i played about 50/50 on pc and console and loved it what flexiblity it offers! I love being able to lay down on the couch after a long day at work with my controller in hand on my xbox, or revert over to my pc when my Girlfriend wants to watch Downtown abbey on netflix which by the way isnt half bad tv show.... just Resident Evil is better :) Or be able to get serious with keyboard and mouse support for the presion aim. got stiff neck/ back from laying on the sofa for too long, so i had to move to my pc desk. tecnically i blaim re7 for making such good game that i couldnt stop playing. or being able play the game on my laptop when visiting my parents again stupid re7 getting me addicted. I have had a dussins of reasons over the past weeks for using this crossplatform function that i have to admit i never even throught of before the option was avalible to me i absolutly love it! Need alot more titles to chose from :S

I don't see a single game I'm interested in. Not one.

Why isn't Minecraft on this list? If Microsoft was committed to Play Anywhere, why isn't their best title on the list?

I think that's because it's a game where peopleactually buy multiple version for different platforms.I doubt many people would have bought multiple versions of the games in the list.

If you already bought a game for Xbox One X, can you then buy an additional license for the PC version without buying a whole new game again? I'm interested in Shadow of War.

The purchase is tied to your live account so you simply download it wherever you prefer or both so you can play at home and at work.

Don't forget Moonlighter :)

hello all. Assassins creed origins on the list or soon to be added? Thanks

Dude, scratch ASHEN off that list, they sold the PC version to Epic store.

Man, Play Anywhere has really died in the arse.

Not really since everything made by Ms will be play anywhere from now on and then some from 3rd parties... Like BC it'll take but it'll get there

Gwent is not offered on the Windows store anymore. They removed it and now you have to play on GOG for PC. And it doesn't share progress with Xbox. Lame

You've got Astroneer there twice (game preview version near the top) and since Crackdown 3 has been released I can confirm it works for play anywhere currently.

Borderlands 2 definitely, I know most of the problems with cross platform is pc has more precision when you're against each other but this game you play together

Gimme FIFA...Having to buy it so many times is just dumb >.<
Windows Central Newsletter
Thank you for signing up to Windows Central. You will receive a verification email shortly.
There was a problem. Please refresh the page and try again.