Plex brings its streaming experience to Xbox 360 with new official app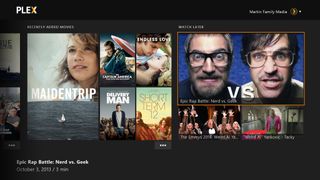 Plex has released an official app for the Xbox 360, joining the recently released Xbox One client. The app is available for anyone with a Plex Pass, allowing Xbox owners to stream video content from a Plex server to the big screen.
The Plex home server can be installed on Mac, Windows, and Linux. Once everything has been configured, it's possible to stream video, music and photos. There are also mobile apps available for Android, iOS, Roku, Fire TV and Chromecast. Fear not if you do not wish to fork out for Plex Premium as the service will no longer require the pass with the future update.
Let us know how you get on with Plex for Xbox 360.
Source: Google+
Windows Central Newsletter
Get the best of Windows Central in your inbox, every day!
Rich Edmonds was formerly a Senior Editor of PC hardware at Windows Central, covering everything related to PC components and NAS. He's been involved in technology for more than a decade and knows a thing or two about the magic inside a PC chassis. You can follow him on Twitter at @RichEdmonds.
Great for my Xbox... If I HAD one!

I see what you did there.

If you have three sixty, then you don't need one.

Yep and now music plays for me. One happy man!

I just restarted my life with Plex. Updates this really got me back on the wagon. I was only missing the Xbox 360 app!. Now to figure out this remote streaming stuff.

Paid? Nah I'm good. I use Bing points for gold, I don't think there's Bing points for plex.

A friend of mine gave me a first gen XBOX 360, but I didn't have a need to actually power it on until now. This is great news!

off topic but wnared to day tjst Microsoft released their commercial of Lumia 730 here in India and its pretty good. i hope we get the necessary app updates faster at a constant rate. WhatsApp twitter instagram etc.

What does a commercial for a phone have to do with app updates?

Haha, thought the same thing when I saw the pic. ;)

I use Windows Media Center. I can watch any live TV, over the air or cable TV and can record anything from either onto my computer for viewing at my convenience on my connected HDTV or any TV with an Xbox 360. It serves up the other media that Plex does too, including music. I might try Plex and configure it to my Windows Media Center library directories to see if can stream my recorded TV shows and movies to my Windows Phone when I have good internet access. Does anyone know if that works?

It does work. I have been using a similar WMC + Xbox 360 setup for several years. I'm looking to update the setup since WMC support is all but discontinued and my Xbox 360 won't live forever. Plex seems like a solid media center. The client/front-end is available on a lot of platforms. I happen to be using a Chromecast for now. I still haven't figured out a viable alternative to actually recording my shows yet, so I have WMC handling that still. There was some kind of trick to getting Plex to recognize and transcode wtv files though. I believe it's just setting up your recorded TV directory as a Home Movie library in Plex instead of a TV Show library. Odd, but it works. There's plenty of info online about getting it to work. Just watch the dates of forum posts. If they're older they'll take you down the wrong path as wtv support has gotten a little better in more recent versions of Plex.

Windows Media Center is available for purchase ($10.00 I think) from Microsoft and is maintained. I got a maintenance update today.
Early reports of Windows 10 include Windows Media Center. It is great, just as it is. I would never look to replace it. (I just might use Plex to give WMC content to my Windows Phone) I just hope, there isn't anyone at Microsoft staring at it and thinking they could googlize it.

What I don't get is how NO ONE knows ANYTHING about MediaBrowser when it's free, it's just as good, if not better than Plex and it's been connected to XBOX through WMC for roughly 5 years now. You people need to ACTUALLY get hip as opposed to being sheeple and only listening to those sites that cover companies with the fiscal backing to be "innovative". It's only a big deal if it isn't already being done. The app is important because it signifies a shift from Microsoft but XBMC, Plex and MediaBrowser all connect to the XBOX through WMC, although MediaBrowser is the best at it.

Similar to others I've been using Windows Media Centre and Media Center Extenders to host and stream all my Music, Photos, Videos AND TV around my home since around 2005. First on Original Xbox and in recent years via up to 3x Xbox 360's as Living Room, Bedroom and Kitchen Extenders. While I was VERY pleased to hear via thedigitallifestyle.com that (atm) Windows 10 Anytime Upgrade does allow install of Media Centre edition on Windows 10 preview using Windows 8 upgrade serial I've found WMC starting to struggle with the size of my media collection and WMC won't work for me with imminent planned upgrade of my main TV from 360 to Xbox One... While I'd heard about MediaBrowser 3 a number of times via The Digital Lifestyle site it was the fact that Plex had apps for Windows Phone and was coming out with BOTH Xbox 360 and Xbox One apps that attracted me to try it first. Thanks to @ericesque for the tip: I can confirm that Plex will happily index and playback WMC .wtv Recorded TV files if you choose 'Home Movie' type video folder (and you can even name it 'Recorded TV') Only had Plex up and running less than 1 week atm, but very impressed with it's visual look and feel, automatic rich meta data adding, and simple seamless in-home WiFi but also via Internet WiFi or 3G streaming, and love the 'On Deck' automatic listing of next recommended episodes to watch, and Trakt.tv watched/unwatched/collection integration (via un-official but great Trakt addon) Biggest missing piece is Live TV, TV Guide and setting new TV Recordings. Looks like the pricey way to fix Live TV and TV Guide way is to buy HDHomeRun network TV tuners that have a plugin for Plex, but not sure if that will work for/within Xbox One + Xbox 360 apps. Overall what I want is 1 consistent TV, Video, Music and Photos interface that works across Xbox 360, Xbox One, Windows and Windows Phone...that wouldn't have been such a problem until Media Extender didn't make it into Xbox One (and is unlikely ever to) Any advice or suggestions welcome!

Sure, but many new codec options won't play and the Media Centre is missing one KEY feature, it does NOT mark what you have seen already. So if you use this method frequently for several TV series it can be a PITA remembering what episode I'm on for ever show I watch this way. Plex offers this, but their Plex Pass is a FN waste of money. I get that they want to make a few bucks, unfortunatley they have a case of the "greedy pigs" and rather that get everyone signed up for $2/month they charge $5 monthly and for what? 60% of the price of Netflix and you get F-All.

Plex app updated in windows phone store.

Been using this on Xbox One. Just waiting for music streaming support and more codecs from Microsoft.

I had no idea Plex app depended on Microsoft's codec support?! What other codecs are you expecting? Does flash and .avi videos work in the xbox plex app? Thanks

There are also mobile apps available for Android, iOS, Roku, Fire TV and Chromecast

Isn;t this supposed to be "Windows" Central? In that vein, aren't you missing some critical playforms from that list? Namely the apps for Windows Phone 8 and Windows 8 Tablets/PCs?

? - Can someone that has the XBOne tell me if you can now plug a hard drive into it and play .avi movie files? Does it have the Cinavia error like the Playstation 3? Would going through Plex media server still bring up Cinavia error? Thanks!

Pretty sure you can plug an external drive into the XB1 and use the Media Player Beta to browse to and play avi files. By "avi" I'm assuming you're referring to divx. You don't need plex for that.

Not sure about avi support, but I assume there is. If not, Plex can transcode the file into something playable.

I have no Plex Pass. I guess I'll just have to be patient . . .

Me too. No way I'm paying $150 to watch movies I already own.

Total BS. MS required a paid account for 360 access to free content until just recently. Why would Plex require a subscription now that MS has finally dropped that idiocy? I can get free Plex access from my Roku 3 now too. What are they thinking?

Early access is a perk of Plex Pass. Basically they're saying the Xbox 360 app is still in beta. They will drop the Plex Pass requirement in a future update once the feature is considered to be out of beta. They did this with Chromecast support too.

This is how I understood it but thought they had changed. Since MS has long given up on WMC and may drop it altogether in W10, I'm looking for a replacement and was hoping Plex with my 360 would do it. If not, I'll use my Roku 3.

Only Windows Media Center provides live tv / cable tv and recording, even protected content. Early reviews show Windows Media Center in the current Windows 10. I installed a maintenance update today.

This is good to know but they haven't done a bloody thing to it in years and it's getting long in the tooth. If not Plex, what other viable WMC alternative is there?

Any idea on how long Plex stayed in "beta" on Roku? I'm trying to guess how long before they release a free non-beta version to xbox users..

because it's not the same? and plex has always been paid, the server is free and the windows 8 desktop app... but the mobile apps and now consoles are the way they make money. Microsoft dropped having to use gold for internet stuff on 360, which in this case has nothing to do with plex. you still have to pay for netflix, hulu and other services... it's not like they are free in 360, you only don't need gold anymore, and that's it.

$150 is a lifetime subscription, so you don't need to pay that. Besides, they said you'll be able to use it without Plex Pass eventually. The app is unfinished after all, there's no music streaming or channels currently available.

Needing a Plex pass to watch my movies is crazy. I bought the app for my phone, it works well but I'm not doing a pass to stream to my Xbox. On the 360 it isnt pretty but we can see the movies we have on the server by name through the native video player. Thanks anyway, if the app had a fee like the one for the phone I would probably do that but not a monthly fee.

I really thought Xbox could act as a server... If not I can't see any good usage to me.

Maybe it is me but the majority of my videos on Plex do not have a PLAY button...only MARKED AS WATCHED.