Poll: Which 8-inch tablet are you buying?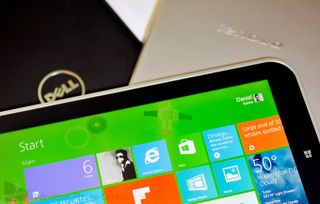 Windows 8.1 is the latest and greatest version of Microsoft's cornerstone product. It's notable for refining and building upon the ideas introduced in Windows 8. We're also really excited because of the optimizations made in Windows 8.1 for tablet devices in the 7 to 8-inch range. Tablets like the Acer W3/W4 or Dell Venue 8 Pro. We've played with most of them, but we're curious which one you own or plan to own.
Windows 8.1 works great across tablets, laptops, and desktops. However, it's hard to ignore the mini-tablet market that seems to be really jiving with consumers right now. It's a hot market with both the iPad Mini and Android-based tablets like the Nexus 7 proving as hits among users. Anyone interested in similar hardware running Windows have been sorely disappointed with a lack of options, but things are finally turning around.
Right now you can head to your favorite electronic retail store or online shop to pick up devices like the Acer W4, Lenovo Miix2, Toshiba Encore and Dell Venue 8 Pro. There also have been rumors of a "mini Surface" for quite some time. Those plans might finally materialize into a product in early 2014. Nokia too is rumored to have a device in the size range.
We've looked at most of the products that you can buy today and have walked away being most impressed with the Venue 8 Pro from Dell. (Don't forget you can get that Dell tablet for $99 this Monday from the Microsoft Store!)
However, we want to know which device you own today or plan to own soon. Take our poll below and head to the comments to discuss why you chose that tablet.
Reading this on your Windows Phone in our app? Head to m.wpcentral.com/poll-which-8-inch-tablet-are-you-buying on Internet Explorer to take the poll.
Bonus:
Acer Iconia W3 hands-on and impressions
Dell Venue 8 Pro hands-on and impressions
Lenovo IdeaTab Miix2 hands-on and impressions
Windows Central Newsletter
Get the best of Windows Central in your inbox, every day!
Dell Venue pro 8 this monday. 99$ is pretty much better that competition

Even Google's advertising based Trojan Ad Horse cannot compete with that.

I really don't need a tablet of any kind, but for $99 I may not be able to talk myself out of it.

Online or in store? Are there any gotchas to this price?

Its the first 20 in store (then the price jumps to $199 (reg 299) until stock runs out), and I'm not sure how many available online.

Only first 20 Will be 99$ then next 10 Will be 199$ all the rest Will be as usual 299$, this apply to all stores.

CNET article said its until stock runs out at $199.

You going to trust CNET or the MS advertisement?

This is from the Verge. Update: Microsoft's terms and conditions note the $199 price is limited to 10 units, but a spokesperson has confirmed this price is actually "while stock last" and for the entire day. Some stores will have more than 10 units at the $199 price. Microsoft's online store is also carrying the offer, with the $99 price for the first 100 orders and then $199 for the rest of the day while stocks last.

Ordered my 64 GB Dell Venue Pro online from Dell UK. Can't order the pen because is not available. Any tip of how to buy a pen in UK?

I ordered the active stylus in the UK. Called Dell's sales line and asked to be put through to upgrades. Ordered one for £27 inc. VAT. Should take a week to arrive.

Hoping to get my hands on the Dell 8 this Monday.

Just gone to the dark side and picked up a nexus7

There's no dark side it's a preference choice. Don't let these fanatics dictate that. I have a nexus 7 also. What I will say though is that I will most likely not be using it as much. Having full web browser again and wireless printing created a recycle bin for my Nexus until its time for Candy Crush. The only time I use it is when I'm in bed as the size factor is more suitable, however if I get this Dell, it may be the last dagger in Android hardware for me.

I had a Nexus 7, hated it ! Don't be told otherwise, it is still android lagginess at it's best, drove me insane ! I gave it away I was so dissapointed with it, lookig at the Dell now. Why have a toy when for the same price you an have the real thing......that doesn't lag !

I would have given you my Nexus 7. Android is a pile of crap.

I tried a Nexus 7 also. It just couldn't compare to Windows Phone OS. I picked up a Surface RT during black Friday deal. My kid will be getting my Nexus.

I have a Nexus 7 as well, bought it earlier this year before there was much talk about 7 or 8 inch WIndows tablets. I really like it, but will certainly get a Windows one once/if they are more affordable RT versions. I don't need or want a desktop in a small tablet.

I agree with you. I too have a Nexus 7 I bought for myself last Christmas. It's fine, but a 7 or 8 inch Windows RT tablet would complement my Lumia and my win 8.1 laptop. Like you, I don't want/need a full desktop experience on such a tiny screen. Windows RT would do everything I need on such a form factor. Everytime I turn on my Nexus 7 I keep thinking how cool it would be if it were the tiles showing up instead of the icons. :P

i'm with you both, bought the venue 8 pro, at walmart when it came out and returned it, I know a lot of people are down on RT but I like RT I want a snapdragon 800 powered 8 inch rt device, hopefully 4:3 aspect ratio

My Toshiba should be here next week.

I like the Encore. It feels lighter than it actually is, and looks high quality and stylish. Love the micro HDMI port. Do wish they had included USB 3 instead of the lame micro USB 2.

Really unsure, i want one of them but they are so similar in specs but different but like the same prices arghhh, ive only seen the encore and the dell one in uk and only see the encore actually advertised, but i do like the whole keyboard u can get with the dell when it comes available but bet that will be expensive

Think I'll stay over here in the Player's Corner balling out hard with my OG Surface Pro.

Balling on a credit card isn't balling.

Balling on store credit and coupons.

If you buy a house with a CC, that's Official Ballin.

I think I rather wait for a 20cm Nokia tablet. If it happens. If it doesn't, meh. I might get a Surface one. Might. I don't see myself actually using it for anything really.

I use my surface for very little nowadays. But it has come in handy on more than a few occasions so its something i like to keep in my bag. Rather expensive considering the use i get out of it but i got it free so who cares.

Yeah, that's the problem.
I mean, I use my Surface almost daily BUT I only use because it has Microsoft Word. To write. I don't see films or play games in it. And I most definitely don't read in them (I am completely against "ebooks").
So I don't see what use could I give to a 20cm tablet.

Hmmm...no bashed on u in d comments !! surprising..

LOL I didn't say anything that could collide with the dogmas of the followers of the Sacred Church of the One Microsoft.If I had said something negative or less-positive about the Surface you would see the hordes here already, pitchfork in hand, crying "infidel! infidel!" ;D


Not really. Its your whiny attitude that MS butt hurt Nokia, and your overly emotional tone. Just read up, you wrote "I am against Ebooks". Its too emotive. Who are you fighting all the time? Ebooks are just books in digital form. It might not be your "preferred" method of book consumption, but you had to be "against". Always pitting yourself at odds with someone, some company, something. Just tone yourself down on the whole angry tip, and people might warm to you. Just my 2p anyway, I'm sure you're a great guy.

backlashsid uses confuse by language. It is very effective.

Already got my 64GB DVP last week. Sweet little device. Sadly paid $280 for it taxes in from the MS Store.. But the 64GB appears to be impossible to find on the street at least where I am so I guess it's worth the cash.. Will be trying to grab another 32GB DVP Monday for a xmas gift though.

haha, i "sadly" paid $299 for the 32gb version a few days after it came out @ Walmart (the only store that had it originally)...........whats funny, is i dont even feel bad about it - this thing is way better than an Ipad mini, and is soooooooooooooooo much cheaper. I cant understand why anyone would want ipad mini with these 8" windows tablets on the market - i guess its because IOS = Idiot Operating System

I like your IOS definition :-)

I tend to agree, I cannot understand why more people don't flock to Surface, and new Atom 8 inch tablets. The iPad is good, and the retina displays are sharp they aren't all bad. Here is an example. Mail on iPad won't let you have the Index, and reading view. Reading view just takes over the whole screen. On Surface, I can have the Index and click on each email and read the contents. Drag and drop filing on email is now great. I can even snap my calendar against my screen and see my calendar and read email. These things are just not possible on the iPad. iOS isn't all bad, but the Windows 8 tablets are way more functional to me anyway.

Already a proud owner of a surface pro....best tool at work!

I want the ability to use my tablet like a desktop when "docked" and I want to be productive. for this it NEEDS to have the ability to use with an external display. so far only one of these tablets do that.

Windows 8.1 natively supports Miracast. Check it out. http://blogs.windows.com/windows/b/windowsexperience/archive/2013/11/12/...

Which of these tablets supports external display or Miracast?

I will wait until ces or mwc that i know the tabs will not be generaly available before that date in Belgium. However when in need to choose right now the dell is the one i would pick.

I'm waiting for CES also because that's when I feel Samsung will announce their new 8.1 tablets and they always use wacom with their s pens.

I'll wait for Surface mini. Xbox, Windows Phone, now Surface... I have no desire to buy anything but in-house devices.

Still have my Dell XPS 10 so I really don't need another but that Dell at 99.00 has me thinking to get it on gp

I really wanted to get the Dell V8P, but no LTE. If it had LTE, it would be IMO the best Windows tablet on the street today.

Who needs LTE when u can fire up ur hotspot on ur phone

Because some of us have unlimited data, without the hotspot. I can add it on for $30/month, but I need to justify the cost first.

I do. Smartphone runs out very fast when you are using LTE/GSM and WiFi at the same time. And in some countries (i.e. UK) it is cheaper to buy data only SIM.

I prefere LTE over two or three aditional battery packs for the day, because I like the tablet always sync in the background even on the go, so all my eMails are already there, when I grab it. So I am also waiting for the first 8-inch tablet supporting 3G or 4G and for Micorsoft to give us a unifed inbox for the mail-app.

The dell venue 8 because it's $99 on Monday and my old coworkers at the Microsoft store will save me one.

I've had the Venue 8 Pro 64Gb for almost two weeks now and it's the best. Zippy performance, high quality! So much better than my Dell ST 10" tablet that I've had for 2 years (now retired). 8" is plenty of screen for a tablet and awesome battery life! I was worried about the 1280x800 resolution, but no need to, it's just right for 8".

Got the DV8P...going to buy the Lenovo soon for my wife.

Certainly an RT tablet for me, Surface or Lumia. I don't ever want to worry about viruses on a tablet or to be on constant watch, not to install crapware, toolbars, etc. accidentally. I get enough of that on my desktop.

I have a Surface Pro and love it, but when I needed to get something for my middle school daughter for schoolwork, I got her a Surface 2 for the same reasons you mentioned.

i cant believe im buying a DVP. i already own a Surf 2

Got dell venue pro 32gb for $200

Already have the dell, loving it!

Well I've got the Dell and it's great. Add cheap hp Bluetooth keyboard just waiting for the cover order off amazon.

I already have the dell venue 8 since Nov 12. Y'all late :p

Have a Dell VP8 and love it!

Just got DV8P last night 25% off at Walmart, got home and read the email from MS on the Monday deal, will probably go grab that too!

Got an Android, Samsung Galaxy Tab 3 7.0 and it's great.

What's it like using a Windows Phone devices with an Android tablet? Favorite apps that sync across the two?

Given the fact that he/she's sporting a WP7 device and that Microsoft left WP7 devices and its users in the dust, I don't think he/she'll care much for cross-sync.

the fact is, we don't know sh*t about him/her; hence, the question. are you his wife?

Probably more WP apps sync with Android than Wp and W8.

When I said great I should have added for my purposes which are development and basics like watching films when travelling. I don't really sync anything with it, not even emails, so can't comment! I don't think WP users are missing anything by not having an official Google YouTube app. I miss Office big time too. I was enticed by a great deal at a low price. The plastic-y back that's standard on Galaxy devices has Ghost Armor matte on it now which is 100x better. The Acer and Dell ones just don't look that sexy at the moment. I'd look to swap to a 7 or 8-inch Nokia tablet in the future once the prices are more reasonable.

Surface mini and Lumia! :D

Already bought the Dell 64gb model..

None of them. I'm going to be the odd one out like the Android guy and say that I like my iPad Mini. I have a folio case on it, and then a keyboard I took from another case. They both fit in my coat pocket. Whine all you want about it not being productive, but it works for my needs, which is just pure text. The only reason I'm not going for the Dell is because it works like a full sized computer, which I don't like at even 13 inches. Wasn't impressed with the Latitude XT running Windows 8 at 10 inches even.

So in summary you like your iPad mini because its more expensive and does less. You can see how that comes across as slightly odd. I've spent the last two years slowly weaning the entire family off Apple and iOS. They're beautifully made products but its amazing how refreshing it is not to be trapped within iTunes ecosystem or by proprietary input requirements.

I have no problem with proprietary stuff, it's not a problem I have faced in the last 10 years of using Apple products. iTunes was a breath of fresh air when I switched to it in 2003 from Windows Media Player, and to this day, I still use it daily. The Windows Phone app has no problem importing stuff from it either. I have my MacBook Pro for Microsoft Word and multitasking.

I have a Surface 2. I may try to get the Venue 8 for $99 as the MS store is a block from where I work. If there is no line.

Guys. Seriously. Are you going to review the Lenovo Miix 2, like, at all? Or are you happy enough with the Venue 8? :P

Hey Sam what are you getting?

just got my dell venue pro 8 yesterday at Costco. they had a great deal at the store for the 64gb one. got that and a cover for $330 (including the tax) $300 before. its awesome so far. :)

For the $99 you Americans can get the Venue 8 pro I'd get two in a heart beat. For $300 though? Zero interest. I'll stick with my 11" tablet.

I saw some W4 announcements on youtube.. I might wait to hear the verdict on them, but I like the Dell. (I spit as I say that).

Got the Dell for $229 thru Costco and it is running very smooth. Feels great in my hand and very light.

Does anyone else also think the Dell looks really butt-ugly?

I love the look of it. The front has no logos and is super clean. Back just has the Dell logo with a grippy texture.

It looks unobtrusive because of its clean, minimalist look so I actually like it.

I love the look of my 64gb DVO, very sleek and minimalistic and it is something else in the hand. Very comfortable feel and good grip. I can one hand it and still not be afraid it will slip. Best deal I made since my L1020... It also has great battery life and is quite speedy. Makes my Acer W500 look and feel like 20 year old tech. Wish we had more than two stores in my state as I think the line will be out of site....

I already bought a Dell Venue Pro 8. Love it.

Can't open the link on my Lumia 1520...

So I have a Surface 2, a DV8P and a Lumia 1520, one has to go...

Have the Dell already. Real nice for $230 from Wal-Mart during thanksgiving week.

I bought an android tablet on Black Friday as well...selling it to my (not so good) friend today. OmG, I can't believe how bloated the AOS is...after getting a gmail account to log in, it demanded Google + on top of it to rate apps...clearly one handcuff after another O_O. Dell Venue 8 Pro FTW ;)

None - I'm happy with my hybrid YOGA machine. I personally don't feel a need for an 8 inch tablet as I use a Kindle PaperWhite for reading. :)

If rumours are true about the pen then the 8 inch Lumia.

Got the Dell Venue 8. Costco.

Dell Venue 8 Pro and Dell Venue 11 Pro.

If I can grab the Dell Venue 8 for $99 this Monday I'm all over it. More likely, though, I'll be waiting for a Surface Mini. I just need something for eReading and SmartGlass with my shiny new Xbox One. My productivity use cases are covered by my own HP desktop and my work Lenovo Yoga 13, just need the smaller one for the more casual uses.

Wallet + Empty = nothing :(

If I had to get an 8" tablet it would definitely be the Dell Venue Pro 8. I played around with that one and the Toshiba and the Dell just felt better; the Windows button is in a weird place on the Dell but I wouldn't knock it solely on just that gripe.

I have an iPad Mini Retina as my 8" tablet but I'm planning to buy a bigger tablet (10"?) next year to fully replace my 4 year old laptop (actually 5 year old in 2014) and that obviously will have to be a Windows tablet! I'll be looking for one with a new version of Windows (maybe 8.2) and a new gen of Bay Trail processor (hopefully we are going to see something new next year). Brands would have to be Microsoft, Nokia, Sony or HP (kinda don't trust anyone else, specially when it comes to design).

I'm waiting for something with LTE. I hope Dell will be first, because I like Venue 8 Pro.

Agreed. Until someone makes a Windows 8 tablet with broadband, I am on the sideline.

I just got an Asus T100 64 gig. It's awesome!

Same here, super impressed!

Same here too. It's wonderful.

I would get the Dell if it would be available in Germany. But it isn't, so I just ordered the Lenovo. Will try it out, look if I miss the pen or not. If I don't, I guess that I'll just stick with it..

I'm hoping that Nokia (or Microsoft) will release the 8 inch Lumia tablet in the future! :)

i already have the Dell Venue 8 Pro and its fantastic. Light, slim, fast, and understated. the pen problems will be fixed by new year, but i dont meed it personaly. buy it.

Unless you work for Dell don't make false claims about the pen.

already ditched my ipad mini :3

Dude I'm getting a dell..

No thank you to 8" devices. It's an awkward size that is more phone than tablet but can't be used as a true phone. For me it's 5" phone, 10" tablet and 17" laptop.

None! Will be getting a Surface Pro!

I said the same thing, couldn't see having an 8" as I thought it was too small but I have to say for me it is fantastic to use. I am definitely sticking with my DVP 64 and will wait on a Haswell 12-14" hybrid tablet like an upgraded Samsung T700 or even see what Sony comes out with in an upgraded Tap. The Surface Pro IMHO, while a great build is not that good in the hand with its blocky weight and just a 10" and I am through with laptops. I also love the 2520 but no pen kills it for me.

I'm going after the Venue 8 Pro for the $99/$199 deal on 12/9. Be that as it may, I prefer a Windows RT tablet for my consumption needs.

Toshiba encore, no question. Only one that has the important features I want

I ordered a Venue Pro from DELL UK on 23rd Nov with estimated delivery 9th Dec, but that's now put back to 16th Dec. Frustrating that US have seemingly surplus stock to offer at silly price. UPDATE: Just checked my order status and DELL have cancelled it apparently without telling me. #nothappy

I need 64bit lenovo think pad tablet 3 like RIGHT NOW !!!

Received my miiix 2 yesterday , loving it but the win button could be more responsive

Im picking up the dell, I want to get my hands wet with windows8..

Toshiba Encore looks nice. :)
However I'm still waiting for the 8-inch Lumia or the Surface Mini.

I find it funny that Lenovo's Windows tablets are much better quality hardware than their Android tablets. Why is that? Also, is there a big difference between the Miix 8 and Dell Venue 8 Pro?

None. I want a real tablet. I have my Lumia 1020 for anything that I need smaller than a normal tablet. Otherwise, I might as well get the 1520. Mini tablets are just so useless for my purposes.

Surface 1. Just for the wifes Facebook games.

not entirely interested in a tablet that can run x86 w8 when i already have a AW laptop that runs w8 fine. what id rather have is an rt tablet with LTE support instead.

I've been wanting a 7-8 inch pocketable device with phone/data capability and pen input, that handles the Office Suite for quite a while, as in half a decade or so. The hardware is getting there but the combination of form factors haven't been brought together yet. The Venue 8 Pro is close, but the Venue is not quite there - it's pen input not accurate enough, and there's no phone capability. No pen input rules out RT or WP phablet devices. So for the time being it'll be an Android Samsung Note phablet even though the Office suite is not quite there.

Nah, too small, I will stick with my 11" Windows 8.1 tablet...

Waiting for one with HDMI and Wacom digitiser. Hopefully Samsung or Lenovo will provide one soon... Though out of the ones available now, I'd go with the Dell as it does at least have a pen. Plus I think it's the better looking device.

I've been using the Venue 8 pro 64gb and stylus for almost a month now. Its the best tablet yet that incorporates using a stylus. I love using it to take notes. No problems yet.

The first one with WP on it. Because Windows 8.1 is still ugly compared to WP.

Dell all the way, me & a co-worker are heading over to the MS store first thing Monday morning to snatch one up.

Good luck to all after this unit. Its first 10@ 99$

Does this have a good Kindle app? I'm considering this as a replacement for my Kindle Fire.

The Kindle app is lovely on both Windows and WP. I found reading books invariably fun and enjoyable. You'll have absolutely no problem there.

The Dell Venue 8 Pro is incredible, I had one in my hand for just 10 seconds and decided to buy one. I've always thought Lenovo beat Dell for build quality but not this time. Now just hoping it arrives in time for Christmas.

I tried the Lenovo Miix 2 at Best Buy today, gotta say I am very impressed. It flowed as smoothly as anything else, and runs full fledged Windows 8.1 For 300 bucks its not the cheapest out there, but I'm so glad there are finally some sub 400 dollar full windows 8 tablets (not RT ones). I'm still considering the surface 2 only because of the hardware and the high resolution screen, but the Lenovo Miix 2 looks like a fantastic choice as far as quality hardware goes.

http://youtu.be/xIGLCUiQJHw loving my acer w4 so far! I think that the tiled aspect of windows 8.1 really shines in a 8" form factor!

Encore, because it's cheap, especially on sale, and it resembles almost exactly like an iPad mini.