Potential Surface Go 2 hits the FCC
This could be yet another clue that a Surface Go 2 launch is imminent in the coming weeks.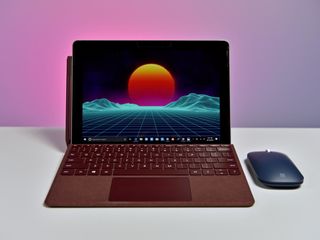 (Image credit: Windows Central)
What you need to know
A new FCC filing spotted this week could be for the Surface Go 2.
The filing references the same codename seen in Geekbench scores said to be the Surface Go 2.
This follows the recent appearance of possible Surface Go 2 retailer listings.
A new FCC filing spotted by Windows Latest could be evidence that the Surface Go 2 is almost here. The filing, which was published this week, references the same "EV2" codename that appeared on Geekbench scores that were said to be for the Surface Go 2. It also sports the model number 1927.
There's no explicit reference to the Surface Go 2 name, but we're largely expecting the follow-up to the original Surface Go to debut sometime this spring. We're expecting the smallest member of the Surface lineup to potentially launch alongside a Surface Book 3 as well.
The FCC filing comes as retailer listings for what is presumed to be the Surface Go 2 and Surface Book 3 were spotted at European retailers over the weekend. That those listings and this filing appeared around the same time hint that we could be in for a launch relatively soon. However, with current world events, it's hard to say for certain.
As for what we're expecting with the Surface Go 2, recent reports have suggested that it will come with an Intel Pentium Gold processor. There may also be an Intel Core M option available. Both processors seem reasonable given the Surface Go's position at the entry level of Microsoft's lineup. There's currently no expectation that Microsoft will launch a Snapdragon variant with Windows 10 on ARM.
Dan Thorp-Lancaster is the former Editor-in-Chief of Windows Central. He began working with Windows Central, Android Central, and iMore as a news writer in 2014 and is obsessed with tech of all sorts. You can follow Dan on Twitter @DthorpL and Instagram @heyitsdtl.
Not worth upgrading from the original one I have. Even if this one had smaller bezels, they're going to have to do better than that Core M3 8100-Y in a future third iteration.

Given the positioning of the Go in the lineup, it's pretty much never going to have specs that will excite enough to warrant an upgrade on those grounds. When it finally makes the jump to ARM, that may be enough to excite some users to upgrade but, based on the type of users and usage that it's intended for, the Go will generally be upgraded out of necessity far more than the higher-end devices with more cutting edge hardware.

True, but it would be nice to have a bit more pep in that thing. It's such a convenient/portable device, but multitasking with it is a bit painful. Maybe once an ARM version is released we can see better performance.

I think it's a better idea to wait for an ARM version. This second iteration isn't looking like a very good investment. With usable storage and the keyboard cover, it will be well over $700. That's just way too much money for this kind of device. I don't like paying a premium for years old processor.

With the announcement of Neo getting pushed back, Go 2 may be my go-to complimentary device to my laptop. I'd like something to replace my Pro 4 for my online masters work where all I'm doing is digital ink/onenote/pdf editing as a companion to my laptop 3

Bit odd that it's listed as having Windows 10 Pro? Even the Surface Pro comes with Windows 10 Home these days.

Not at all. Microsoft sells ALL of its Surface devices, every single one of them with Pro licenses. These are part of the Microsoft Surface for Business program. Only consumer models have Windows 10 Home. Here is the current Surface Go with Windows 10 Pro, which has been on sale since first introduced.

did they not make a change last year (sp6?) to drop the price by $100 and remove the pro license?

"did they not make a change last year (sp6?) to drop the price by $100 and remove the pro license?"

Yes. But, as I mentioned, they still sell ALL Surfaces devices with Windows 10 Pro still through the Surface for Business program. So, the idea that a FCC Surface goes through with Windows 10 Pro is not weird or unusual.

ooooooooooooooohhhhhhhhh right. misread.

If I'm not mistaken, Pro is required to join a domain so it makes sense that, regardless of how simple the device, anything intended to join a corporate domain will be running Windows 10 Pro.

Y'all think the singlescreen w10x device is going to be a variant of an existing line or a new product line?

I'm not sure that there will be A single-screen device. I would imagine that, once 10X is ready for single-screen devices, they will put it on all apprpriate devices. If 10X has all the functionality of 10 then that may mean every device.

Bruh.
Your first sentence was literally disputed by your following sentences. Secondly... Read this site's posts from the last week then return to reread my comment. Keep looping until you end up smacking yourself in the face for your response to my comment. Final step: reply to this comment with remorse and appreciation for showing you the light. You're welcome in advance

The M3 8100-Y would be a significant update. My biggest gripe with the current Go is the Pentium Gold's lack of turbo boost which makes it just frustratingly slow at times. Many workloads for this machine are bursty (opening a file, loading a web page, etc) and would be visibly faster if the CPU can temporarily speed up. I've used an M3 8100-Y machine and while it was no powerhouse, it felt appreciably faster than the Go.

Humm… I gave a Go and don't notice "bursty" opening files, loading web pages, etc. I guess YMMV applies.

He means with the Core M chip.

I think he means, in case of opening file, there always be a burst performance from idle (make sense in regards, the OS need to locate the file, create file handle, open a file stream, read the stream and prepare the content). Although you might not notice a lag in Pentium Gold, in Core-M devices, opening the same file with same configuration (RAM, etc) will still faster in Core-M compared to Pentium Gold who don't have burst mode. Specially for opening big files.

Current GO is slow to wake up and sign in with Hello face recognition.
maybe the next one will be speedier

My Surface Go gets through the Hello thing is just a few seconds. I ain't THAT busy. Maybe others are. Dunno.

I for one can't wait for a surface go 2 ... my iPad is on its last legs and it's time to replace it but I won't get another iPad, I'll get this ...
Windows Central Newsletter
Thank you for signing up to Windows Central. You will receive a verification email shortly.
There was a problem. Please refresh the page and try again.