Prep for four of IT's most valuable certifications with this CompTIA bundle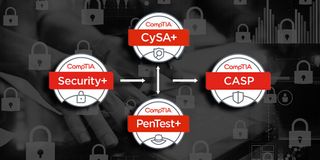 There's never been a better time to work in IT. Whether you're planning to work as a freelance IT professional for multiple companies or want to land a lucrative salaried position at a major tech firm in Silicon Valley, there's an unprecedented demand for talented and trained individuals who can install, maintain, and troubleshoot a wide range of increasingly complex server infrastructures and networking systems.
But if you want to be considered for the best possible positions in the industry, you need to have the right certifications under your belt in order to stand out from the crowd. The 2019 Complete CompTIA Cybersecurity Bundle will help you earn four of the field's most valuable and respected certifications, and thanks to Windows Central Digital Offers, the entire bundle is available for over 90 percent off the regular $897 price. That brings it down to just $49.
With more than 90 hours of expert-led training, this extensive bundle will prepare you to ace the exams for the CompTIA Security+, CySA+, CASP, and PenTest+ certifications. You'll learn how to secure servers, analyze trouble spots in networking systems, install software, analyze the results of network reconnaissance, and much more—all through hands-on training that utilizes real-world examples. There are also plenty of practice questions to ensure that there won't be any surprises when it comes time to sit for the real thing.
Prep for 4 of IT's most valuable certifications with this CompTIA bundle
Get the skills and certifications you need to land a lucrative career in IT with the 2019 Complete CompTIA Cybersecurity Bundle for just $49, more than 90 percent off for a limited time.
Windows Central Newsletter
Get the best of Windows Central in in your inbox, every day!
Thank you for signing up to Windows Central. You will receive a verification email shortly.
There was a problem. Please refresh the page and try again.