PSA: Windows 10 Mobile build 10586.107 is available for non-Lumia phones, too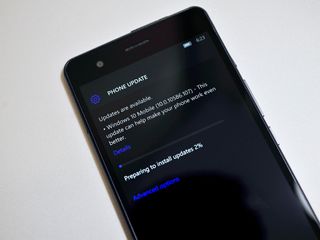 Though Microsoft recently started pushing Windows 10 Mobile build 10586.107 out to the Lumia 950, 950 XL and 550 for non-insiders, it's worth noting that the build is also being pushed to non-Lumia phones that shipped with Windows 10 Mobile as well. As an example, you can see in the image above that our Coship Moly X1, which ships with Windows 10 Mobile on board, has been updated to build 10586.107 as well.
While it's likely that Microsoft's latest Lumias with Windows 10 are what immediately spring to mind when learning about updates, it's important to remember that build 10586.107 represents a more general cumulative update to Windows 10 Mobile. Despite the fact that most non-Lumia phones don't appear on the list of supported devices for the Windows Insider program, phones that shipped with Windows 10 Mobile will still receive general OS updates once they're pushed out to non-Insiders.
Have you had a chance to try out the public release of Windows 10 Mobile build 10586.107? If so, let us know what you think in the comments below.
Get the Windows Central Newsletter
All the latest news, reviews, and guides for Windows and Xbox diehards.
Dan Thorp-Lancaster is the former Editor-in-Chief of Windows Central. He began working with Windows Central, Android Central, and iMore as a news writer in 2014 and is obsessed with tech of all sorts. You can follow Dan on Twitter @DthorpL and Instagram @heyitsdtl.
What about AT&T 950 nothing yet last checked 5:41 pm EST?
Were still under AT&T spell, thought Win 10 would change that?
...................................................................................
Update last checked 7:39 Pm nothing

I got it and I have a att 950

Nothing here yet on mine just checked.

Idk it might take awhile to make it to everybody but I can confirm I have it on my phone after a hard reset with Windows recovery tool Posted via the Windows Central App for Android

Wait, to get it you had to use the Windows Device Recovery Tool to restore your phone?!? I had to do that to get .29. If I have to blow away my device every time a new update comes out, there is something seriously wrong with MS.

Lol I orginally tried updating rom the insider cuz I had .71 but I kept getting an error so I decided to just flash back and get the update but I was downloading outside of the insider ring before I did the reset

You do not have to do a hard reset. At least not if you're using the consumer version of the OS. My 950XL updated while I slept and I didn't have to so anything.

My ATT 950 still sees nothing..

Neither does my Alcatel OneTouch Fierce

All I got on my Fierce XL was a configuration update. And that was from the Insider app.

Insiders have it set it to fast in the insiders app otherwise reboot and check for updates!

All the Rings, Fast, Slow, Production..... Nada.
I did get a configuration update, but no .107 yet. We got support in WDRT but no new build. I don't think Gabe likes us.

Same here...probably because it's brand new and plus...it is T-Mobile branded after all. Hopefully the Fierce XL gets added to the Insider Program.

Nothing from AT&T for my 950 in months. By my count, we're behind by two firmware updates and several OS updates. Seems to me like their update patterns have only gotten worse... luckily my 950 has been pretty reliable from the beginning, but I'm really disappointed we're still stuck in the same update mess as before.

No I got .29 but that's it.

If you have an AT&T 950 there is no update available yet I spoke to them direct they show no such update on their end yet, which leafs me to believe corprste hasn't released it yet. Wait wait wait and more wait. Oh well at least. My 1020 has the latest build so I don't Care, just helping everyone out sit back and wait or join insider to get it:D

You kids make me laugh. Everything has to be now, immediate, urgent. One you've sat in 1985 waiting 10 minutes for Mercenary to load on an Atari 800XL... from tape, you learn patience.

Jet Set Willy :) 5 minutes for ~30Kb to load from tape

No your wrong I wated 30 min on my 800 xl for boulder dash to load from a cassette.

Nope, microsoft slowness has put it's mobile os where it is now. If you can't catch up you're doomed, even if you think you're still living in 1985

Build 10586.107 is a cummulative update that AT&T has no control over. As these forms of updates no longer alter anything to do with the radios, Microsoft has full control. Firmware can be held back by AT&T, as far as I know. It's just a staggered release.

We have revived the 2 os updates Ms has made available to non Insiders. Now the 2 firmware updates is bs

Rolling out in waves probably too prevent congestion

I think it's just one firmware update and now this update, which I suspect is coming later this week. .29, which is what AT&T is on, is the latest official build before this one.

Okay just got off the phone with Nickolas from AT&T.
There is nothing listed on there system yet, for 10586.107.
The last build they show is 10586.029.
Anybody saying they got that build on a 950 on AT&T, must be an insider, i don't see how, they show no such build yet?
Then you must be an insider if you got it.

I hard reset my phone with Windows recovery tool and got the. 107 update Posted via the Windows Central App for Android

With Windows recovery tool say .107 update? Nothing for my lumia 950XL :( (i see only old build)

Can confirm. ATT 950 on fast track insider with .107.

Still nothing on my att 950

I got it on my AT&T Lumia 950 yesterday, had to be from Microsoft.

AT&T isn't showing on their end. Your a Non insider?

Yep, I am a non Insider. I did a hard reset because my AT&T phone(950) sucks without firmware updates and there it was when I checked it.

I did a hard reset on mine, still no update.

Even in South Africa I got .107 yesterday. Just me or is Iris scanning faster...

Yes it is fast and reliable. Improved a lot.

Don't panic, lol. It took awhile for my unlocked XL to pick it up. That being said, I pretty much swore off of locked phones after the ATT 920 Amber firmware incident.

Will my smart be able to update to official release if I use The preview ring? L930 using 8.1

Running the 'preview release ring'on my L930. Not had an issue in 7 days now. Stability is good for me. L930 in UK

I've been running 107 on 630 for about 10days very stable in uk

Running .107 on my Lumia 520 ! Really stable. Battery also lasts one full day now ! Really feeling satisfied with the build !!!

Can you try uninstalling and reinstalling an app back from Store? You get an error message every time until soft reset. That's the only serious bug I have noticed in this build on my 930 apart from the usual Outlook rendering/formatting, Edge, Bluetooth, Wi-Fi and yet to be fixed known bugs

The official release is just one the stable version of insider fast build (preview build). .107 could be it and if so, it will happen soon. I would wait.

Hmm, I was wondering this too....With a AT&T branded L-950, I opted for the Windows Insider--->Preview Release Ring, which did indeed give me 10.0.10586.107, of course I'm still stuck with Firmware: 01078.00017.15454.xxxx I'm slightly confused with your comment, as I reviewed as this: 'The official 10586.107 is one that is more stable then the Preview Release Ring 10586.107 version...??' Kindly clairify if I'm reviewing this incorrectly...thanks..lol

I am saying .107 could be the official Win10m release since it has moved too fast to slow ring, preview release and non-Lumia phones.

Ok...I understand and thanks for your reply..:)

Better wait for actual release date for the device. There might be more fixes coming, who knows. It's almost there anyways so waiting won't be too long I guess.

runnung on my 1520, w/ minor bugs but stable. it's a power hog compare to 8.1 though.

That sucks.. Guess I'll keep 8.1 on my 1520.. Wtf is in W10 that's making it such a battery pig compared to 8.1???

My at&t 640 .71 build battery life was almost on par with my other DS 640 8.1...around 30 hrs. When upgraded to .107, it went down to 20 hrs!

Its an entirely new OS with little focus on optimization. MS is cobbling sh*t together and releasing it.

Not on my L1520. . . 24+ hours

I haven't seen any improvement yet.

Seriously? What device are you using? I've seen a lot of improvement. I have a L925 on Fast Ring Insider and a Fierce XL that came with W10M.

He is a consumer, and u r windows user.

Im running 107 on 520, and i have to remove the battery almost everyweek because the screen stop responding...

Been as good as gold on our 640's and 640xl's, 1520, 1320. We use them in our business so have to be stable. All on 'release preview'.

I want to upgrade to 640XL LTE, but that phone is not available on my area

Try the Alcatel OneTouch Fierce XL

Never seen Alcatel in my city... I dont think they want to sell it in Indonesia

I am running the .107 on my 640XL DS LTE and it works just fine!!! And I agree with the person who posted below, I also think the 640XL is one of the better but sadly underrated phones from the MS portfolio.

Really ? Even I am running .107 on my Lumia 520, and the experience is almost near Redstone ! No freezing at all ( except loading in the photos app) and some ones faced by everyone. Other than that , i am not removing the battery every time like i used to do in December !!

I did hard reset right after im upgrade from 8.1 to 10, and i have almost 200Mb free in each memory. So what's wrong with my device?

I can confirm .107 is here in the UK for 950 and 550 for non insiders

.29 is up to date, sob. 950xl T-mo

Me too. AT&T 950 still no update

I wonder when HTC and att will update the m8 for windows to w10.

Still on build .29 on AT&T. Just checked, still no update

Okay just got off the phone with Nickolas from AT&T.
There is nothing listed on there system yet, for 10586.107 the last build they show is 10586.029.
Anybody saying they that build on a 950 on AT&T don't see how they show no such build yet?
Then you must be an insider if you got it.

Same here. Going to try a hard reset tonight to see if that triggers it.

MS cannot control at&t ..... Yet!

I've a Lumia 730 on Developers' preview & it was.36 update...
yesterday I got the notification & the phone updated itself...
From India

Now on .107 & its working fine. No issues whatsoever....tge only thing broken eternally for me is Messages notifications...it won't show on lock screen & i can only get updates on texts when I open the messaging app....
Any solution to this??

Check under settings, system, Notifications, Messaging. There is an option to keep messaging notifications private under lock screen.

Legacy lumia phones gets washed away, unwanted. TT

Washed away? All of them?....we're gunna need one huge bowl of uncooked rice.

Guys what does 'PSA' mean??

Pubic Service Announcement Edit: Leaving as Pubic, cause, funny..

I really do not want to know what a "pubic service" is, lol. I guess your device auto-corrected you.

Public Service Announcement

Peugeot-Citroen Alliance?

I got .107 on MADOSMA Q501A in Japan. And I heard NuAns NEO also got it.

630 running 10586.107 very stable

Running great on my Cricket 640.

Moly X1 got it at release...thankful I do not have a carrier phone.

Now noninaider can update their phones??

yes, unless you have a carrier branded phone, seems they can not.

950xl with AT&T have 107 & latest firmware as of early this morning. No problems.

******* tired of waiting for official wp10 update thought it would drop in Late December-Mid January Oh well.

Why did you think that? Dis you read the article that said Feb. 29?

Well, Microsoft said Cortana gonna be available in December 2015 here in Brasil. Oh wait, we're in 2016 already... and guess what...

Well, we are talking about Brazil.

Brasiiiil a g'ho n'usel cal pesa 'n chiiiiil

I m using Nokia Lumia 1520 from since more than a year. I m waiting for Window phone 10 udate. When Microsoft roll out update for my Lumia 1520 in India..??? Please tell me about this...!!!

Sorry mate...no exclusive info available just for your own Lumia 1520...you're gonna have to wait in line just like the rest of us...:)
Feb 29th is rumoured to be a starting date though...even then, 1520 isn't listed among the first devices to get the update at the beginning of the rollout...

I'm glad I don't have a carrier phone

it is no big deal, people on here complain for no reason, I have att 950, some got the update, some did not, the point is, insider have the same exact update that everyone is getting, so all I am saying, if getting the update a big deal, Microsoft give you many options, all it takes is switch to insider, download the update, and if you scare of insiders, remove yourself after, and boom, same update as everyone

When it'll be available for my BLU HD LTE MOBILE. Any one here got some info about this brand.

Nobody knows exactly when the updates will be released for phones that shipped with WP8.

Just about to donate my 640 xl... Posted via the Windows Central App for Android

Are you crazy? 640XL is arguably the best lumia ever! Wait for a few days, win10m runs smooooth on mine

You need my contact info?? :-P

950 XL German CV still no update, although I got firmware 16025 immediately when it was available. Hard reset is no option just to find a bug fixing update.

Like I told the others, why make it hard on yourself, the insider is the same exact update, you could switch to insider and download the update and then remove yourself from insider if you want, so simple, Microsoft give us so much choices, but no one wants to take it

I did that already, read below. But what is the problem with the normal rollout? There are no words from Microsoft on that, same from WC. So we change to insider and next whatever update that is released we are told: Suprise, you have to hard reset! Happened several times.

No. Not true. That only happened for one build about two months ago.

Happened at least twice for me: One for an Insider OS update, the other one for a firmware upgrade when we did not have the option to opt out of insider program without hard reset. And it will never happen again...

I have this build installed on my L1520....but the main problem i found is the over heating issues. And there are also some bug here........if microsoft fixes this in coming update.....it can run os even faster....!!

Still nothing on AT&T 950. Screw that, I'm going insider again.

Me too, now installing through Release Preview ring. Don't know what the problem is to just roll such an update out.

I do not know why you would wait for same exact update on insider, same exact update, when you could siwtch on insider and then download the update, and then remove yourself from insider if being a insider a problem for you

Maybe just think about the meaning of "Production" ring...

Please, pray tell us your interpretation.

http://www.windowscentral.com/windows-insiders-can-select-new-release-preview-ring-windows-10-pc-and-mobile Or Production: https://en.wikipedia.org/wiki/End_user Windows Insider: https://en.wikipedia.org/wiki/Software_testing

I have read that the roll out update for the older lumia phone will be on feb 29. Wish this is true

FYI, for those on AT&T 950 who haven't seen the update yet, a hard reset does not fix the problem.

I know this is not related to the topic... But I'm just asking here. Has Microsoft stopped production of Lumia 430??? Cause I'm unable to find it on Amazon.!!!!

Yes, they are only producing the 50 series handsets since January (950, 950XL, 550, 650).

So it appears that T-Mobile US is holding back the update then for the Fierce XL. Probably cus its a brand new phone. I'll patiently wait. I have build .107 on my L925 so I'm good.

How is the Battery life of l925 with latest build. I used this phone before , feeling nostalgic and ordered one though I have 640 and g2 in home

Same if not better than WP 8.1, the OS is fast and smooth enough even on several years old S4 dual core in L925

I agree with egold70! Same if not better than 8.1. Performance is good as well.

After win 10 there so many app not supported

I will wait till quiet hours is unbroken and works...i use that feature a lot working shift work...

Works fine here on .63-.107 builds. No issues on my L925 and Fierce XL. What device are you using?

Didn't they say that Windows 10 update was not carrier dependant?? Someone please explain this to me.

Microsoft being a bit overzealous in their marketing. AT&T have already shown their 950 isn't being updated the same as the unlocked version. It is only a matter of time before it is EOLed and official updates are nonexistent. Don't believe Microsoft marketing, updates are still carrier dependent. Posted via the Windows Central App for Android

For insider only: Please,anyone had hard reset hos phone or did a"windows phone recovery tool" contact me, WhatsApp: +96596609675
Kik: abodalaa0abodalaa
thanks anyway

So the Cherry Mobile Alpha series phones can have it! OOOH!

I just installed it two days ago on my Lumia 640xl and love it! So far so good...

HTC 8X..... Nope...Rip >_

AT&T 950 here. Reset the phone via the WDRT, which put it back on .0. Checked for updates, only .29 was available. This is getting ridicules.

just like I told others, why are yall making it harder on yourselves, its same exact update on insiders, all you do is switch to insiders, takes less than a second, then the phone reboot and then you check for update and get the update.......and if you want, you can remove yourselves from insiders after, its really no big deal,

But it is a big deal. You shouldn't have to go insider to get a production release, which other non-insiders are getting.

Then you shouldn't have trusted Microsoft and bought a carrier phone. Did you really think AT&T was going to allow them to update the phones directly? You will be lucky if you are still getting any updates in a few months. It is only a matter of time before AT&T kills support for the 950. Posted via the Windows Central App for Android

What about Microsoft 540 phones will it get update of non-insider.

Yes. Not until the upgrade rolls out for wp8.1 phones though.

I find 107 a bit worse than the last one on my 950xl. Screen has stayed black at times.

thats weird, because 107 on att 950 is beautiful, fast smooth no glitch, or bugs yet

We call that amoled battery saver.

Is it any possible that this build can be used to install into some other non-Lumia phone like Samsung ATIV S, or HTC 8X?

On Ativ S of course, but you have to edit registry. Posted via the Windows Central App for Android

When windows 10 would be released for Lumia 730..??

what do you mean by "PSA"???

Public service announcement

I'm getting a problem on my Lumia 950 dual sim. A few lines are only half seen. For eg do you want to delete this? The lower part of the whole sentence is scraped off. Is anyone else having the same problem? Or is it a resolution problem"

do not have this issue, but i use att 950

Confirmed Xiaomi Mi4 is also receiving .107 without insider, this phone is not a Window 10 device

I have a Lumia 530 and it is not getting any insider build via the Insider app! Whenever I try to configure, it gives me some error.

I just checked for the update on my att 950 and nothing yet.

I'm using Lumia 730 & i got it

When will have upgrade for Nokia Lumia 630?

Ah. I waited long, I ran out of patience so I downloaded preview. :D but since last day in back on 8.1, feeling peace here. :)

.107 BUG lumia 950 - even i deleted photos from app, when i open whatsapp, viber, fb mess i can see deleted pictures in share option...when i select to share it i get an error...

Anybody with a 950 on AT&T, there is no update available yet.
I called AT&T last night , they show nothing yet. So I guess were at the mercy of corporate, to review and release it to the techs to roll out.
Oh well I got my 1020 on .107 all set here , I can wait for my 950 to get it. :D just remember patience is a virtue. hahahaha. Have fun :D

How many posts from you on a single topic ?

Hello I have lumia 730 and i am waiting for official update of window 10 mobile. Please tell me when its coming for us ?

Lovely to see update name without "preview".

Come on..when is Windows 10 Mob coming? My moto just got updated to MM & i am still waiting for Win10Mob

Still not going messeage banner notifications. Any resolution???

Update rec'd for HTC M8 Windows w/ T-Mobile, works great, still having issue w/ alarm not working, everything else is good

I updated my M8 too, but seems like the battery gets hotter than usual, does yours do that?

Sadly on Lumia 950 XL still having random crashes, Bluetooth and lockscreen issus. Hope Microsoft irons these out soon.

Decrepit battery life for all!

Nokia Lumia 630 they some app not download in win 10

How about Xiaomi Mi4 LTE?

Like I mentioned earlier it is receiving .107 without Windows insider(fresh install). Since Mi4 is by no means a WM10 device there is more going on with this update

Seems worse to me, no problems with .29 while .107 has frozen my phone and crashed apps repeatedly (950 xl).

Please make sure its a good thing for us to update that particular matter.

Still no predictive texting. Why I'm using 8.1 on my main phone.

Keep getting a bsod every time my L550 updates to 10586.107. Still trying to work it out with MS. Very frustrating. Anyone else having this issue?

On my Lumia 950 XL downloaded yesterday evening. It look's smoother and in hope that battery and bluetooth get better. On the 29 version my battery has lost 60 % power after 3 hours use of the phone and i lost everytime the contact between my vivoactive and my Lumia
Posted from Windows Central for Windows 10

When will come the official release for Lumia 640?

Received it on my fierce XL.

It broke the TuneIn app on my L950XL and now it's not supported, install is blocked.

MADOSMA Q501. I am not getting WIndows 10 Insider updates. it is still in Windows 8.1 update 2. Tried Slow ring, Fast ring, release preview!!! Noting worked out.