QNAP QTS 5.0: New features, how to install, and which NAS are supported
Prepare yourself for the next-gen QNAP experience.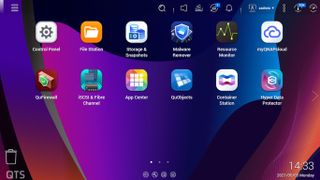 (Image credit: QNAP)
QNAP is working hard on revamping its QTS operating system for NAS enclosures like the TS-431X3. Version 5.0 is currently in public beta for testing and is set to be quite the substantial upgrade for enclosures, introducing performance improvements, visual enhancements, as well as some other handy features.
The company makes some of the best NAS for home, so it's good to see the company looking to enhance the experience with the OS. The big update in question is QTS 5.0, which is quite the overhaul. The beta launched in June 2021, and we've had a chance to play around with the update to see what's new. Here's everything you need to know about QTS 5.0.
Best QNAP NAS
The QNAP TS-451D2 is a great home NAS with an attractive price and plenty of performance. The enclosure has four drive bays, an Intel processor, upgradable RAM, and full support for QTS 5.0 once it releases.
QNAP QTS 5.0: New features
As well as the obvious visual refresh QTS 5.0 brings to QNAP enclosures, the company has made some big improvements and changes to the OS.
Improvements
Desktop Notice Board, which provides notifications for various events and announcements.
Support for TLS 1.3 HTTPS secure connections.
Ability to now import custom root certificates to certify the SSL certificate of a server that the NAS needs to access.
OpenSSL v1.1.1.
Improved SSD cache design to enhance storage performance. (Existing SSD cache will be automatically converted.)
Added support for QuFTP service.
File Station now supports displaying thumbnail previews for PDF files.
Network & Virtual Switch now supports the DDNS service "DDNS Now."
Added the option to enable or disable strong cipher suites.
Ability to redirect users to the NAS login screen when connecting to the NAS IP address without specifying the port.
To enhance device security, UPnP Discovery Service is now disabled by default.
Added support for Content Security Policy HTTP header.
Default "admin" account is enabled and password resets when the reset button is held for three seconds. (QTS will notify the owner to create a new admin account for enhanced security.)
Users in the administrator group now have read/write access permissions for default shared folders, except the "homes" shared folder.
Users can now manually specify the time interval and the maximum number of failed login attempts in Control Panel to further enhance NAS security.
Qsync Central is no longer pre-installed in QTS. It can still be found in the App Center.
Improved the user interface of Advanced Search in QuLog Center.
Added support for displaying the total connection time of online users.
QuLog Center now displays computer names and accessed resources in System Access Log and Online Users.
To ensure device security, QTS now displays a message to remind users to disable the default "admin" account and to create another administrator account.
Mustang User Driver 3.1.1 now supports QTS 5.0.0.
QTS Smart Installation Guide now requires users to create a new administrator account. The default "admin" account is disabled after initialization.
Changes
QTS no longer pre-installs SSD Profiling Tool by default. This tool can be found in the App Center.
Removed support for USB printers.
Qboost is no longer a built-in application of QTS. It can be found in the App Center.
To ensure system security, QTS now automatically disables applications that are not updated and that do not meet the minimum version requirements.
HybridDesk Station no longer supports QVR Pro Client (HDMI output).
NVR Storage Expansion is no longer supported.
QNAP QTS 5.0: When will it be released?
QNAP hasn't yet stated when QTS 5.0 will be made available for the general public outside of testing. The beta period ends on July 31 for collecting feedback from testers, so we can't see it being much longer before the release candidates are made available.
QNAP QTS 5.0: Supported NAS
TS-453Bmini
TS-253B
TS-453B
TS-653B
TS-453BT3
TS-253Be
TS-453Be
TS-328
TS-428
TS-230
D2 Rev-B
TS-473
TS-673
TS-873
TS-251B
HS-453DX
TBS-453DX
TS-251D
TS-253D
TS-653D
TS-453D
TS-451D
TS-453Dmini
TS-451D2
TVS-472XT
TVS-672XT
TVS-872XT
TVS-672N
TVS-872N
TVS-872X
TVS-672X
TS-231+
TS-431+
TS-131P
TS-231P
TS-431P
TS-131K
TS-231K
TS-431K
D2
D4
D4 Rev-B
TS-h2490FU
TS-h973AX
TS-473A
TS-673A
TS-873A
QNAP QTS 5.0: How to install
I highly recommend installing and testing the beta of QTS 5.0 on a NAS enclosure you are not currently using in a live environment. It's still in beta and isn't ready for the real world just yet. You won't be able to downgrade your NAS once you've upgraded it to the QTS beta. Ready? Here's how to install QTS 5.0 on your QNAP NAS:
Go to the QNAP website.
Select the product type, bays, and then model using the drop-down menus.
Select Operating System
Scroll down and select one of the download links for 5.0.0.1716 build 20210701 public beta.
Log into your QNAP NAS.
Go to Control Panel > Firmware Update.
Click Browse.
Select the downloaded QTS beta file.
The NAS will then run through the installation process and will reboot. Sit back, relax, and read through the list of new features in the meantime. The beta test period ends on July 31, so be sure to submit all your feedback by that date.
Best QNAP NAS
If you're looking for the best value NAS from QNAP, look no further than the TS-451D2. It has four drive bays, an Intel processor, and everything you need to set up your very first home NAS.
Get the Windows Central Newsletter
All the latest news, reviews, and guides for Windows and Xbox diehards.
Rich Edmonds was formerly a Senior Editor of PC hardware at Windows Central, covering everything related to PC components and NAS. He's been involved in technology for more than a decade and knows a thing or two about the magic inside a PC chassis. You can follow him on Twitter at @RichEdmonds.