Rainbow Six Siege Amaru guide: Ember Rise tips and best weapon loadout
Draw the best from Rainbow Six Siege's soaring attacker, Amaru.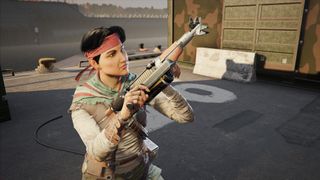 (Image credit: Ubisoft)
Rainbow Six Siege Operation Ember Rise brings a duo of two Latin American gunslingers, both packing new toys spicing up Ubisoft's hit multiplayer shooter. Amaru is a fast-moving, heavy-hitting attacker, carrying a grappling hook to reach the skies with ease. Here's what you need to know about Amaru and how to draw the best from her loadout.
Should I play Amaru in Rainbow Six Siege?
Amaru is the high-flying attacker of Operation Ember Rise, bringing new methods of infiltration to Rainbow Six Siege.
Swipe to scroll horizontally
Category
Spec
Ability
Garra Hook
Primary
G8A1
Supernova
Secondary
ITA12S
SMG-11
Gadget
Claymore
Stun Grenade
Armor
2/3
Speed
2/3
Price
25,000 Renown
600 R6 Credits
Peruvian anti-archaeological looting specialist turned counterterrorism recruit, years of cartel run-ins make her the ideal newcomer for Team Rainbow. The makeshift "Garra Hook" grappling device leaves her highly-mobile, proving an advanced infiltration tool.
The value in Amaru comes with flanking defenders and establishing angles for an element of surprise. Unprepared foes will be caught off guard by her agility, while she's also equally capable of a zippy escape.
Amaru gadget and ability
The draw of Amaru is her Garra Hook, serving as a slick point-and-shoot grapple to reach new heights. The device utilizes grapple points already spread across existing maps, with four uses per round. Amaru can scale ledges and windows (but not doors) when outside, while hatches and skylights promote indoor verticality.
Compatibility is determined via an on-screen grapple indicator, switching from red to white once in position, and triggered using the fire button. Garra Hook limitations require the Operator to be within 15 meters or less, positioned below or horizontally from a grapple point. Once fired, players must wait for an eight-second cooldown timer to pass, preventing rapid chaining.
Once in use, her weapons will be holstered for the duration of travel, tailed by a brief recovery period upon touching down. Blazing carelessly into an objective is a guaranteed death; instead, its use demands consideration before reeling in. Defenders also require Amaru to stay wary, from both Castle reinforcements blocking access to punishing underfoot traps. The Garra Hook is also very noisy, especially when popping open a barricade before sailing inside.
Amaru guns and best loadout
Continuing a trend of recycling prior Operator gear, Amaru sports familiar weaponry from across the Siege cast. The G8A1 light machine gun (LMG) brings the same high-damage setup used by IQ, alongside the SuperNova shotgun of Hibana and Echo fame. Two viable secondaries also return, from a compact ITA12S shotgun to SMG-11.
An attacker's role in Rainbow Six Siege traditionally favors long-range encounters, making the G8A1 the favored primary for most. Its high 301-round capacity pairs with a fierce fire rate, though balanced with the long reload and aim-down-sight (ADS) time of LMGs.
The SuperNova pump-action can be a capable primary alternative but gives up range advantage valued by many attackers. Shotgun are valuable tools for Amaru, given a need for hatch climbing, crowning the ITA12S a handy sidekick to clear overhead rafters. The SMG-11 is an equally safe pick, but only as a backup in tight firefights.
Amaru tips and tricks
Though highly situational with considerable setbacks, Amaru has strengths unmatched by allies. Her agility is her defining trait and shouldn't be ignored when in play. She welcomes a wave of new strategies existing maps, alongside a share of threats to consider too. Flying into buildings is risky work and requires a wealth of intel for a smooth landing.
The Garra Hook also unlocks unseen routes to get close to the objective – and faster than ever before. Aggression proves valuable early in the round, establishing firm map control and keeping defenders at bay. Once the prep phase concludes, grapple in with the aid of drone intelligence. The Operator brings an element of surprise like few others, carving flanks and unexpected sightlines.
While Amaru shines with her trickery, the hook removes her from sites in defensive plays. Scaling skylights is vital for Kafe and Villa, where sizeable openings overlook objectives. Plant the defuser, pull out fast, and keep a watchful eye from overhead.
Early time with Amaru also highlights a massive shakeup for specific maps, drawing attention for her synergy with Chalet. The Trophy Room window overlooking Front Yard is now enterable for the first time and wildly changes map flow. Sites at Trophy Room and Kitchen now have more angles to consider, keeping defenders on their toes.
Hold tight
Amaru is a game-changer for Rainbow Six Siege map flow, introducing new routes to approach the objective. Despite limited use in high-level play, she's an enjoyable pickup, brimming with gameplay opportunity.
Operation Ember Rise is now available for free on Xbox One, PlayStation 4, and PC, providing the first chance to get hands-on with Amaru and Goyo. Both Operators are now available via seven-day Year 4 Pass early access, with a full public launch slated for September 18.
Eyes on target
Tom Clancy's Rainbow Six Siege
Addictive, challenging shooter action

Ubisoft's hit shooter is hotter than ever, touting tense tactical gameplay, and regular free updates. With millions of players in 2019, Rainbow Six isn't slowing down.
Get the Windows Central Newsletter
All the latest news, reviews, and guides for Windows and Xbox diehards.
Matt Brown was formerly a Windows Central's Senior Editor, Xbox & PC, at Future. Following over seven years of professional consumer technology and gaming coverage, he's focused on the world of Microsoft's gaming efforts. You can follow him on Twitter @mattjbrown.