Rainbow Six Siege Operation Ember Rise: Everything we know
Rainbow Six Siege's next update fast approaches, packing two elite Latin American gunslingers, while revisiting a fan favorite locale.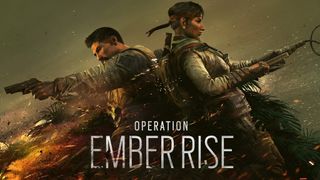 Ubisoft continues to build upon Tom Clancy's Rainbow Six Siege, soon securing its next major expansion. Following Operation Phantom Sight, the update is headed to the Latin American underworld, falling midway through its fourth year of content. Two new resourceful Operators lie on the horizon of Operation Ember Rise, set to shake up how defenders lock down the objective.
We've wrapped up everything you need to know about Rainbow Six Siege's next season, ahead of its September launch.
Eyes on target
Tom Clancy's Rainbow Six Siege
Addictive, challenging shooter action

Ubisoft's hit shooter is hotter than ever, touting tense tactical gameplay, and regular free updates. With millions of players in 2019, Rainbow Six isn't slowing down.
Operation Ember Rise release date
Ubisoft has unveiled its next Rainbow Six Siege expansion, confirming the coming update's title, Operation Ember Rise. While Ubisoft is yet to outline its Operation Ember Rise release plans, a late-summer launch is expected for Xbox One, PlayStation 4, and PC.
The update first saw a reveal at the Rainbow Six Raleigh Major in mid-August, followed by a Technical Test Server (TTS) PC debut on August 19. Tailed by three weeks of testing to refine bugs and balancing, a full public release could occur around September 10, 2019. However, with September 10 here and no mention of a formal deployment, Operation Ember Rise could see a delay upon the usual schedule.
Operation Ember Rise Operators: Amaru and Goyo
As with prior Rainbow Six Siege updates, the third season of 2019 drops two new playable Operators, expanding the ever-growing roster to 50 recruits. New attacking and defending talent lies on the horizon, sticking to its seasonal template. The latest members span independent counterterrorism units (CTUs), hailing from Mexican and Peruvian specialist forces. Amaru and Goyo were once central to narcotics and antiquities trafficking crackdowns, famed for combatting cartel activity in each Operator's home turf.
For those with Rainbow Six Siege's Year 4 Pass, both Operators should be available at no additional cost with the launch of the latest season. Seven days later, these Operators will be open to the public using Renown or R6 Credits.
Rainbow Six Siege Ember Rise: Hands-on with Amaru and Goyo
Amaru: Grappling Hook Attacker
Headlining offense is Amaru, an archaeologist turned counterterrorism operative, bringing new ways to approach the objective. Between years of scavenging jungle dig sites and cartel run-ins, the Peruvian prodigy developed tools and skills to overcome threats. Defined by her Garra Hook, a new reel-in grappling device, Amaru brings heightened mobility and verticality to attacking roles.
The Garra Hook enables Amaru to quickly scale grappling points across the map via a snappy point-and-shoot mechanic. The gadget allows her to reach windows and ledges with ease while providing the first solution for hatch and skylight climbing once indoors. The flexibility offers opportunities to ambush and outsmart unsuspecting attackers, even if loud sound hampers its subtlety. The hook already proves enjoyable to handle with its unique gameplay propositions, even if less prevalent in competitive play.
Ember Rise once again revives existing weaponry in a controversial move first executed with Phantom Sight's Nokk and Warden. While familiar, choice of automatic and pump-action weaponry complements ranged encounters and hatch destruction. The G8A1 light machine gun and Supernova keep Amaru flexible, backed up by the SMG-11 and ITA12S.
Goyo: Explosive Shield Defender
Goyo completes the Ember Rise duo, set to put a fiery spin on defensive gameplay. The seasoned Mexican anchor locks down the objective with the Volcan Shield, retrofitting an explosive surprise to the newly-reworked Deployable Shield.
Despite a familiar silhouette, the signature of Goyo's loadout stows a flammable gasoline canister around the back. Although a conventional shield head-on, one rear shot releases a blazing inferno within the nearby vicinity. While a cruel trap for aggressive foes, the shield also blocks up access points and slows the attacker approach. Whether doubled with cunning placement or Kapkan's Entry Denial Device, the Volcan births creative new strategies on the field.
Past firearms also fall with Goyo, between the choice of the Mira's rapid-fire Vector .45 ACP and ACOG-bearing TCSG12 shotgun from Kaid. The holstered P229 also returns, previously used by Japanese Operators.
Operation Ember Rise Map: Kanal rework
As seen with Operation Phantom Sight, Rainbow Six Siege's next expansion debuts the second of three map reworks slated for Year 4. The industrial docklands of Kanal next goes under the knife, refreshing its layout and palette to improve gameplay, while retaining its underlying identity. While already a favorite among the roster, widespread spawn peeking and restrictive routes limit its current potential.
As teased at the Six Invitational in Montreal, the Hamburg-based arena will undergo a rework addressing long-standing player frustrations. A new corridor now bridges the two compounds, allowing for smoother rotations between buildings. The redesign also scales back former windows, reducing the chance of cross-map headshots.
Like previous content drops, access to the new locale will be free to all players regardless of owning the Year 4 Pass. And during the initial launch period, a dedicated Kanal Discovery playlist will serve up 24/7 access to grasp the new layout.
Rainbow Six Siege Battle Pass (Phase 1)
Operation Ember Rise also debuts Rainbow Six Siege's first Battle Pass, capitalizing on the success seen for Fortnite and Call of Duty. The latest push for monetization introduces a tiered reward scheme, with exclusive cosmetics obtainable for completing a lineup of challenges. The upcoming season hosts the first of a two-phase rollout, dubbed "Call Me Harry."
Call Me Harry is a seven-day event themed around the squad's latest leader, available for free to all Rainbow Six Siege players. Ubisoft frames the week as an early trial for Battle Pass implementation, helping fine-tune deployment ahead of the second "full-fledged" phase. Players can unlock a variety of cosmetics under Phase 1, with the final tier packing an exclusive Harry-themed weapon charm.
Phase 2 will debut under Season 4, alongside upcoming Kenyan and Indian Operators. The second wave splits into "free" and "Premium" tracks, with the former packing exclusive milestones (and rewards) for a fixed price. While Battle Pass pricing and availability remain unknown, we expect more in the weeks ahead.
Rainbow Six Siege Ember Rise updates and tweaks
The highlight of Operation Ember Rise lies with two new Operators and accompanying Kanal rework, but Ubisoft's next update also packs miscellaneous tweaks to your Rainbow Six Siege experience. We've wrapped up the essentials below, via Ubisoft's full Ember Rise patch notes.
Rainbow Six Siege picks up an Unranked playlist under Ember Rise, falling between Casual and Ranked. As its label indicates, the queue retains Casual's reduced stakes, but with a Ranked map pool and ruleset.
Top-tier players can soon surpass Diamond in Ranked, with a new numbered "Champion" title for those above 5000 MMR.
Ranked and Casual map pools once again see significant revisions, reducing from 14 to 12, and 20 to 14, respectively.
Operation Ember Rise marks the debut of an all-new Mira Elite skin set, alongside two limited-time weapon wraps with a South American theme.
Prepare for Operation Ember Rise
Rainbow Six Siege Ember Rise is expected to see an early September release, with the PC Technical Test Server (TTS) currently underway.
In the meantime, Rainbow Six Siege is now available for Xbox One, PlayStation 4, and Windows PCs, priced at $26 on Amazon.
Eyes on target
Tom Clancy's Rainbow Six Siege
Addictive, challenging shooter action

Ubisoft's hit shooter is hotter than ever, touting tense tactical gameplay, and regular free updates. With millions of players in 2019, Rainbow Six isn't slowing down.
Rainbow Six Siege accessories you'll love
HyperX Alloy FPS Pro Keyboard ($60 at Amazon)
The HyperX Alloy FPS Pro is a reliable mechanical companion, primed for responsive FPS gaming. It boasts strong build quality, the Cherry MX Red switches are snappy, and textured WASD keycaps accommodate shooter fans. It's an essential and affordable piece for any setup.
SteelSeries Rival 310 Gaming Mouse ($45 at Amazon)
This budget gaming mouse excels in performance, packing SteelSeries' leading TrueMove 3 sensor and comfortable in-hand feel.
AmazonBasics Xbox One Wired Controller ($25 at Amazon)
While Amazon isn't famed for Xbox One accessories, the mega-retailer's spin on Microsoft's own is ideal for budget gamers. It stows a lengthy cable, headset support, and strong grippy build quality ideal for everyday gaming.
Get the Windows Central Newsletter
All the latest news, reviews, and guides for Windows and Xbox diehards.
Matt Brown was formerly a Windows Central's Senior Editor, Xbox & PC, at Future. Following over seven years of professional consumer technology and gaming coverage, he's focused on the world of Microsoft's gaming efforts. You can follow him on Twitter @mattjbrown.