Razer Blade 1060 vs Dell XPS 15: Which should you buy?
By Cale Hunt last updated
Should I get the Razer Blade (late 2016) or the Dell XPS 15?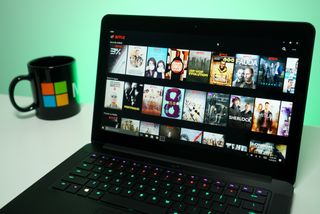 (Image credit: Windows Central)
Dell and Razer recently refreshed two of their laptops — the XPS 15 (opens in new tab) and the Blade 1060 (opens in new tab) — that are similar in size, appearance, and performance. If you've been waiting to upgrade your old laptop to something new and have one or both of these laptops in your sights, you're probably wondering which one is best. This is a showdown!
Specifications
The best way to get a quick look at the differences between two laptops is to compare their specs. For this comparison, we will disregard the Core i3 XPS 15 configuration as it doesn't have a GTX 1050 and doesn't exactly hold up.
Category
Razer Blade 1060
Dell XPS 15
Processor
6th-generation
Intel Core i7-6700HQ
2.60GHz
Quad-core
7th-generation
Intel Core i5/i7
2.50/2.80GHz
Quad-core
Display size
14-inches
15.6 inches
Display resolution
1080p non-touch
1800p touch
1080p non-touch
4K touch
RAM
16GB DDR4
2133MHz
8/16/32GB DDR4
2400MHz
Graphics
NVIDIA GTX 1060
6GB GDDR5 VRAM
NVIDIA GTX 1050
4GB GDDR5 VRAM
Storage
256/512/1TB PCIe SSD
1TB HDD + 32GB SSD
256/512GB, 1TB PCIe SSD
Battery
70WHr
56/97WHr
Wireless
Killer 1535
802.11ac
Bluetooth 4.1
Killer 1535
802.11ac
Bluetooth 4.1
Dimensions
13.60 x 9.30 x 0.70in
(345 x 236 x 17.8mm)
14.06 x 9.27 x0.45-0.66in
(357 x 235 x 11-17mm)
Weight
4.16lbs (1.89kg) Full HD
4.30lbs (1.95kg) QHD+
4lbs (1.8kg) FHD
4.4lbs (2kg) 4K
Ports
3x USB 3.0
HDMI 2.0
USB-C Thunderbolt 3
3.5mm jack
2x USB 3.0
SD card
HDMI 1.4
USB-C Thunderbolt 3
3.5mm jack
Price
from $1999

(opens in new tab)

from about $1199

(opens in new tab)
When it comes to the physical size of each of these laptops, the difference is minuscule. The XPS 15 does have a display that is larger by about 1.6 inches, but thanks to Dell's engineering wizardry, there is only about a 0.40-inch width difference in the chassis. Both laptops also weigh about the same amount, which is a big deal when you consider you're getting a 4K display and a larger battery in the XPS 15.
If you're shopping for either of these laptops, you're probably not as concerned with the size and weight as you are with the performance — each of these laptops boasts some impressive hardware.
NVIDIA GTX 1060 vs GTX 1050
For many of you, the deciding factor between these two laptops will come down to the graphics card. The Razer Blade's NVIDIA GTX 1060 has 6GB of GDDR5 VRAM, comes VR-Ready, and will run all current games on high settings without a hitch.
To be more precise, the GTX 1060 has twice as many CUDA cores, twice as many texture units, a larger memory bandwidth, and 2GB of extra VRAM. If gaming power is really what you're looking for, it will be the Razer Blade you want to go with.
See at Amazon (opens in new tab)
On the other hand, if you don't plan on using your laptop for intense gaming or for VR, the Dell XPS 15 is probably a better choice due to its significantly lower price. You can get a configuration with an NVIDIA GTX 1050 for about $1200 (opens in new tab) — this will do you well if you plan on using your laptop for photography, and will still be suitable for medium gaming.
See at Dell (opens in new tab)
Processor, RAM, and Thunderbolt 3
The XPS 15 is sporting the newer, 7th-generation Kaby Lake processors from Intel, but you won't find much of a difference when it comes to performance. Where you will see a difference, however, is in energy consumption. If you're someone who has to squeeze every last bit of juice out of their battery — travelers and those who work in the field — the XPS 15 (opens in new tab) will be the better choice. This is especially true when you consider the larger, 97WHr battery option that comes with 4K configurations.
When it comes to RAM, the XPS 15 also has the Razer Blade beat if you're looking for more than 16GB. You can grab 32GB of RAM straight from Dell, or, if you want to save a few bucks, you can grab less at checkout and add more later on your own. The RAM in the Razer Blade is not upgradeable.
Some of you have likely noted the difference between the Thunderbolt 3 port on the Razer Blade and the XPS 15, which might be a deal breaker if you plan on running external PCIe devices. The Dell XPS 15's Thunderbolt 3 port has x2 PCIe lanes, while the Razer Blade's port has x4 PCIe lanes.
This difference likely won't matter for the majority of people, but it's still important to note. To put it simply, if you plan on running an external GPU, you'll probably want to go for the Razer Blade (opens in new tab).
Display
One of the biggest advantages the Dell XPS 15 has going for it is the 15.6-inch, 4K touch display. Whether it's for editing or photography purposes, if you have your heart set on a 4K display, your obvious choice here is the XPS 15. Keep in mind that the overall size difference between the two laptops is minimal, so going for the bigger, higher-res screen won't really affect the mobility of your device.
See at Dell (opens in new tab)
The Razer Blade's touch option goes up to 1800p, which, for gaming, is pushing the resolution limits when paired with the GTX 1060 graphics card. Any higher, i.e. 4K, and you'll be forced to lower in-game video settings to a point where it's unplayable. If you want the absolute best gaming performance, grab the Blade with the 1080p display.
See at Amazon (opens in new tab)
Price
If the graphics card wasn't the deciding factor between these two laptops, it will probably come down to the price. To start, it's worth mentioning that XPS 15 configurations with an NVIDIA GTX 1050 GPU and a 1080p display start at about $1200 (opens in new tab). If you want the absolute cheapest laptop, go with the XPS 15.
When we start to match specs between the two laptops, the price difference becomes evident. A Razer Blade with an Intel Core i7 CPU, 1800p touch display, 16GB of RAM, and a 512GB SSD costs about $2300 (opens in new tab). A similar XPS 15, with an Intel Core i7 CPU, 1080p display, 16GB of RAM, and a 512GB SSD costs about $1700 — that's a price difference of about $600.
If money is no option and you want to game or use VR with your laptop, it has to be the Razer Blade. If you'd like to spend less on a more conventional ultrabook that can still power some medium gaming and is good for multimedia editing, the XPS 15 is the better choice.
TL;DR
If you want a quick answer as to which laptop to buy, it's best to pinpoint exactly what you're using the laptop for. If you're going to be primarily gaming on your laptop or you want a laptop for VR, grab the Razer Blade (opens in new tab). Its NVIDIA GTX 1060 graphics card offers considerably better gaming performance than the GTX 1050 found in the XPS 15.
On the other hand, if you'd like a more traditional ultrabook that can be used for photography and multimedia editing, the XPS 15 (opens in new tab) is the better option thanks to its larger, 4K display. Don't forget; the GTX 1050 GPU isn't exactly a slouch when it comes to mid-level gaming — it's just that the GTX 1060 beats it.
Want a second opinion? Check out Daniel Rubino's review of the Razer Blade. A review of the XPS 15 is coming at a later date.
Cale Hunt is a Senior Editor at Windows Central. He focuses mainly on laptop reviews, news, and accessory coverage. He's been reviewing laptops and accessories full time since 2016, with hundreds of reviews published for Windows Central. He is an avid PC gamer and multi-platform user, and spends most of his time either tinkering with or writing about tech.
If you want the machine primarily for gaming you shouldn't go for the dell xps. There has been reports of ghosting and I think you'll notice it alot. I have the dell xps 15 9550 with fhd display and ghosting is extremely noticeable. That being said, different people notice it more than others. So the dell might be ok for the type of gaming some may do.

Tbh, most people who plan to game seriously on a laptop would often buy a keyboard, mechanical or not, because most laptops, even my Dell Inspiron 15 7559 has ghosting problems.

What has the keyboard got to do with it? Ghosting is to do with the screen.

Keyboard ghosting is also a thing, look it up.

If only I had enough money laying around for this to be a problem for me.

So they are still using HDMI 1.4 in Dell XPS 15?

I cant go without a touch screen on a Windows 10 laptop.

While I can understand the comparisons based on thickness. I think spec wise, the Alienware 13R3 would make a better head to head against the Razer blade. The Alienware is .87" thick which isn't all that bad.

Yeah but these are much more premium looking devices so the comparison makes sense. The Alienware stuff looks very out there. Ha. Plus that's a 13" screen which isn't really comparable to these two.

Have you seen the new r3 version? They're alot more understated. I've been using a 13r3 with the oled screen option and it's been great this far.

Exactly! This is not good comparission as XPS is not gaming notebook.

I think both devices are great and have their right to be called premium class laptops. I'm exactly in the position to buy one of them since I've waited so long to buy one laptop but I somehow want the Razer cause of the metal housing and the better graphics card. Another point is also the resolution of the display. The only problem is that the blade isn't available for 3 weeks in Germany in the FHD version -.- Does someone know if they stopped producing the FHD version and waiting for CES to bring out kaby lake?

Can someone please explain to me why a serious gamer will buy a laptop for gaming? Won't you get far better performance for every dollar in desktop? Don't gamers invest ton of money in peripherials like high end mouse and keyboard? Why limit yourself to 15" laptop screen instead of enjoying 34" ultra wide screen? The only advantage I see for a laptop is portability, but gaming laptops are far less portable than ultrabooks - battery life is very limited, and they are heavier and thicker. And besides, as a gamer, you don't want to worry about battery, right? Gamers usually have long sessions of gaming where they are stationary - Why do they care for portability? So what is the deal with gaming laptops? Why gamers want those so much and opt to go with a gaming laptop instead of a high end desktop?

You answered your own question, portability. First, these aren't necessarily just for gaming, look at them as desktop replacements. It's pointless to say that ultra books are more portable, as they fill a different need.... Mobile phone are more portable than ultra books, so what's the point of ultra books?

Point taken. disregard the comparison to ultrabooks. However, as I said, I don't understand why gamers care for portability. It's not like you can game for long hours using a high end laptop. the best one will give you what, 4 hours on full charge? And why would you care so much for it? Gamers now have a lot of short gaming sessions? I mean, if you game for hours, you would probably do that at home...

First off, I doubt anyone games on battery. A desktop is a better option in general, but you're assuming everyone can game in the same room all the time, If you have to travel for any reason a laptop is a much easier option than a desktop... I can only imagine the hell of trying to get a full PC on a plane would cause. Students are another example of people who might not even have room for a full desktop... Plus it's again much easier to transport if you're going home for a short time. And like I said, not everyone uses these for gaming, they can handle all kinds of high end computing.

Not this again... It should be very obvious. Why get a sports car when a speed bike can go 0-60 much faster?

Your pricing for the XPS 15 is wrong. It will cost $2,000 for a 4k screen with a GTX 1050, 16GB RAM, and a 512GB SSD. I think you were looking at the $1,700 version which has the 1080 non-touch display. So now the price difference is only $300 for twice the graphics power, full TB3, and a sweet keyboard...but with a not-as-great-but-still-good screen, half the battery life, and no way to upgrade the RAM.

How much is Dell paying for the constant coverage. Of all the PC vendors, Dell is the garbage of the bunch so I don't get the constant coverage of their junk machines.

What he said...owned the xps15 for a year, worst pc I've ever had. 4k screen shows off the constant BSOD nicely, major audio/video issues that get fixed/broken repeatedly with each update. My screen died, battery swelled and needed replacing and replacement battery suddenly died completely just after warranty expired and crappy support is no help. 20 years of owning Dell's and I'll never waste my money on one again.

I love my Gigabyte Aero 14. Cheaper than the Blade, still has the 1060, and an amazing battery life. Probably one of the best laptops in my opinion; I wish it would get more coverage.
Windows Central Newsletter
Get the best of Windows Central in in your inbox, every day!
Thank you for signing up to Windows Central. You will receive a verification email shortly.
There was a problem. Please refresh the page and try again.