6 reasons to buy Dell XPS 15 9570 and 2 reasons to pass
The new XPS 15 9570 is truly one fine device, but there are some things to keep in mind.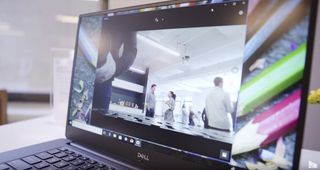 With the refresh of its XPS 15 lineup, Dell has brought us a 15.6-inch laptop that manages to cram inside a ton of performance hardware without getting bulky or too heavy. It's mostly the same great XPS design and build, slightly refined again for the modern laptop user. It has a lot going for it, but there are a couple of reasons you might want to consider other options.
Let's take a look at both sides of the argument to help you make a final decision.
Reasons to buy Dell's XPS 15 9570
There are lots of good reasons to invest in the XPS 15 9570.
Dell XPS 15 starts at a relatively cheap price
Dell is generally quite accommodating when it comes to configurations for its laptops, and the XPS 15 is no different. You can mix and match hardware as you see fit ― as long as it remains compatible ― and there are high- and low-end models that cost accordingly.
The basic, bottom-of-the-line XPS 15 starts at about $1,000, and it comes with the hardware you'd expect for the price. A quad-core 8th Gen Intel Core i5-8300H processor (CPU), 8GB of DDR4 RAM, and a 1TB SATA hard-disk drive (HDD) are nothing to balk at, and you're still getting a crisp non-touch 1080p display. If you just want something that looks nice and comes with a warranty, this will do.
A word of warning, though: unless you really only need a laptop for word processing, web browsing, and other light activities, spending an extra $400 for a mid-range model will get you a lot more power. For about $1,400, you're getting a six-core 8th Gen Intel Core i7-8750H CPU, 8GB of DDR4 RAM, a 256GB PCIe solid-state drive (SSD), and an NVIDIA GTX 1050 Ti graphics card (GPU) with 4GB of GDDR5 VRAM. If you're interested in some gaming or multimedia editing, you'll find no comparison between integrated UHD Graphics 620 in the baseline model and the dedicated GTX 1050 Ti.
Dell XPS 15 has a GTX 1050 Ti GPU
Speaking of that GPU inside, the GTX 1050 Ti with 4GB of GDDR5 VRAM is quite the powerhouse for a lower-end NVIDIA product. If you're interested in a laptop that can handle a day's work and also have the power to run some popular games in the evening, the XPS 15 will be a good fit.
Most modern esports titles ― games like League of Legends, CS:GO, and Rocket League ― will run fine on the GTX 1050 Ti, and you can even get into some games with higher requirements … as long as you don't mind lower frame rates. You also can't expect it to offer up a quality 4K gaming experience. If you choose an XPS 15 with the higher-res display, be ready to stick with 1080p while gaming. As for multimedia editing, the GTX 1050 Ti will put up a good fight, but larger GPUs, especially in a full-sized PC, are still in a different league.
Dell XPS 15 is available with a 4K display
The XPS 15's 15.6-inch display sits in a body that's built for a 14-inch display, mostly thanks to a near bezel-less design. At first glance, it almost seems like the display stretches from edge to edge, and it's not far off. While the cheaper XPS 15 configurations are only available in 1080p, the higher-end models also have a 4K touch display option.
For anyone who thinks the display is at the top when making a laptop checklist, you'll find it hard to be disappointed with the XPS 15. You're looking at a 1500:1 contrast ratio, 100 percent AdobeRGB color accuracy, and an anti-reflective finish to cut down on glare. Sure, it will drain the battery faster, but it will look stunning in the process.
Dell XPS 15 has superior processing power
Not only is the XPS 15 now available with Intel's new six-core 8th Gen Core i7-8750H CPU with a clock speed up to 4.1GHz, you can also choose to go with the 8th Gen, six-core Intel Core i9-8950HK with a clock speed up to 4.8GHz.
Either of these CPUs offer up a ridiculous amount of power, and those six cores let you handle a lot of simultaneous tasks. If you feel like you might be working across a lot of programs and apps at the same time, the XPS 15 has the processing hardware needed to keep up.
Dell XPS 15 has a good mix of ports
We're kind of in a weird time for PC ports, with USB-C and Thunderbolt 3 looking to take everything over, while most of our peripherals still uses older methods of connectivity. A lot of slim laptops now ship with two Thunderbolt 3 ports, a 3.5mm audio jack, and not much else. If you don't mind hauling around a small bag of adapters and dongles this isn't much of a problem, but some people also prefer to just have the ports required built right in.
If you're one who likes a lot of ports, the XPS 15 has kept a decent mix of old and new. You're still getting two USB-A 3.1, one HDMI 2.0, an SD card reader, and a 3.5mm audio jack, but there's also a Thunderbolt 3 port with four lanes of PCIe for optimal performance. Hook up a Thunderbolt 3 docking station and turn your office into a battlestation, or connect an external GPU for way more graphics power.
Dell XPS 15 is relatively mobile
The idea of carrying around a 15-inch laptop everywhere you go was once shudder-inducing, especially for those who like to get to work under their own power. You can still find plenty of back-straining laptops out there (mostly in the gaming sector), but most Ultrabooks are getting to the point where you wonder how everything fits. The XPS 15 is no exception.
The chassis is better sized to fit a 14-inch display ― one with large bezels ― and the entire thing is between 0.45 inches and 0.66 inches (11 mm and 17 mm) thick thanks to the wedge shape. Models start at four pounds (1.8 kg), but that's for a non-touch display and smaller 56Whr battery. Most will experience the 4.5 pounds (2.0 kg) of the larger battery and 4K display, which still isn't awful. Something like the LG gram 15Z980 still blows it out of the water at just 2.41 pounds (1,095 g), but that's without a dedicated GPU inside.
Reasons not to buy Dell's XPS 15 9570
There are also a couple of good reasons you might not want to purchase an XPS 15 9570 right now.
Dell XPS 15 webcam is at the bottom of the display
I understand that the lack of bezel around the display makes it difficult to fit a webcam above the screen, but year after year the "nosecam" is an XPS complaint. It's true that not a lot of people use their webcams, even on a monthly basis, but those who do use the XPS 15 cam frequently might want to consider also investing in a pair of nose-hair trimmers.
Most of the time the camera will be looking up at you, delivering an unnatural angle that, yes, looks almost straight up your nose. In the grand scheme of things it's not really that big of a deal, but beware if you hate being caught in an unflattering light. To get around this problem, check out our roundup of the best webcams available for Windows 10 PCs .
Best webcams for Windows PCs in 2018
XPS 15 9570 looks a lot like the 9560
On the subject of Dell keeping the nosecam, the rest of the XPS 15 9570's exterior really hasn't changed much over the last-gen 9560. Sure, with the newer version you get a couple of updates to ports, new CPUs, and a better GPU, but setting both versions next to each other might cause more than a few people to scratch their heads and wonder which is which.
Compared to the XPS 13 9370's recent update that brought quite a few changes, both inside and out, the XPS 15 has played it relatively safe. If you don't need the extra power from the Ti version of the NVIDIA GTX 1050, don't need a six-core CPU, and don't need a Thunderbolt 3 port with four lanes of PCIe, you can probably find a great deal on an XPS 9560 as retailers attempt to make room for the new models.
See XPS 15 9560 at Microsoft Store
Bottom line
The Dell XPS 15 9570 has a lot going for it, including speedy six-core CPUs, a GTX 1050 Ti GPU, plenty of configuration options, and a beautiful 4K display. For most people, that's enough to tilt the scale one way, but you should still consider the facts that the webcam placement is an annoyance and you can probably pick up a similar XPS 15 9560 for hundreds less as retailers try to blow out stock.
Get the Windows Central Newsletter
All the latest news, reviews, and guides for Windows and Xbox diehards.
Senior Editor, Laptop Reviews
Cale Hunt is formerly a Senior Editor at Windows Central. He focuses mainly on laptop reviews, news, and accessory coverage. He's been reviewing laptops and accessories full-time since 2016, with hundreds of reviews published for Windows Central. He is an avid PC gamer and multi-platform user, and spends most of his time either tinkering with or writing about tech.