Windows Phone Red Stripe Deals: Farm Frenzy 2, Drawastickman: Epic, and Jack of Tools Pro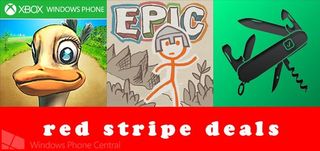 Along with late notice of this week's new Xbox Windows Phone 8 release Angry Birds, we also missed out on advance notice of the Xbox Red Stripe Deal of the Week this time out. Hey, sometimes the crystal ball gets fuzzy, or somebody swipes it and leaves you with a plain old Magic 8-Ball. We'll do our best to swipe it back real soon.
The important thing is the Red Stripe Deals are on sale right this minute! This time Xbox game Farm Frenzy 2 from Alawar headlines the week's three discounts, down from $2.99 to only 99 cents. It went on sale once before back in May 2012, but for $1.99, so this time makes for a better deal.
Read on for an in-depth look at Farm Frenzy 2, plus links for its fellow sale game DrawStickman: Epic and the Jack of Tools Pro app!
Animal Farm 2000
Farm Frenzy 2 tells the tale of a bunch of talking animals who give communism a chance only to find out that bullies always spoil the utopia. Err, actually it's the only Xbox Windows Phone entry in the long-running Farm Frenzy series, which has seen many spin-offs on other platforms and a single non-Xbox follow-up called Farm Frenzy 2: Pizza Party. Yes, really!
Alright, Farm Frenzy 2 is an agriculturally-themed time management game. Technically that's the same genre as Sally's Salon and Jet Set Go, but this game has more in common with the Windows 8 Xbox game Port Royal 2. In other words, you're not just trying to maintain a happiness ratio like in many other games.
Instead, levels present very specific goals and the player has a fair degree of latitude in reaching those goals. Or maybe I should say, there's a lot of stuff you can try, but only one or two specific strategies will work on the harder levels. So discovering those strategies (or following a guide) is essential to victory, or at least getting the best rating on every level and unlocking all the Achievements.
Farm life revealed
But what's it actually like? Well, you goal is generally to produce a set number of certain resources. To do that, you'll have to harvest the meat, milk, feathers, and other products that your animals in the middle of the screen produce.
Then send those materials to the proper building for processing. You can sell the resulting product at market or process it further in order to make more complex goods such as frozen meat. Sounds complicated, but the game introduces new buildings and materials at a very gradual pace over its 90 levels.
On top of those goals, you'll also have to keep your animals alive. You do this by planting grass for them to eat, which of course requires drawing water from the well at the top of the screen. But the farm is also constantly onset by bears for some reason. These burly beasts kill any animals they touch, so players must quickly cage and sell the predators before they turn Wilbur into dinner.
Read our review for more details.
Farm Frenzy 2 is on sale for 99 cents for one week only. It's an 18 MB download and works on both Windows Phone 7 and 8. Get it here at the Windows Phone Store, because those crops aren't going to harvest themselves!
DrawaStickman: Epic
Here's a clever little adventure/puzzle game (whose title really needs spaces between words) in which you start out by drawing your own character. Then you'll enter a storybook in which every page presents new puzzles to solve. Our own George Ponder looked at DrawStickman in a review back in March and came away fairly impressed.
DrawaStickman: Epic runs on both Windows Phone 7 and 8 and is a 34 MB download. It regularly sells for $1.99 and costs 99 cents this week only. Get it here from the Store.
Jack of Tools Pro
A handy set of 10 utilities including flashlight, compass, level, and all that kind of stuff. Everybody needs some kind of app like this. Check out George's review for a more thorough breakdown.
Jack of Tools Pro runs exclusively on Windows Phone 8 and clocks in at 4 MB. Its sale price is 99 cents, down from $1.99. Get it here from the Store.
Thanks to Marcel at InsideGames.Ch for the Farm Frenzy 2 tip and Paras Valecha for pointing out the other deals!
Get the Windows Central Newsletter
All the latest news, reviews, and guides for Windows and Xbox diehards.
Paul Acevedo is the Games Editor at Windows Central. A lifelong gamer, he has written about videogames for over 15 years and reviewed over 350 games for our site. Follow him on Twitter @PaulRAcevedo. Don't hate. Appreciate!