Revamped Xbox One home screen layout coming soon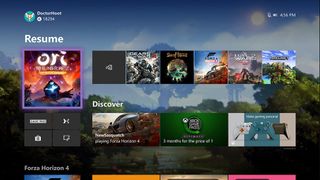 What you need to know
Microsoft continues to update the Xbox One interface.
Today, the firm announced a new home screen layout for the console.
It's rolling out to select Alpha and Alpha - Skip Ahead members of the Xbox Insider Program this week.
Expect a wider rollout in the months ahead.
Updated July 24, 2019: Microsoft clarified that the Xbox One's built-in non-Cortana commands will still work, like "Xbox On" and others. Only Cortana is being removed. Xbox's Harrison Hoffman confirmed this.
"Xbox, on" style commands, via the Kinect, are still supported."Xbox, on" style commands, via the Kinect, are still supported.— Harrison Hoffman (@harrisonhoffman) July 24, 2019July 24, 2019
Ever since the Xbox One launched in 2013, Microsoft has continued to iterate on the software. While it was initially slow and quite buggy, now it's stable and packed with features. Despite the fact that the company's next console, Project Scarlett, is coming out in Holiday 2020, that hasn't stopped the team from working on the Xbox One.
Today on Xbox Wire (opens in new tab), Xbox Insider Team Lead Bradley Rossetti said that a new home screen layout is coming to the console, along with updated voice commands. The new layout looks sleek and should speed up the interface. You can read about all the changes below.
Home Screen
It's great to see that the home screen is getting transformed. However, there are other changes coming to voice commands. Cortana will live in the cloud from now on, so you won't be able to talk to her through a headset or Kinect. Instead, you'll have to use the app or Xbox Skill for Cortana for Amazon Alexa devices.
Voice Commands
While the home screen layout will probably receive a thunderous response, many gamers may not be happy with the fact that Cortana isn't directly accessible on their consoles. What do you think of these changes? Let us know.
Xbox
(opens in new tab)
Main
Xbox accessories you'll love
Every one of these quality accessories is guaranteed to enhance your Xbox experience.
PowerA Enhanced Wired Controller for Xbox One (opens in new tab) ($20 at Amazon)
PowerA's take on the Xbox One controller is an attractive pickup for budget-conscious gamers that nails all the basics.
Talon PDP Xbox media remote (opens in new tab) ($20 at Amazon)
The Talon PDP Xbox media remote is great for watching shows on your console.
Xbox One S vertical stand (opens in new tab) ($10 at Amazon)
Stand your console upright with this accessory.
Asher Madan handles gaming news for Windows Central. Before joining Windows Central in 2017, Asher worked for a number of different gaming outlets. He has a background in medical science and is passionate about all forms of entertainment, cooking, and antiquing.
I like the idea of Cortana not listening directly on the Xbox, because I have an Invoke speaker sitting right next to me and Cortana on the Xbox tends to incorrectly pick up commands quite often.

Can't you do a pass through with an optical cable? Edit:
Strike, that looks like the invoke speaker has no optical connections.

I'm with you on that. "Cortana, turn on the lights" Lights and Xbox turn on. :-\ Although I'm little troubled that they didn't mention the Xbox Skill on the Invoke as well...
Edit: nevermind, they did. As long as I can still use my Kinect.

This console's UI has gone from bad to worse to insulting to unusable. Now the f*cking ads are put front and centre!
You pay 500€ for a freaking console and you're STILL spammed with ads.

These are not just ads in general like Google spams us with all the time. These are ads about games and xbox services that are links directly to them so they are easier to access (and for some ads, to buy). I don't have a problem with it. I also think the UI is faster most of the time than it use to be (and we have an original Xbox One). They need to let you cram more on a screen at one time if you want however.

they're still ads dude. And that's also AFTER paying JUST to play online lol

Agreed. They need to put games and content I own or use front and center. The ads are Not ok

And ad is an ad.
It's irrelevant what it promotes. Google's ads are as irrelevant as these, specially if you turn off their ability to collect data to target relevant ads to you. I have a problem with:
1 - Paying an exorbitant amount for a console
2 - Having to pay extra for multiplayer
3 - AND STILL being spammed with ads. The place where those ads are should be used to display your pins for example. You know, quick access to some games or apps you want. Instead you have the recents on top and then pointless ads. And if you want to access your catalog, you have to go dive into a sub-folder away from your home screen. It makes no sense.

Honestly I think you are right, I think Pins should be directly below the recent apps. Regarding ads, I personally don't mind if they advertise Game Pass or Xbox Live Gold on the main page, however, that's it. And if someone has those services then what was an advertisement is now a link to Game Pass games to download, or Games with Gold respectively. I personally, think that is a tasteful way to approach it, they're still trying to squeeze more money out of people, but not those who have dropped the extra dollars already.

While I did disagree with your initial complaints about the previous update and the ads, I do have to agree that three of them is excessive. I do like having a store link right on the front screen so I can know the current sale special or the free games, but do we need 3 of them? I think there is a balance that almost NEEDS to be there. Remember not everyone goes, or even knows to go to, the store tab, so there needs to be something to get traffic there. Hell, even I only go there based on an ad. I think for this reason these ads will never disappear completely. I don't however need a freaking controller ad. Save that crap for the store page, and DON'T YOU DARE give me a third party ad unless there is some kind of contest tie in. All that being said, I do like the new layout. If we can push that discover section down, that would make it even better.

"Instead, you'll have to use the app or Xbox Skill for Cortana for Amazon Alexa devices." Booo.

The Day One Xbox One UI and UX was infinitely better than this. They ruined things in 2015 with the New Xbox One Experience revamp, and they've done nothing since then but exacerbate things, continually tweaking things that don't need tweaking, forcibly removing features that consumers made purchasing decisions based on. They deserve a class-action lawsuit against them. Everything they've done in the past 6 years to nerf the Xbox One console makes me less and less likely to ever buy an Xbox console ever again. What a frustrating experience as a consumer. It's 2019--six years after the console launched and one year before its replacement comes; it's not the time to be stripping away features. Actually, it was never that time.

Yeah, I completely agree. The original UI was far better than this.

I don't think I can agree. I've gotten used to the ui as it is now and looking back, favor it a lot. I practically live in that left side menu. I rarely have to go to the home screen for anything, reminds me of the 360 mini guide. Its far easier for me to get to things I need on a typical day then the original ui. Plus, accessing anything while in a game is far better too. So yeah, I don't see the step back like you guys are suggesting. Still, to each their own.

Cortana is not dead and have a very bright future.

just not on xbox. maybe the beta app will come to xbox. hahaha

The new UI looks nice. The changes to Cortana sound dumb and just add an additional hoop to jump through to use her instead of just talking into your headset. It should be a toggle to use either a headset or an app if anything.

Anybody know if the non-Cortana voice controls will still work after the update? I mean things like "XBox On" that have been supported via the Kinect from day 1. The wording makes it sounds like they're removing these commands too.

They'll still work, only Cortana is being removed.

Im sad to see cortana go. I had hope for this tech. If It could have been used one day to remind us when certain shows were on via the tv section. or maybe to be able to scedual downloads or download times. or say cortana pause all downloads. so you can play a game. or vice versa resume all downloads. They totally fed the ball on this one. with what could have been done. If I wanted an assistant on my xbox it should have been able to do things to make my life on xbox better.

It really is strange so see so much space being used for ads vs the space used for the stuff that you own. The UI looks like a digital store. Crazy...
Also I'm surprised to see they killed Cortana. I don't follow too much MS news so I'm surprised about this. They killed off Kinect and now Cortana. MS also kills products... On the plus side the UI looks really fast and responsive.

great, are we FINALLY going to be able to pin things to the home screen??
Windows Central Newsletter
Thank you for signing up to Windows Central. You will receive a verification email shortly.
There was a problem. Please refresh the page and try again.