Review: Dell XPS 11, this could be the Surface Pro's closest competitor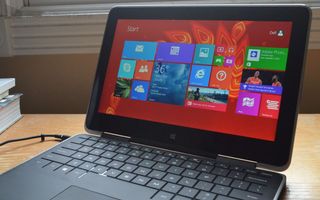 When we first heard of Dell's XPS 11 2in1 Ultrabook, it was a case of uncertain identity. A seemingly impossibly thin Windows 8 device made possible by including a touch sensitive keyboard in substitution for a standard mechanical one. Dell's website told us it was an "Ultrabook", but Dell Public Relations insisted it was a "tablet first".
Whatever it may be, we sat down with it and we are quite impressed, but it all depends if you are looking for a tablet or a notebook.
See At Amazon (opens in new tab)
There is no other way to say it then Dell pulled their latest XPS 11 out of a time machine. The XPS 11 is a jaw drooping beautiful unit that deserves to be sitting on the desk in Steven Spielberg's Minority Report with Tom Cruise.
Form
The lid of the unit has Dell's, now familiar, carbon fiber style design. While the carbon fiber print is flat, the surface can play tricks on your eyes when the unit is in bright light; at times the print seems to lift from the lid in a holographic manner. The center of the lid holds a shiny metal Dell logo, which now seems to grab your attention like that of a prestigious emblem on a luxury car. To create a sense of depth, Dell has left the top most part of the lid void of any design prints – a simple, yet, elegant touch.
The sides of the unit are wrapped in cool metal band. Unlike some of Dell's previous laptops that had faux metal bands surrounding the edges, this is the real deal and not only looks great, but also feels superbly crafted to the touch.
The Dell XPS 11 has also kept its side ports simple, but we feel that all of the essential desires will be there for the average user. The front edge is represented simply by its metal band and has a single power button to turn the unit on. As we handle more and more 2-in-1 machines, we notice that manufactures are putting their power buttons in more convenient locations, for when users are in tablet mode. The modern clean front edge of the unit is balanced almost symmetrically with the completely clean back edge of the unit.
If you are interested in ports, you will want to turn your attention to the left and right edges of the unit. The right side of the unit is home to an A/C adapter port, powered USB port, HDMI out, and a standard 3.5mm combination headphone jack. The left side of the unit is home to a Kingston lock port, a second powered USB port, and an SD card reader. Each side also houses a single thin stereo speaker under discrete metal grills.
Of course, since the unit's main unique feature is the touch sensitive keyboard, things begin to get most interesting once you open the lid. The metal bands that we saw surrounding the edges of the unit become ever more prominent, as they wrap inwards and surround the entire bottom and top halves of the inside of the unit.
Before we jump to the keyboard, let us talk about the display – it is nothing to glance over. The unit's 11.6-inch screen is covered in Corning Gorilla Glass NBT, which is a new product that is up to ten times more scratch resistant than regular glass. You will want to keep that screen protected too, as it has a stunning QHD resolution of 2560 x 1440. Not only is the screen high resolution, it is also bright; the screen is advertised to be 400-nit brightness and using the machine makes the difference evident.
Dell has also kept the interior of the unit extremely clean and devoid of any of its logos. The only marking you will find on the inside of the unit is the Windows logo, which sits under the display and serves as a shortcut to your Windows 8 Start Screen.
Once your eyes have stopped admiring the gorgeous screen, they will eventually slide down to the bottom interior half of the entire, and that is where both the touch sensitive keyboard and touchpad sit.
I am sure you want us to talk about the keyboard now, so instead let us talk about the touchpad and keep you waiting just a bit longer. The touchpad has a graciously large surface area that almost dwarfs the touchpad on my Lenovo YOGA 2 Pro. We found the touchpad to perform well with regular navigation and gestures that are more complex; the buttons were also found to have a nice, yet slightly shallow, click to them.
All right, let us talk about the touch sensitive keyboard. If you have used one of Microsoft's Surface Touch Covers, then you should be very familiar with what we are about to describe, but if not, here is a brief idea of Dell's approach. In order to achieve a thinner profile for the unit and also to avoid having keyboard keys on the back of the unit when it is flipped into tablet mode, Dell decided to include a flat keyboard that has no depth at all – not a bit. Instead, the keyboard uses touch sensitive keys to recognize when you finger has made contact.
For some, this style of keyboard is simply not a viable option, but for others – it can usher in a new world of use scenarios. If you have never laid your hands upon a Microsoft Touch Cover, then it is hard to understand the experience at hand (pun intended). We are going to make our best effort to compare the Dell XPS 11 keyboard to the Microsoft Surface Touch Cover and we hope that it will help you in your shopping endeavor.
We will start by saying this – if you enjoy using the Microsoft Surface Touch Cover, then you will most likely enjoy Dell's variation. Compared to the Touch Cover, Dell's keyboard keys are farther spaced apart and are more on par with the average key spacing found on a regular laptop. The biggest difference that is noticeable is the way in which the keyboard itself detects key presses.
The Dell XPS 11 is very similar to the first generation Touch Cover in the sense that each key only senses pressure directly on top of it. The new second generation Touch Cover has the ability to predict key presses when your finger lands between two keys – this is not the case for the XPS 11. Overall, we do not see it being an issue as the keys are spaced nicely apart from one another.
In an attempt not to be biased because of the fact that I use a keyboard for longer portions of the day, and thus am extremely critical of my typing surface, I have turned to a random stranger next to me at Starbucks. After talking to him for about twenty minutes and getting his verdict on the keyboard – "he really likes it". So there you go a comment from an average consumer. Now back to the newsroom…
The entire keyboard and palm rest are made from a rubber silicone skin. The texture is comfortable to rest your palms upon when typing and we enjoyed the fact that we were able to clean the keyboard in a few seconds by wiping it down with a sponge – no more crumbs in-between the keys!
Before we dive into talking about the performance of the unit, let us try to address the unknown identity crisis that this unit seems to face. We personally side with the Dell Public Relations team in saying that it is a "tablet first", but also agree that is technically an Ultrabook. We feel that most users who eye the unit will do so because of the excellent tablet form factor. That being said, this argument also appears when talking about Microsoft's Surface, so it is a point that we feel is best left up for the user to decide.
Function
Dell's XPS 11 Ultrabook starts at $999 with an Intel Core i3 processor and 80 GB of storage. Also available is a Core i5 unit with 128 GB of storage for $1,249 and a Core i7 unit with 256 GB of storage for $1,449; all units include 4 GB of RAM, Intel's HD Graphics 4200 and the QHD resolution display.
The unit that we received is the middle variation with an Intel Core i5 processor, 4 GB of memory, and a 128 GB SSD. We consider the Intel Core i5 processor the perfect processor for the average everyday user – not an overkill in terms of power and usually able to get the full job done when needed. We would recommend staying away from the cheaper Core i3 processor, unless you are planning to use the unit for basic tasks such as playing games from the Windows Store, using Microsoft Office, and browsing the web.
Since we review so many units with Intel's Core series processors, we do not tend to go into extreme detail of the performance of each machine, as they are quite honestly the same. If you are eyeing the Core i5 variation with 4 GB of RAM that we have, we will verify that the unit does in fact run smoothly and will be suitable for even light Photoshop work and video rendering.
Dell claims that their impressive little unit will pull in almost nine hours of battery life. We found that the unit lasted around eight hours while surfing the web. Quite an impressive foot for such as small unit and its 40 WHr battery.
We were quite surprised with the lack of "crapware" that Dell preloaded onto the system. Not so long ago, Dell sat as one of the companies that loved to bury their users in software trials, but it seems they have changed – at least on their XPS line of machines.
The Dell XPS 11 that we received had essentially no "crapware" software installed onto it. Pinned to the Start Screen you will find Intel's Experience Center, Dell's Shop, My Dell, and PocketCloud. We could do without PocketCloud, as it is Dell's cloud solution and we would simply prefer to go with Microsoft's OneDrive that comes built into the operating system. Luckily, the software is not actually setup, so you can remove it right away and it will not leave a trace.
On the other hand, we love Dell's "My Dell" software that comes preloaded. The software has your Service Tag and warranty information available at the push of a button, along with the ability to keep a close eye on driver updates and system maintenance. While Windows 8 does push many driver updates through the optional section of Windows Update utility, the "My Dell" software is a great solution to make sure you get the drivers as soon as they are available.
So, what can one expect when living with Dell's XPS 11? The experience is quite a nice one, but it seems to be suited better towards a specific style of user. The device functioned as a great tablet and was extremely comfortable and light to use in bed or on the couch. Every night, I tend to snuggle up to the television with my tablet to play some games and the Dell XPS 11 certainly serves the job well.
It is also worth noting that the Dell XPS 11 is a bit of a multimedia monster, something I did not expect at all from this unit. In addition to the machine's beautiful display, the speakers throw out some impressive sound. It seems to break the laws of physics – such a small machine with insanely loud speakers and bass, but it certainly does turn heads.
It took me only a few hours to get used to typing on the keyboard, but even at the time of this review, I do not find myself beating my mechanical keyboard typing speed. I found the combination of a touch sensitive keyboard and 11.6-inch screen to work perfectly fine for typing up news articles and working an hour or two. After a few hours though, I sincerely wanted to jump on a larger monitor and hear the clicks and clacks of my mechanical, Das Keyboard. Once again, since I write much more than the average person – the college student should easily be able to output an essay and the businessperson should easily be able to output a large collection of emails.
Conclusion
It is difficult not to use the unit and see it as a direct competitor to Microsoft's Surface Pro 2. For $999, either you can grab a Microsoft Surface Pro 2 with 128 GB of SSD storage, 4 GB of RAM, and an Intel Core i5 processor, or you can grab a Dell XPS 11 with 80 GB of SSD storage, 4 GB of RAM, and an Intel Core i3 processor. This makes the Dell XPS 11 appear a few hundred dollars above Microsoft's Surface Pro, but one must remember to add the $100+ keyboard to the unit. Overall, Dell's XPS 11 will still be a bit more expensive, but there are tradeoffs to each system
While the Surface Pro 2 will provide you with a stylus and wide array of custom accessories, the Dell XPS 11 will provide you with a much higher resolution display, slightly larger screen, and a slightly longer battery life while on the go.
We loved testing out Dell's latest toy, but it is not the perfect device for everyone. If you are not a fan of Microsoft's Surface Pro with Type Cover, then you probably will not be the biggest fan of the XPS 11. On the other hand, if you have a deep love for the Surface Pro, but simply want a bit more similar options to sift through – the Dell XPS 11 is a possibly, although an expensive one. You can find more information on ordering the Dell XPS 11 here at Dell's website. (opens in new tab)
See At Amazon (opens in new tab)
Get the Windows Central Newsletter
All the latest news, reviews, and guides for Windows and Xbox diehards.
Thinking of buying one, that screen is so amazing!

It looks nice but its still a dell. Lol I will stick with surface :)

Can't agree more. Dell has simply never made a good PC. All crap, all the time.

I find Dell as the best pc ever. Has amazing battery life compared to my Sony VAIO.

Dell makes decent computers, but most people go with the cheaper options and for the most part you get what you pay for.

I think hp produces better machines than dell, and they are not cheaper than them. when I bought my laptop, there was roughly $150 difference for same specs! I personally think in contrast to hp, dell lacks that punch you get from a brand new or even a year or two old PC. I'm not so sure about the SP2 as I don't have one but it sure looks like a speed demon.

I've had problems with every HP I've ever used (owned or not). I've never had problems with a dell. You get what you pay for and if it costs $150 more for the same specs, its worth it. I do actually wish they had an option to make it $200 more and give you a clean install of windows for the extra $50. It would be cheaper than buying a copy of windows, I wouldn't have to waste the time to do it myself, and I doubt they are getting $50/machine to install bloatware. Its win/win

Drewidian is exactly right. Dells are great, but you have to pay enough to get a quality machine. If you buy the $300 Inspiron you won't get a good experience, but buy a $800 Latitude and it's great. Common sense, really.

I've had the biggest problems with their most expensive options. High spec laptop that basically disintigrated and a quad core xeon that had some kind of issue where it ran like a single core P4.

EXACTLY! Most people over gereralize opions based on a limited scope, especially with technology... They buy cheap, hate it, then say the brand sucks... Even worse, their limited knowledge/ect, break/misuse/abuse the dog on devices and then blame the brand... I usually buy dell business and personally. Latitudes and XPS are best overall, but have I have a couple precision laptops as well. I have also had the inspiron E1505 and 620 (laptop/desktop) which never had an issue... Don't get me wrong... I have have seen plenty of junk from dell, acer, and espcially HP which i will not buy... Most consumer junk people buy from the retail stores... Price does not always mean good or bad computer expericence... But and ignorant end user is trouble EVERYTIME!

This. Correct. Cheap Dells are every bit as bad as cheap units from other companies. Need to get into the middle tier to see better component quality and overall quality.

I'm guessing you have never used one of their business class machines. The Latittudes and Optiplexes are great. Around here, they last about 5 years with constant hard abuse. Yes they've had some issues (a rash of bad capacitors in Optiplexes), but they stand behind their business PCs and provide next business day on site support.

+1 to this post. Also, this article has reminded me to pursue my supplier for a trial of this device.

In native english too. As a former business customer I've never once heard indian-english. I wouldn't know about personal though.

+1 to this as well. All my desktops at home are Optiplex systems, my server is a PowerEdge and laptops Latitudes. Also have a Dell Venue 8 Pro tablet which is great. The only non-Dell machines in my residence are Surface tablets and Nokia phones.

Never is a pretty definitive word. It simply isn't accurate. They are on par with pretty much every competitor, frankly. They have higher visibility due to market penetration from its glory days, but they do make some good stuff. The key word being -some-.

Totally don't agree with that.

I would have agreed with you about a year ago, but dang, since going private they have been cranking out some solid machines. I've never liked a piece of tech more than my Venue 8 Pro.

Mandatory Dell Suck link - http://en.community.dell.com/support-forums/laptop/f/3518/p/19497269/20575913.aspx Selling machines that are known to be defective for more than a year with terrible customer support and no fix in sight

Ok, so you have all collectively figured out that you can get a crappy computer from both Dell and HP and they both sell some good ones too. Got it

You can get crappy computer from anyone but we have figured out that Dell are dysfunctional (cannot communicate internally), have crappy support, and are knowingly selling broken hardware. I really don't know if HP do any of that.

Man, you are an old school rumor monger type from back in the Windows 98 days. No way would Dell be in business if they are what you think they are. I've owned 2 Dells and this Venue 8 Pro and in my experience, they have always had stellar support.

I have an XPS L501x and since I bought it in December 2011 it has almost always been either sleeping or on. Barely hibernate it or turn it off. The power adapter went, the hard drive and now the battery needs to be replaced. That's not bad. It's a really good machine.

I would've to disagree with you. Dell XPS 15 which I am using from 2011 is still running like a beast. Love the awesome inbuilt 2.1 speakers of this machine.

I owned many Dell pcs over the years, never had a problem with any of them.


Dell can make some really nice hardware. I bought a Dell XPS 15 laptop in 2011 and it still works great today with no issues. Great screen, fast, and reliable. I also got a Dell XPS 12 convertible from work and that has been an awesome machine to own and work on too, especially with Windows 8 . Too bad I have to give it up now. Honestly my experience with Dell has been great. I don't hesitate to recommend Dell to anybody. But anything mass produced is bound to have some issues. Rule of thumb is you TYPICALLY get what you paid for...

No stylus - No thank you.

I agree. HUGE fail by Dell leaving out the stylus.

I think the Dell Venue 11 Pro is a more likely competitor to the Surface Pro 2. My wife has an HP Envy X2 which has an 11.6 inch screen and it's really too big to use comfortably as a tablet.

I'd love to see a comparison between this and the Dell Venue Pro 11", which i think will be at the top of my list since it will have a Desktop (with dual monitor support) and a laptop dock with an additional battery. that could meet all of my needs for a couple of years.

If I could afford it, I would snap it up. I had the XPS M1730 for 8 years with no problem. I now have a crappy HP, wish I would have seen this first.

couldn't agree more....HP has the worst support of all.....

If this thing had a stylus it would compete with surface pro. Without it's just another convertable.

Honestly, hard to believe Dell chose not to go with a stylus. I would have bought this over the Surface Pro 3 bt no stylus, no sale.

I took a shower yesterday❕

That's what everyone keeps saying....

Can't wait for 2-in-1 machines to start having LTE built-in.

This device is impressive in its own right, but it's not even close to the Surface Pro 2 for what it is meant to be. First, removable keyboard or nothing. I have a laptop, I don't want a device that is another laptop by default. While having the touch cover on the Surface Pro 2 and flipping it behind the tablet certainly makes the Dell device very much like the Surface, the fact is that I don't have to have the touch cover on the device at all. I can drop it in a hot second and be simply a tablet. So, if someone is looking for a touch laptop, the Dell would seem to be a great answer. But not for those of us who are looking for tablet-first, laptop-optional.

Most reviews have important information such as how much usable space on the different SSD'S. Is it similar to the Surface Pro? Which version of windows ? Glad to hear the stranger liked it. Looks like a nice machine but I won't give up my SP2 yet.

The screen is too small for me. After using my surface pro I love it except for one thing. It is too small as a laptop as a daily driver. I bought the yoga 2 pro that has a 13.3" screen and it is the perfect fit for me. It is only .8 pounds heavier but has a larger screen and backlit keyboard. As for performance it is about the same as the surface pro.

Nah, this doesn't hold a candle to the Surface Pro. Its more of a Lenovo Yoga

If I was in the market for a new laptop, I would certainly consider this. The specs are good and it looks great. Its probably a speed demon with Windows 8.1 on it.

Only 4GB of RAM = No Sale! I will happily pay the premium to have 8GB and i7 All other specs I believe are fine.

I would complain also for the 80GB SSD storage. If I ever buy this particular product, it would be for the keyboards, it's very interesting and looks great.

I want this. But no money. :( :(

Way too high of a price - if they want to move these things, they need to be cheaper than Surface Pro - no reason to buy this over Surface Pro. If you want a Laptop, get a laptop, if you want a tablet, get a Surface Pro.

Come on Dell! Make a new Dell Venue Pro WP! Love that design but imagine it with newer specs and WP 8...

Very very weird decision to put a keyboard like that in a hybrid format... I do understand that the keyboard can be a little awkward in tablet mode (which seems to be the case on the Yoga), but if you're going to have an attached display like that and not a detachable form factor, I'm having a hard time to see a niche crowd that would accept something like that. I mean, if you're getting a hybrid, that probably means that the keyboard is important for you, while you also want to enjoy the tablet goodness. No? If it's not too important to have a keyboard with you all the time, I think I'd probably get a full on Surface Pro tablet, and just in case it's needed, either a cover or a full USB keyboard. The tradeoff doesn't make sense in this device, at least to me. That aside, are those Haswell? I'm on the market for a hybrid, but waiting something on the 11" form factor with Haswell... Yoga sounds perfect to me, but waiting for the 11S to be upgraded.

People need to stop comparing any i5 computer to a surface pro. Until you get wacom stylus support (the reason I bought my surface pro) with the weight and form then it's not a competitor.

Keyboards look awesome, will surely needs time to get used to. Don't really like the overall shape though, corners are too rounded and I prefer plain body instead of carbon-textured.

For future reference, it is a Kensington (security) lock, not a Kingston (Ram/Storage) lock :)

I've heard good things about this ultrabook/tablet thing so glad to see them here too, great review! Apparently it will also work with the Dell Active Styluses that were released for the Venue Pro 8 and 11, though I don't know if you can buy them at the moment due to the manufacturing issues they had. The only thing I'm not a fan of is the screen resolution: Metro will look wonderful on it, as it's build to scale responsively. The desktop, however, doesn't really work as well until it's just pixel doubled like Apple do with their retina displays (it's the easiest way to do it). The 2560x1440 here equals a perfectly crisp looking 1280x720 display on the desktop, which is far too little on an 11.6" screen (I sometimes find 1366x768 a little cramped on mine, not always but just with some programs) so it's a shame to see these new HiDPI displays returning to the wild west we had a few years ago with different screen sizes with random resolutions that don't seem to have been thought through. Any comments on the desktop and scaling, Michael? I'd really like to know more about how it works. As an aside, I would love that resolution on a 24" monitor, could be left at 100% scaling no problems and look wonderful!

About scaling, isn't it an OS thing? I have Lenovo Yoga 2 Pro, and the W8.1 scaling is not that good there IMO. Image icons and buttons doesn't look crisp.

Apparently with 8.1 the OS can scale everything up. Windows (and most MS programs like Office) should scale reasonably well no matter what percentage (though 200% is easier for it, for obvious reasons) you choose to scale. Third party apps (Chrome is probably the major one for most people, Adobe, and, really, most things not made by MS) don't scale that well, or at all. It's all a bit confusing but from what I've been told, when you choose 200% and it can just pixel double everything, even third party apps will at least look ok (if a bit pixelly). I've heard conflicting reports from different reviews on different sites though, some people say it's fine, others say it's terrible. Apple had it easy, only having to do it for three devices. Windows, as ever, has got an uphill battle wth all the OEMs!

"you are not a fan of Microsoft's Surface Pro with Type Cover," I think that should be touch cover which has no key travel. The Type cover has some key travel and I think it's pretty good for fast typing. Makes huge difference to touch cover.

No one is a close competitor until someone makes a snap on keyboard cover and kickstand. So far none.

This would be true if they had included a stylus. Without a stylus, Surface Pro 3 kills this for business people and students.

Did you say "snuggle" in a product review?

Are you guys planning on doing an XPS 12 review next? =D

Interesting power supply, seems like it could hog a nearby plug or 2

If I had the Money, I'd go with Dell's device.

Dell's COLOSSAL FAIL here is not delivering on the active digitizer and stylus. Forget competing with the Surface Pro 3. I would have chosen this over the SP3 in a second but no stylus, no sale. This is expecially surprising since Dell initially promised a stylus on this model but backed out for some unknown (and stupid) reason. Dell isnt alone. Lenovo has also failed to deliver a stylus on their upcoming Yoga 3 Pro. Microsoft must be smiling to themselves as their competitors keep fumbling on the one yard line. Note to Dell. Business people, students, doctors and salespeople want a stylus.

The 16:9 aspect ratio is a mistake. Surface Pro 3 is really onto something with the 3:2 ratio. A 12 inch screen with a 3:2 ratio has the same portrait width as a 13.3 inch screen at 16:9. 3:2 is the future for small convertibles. I hope the keyboard is better than last time. LOTS of complaints of missed clicks. Also, does the keyboard provide haptic feedback? With no key press and no haptic feedback I can't imagine typing on this would be pleasant.